More people in Southeast Asia are turning to e-commerce to fulfill their shopping needs, and in the wider APAC region, retailers are seeing most of their online orders coming from apps. In new research across Singapore, Thailand, and Indonesia, we found that 72% of app users prefer to engage with retail brands through apps over shopping in-store or via websites.
In the new age of shopping, retail apps are quickly becoming the norm, with app users installing an average of four to six retail apps on their phones. However, 36% of people say they have unused retail apps installed on their phones because they favor other apps with similar functions.

Despite strong competition in the app landscape, there's an incentive for retailers to invest more in existing apps or to venture into apps if they haven't already done so. We found in our new report, Apps: How to realize their full value, that there's a strong correlation between app satisfaction, brand loyalty, and advocacy.
Around 99% of those who rated an app highly also indicated a high likelihood of remaining a customer of the brand for the foreseeable future. And we're seeing a 31% increase in the average transaction value from web-and-app shoppers when compared with web-only shoppers.1
But are brands realizing the full potential of retail apps to build customer loyalty, develop better app engagement, and ultimately, drive sales?
Being aware of user trends provides brands with actionable insights to elevate the quality of their retail strategy and mobile app marketing to meet evolving consumer expectations.
Here, we look at three ways businesses can increase brand engagement by creating apps that build preference, trust, and loyalty.
Convenience is king, but experience is queen
People value the convenience and accessibility of apps. Seventy-nine percent of the merchandise value of online retail comes from mobile apps.2 And a whopping 85% of app users from our study agree that apps are more convenient for shopping than going to a store.
But people are using apps for much more than simply making purchases.
On average, people carry out five to eight different activities each day on a retail app — from browsing products to redeeming rewards. Apps provide access to unique experiences that influence people's final purchasing decisions, even if they don't make a purchase on the app.
That's why building an immersive retail app that closely recreates the in-store shopping experience is key to building engagement and driving sales. Not least, when people are satisfied with the app experience, they're 56% more likely to recommend the brand to family and friends.
The majority of app users prefer the convenience of shopping on apps over going to the store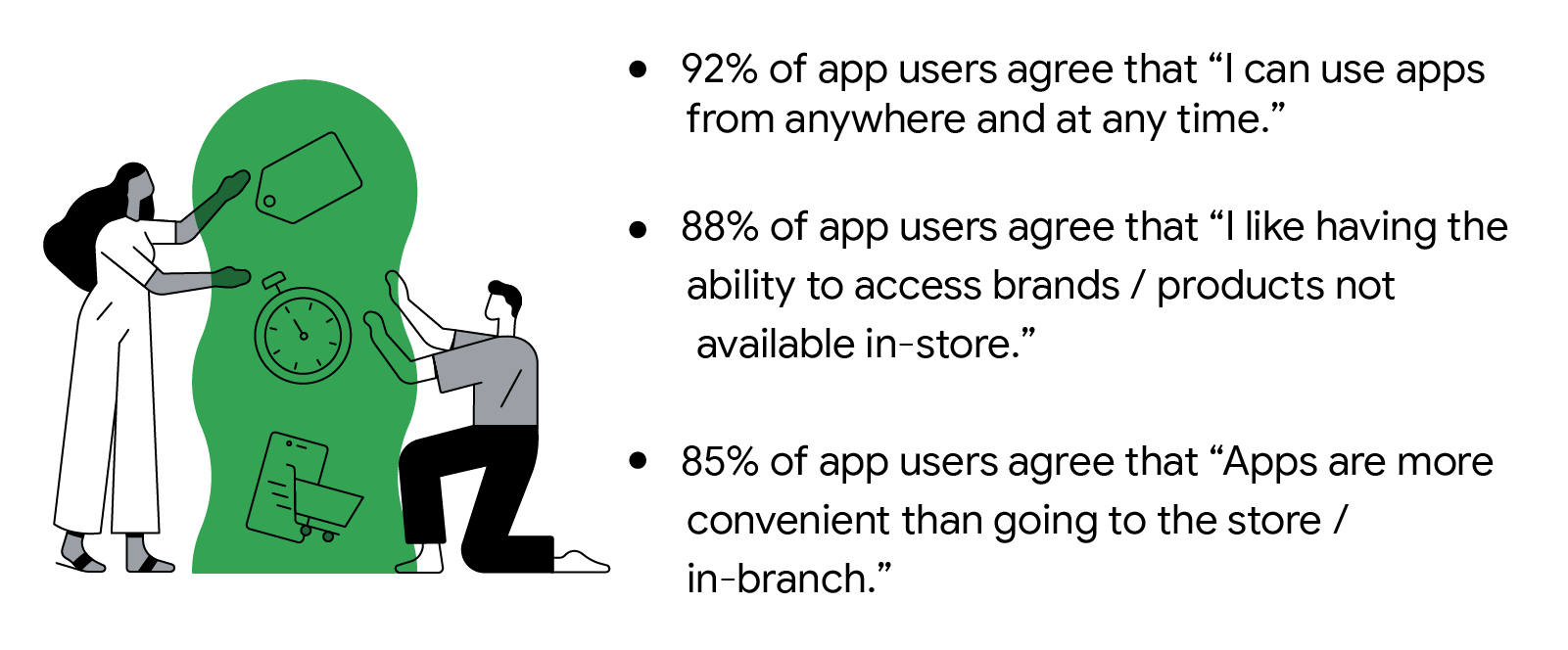 Some of the more engaging retail apps on the market feature experiential shopping and reverse image searching — simulating the in-store buying experience. Here lies the opportunity for brands to adopt technology like augmented reality to enhance the virtual shopping experience.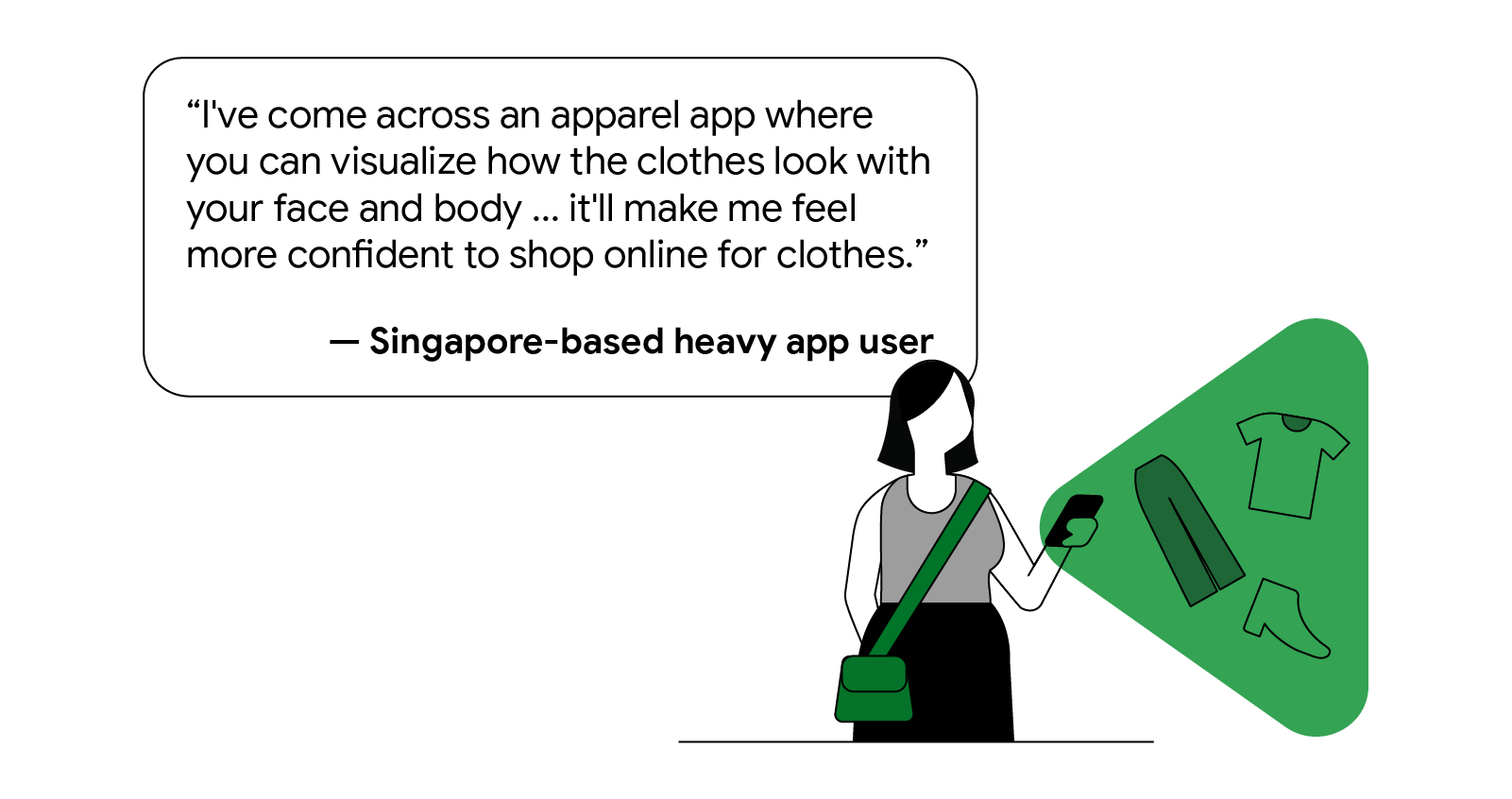 Adapt to how people use and engage with apps
The ways people use retail apps vary across the region. People in Singapore use these apps to complement their shopping research. In Indonesia and Thailand, people use retail apps as the primary channel for engaging with brands. In Thailand, users are highly social on retail apps, freely sharing about their experience and purchases, whereas in Indonesia, marketplace apps are more widely used.

These regional differences call for retailers to think at a local level when implementing app engagement strategies. For instance, take how marketplace apps are successfully engaging users with gamification as a mobile engagement strategy. It's a tactic that brand-specific apps could also adopt to increase engagement with their users where applicable.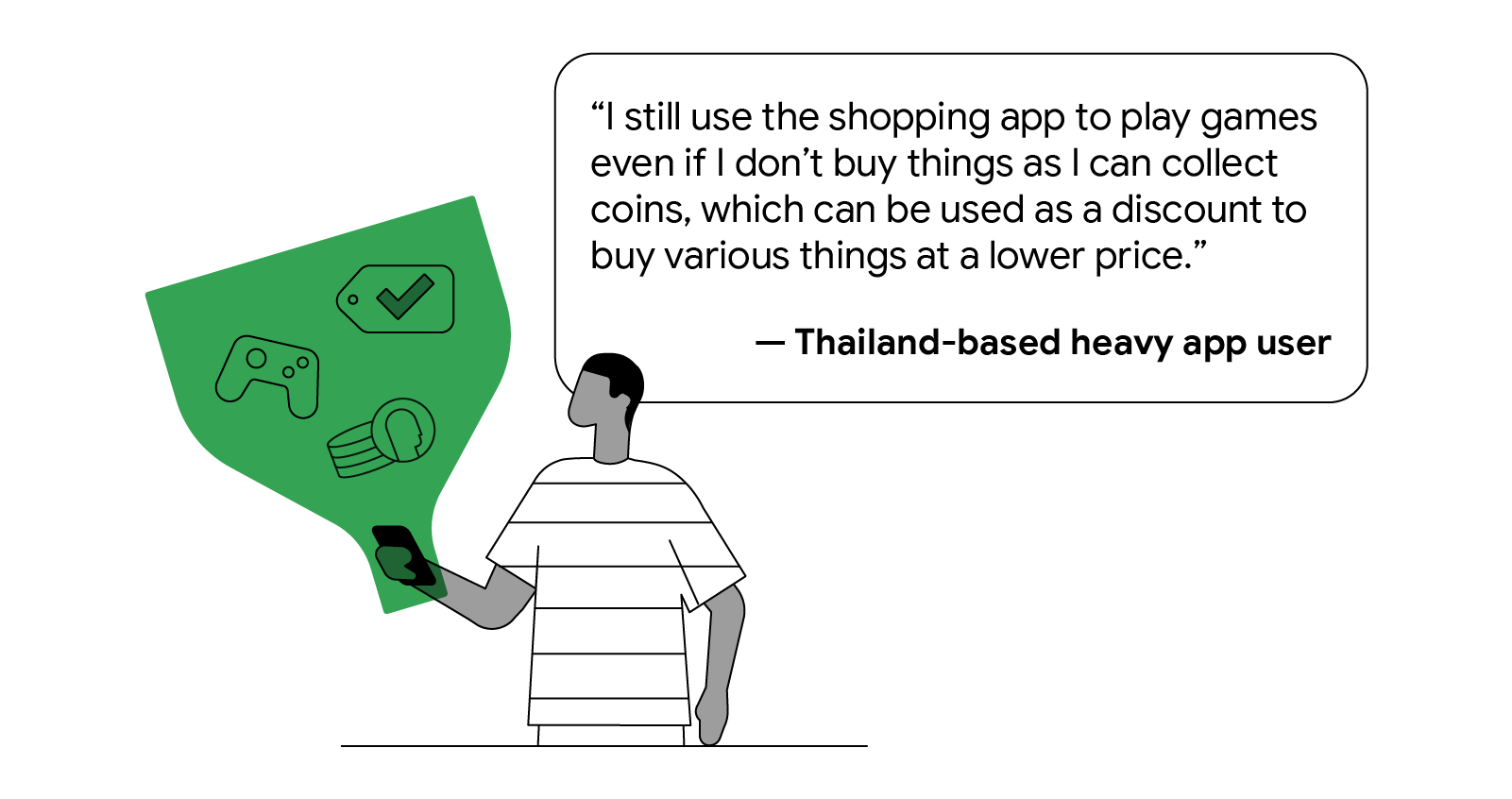 When developing apps, retailers need to understand what features are popular with users. With marketplace apps, for instance, people like that they offer:
A wide selection of products
Simple and helpful navigation
Product recommendations based on their search history
A "favorites" function to sort and organize the products they like
Reviews of products and service standards are increasingly important as well. Around 55% of app users regularly read customer reviews on retail apps. As such, reviews play an important role in motivating people to install your app and in encouraging them to continue using it.

All these factors contribute to app satisfaction, which in turn nurtures brand loyalty. Our research found that 67% of "most frequent" users are satisfied with a brand, whereas 93% of "most frequent" users are likely to stay with the brand.
Give users a safe app experience to build trust
People want to feel safe when they transact with brands online. Because apps are harder to fake compared to websites, people feel more assured about an app's authenticity than a website's. Among app users, 52% say they will continue using an app because it's safe and secure. Notably, 72% of app users say they trust apps to keep their details safe. However, the other 28% do not trust apps to keep their personal data safe at all, which shows there's a need to change this perception for many.

It's worth noting that people are more assured about the authenticity of products on specialized brand apps because they see them as official channels. To bolster users' trust, brands can add features that instill a sense of security:
A reliable and accessible one-stop customer service to resolve issues
A hassle-free return policy
A policy of holding payment until products are received in good condition — a practice often applied in marketplace apps
By gaining users' trust through their apps, brands are able to build brand loyalty, and keep users returning.
Use apps to set your brand apart
Getting on board with the "Great Retail Migration" means investing in quality retail apps that keep customers engaged, build their preference, and gain their trust. In a saturated and uncertain retail landscape, creating a smooth and immersive user experience will, more often than not, set your brand apart.
Here's how you can get started with five easy steps to scale and grow your retail business through apps.
Get the detailed breakdown of our report's insights by country: