Across Southeast Asia and South Asia's diverse telco landscape, one similarity stands out: regardless of market, apps are people's preferred way to engage with telcos. However, distinct preferences in app usage exist among different types of users. Brands therefore need to understand the role apps play in shaping brand perception and loyalty, in order to identify the best mobile app engagement strategy for connecting with different types of users in various markets.
To help brands understand the differences in the markets, we conducted a recent study on telco app users in Southeast Asia and South Asia. We looked at both prepaid users, who pay for a phone service and credits upfront, and postpaid users, who subscribe to a fixed-term plan and pay monthly bills. We found that 71% of prepaid app users prefer to engage with telco brands through apps, compared with 58% of postpaid app users, and that both groups also differ in how they use the apps.1 Yet both prepaid and postpaid app users were similar in that they view telco apps as utility tools.
Customers in Southeast Asia and South Asia who prefer engaging with telcos via apps

There is, however, an opportunity for telco apps to be regarded as more than basic utility. We found that 75% of app users prefer a single telco app with multiple functions and features, such as entertainment content, rewards, and games. By extending an app's functions, telcos can increase app engagement, and along with it, brand affinity, which rises by 40% when app users shift from being aware of an app to being onboarded. Brand affinity further increases by 31% when an onboarded user becomes a regular app user.2
But it takes more than extending an app's functions to meaningfully drive brand affinity and increase mobile app retention. Our study shows that success starts with delivering a satisfying app experience that engages app users and keeps them coming back regularly. Here's how telco brands can start to elevate their app experience and shape brand perception to grow user loyalty.
It pays to get the basics right
Providing essential services like bill payment is par for the course for telco apps. So if bugs or poor design make it difficult for users to carry out basic tasks on a telco app, this can cause users to delete the app. The numbers prove it: 31% of telco app users said they would delete an app that was buggy and kept crashing. Likewise, 31% would delete an app that took up too much memory, while 21% would delete the app if it was "too complicated."3
Why app users delete telco apps

However, even if an app is not deleted, it might not inspire brand loyalty. App abandonment happens among 27% of app users because they don't understand what the app provides them. But if customers are satisfied with an app, there is potential for telcos to cultivate loyalty through mobile app retention. Indeed, 98% of users who rate an app highly are likely to stay with the brand in the near future.4
Grasp key differences between prepaid and postpaid users
In-depth local knowledge of the prepaid and postpaid markets is also key to a telco app's success in this region. Telcos that grasp the nuanced differences between each market, from app usage habits to user motivations, can build more effective mobile app engagement strategies.
Prepaid telco app user behavior
Prepaid app users in the region are mostly between 18 and 35 years old. They have a strong preference for telco apps and use these apps to perform essential tasks like bill payment and data management, as well as for entertainment. Prepaid users dominate the markets in Pakistan (94%), Indonesia (90%), and Vietnam (80%).
Earning the loyalty of this group of young app users can be a challenge for telcos because they are easily swayed by the recommendations of peers and price point. Among prepaid users who have used a telco app in the last three months, 27% are no longer using the same telco app.5 One reason might be that these prepaid app users are only able to afford budget phones with smaller memory, which affects the number and size of apps a user can install.
To win over prepaid users, telcos should focus on providing an immersive app experience that also includes entertainment content, apps, and games. Telcos should also bear in mind that their app size should accommodate users with smaller phone memory.
Postpaid telco app user behavior
Postpaid app users, on the other hand, are mostly over 35 years old, and they dominate the telco market in Singapore (86%) and Thailand (63%). Compared with prepaid users, they have a moderate preference for apps and mostly use them to redeem rewards. When it comes to less straightforward tasks such as finding information about offers or services, postpaid app users prefer using in-person channels.6
With postpaid contracts, app users are likely to use the app of their provider throughout the duration of the contract. Telcos can seize this opportunity to build brand loyalty by offering multifunctional super apps that help users manage complex tasks with ease.
Differences between prepaid and postpaid telco app users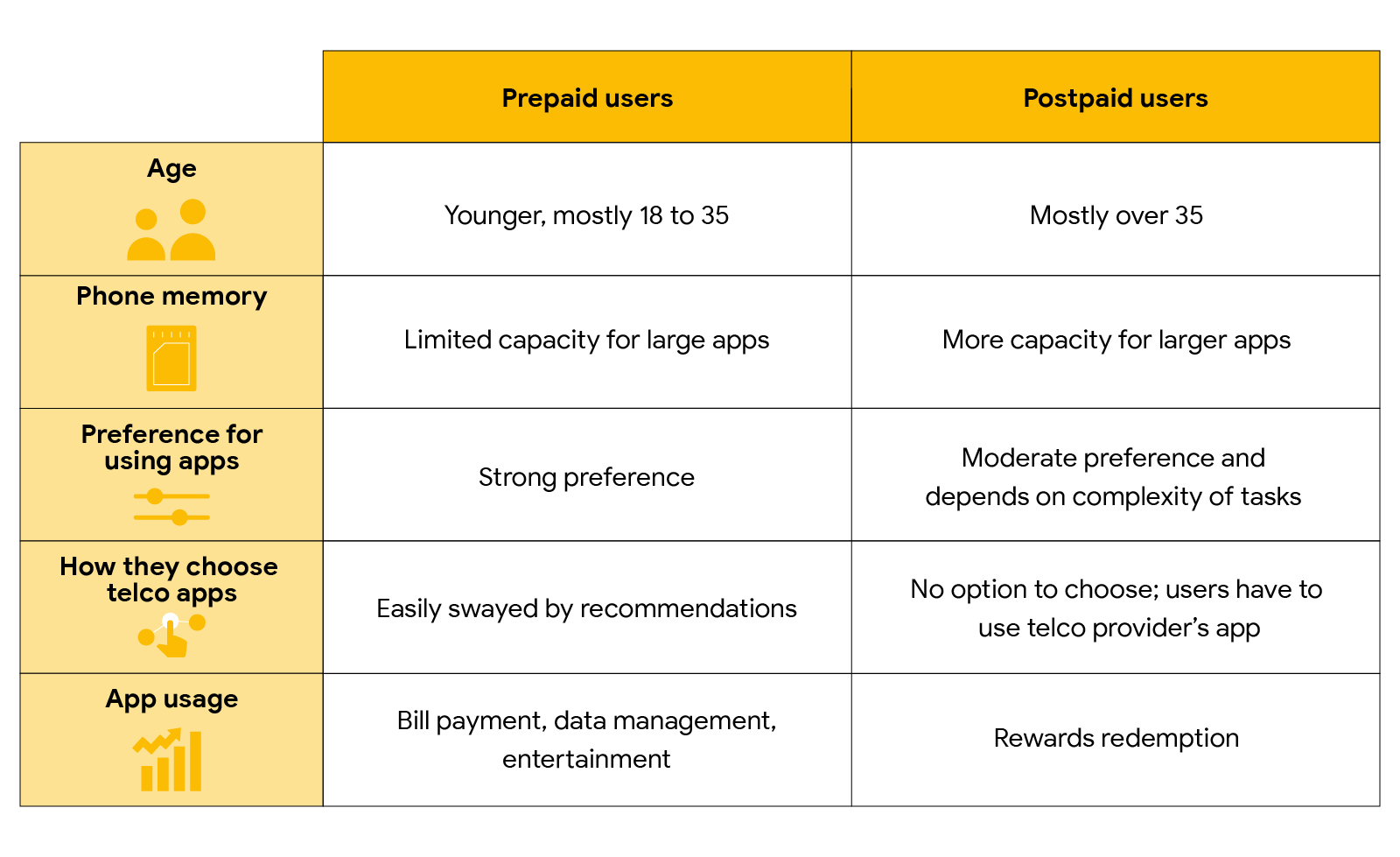 Use creative marketing to drive app usage
Creative marketing strategies, such as gamifying the in-app experience and introducing rewards can vastly improve a mobile app engagement strategy. In-app reward redemption, for example, is popular with 49% of postpaid app users and 45% of prepaid app users.7 So, telcos can motivate customers to return regularly to their apps with perks, prizes, and rewards.
Indonesia's Telkomsel uses a daily check-in feature to reward customers with free data, while Malaysia's Maxis offers app-exclusive rewards to drive active app engagement. Singapore's Singtel got customers to use its improved MySingtelApp by rewarding app users with mobile data when they tracked the number of steps they walked every day with the app. Marketers can further tailor their telco app marketing strategies with tools such as App campaigns for engagement (ACE) to drive the desired app usage behavior.
Gamifying telco app usage elevates the user experience from functional to fun, and drives brand loyalty.
Telcos should also consider expanding their app's functionality because the convenience of doing everything in a single telco app has strong user appeal.8 Building a super app with features like entertainment, rewards, and games, in addition to telco management functions, can also increase user retention because it helps users do away with other apps that have similar functions and free up phone memory.
To drive telco app engagement and boost brand loyalty in Southeast Asia and South Asia, telcos must focus on improving customer satisfaction. Understanding the different user preferences and behaviors will help telcos identify the best mobile app engagement strategy and ways to elevate their telco app experience, so that they can engage users more meaningfully.