Before the smartphone, people in Southeast Asia (SEA) used to gather around the TV at predictable moments. Along came mobile and now people have access to video whenever and wherever they want. Here, we'll take you through four key mobile video trends in Southeast Asia and what they mean for your brand.
1. Mobile is replacing TV as the first screen for video
In most countries across SEA, more people own TVs than smartphones, but Singapore points to what the future may look like: Right now, 88% of people own smartphones, and 87% of people own TVs. The gap between TV and smartphone ownership in SEA is far narrower in countries like Malaysia (11% difference) and the Philippines (13% difference) than in the U.S. (33% difference) or the U.K. (23% difference).
2. In the West, online video means desktop; in Southeast Asia, it's all about mobile
In Southeast Asia, when people watch video online, mobile is their screen of choice. Southeast Asian countries are reporting much higher rates of smartphone video viewing than the West (72% of people in Thailand vs. 41% in the U.S.). In many of those countries, the gap between desktop and smartphone video watching is wider. In Indonesia, 12% more people watch on smartphones than desktops whereas in the U.K., the gap is a mere 5%.
3. Mobile is the device of choice for watching YouTube
These same mobile-centric trends play out on YouTube. On mobile devices, people watch videos on the site or app for an average of 88 minutes, which is 18 minutes longer than in the U.S.1 Mobile watch-time is also racing ahead, growing 125% YoY in Southeast Asia versus 78% YoY growth in the U.S.1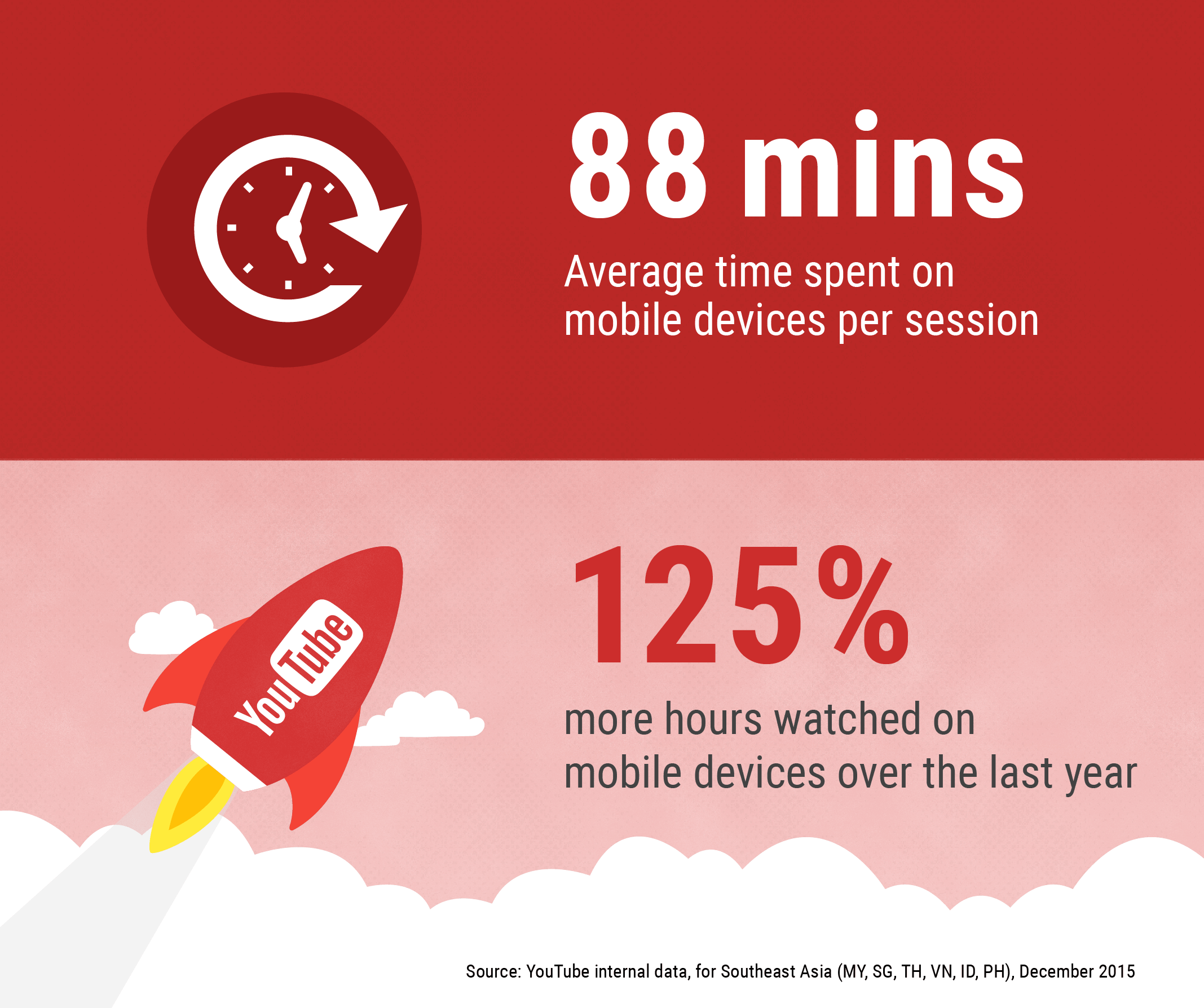 4. In Southeast Asia, online prime-time isn't a thing anymore
Comparatively to TV, people in Southeast Asia are consuming more content through the day on YouTube and less during "prime time."2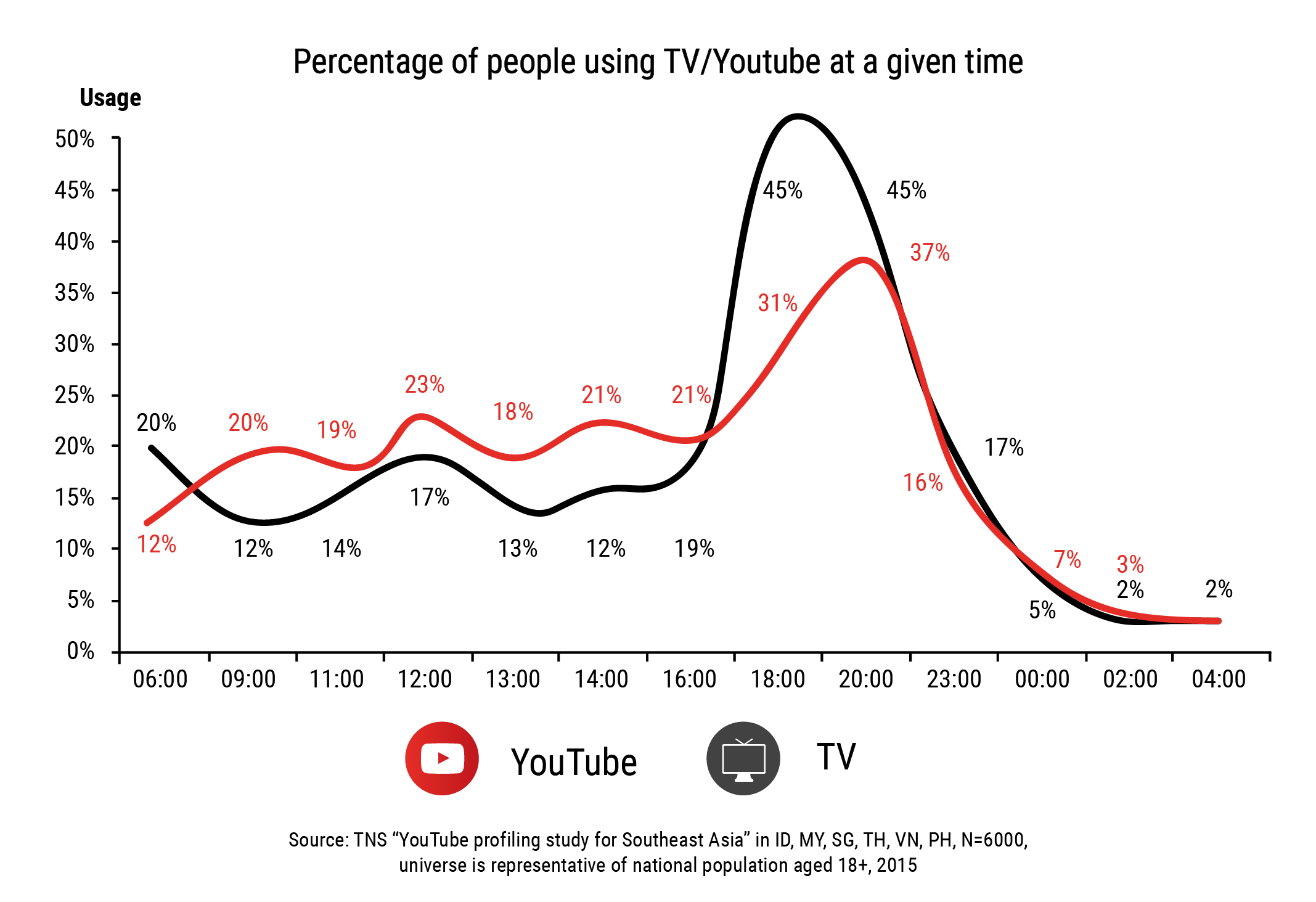 Mobile is revolutionizing marketing
The rapid and massive shifts outlined above are pushing advertisers to rethink the channels they use to engage with customers. Mobile has opened a whole new set of opportunities for advertisers to connect with their audiences and build their brands.
Brands like Sunsilk Philippines (Unilever) are showing how to succeed in the mobile-first world. Sunsilk realized that consumers are consuming content all day long on mobile, so for its latest hair care campaign, it created three pieces of promotional content to show during the morning, afternoon, and in the evening. These fun, engaging, and contextually relevant ads were very successful, resulting in over 12M views across all video assets and a 21% lift in ad recall on mobile for each of these creatives.

Sunsilk's Senior Brand Manager, Claudia Vega, commented: "We wanted to cut through the clutter and connect with our audience by creating content that is not only authentic to Sunsilk, but also impactful and disruptive. We got close and personal, engaging with our audience through mobile by using a time targeting media strategy. We gave our audience what they wanted at the right and relevant occasion."
A recent study from Ipsos shows that Sunsilk's success is not just a one-off. Mobile ads positively impact the metrics that matter the most to brands, and an ad run both on TV and YouTube on mobile can be much more effective than an ad run on TV alone.3 Results from the study show:
Top of mind brand awareness was 11%pp higher for people exposed to both TV and YouTube ads.3
Top of mind ad recall was 10%pp higher for people exposed to both TV and YouTube ads.3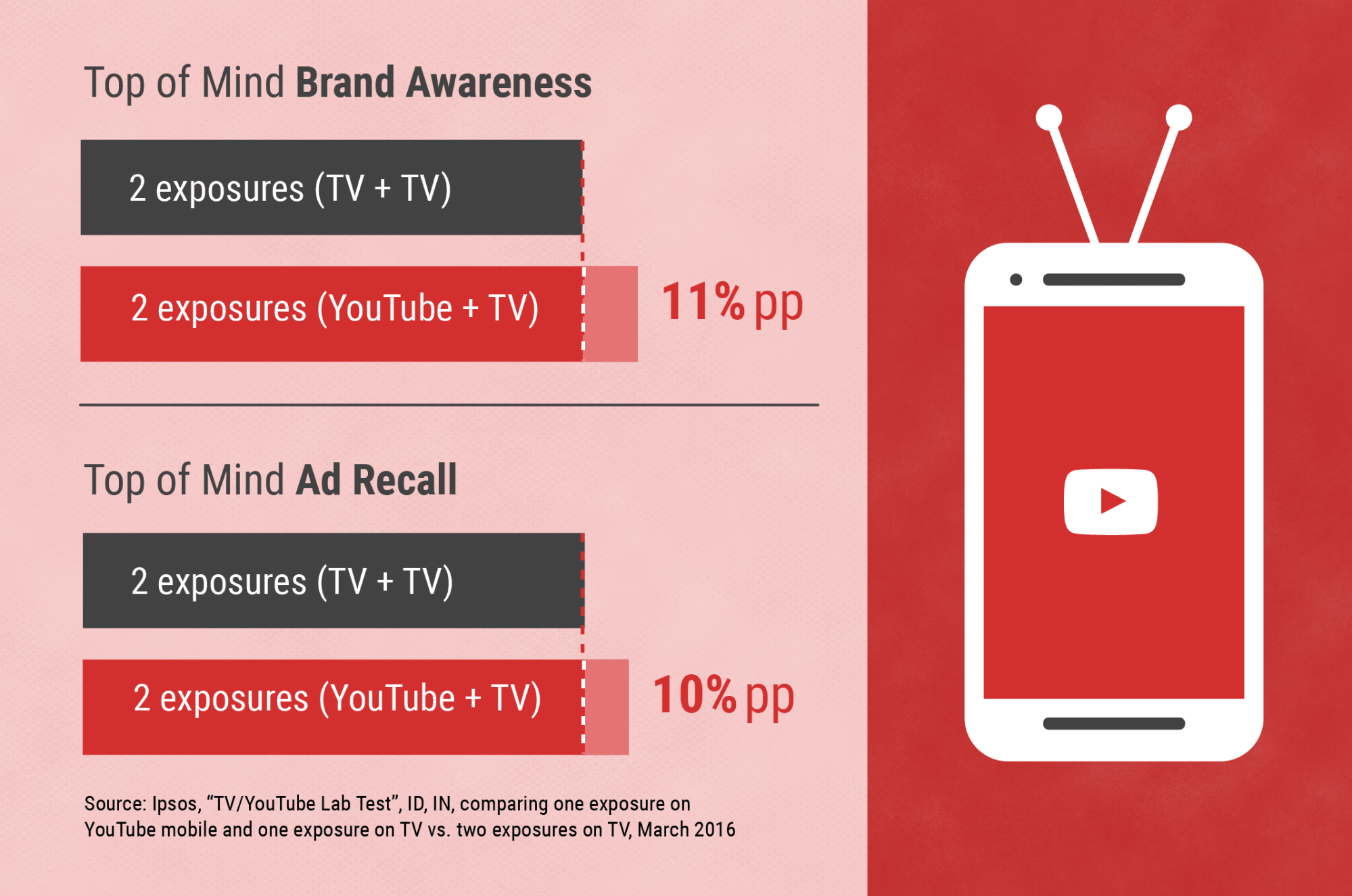 The evidence is clear: Mobile ads on YouTube enable marketers to go beyond what's possible with TV alone and reach audiences that choose to engage. The element of choice appears to be the key to YouTube's success. In Indonesia, for instance, the same 2016 Ipsos study showed that almost nine out of ten respondents (87%) agreed that skippable TrueView ads "allow people to chose ads that they are interested in seeing."3
The rise of mobile video is a global trend, and Southeast Asia has moved into the new, mobile-first world faster than Western countries. To find out what the future looks like for video advertising, marketers should focus on Southeast Asia.