Prospective home buyers in Thailand are increasingly turning to the internet before making a real estate purchase. For property developers, this behavior calls for the time-consuming process of customizing creative to connect with their most valuable customers online. See how AP Thailand used machine learning and Smart Display campaigns to reach prospective home buyers online and save time in the process.
Over the last few years, Thailand's real estate market has been booming with an abundance of new residential developments. Nationwide, condominium registrations have risen by 69%, and land and building transactions have grown by 5.1%.1 As the landscape grows, so does the competition.
At the same time, prospective Thai homeowners are increasingly researching online before visiting in-store sales galleries. Online research is now an integral phase of the real estate consumer journey, with 84% of Thai property buyers conducting research on at least one online channel before making a final decision.2
That's why AP Thailand, one of the country's leading property developers, teamed up with media agency Mindshare. Together, they set a goal to reach consumers and encourage them to explore listings in-person at AP's in-store gallery.
AP turned to Smart Display campaigns to streamline the 70-80 campaigns that were being run concurrently and reach consumers while they searched online. By automatically optimizing its display ads, AP was able to reach consumers based on specific needs, such as area, budget, taste, and lifestyle. The campaign drove 2X more leads than other digital platforms AP had used previously, at 30% lower cost per lead. It also contributed to one of AP's highest ever presale bookings with ฿4.2 billion, and saved the team from having to manually curate and optimize each ad.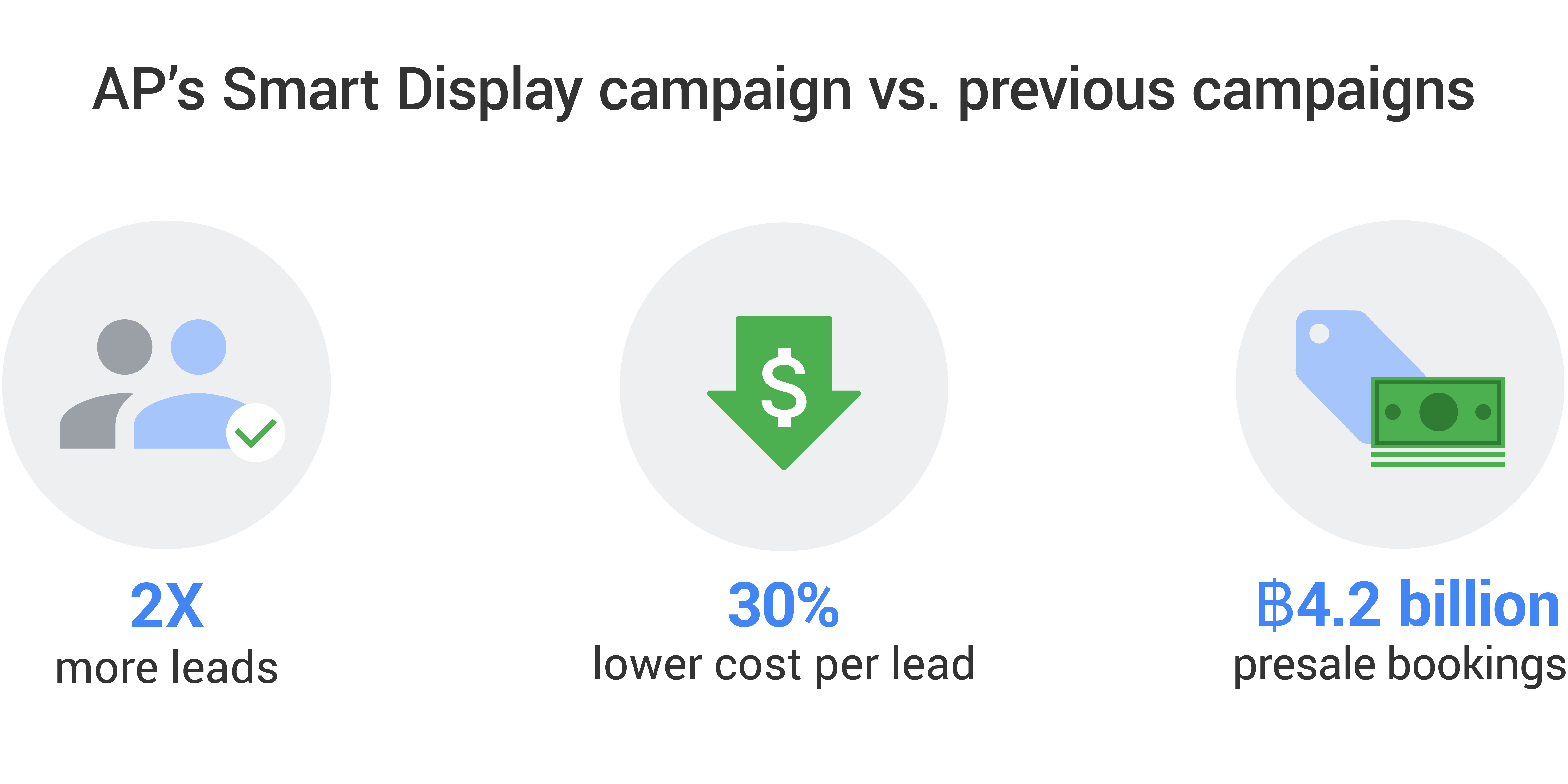 By using machine learning to more efficiently generate display ads, AP was able to reach consumers at the right time with relevant creative. Moving forward, AP and Mindshare will continue to work together to tailor messaging to help each consumer find their home sweet home.