For brands in Southeast Asia (SEA), showing up in users' search results isn't just about driving clicks and conversions. Here, Jenny Lim, Search Performance Solution Specialist at Google Malaysia, breaks down our latest research with Ipsos and Kantar which shows the direct impact on awareness, recall, and consideration that being present in upper-funnel searches can have on brands.
Last year, we completed a scaled survey that revealed how consumers in SEA use search at every step of the customer journey. The bottom line is that search is rarely the last stop before buying. In fact, search engines are often consumers' primary source of inspiration when they're not sure what they need.
The bottom line is that search is rarely the last stop before buying.
From that study, we saw how the majority of consumers in SEA use search to discover new brands, find ideas, and compare similar products offered by different brands. And, on average, roughly half of all consumers said they'd make an in-store purchase as a result of searching online.1

In most cases, people's first searches are generic and category-led, like "best toothpaste" or "best shampoo for curly hair." In those moments, they're looking for the most helpful and relevant information, regardless of which brand provides it. And most importantly, they're revealing their intent to eventually go, do, or buy. That gives savvy brands the opportunity to tap into that intent, serve the right message, and capture clicks to help guide consumers down the funnel.
Considering how heavily consumers rely on search in the initial discovery and research phases, we couldn't help but wonder: Could simply showing up in users' search results have a noticeable impact on brand metrics? We partnered with Ipsos and Kantar to find the answer, using a multivariable test to go beyond a scaled survey and empirically measure the results.
Together, we conducted four experiments across different brands and industries in SEA — from tech and telecom to consumer goods — to see how brand visibility on upper-funnel searches affects brand awareness, consideration, and perception.
Check out highlights from the research below, and pick up a few actionable takeaways for maximizing your brand's visibility and relevance on search.
Being present early is paramount to drive awareness and recall
In each of our studies, simply being exposed to a brand's search ad had a significant effect on awareness and recall — even when the ad wasn't clicked.
Impact of search ads on brand recall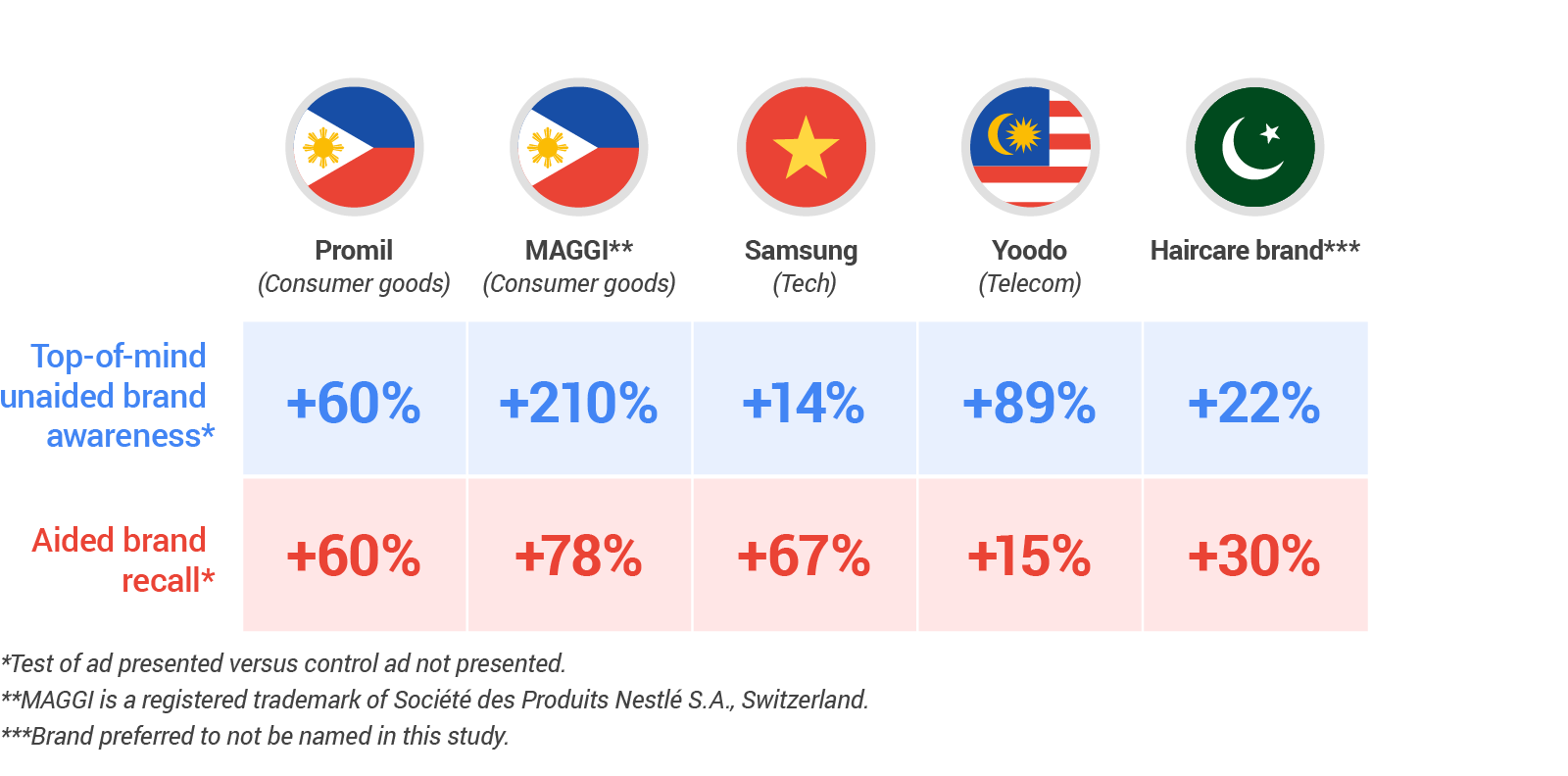 Showing up in users' search results also had a powerful effect on how much they value a particular brand. After being exposed to the brands' search ads, a greater number of consumers said they thought MAGGI (+16%)2 and the haircare brand* in our study (+17%)3 offered high-quality products.
Moreover, their presence directly affected whether consumers considered the brand a leader in the market. MAGGI saw an especially impressive 118% lift in perceived market leadership,4 while Samsung and the haircare brand saw 6%5 and 15%6 lifts, respectively.
On the flipside, simply not showing up in users' search results can be detrimental to a brand's perception. In the Philippines, MAGGI's competitor with the highest market leadership saw a 13% drop in ranking when users in the test group were exposed to a MAGGI search ad.7 And in Pakistan, the haircare brand's top competitor saw a 15% drop in market leadership.8
Search ads' impact on competitors' perceived market leadership

Search queries reveal intent — and intent leads to action
Every time a user searches for something online, it signifies their interest in a product or category and the intent to know more. And the more specific and brand-focused their searches, the more likely they are to convert.
Being present, relevant, and helpful is crucial to capturing this intent. Our research showed that after being exposed to a brand's ad, users actually searched for more information on the featured product. Consumers were 8% more likely to take further action after being exposed to MAGGI's search ad9 and 5% more likely to follow up after seeing Promil's ad.10
Samsung's search ads made an especially notable impact: 57% searched for additional information, 31% considered purchasing the product, and 29% planned to check out the product in-store.11
When users in Samsung's test group saw the brand's search ads ...

3 steps to attract consideration from the start of the user journey
1. Be present — especially for generic keyword searches.
Don't underestimate the value of search ad impressions — even when they don't lead to clicks. Most searches from users in our studies were non-branded or generic, yet every brand that showed up in the search results saw brand uplift.
2. Make the most of your ad copy.
Trying to fit too many messages into a single search ad can dilute its impact on recall. Instead, focus on one or two key points that are most relevant to a user's specific search query, or take the opportunity to highlight unique product benefits.
In our research, Yoodo saw its highest uplift in brand recall when "free 20GB data" and "customizable plan" appeared in the headline, even when consumers searched for generic queries like "best mobile plan."12
3. Boost your visibility on mobile.
The vast majority (90%) of users in SEA are mobile-first, spending an average of four hours per day on mobile web. Make sure your brand captures maximum attention on users' mobile screens by including sitelinks, structured snippets, and callouts.
Our research showed brand metrics improved across the board whenever a brand occupied more screen space than the competition. In the Philippines, MAGGI outperformed competing brands that only surfaced organic results (or organic plus paid, with no additional snippets or sitelinks) in terms of unaided awareness and top-of-mind awareness.13
It's important to remember that people frequently start searching without a specific brand in mind. Getting noticed and winning consumers' consideration comes down to being helpful and relevant in those moments of initial research and discovery. With some help from automation, audience insights, and mobile-first ad formats, brands put themselves in a prime position to serve up the right message and drive better results across the board.
Methodology
Google partnered with Ipsos and Kantar on several quantitative surveys related to search scenarios in multiple categories across different brands and industries in Malaysia, Pakistan, Vietnam, and the Philippines. Surveys were conducted on mobile screens to simulate actual behavior where each respondent was shown one of two pages of the search engine results (control and test with the test brand in the top slot).
*Brand from this study preferred to not be named.