The ability to see and understand product information easily is critical to users when they're making a product decision. Design product pages that drive shoppers to convert.
6. Provide full product details.
Users appreciate it when retailers show all available product information: stock availability, sizes, color choices, descriptions, photos, videos, and more. Design your app so product detail features are clear and intuitive to understand.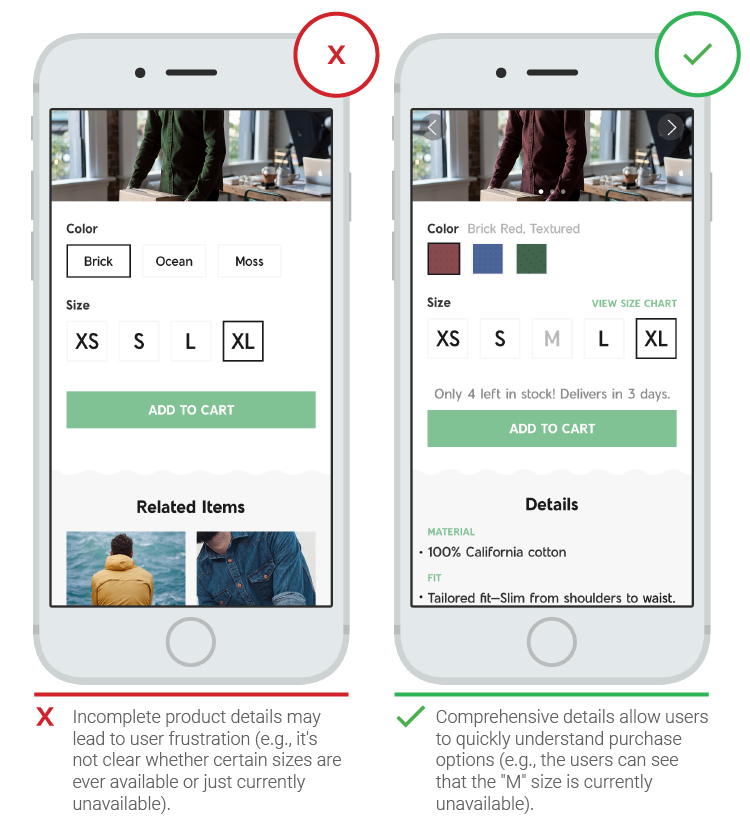 7. Let the user control the level of zoom.
Users want to be able to control the level of zoom when they view an image. They can become frustrated by apps or mobile sites that zoom in at a predetermined magnification level. In particular, we see instances of this when the zoomed-in view forces the user to look at a specific part of the item or takes the image partially off-screen. Put users in control by allowing them to zoom in as they prefer.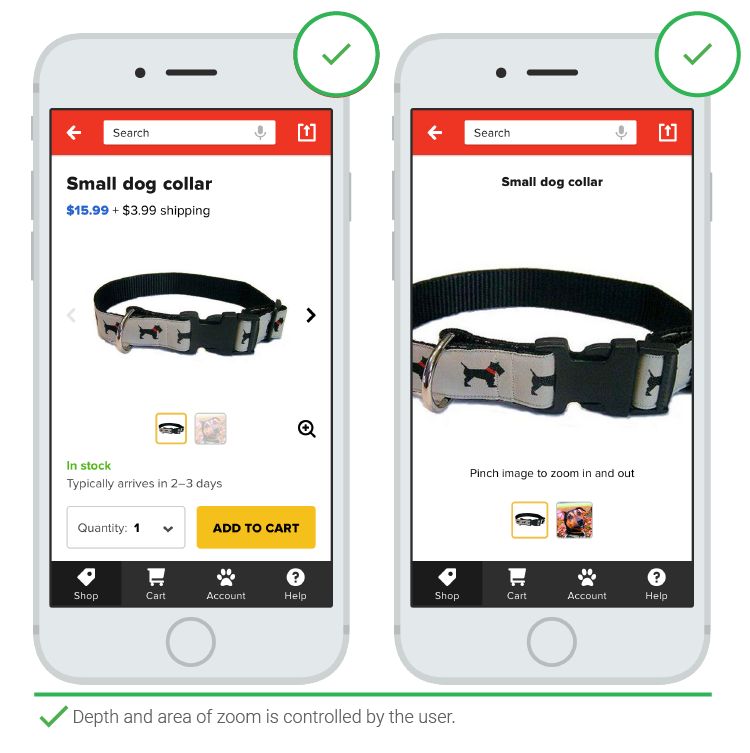 8. Show users how much they're saving on discounted products.
To make the most of your promotions, ensure you display the sale price and the original price as a comparison. Show them how much they'll save.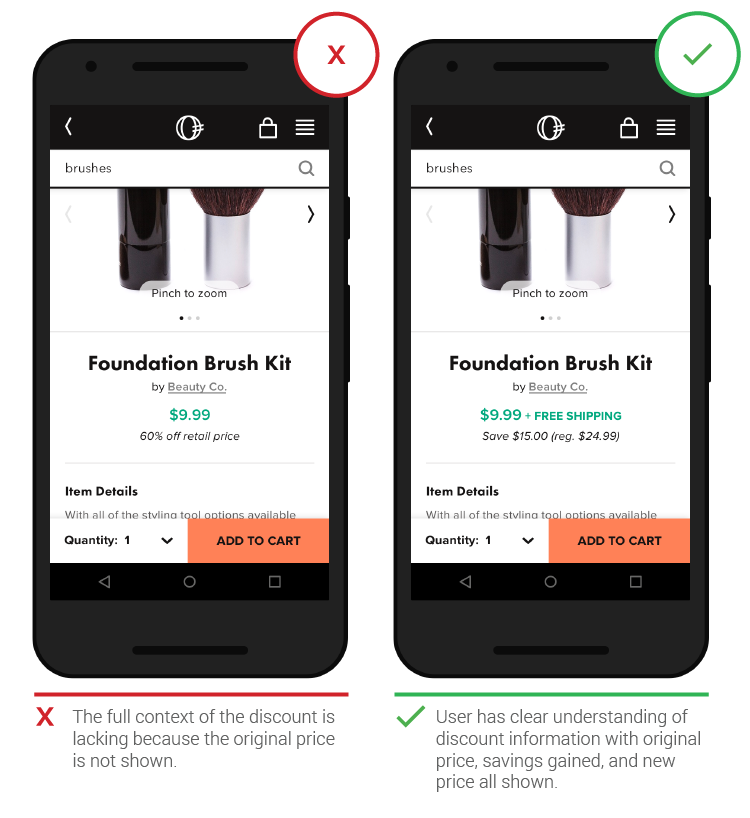 9. Show in-store availability on product pages.
In-store availability is key for users who want to buy or pick up their items at a physical location. Allow users to select a preferred store easily and show local availability. A common mistake is defaulting to the user's location without providing an easy way to override local stores. The users may have shopping needs located elsewhere.
10. Display shipping costs and delivery dates on the item page.
Users expect shipping costs and delivery timing to be clear and surface as soon as possible. When users are purchasing an item, they often weigh the cost of shipping versus the speed with which they can receive it. Many now expect free, expedited shipping.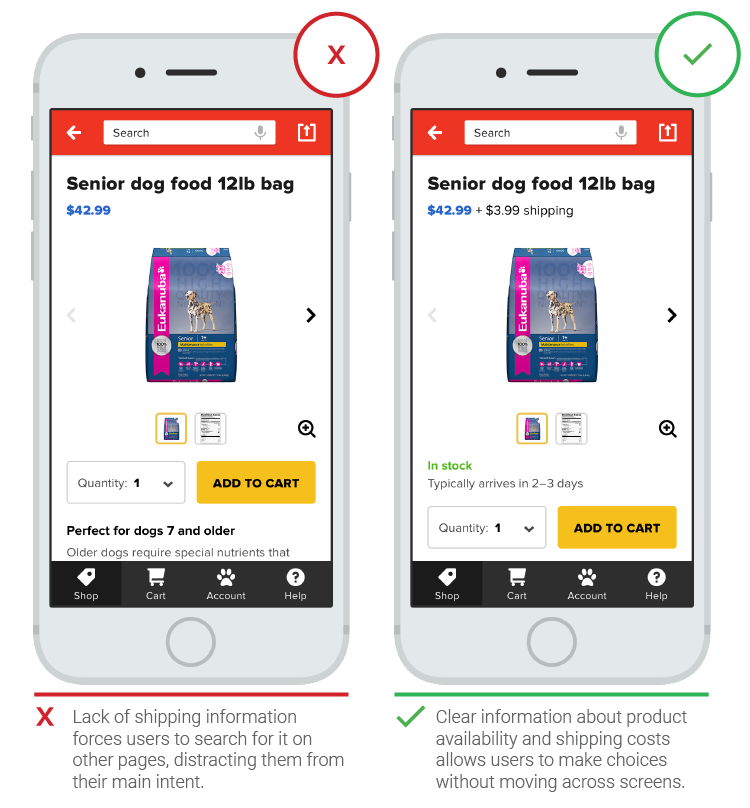 11. Allow user reviews to be viewed and filtered.
User reviews are an important component of purchase decision-making. A large number of reviews gives prospective buyers more confidence. Aggregate rating distributions and allow users to sort and filter so they can get the "real story" about an item. Let them browse the most recent, the most positive, and the most negative reviews to discover any common themes. Verified reviews from users that have purchased the item are also appreciated.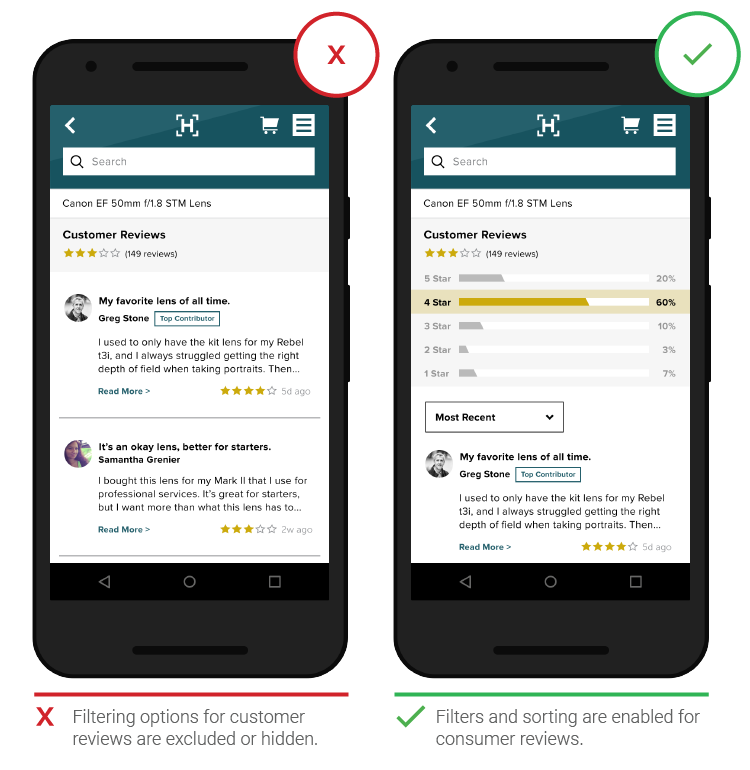 12. Encourage consumer-generated content.
User-generated content, like photos, questions-and-answers, or aggregated data (for example, collated feedback about clothing sizing), helps users find answers to questions about details that might not be found on the item page. Buyers consider this information just as good, if not better, than talking to an in-store sales representative.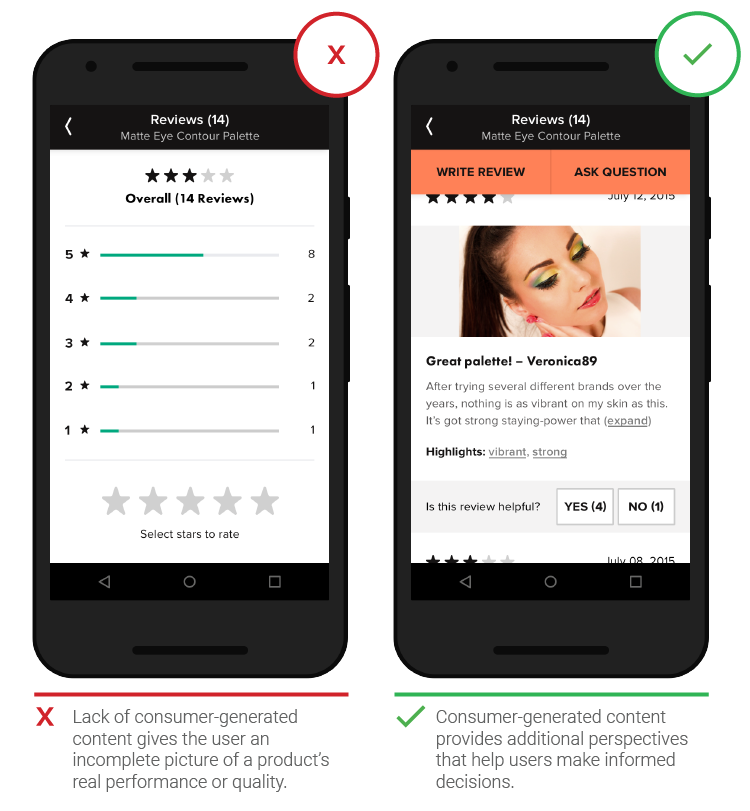 13. Surface related products at opportune moments.
When users are thinking about replacement or add-on products, they appreciate relevant product recommendations on product pages, in the cart, or prior to check out.