23% of the Malaysian population is of Chinese descent1, making Chinese New Year one of the largest festivals in Malaysia. In preparation for this highly anticipated celebration, Malaysians turn to search and YouTube to plan, discover, and entertain before—as well as during—the 15-day celebration. Last year alone, 130M minutes of Chinese New Year-related content were viewed in Malaysia2—that's over 90K days worth of content.
Looking to capture attention this time of year? As marketers, here are three things you need to know:
Insight 1: Search activity for Chinese New Year begins early
Malaysians begin to plan for Chinese New Year way ahead of time and Google searches start to accelerate five weeks prior to the start of the New Year and peak during the week of Chinese New Year. The most popular categories? Food, apparel, grocery shopping, celebration information, and finance.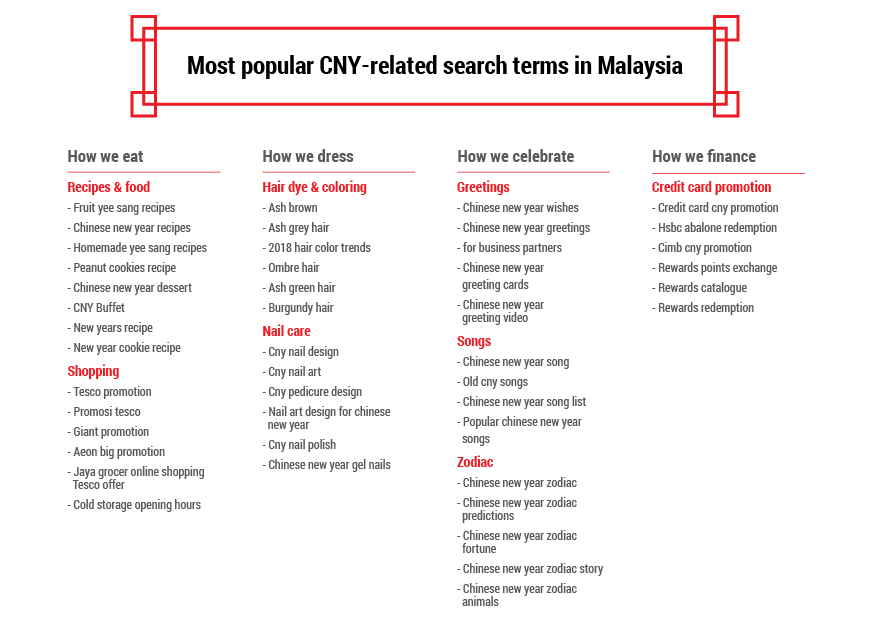 Compared to search, Malaysians engage with YouTube even earlier in the preparation process—almost eight weeks prior to the start of the New Year. They get into the festive mood by streaming music videos, catching up on the latest seasonal looks through beauty and makeup tutorials, starting to learn food recipes, and also by watching Chinese zodiac and feng shui experts for tips and advice to ensure the year ahead is the most prosperous.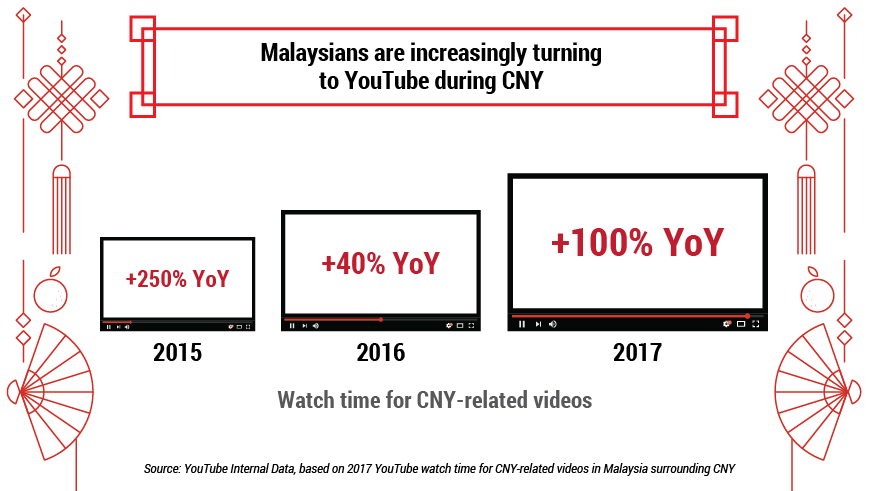 Insight 2: YouTube watchtime during Chinese New Year peaks during two daily prime time slots

From 7-10 a.m., YouTube watch time starts to peak as Malaysians start their day by listening or watching Chinese New Year-related music videos. One such example is popular Malaysian singer Nick Chung, whose 2018 Chinese New Year music video has surpassed 1M views since it was published in November.
In the evening, watch time also peaks between the hours of 5-9 p.m. as Malaysians wind down the day by discovering new seasonal recipes and watching beauty and makeup tutorials as well as feng shui and zodiac tips and advice.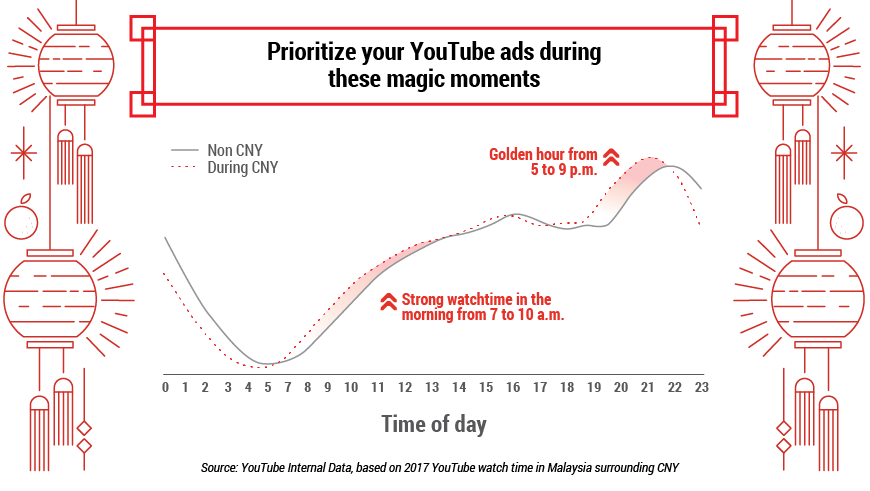 For beauty content, Malaysian audiences tend to search for the latest looks and trends that flatter Asian features, which makes Chinese and Korean creators such as Pony Syndrome, Hello Catie, and Gina Hello!, a natural go-to for local audiences. Videos from local feng shui masters such as Joey Yap and Jessie Lee are also popular as observers seek tips and advice about what the Year of the Dog may bring.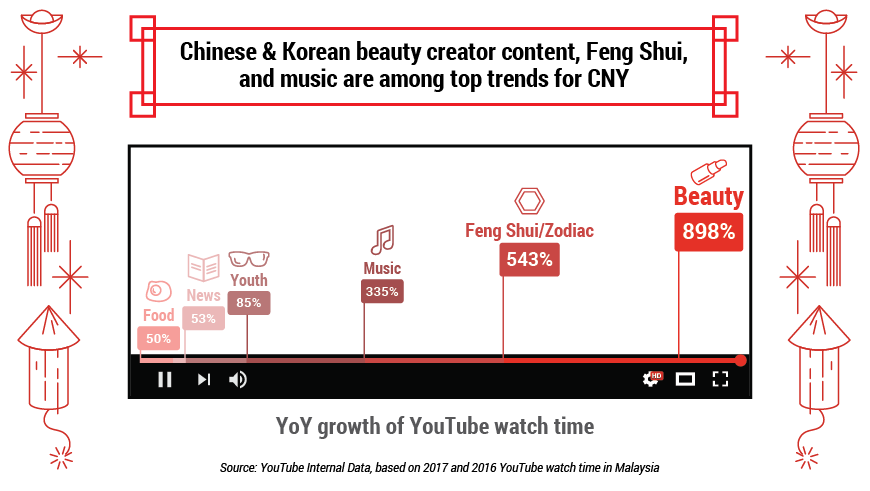 YouTube also becomes a way to entertain in the evening, as Malaysians find light-hearted Chinese New Year content to be enjoyed with family and friends. Local creators such as JinnyboyTV, Ling BigYong, and CodyHongTV are popular examples.
Insight 3: Family, food & light-hearted videos ads win the most attention

Unlike Hari Raya (Eid al-Fitr) seasonal ads, where themes around family values and helping others are more popular, Chinese New Year is a time for celebration, prosperity, and good fortune. We've seen that the most popular Chinese New Year ads tend to involve optimistic, light-hearted themes that focus around family, food, and comedy.
Here are some of the most popular CNY ads from last year that had these themes in common:
"Cooking Hustle" by Tenaga Nasional
This three-minute ad sees three women trying to win over their in-laws' blessings through an over-the-top, hilarious Chinese New Year cookout in a "kung fu" period drama setting.
"This Chinese New Year, Talking Says So Much More" by Celcom
This 60-second ad encourages friends and family to put away their phones and actually start connecting with each other during Chinese New Year.
"It Came from a Tin Mine" by Petronas
This four-minute cinematic storytelling ad sees five best friends come together in the spirit of friendship and togetherness to demystify a famous old myth.
"Have an Ongsome Chinese New Year!" by 11street
This 120-second ad, celebrating Malaysia's multiculturalism and inclusivity, see Arvind get some much-needed help ahead of a nerve-wracking visit by his girlfriend's parents.
Making the most out of this festive season
When Malaysians get on search and YouTube to prepare for the New Year, they arrive with the intention to research, discover, and plan ways to celebrate a memorable Chinese New Year. By understanding these audience intentions, brands can thoughtfully build their presence and align their brand messages throughout the seasonal period—creating lasting and meaningful impact.
1) Build excitement early around Chinese New Year
Brands can engage Malaysians early on by capturing intent and matching it with messages that are relevant and focus on popular Chinese New Year products. Countdown ads around branded content or promotions are a great way to remind consumers how close the holiday is and further urge them down the purchase funnel. With searches for "discounts" growing 30% year-on-year, promotion extensions are also effective in highlighting latest offers to deal-seeking customers.
Video is also the ideal medium to maximize reach and capture attention early on. The tease, amplify, and echo framework comes in handy as brands can use shorter, broad reaching ads to preview and build excitement around Chinese New Year and later pairing it with longer hero content further brand engagement from the most relevant audiences. After the celebration period, brands can re-engage the audience by releasing bumpers or other short ad formats to follow-up on key brand or product messages.
2) Timing and content are key to capturing consumer attention
Depending on the time of day, some content types are better optimized in one primetime slot over the other. For instance, if you're a food brand creating a step-by-step cooking video for a traditional Chinese New Year recipe, prioritizing your ads during the evening primetime from 5-9 p.m. is important because engagement is higher for these content types.
Beauty, Chinese zodiac/feng shui, music, and youth videos are some of the fastest growing Chinese New Year genres by watch time on YouTube in Malaysia. Brands should create content around these popular topics to establish a relevant connection to their audience during this festive period. Time and time again, we've seen that the best way to win attention this time of year is to incorporate elements of food, family, and traditional values into your brand story in a way that is funny, genuine, and relatable.