Searches for "Chinese New Year" were +200% YoY in 2017.
7 in 10 CNY-related searches occurred on mobile last year.
YouTube watch time for CNY-related videos grew 100% from 2016 to 2017.
"How to", "cooking", "recipes", and "cuisine" are among the most searched videos on YouTube during CNY.
Searches for electronic greeting cards for Year of the Rooster spiked 5,000% WoW.
Each year, more and more Hong Kongers go online to plan and prepare for Lunar New Year: In 2017, searches for "Chinese New Year" were up 200% YoY.1 What's more, seven in 10 of these searches occurred on mobile, meaning consumers turned to the most convenient device—their smartphones—to get answers and stay connected throughout the holiday season.1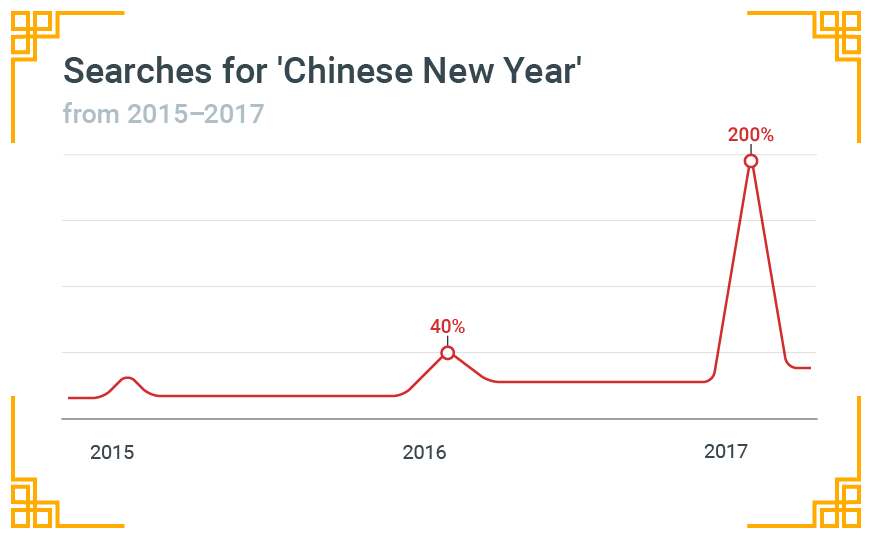 As Hong Kongers visit relatives' and friends' houses during the Chinese New Year festive period, another growing trend is how watching videos is quickly becoming a communal activity. From 2016 to 2017, YouTube watch time on smart TVs and gaming consoles (watching videos on their smart TVs or broadcasting from their phones) grew the fastest at 280% YoY during Chinese New Year.1
As Hong Kongers get ready to say goodbye to the Year of the Rooster and usher in the Year of the Dog, let's take a closer look at their digital behaviors during the various phases of Chinese New Year.
Phase 1: Preparing for festivities
It is tradition for Hong Kongers to welcome the Chinese New Year with tidings of happiness, good fortune, and lasting prosperity. In the week before Chinese New Year, searches for the Chinese calligraphy character for "blessing" spiked a whopping 3,000%.1

Hong Kongers also want to ring in the New Year with a sumptuous meal, so the week before the holiday is all about preparing and planning for the feasting ahead. As they look forward to either hosting reunion dinners with their families or visiting relatives on the first and second days of the Chinese New Year, Hong Kongers actively look for cooking tips and recipe ideas online. Last year, "how to", "cooking", "recipes", and "cuisine" were among the most-searched video topics on YouTube during this time period.1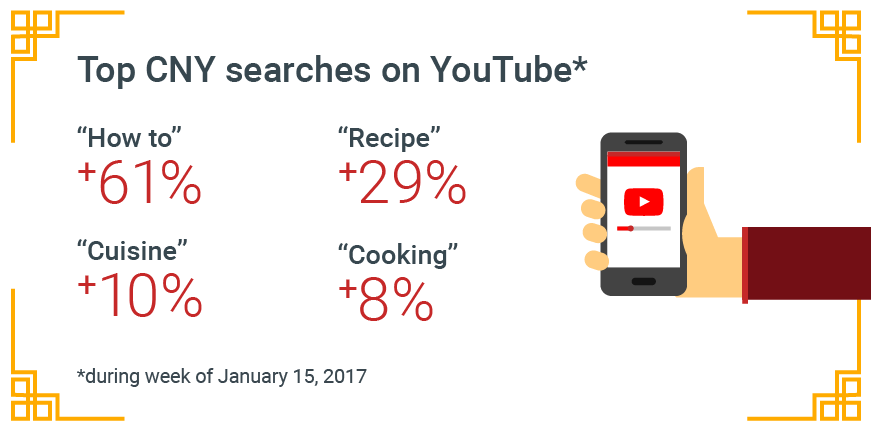 Marketer takeaway: Hong Kongers are always on the go, but they're busier than ever in the lead-up to Chinese New Year and need inspiration and advice to help them prepare. Tap into the excitement around CNY and become a trusted, helpful resource by developing engaging, instructional branded content, such as recipe videos or step-by-step tutorials. Delight consumers as they turn to their smartphones by providing fast, seamless mobile experiences around the exact moments they're searching.
Phase 2: Kicking off Chinese New Year
Many Hong Kongers wake up on the first day of CNY by sending as well as receiving electronic greeting cards on their phones via family chat groups. Last year, searches for Year of the Rooster electronic greeting cards spiked 5,000% WoW.1

Searches for popular Chinese New Year-related foods also begin to peak. In 2017, "pan-fried carrot cake"—a treat prepared at home and often gifted to friends and family—was the most popular food search during this time.1 "Rice cake" was the second most-searched food item but, interestingly, searches for "rice cake calories" also rose 275% WoW as staying health-conscious was top of mind.1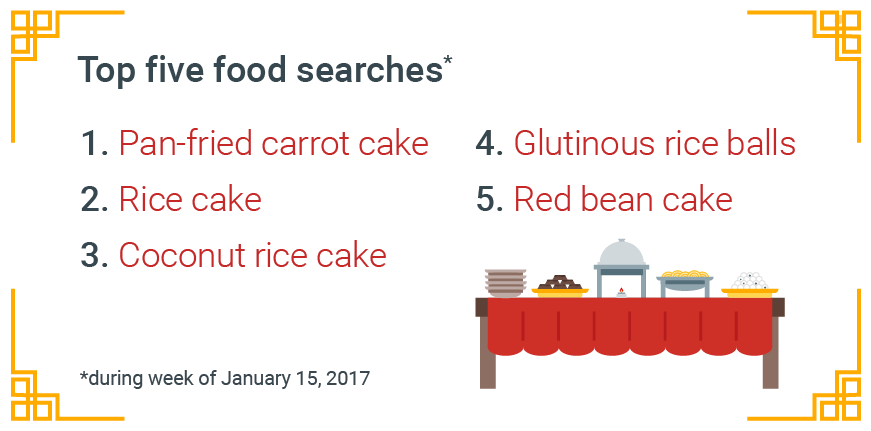 For many Hong Kongers, YouTube is a source of information and entertainment as they spend time with their families. In 2017, YouTube watch time for Chinese New Year-related videos grew 100% YoY.1 Four of the top 10 YouTube searches were for Chinese New Year-related music videos, and one of the top live streams during the week of Chinese New Year was the China Broadcasting Corporation's annual spring gala.1
Visiting relatives is fun, but it can also lead to uncomfortable conversations. Each year, young Hong Kongers anticipating the annual "do you have a boyfriend/girlfriend" interrogation turn to YouTube for advice. Last year, YouTube watch time for "boyfriend" and "girlfriend" categories grew 35% WoW during this time—the second highest week of the year in terms of watch time behind Valentine's Day.1
Marketer takeaway: As families begin to celebrate CNY at home or outside, help make the occasion more joyful and stress-free. This is a time for celebration and family get-togethers, so popular content themes will revolve around family, food, and prosperity. With more communal watch time on YouTube taking place in living rooms, time your campaigns effectively for post-meal watch times.
Phase 3: Wrapping up the celebrations
The seventh day of the Chinese New Year is "Yen Yat," aka "everyone's birthday." Hong Kongers often celebrate by eating rice balls and lighting lanterns. In 2017, there were 40K searches for "Yen Yat" in the closing week of the Lunar New Year.1 Searches for other annual traditions like "lion dance" and "fireworks" also spiked—the second-highest search volume for fireworks of the year.1

As the celebrations extend into the second week to include friends and colleagues, Hong Kongers look for other ways to relax and enjoy themselves with company. As an example, searches for the classic Cantonese movie "Fat Choi Spirit" spiked when the local TV network broadcast reruns during the first week of the New Year.1
Marketer takeaway: As Hong Kongers head back to work and continue celebrations with friends/colleagues, reach consumers during the second week of Chinese New Year with helpful and relevant branded content, especially around traditions such as "Yen Yat," lion dances, and fireworks.