With more than 197 million internet users in 2020, digital is no longer viewed as a niche in Indonesia.
Before COVID-19, Indonesians were spending 3.6 hours online for personal use, but following lockdowns, personal use now rests at 4.3 hours per day. With 8 out of 10 users viewing technology as very helpful during the pandemic, online media has become an indispensable part of people's daily lives. For example, we're noticing them turn to online video platforms to consume content, with YouTube now clocking more than 93 million monthly active users aged 18 and above.
With people watching videos across multiple devices both online and on their TV, this leaves marketers with a new challenge: planning and measuring campaigns across screens.
To help, Google created the cross-media reporting tool (XMR) using Nielsen-TV campaign data and YouTube post campaign data to measure performance across both platforms. Here, we explore how three companies in Indonesia used XMR to measure and improve how YouTube contributes to their brand.
XMR provides brands with cross platform measurement to easily see the efficiency and reach of their YouTube and TV campaigns in one report.
See where you reach your customers:
By combining data tracked from Nielsen-TV and YouTube — and analyzing the duplicates — XMR assesses the overall and unique reach across TV and YouTube. It also breaks this data down by demographic groups to understand how many people are being exposed to your campaign across both platforms.
See how often you reach your customers:
Assess if your audience is viewing your ads frequently enough and compare average frequency across TV and YouTube to analyze how many times they are getting exposed to the campaign. By allocating budgets differently across the two platforms in the next campaign, brands can improve frequency across the two platforms.
See how much it costs:
With insights on cost efficiency (cost per reach) of campaigns across the two platforms, XMR can be a helpful guide to use TV and YouTube together to get more efficient reach for the same or higher campaign investments.
Drive higher reach by optimizing the mix between TV and YouTube
Blibli, an e-commerce advertiser, was keen to reach a wider audience beyond their regular customers. Since 2019, the brand had run campaigns on both YouTube and TV, but for their annual birthday celebration — a key moment to drive awareness with "anniversary sales" — the brand had historically focused on TV and its mobile app. Realizing the pandemic led more people to seek digital entertainment, Blibli decided to run its anniversary campaign on YouTube as well.
Analyzing XMR reports with audience measurement from previous YouTube and TV campaigns uncovered that the brand was reaching people 2–3X more frequently on TV than YouTube. Blibli realized that it could reach more unique customers if it balanced how many times it reached people on the two platforms.
Blibli's team used Google's Cross Screen Planning tool (a tool that estimates the combined reach between TV and YouTube based on different spend categories) and Google Reach Planner — and found that they could get the highest reach by putting a significant part of their media budget towards YouTube.
The brand created a video showing products being used in new ways to help families as they spend more time together at home. The YouTube campaign used Masthead, TrueView, and Bumper ads that ran simultaneously on TV during the brand's anniversary period.
After the campaign, the XMR report showed a more balanced frequency across TV and YouTube, but most importantly, it drove higher reach across a larger audience for the same budget.
With cross-media measurement to guide its multiscreen plan, Blibli reached 30% more audiences with YouTube over TV, achieved a 3X increase in sales compared to the previous month, which is a 4% lift in brand favorability, and a 1.5X lower cost per reach in comparison to its TV campaign.

"These results showed us that YouTube plays an important role in our media plan, as it brings incremental reach in a more efficient way. At the same time, a combined TV and YouTube approach supports us in obtaining the highest reach across our audience."
Stay top-of-mind by showing ads at the right frequency
Through internal consumer studies, L'Oréal Indonesia learned that people who use Garnier products prefer to watch videos on both TV and YouTube.
The brand decided it should adopt a multi-channel strategy to reach and connect with a larger audience — and set a goal of reaching 40% of their target audience, with a frequency of four touches per week — based on learnings from the Kantar whitepaper — The Role of YouTube in Brand building across SEA.
Working with Google's Cross Screen Planning tool to predict how much incremental reach YouTube could add to their TV campaign, the team chose a budget allocation that would match their audience and frequency goals.
The results from Garnier's campaign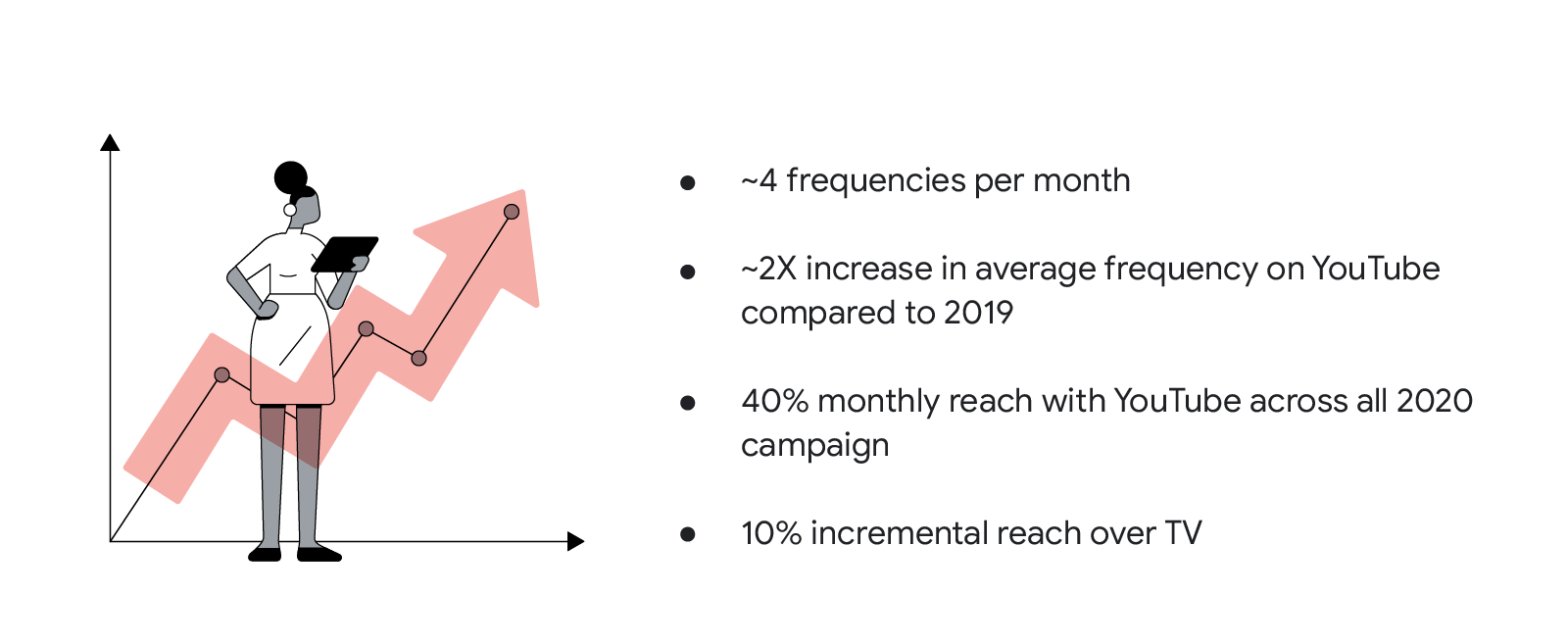 "XMR is extremely helpful for us to look back on how our campaigns have performed across TV plus YouTube. We are now able to find ways to further improve our frequency with YouTube to drive even higher impact, whilst still using a multi-screen approach."
Spend marketing budgets more efficiently
The brand team at Morinaga ChilGo, which is a liquid milk brand from Kalbe Nutritionals for infants and children, noticed an opportunity to grow their advertising beyond TV with multi-channel marketing.
Seeing that the pandemic had caused a lot of children's education to move online — such as a 1.5X growth in search interest for "Learning" on YouTube Search — the Morinaga ChilGo team decided to experiment with YouTube ads to reach the brand's audience of mothers more frequently, and at 4X lower cost per reach.
The pilot campaign ran on TV, as well as YouTube with TrueView in-stream ads reaching women aged between 25–44. The XMR report showed how YouTube drove incremental reach at a lower cost than the brand normally achieved on TV alone.

By running a multi-screen TV and YouTube approach, Kalbe Nutritionals experienced improvements across incremental reach, cost per reach, as well as an interest in brand keyword search queries for "ChilGo".

"TV wasn't enough. With our audience online, we knew we needed to be on YouTube. XMR allowed us to effectively measure the cross reach between TV and YouTube and estimate the incremental reach with YouTube. Achieving a better cost-per-reach with TV and YouTube has helped us shape our future media strategies."