Indonesia flourishes with online activity in the month before, during, and after Ramadhan. We worked with GfK data to identify notable Ramadhan-related behavior shifts across several apps and websites during last year's holy month. Our findings tell where and when Indonesians go online to get prepared, find entertainment, and observe different stages of the festivities.
Ramadhan—one of the five pillars of Islam and the holiest month on the calendar—is an exciting time in Indonesia. With technology taking an increasingly larger role in Indonesian day-to-day life, smartphones now invariably play a critical part of their religious observance. Smartphones are now used by 61% the population, compared to just 17% who use desktops.1 And with Indonesians on mobile an average of 5.5 hours per day,1smartphones are more important than ever during this sacred holiday.
Indonesians welcome Ramadhan by going online
Cherished time with family. Refreshing spiritual awareness. The delicious food! With so much to look forward to during the holy month, Indonesians start getting excited and prepared long before the holiday begins. Search interest for Ramadhan-related terms increases as the holiday approaches—particularly one week before2—as Indonesians search for prayers and schedules, look up traditional recipes, and get an early start on homecoming travel plans.
For a full month before Ramadhan, during the observance, and for the full month following, Ramadhan-related searches are on the rise. Check out the full list of top-searched Ramadhan-related keywords here.
While most searches for travel and ticket-related keywords take place after Ramadhan begins, searches for train tickets ("kereta api") peak nearly two months before.2 With most of the country making similar travel plans, early preparations are key to finding the best deal!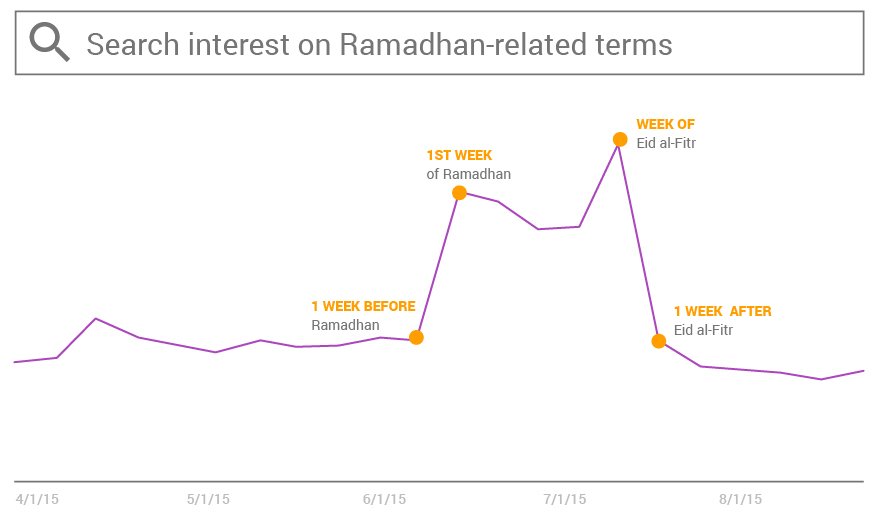 Building your mobile strategy around these key moments is essential to keeping your brand present when Indonesians search for Ramadhan-related keywords. As they look up terms like "Amalan Ramadhan" (Ramadhan practice) and "Jadwal puasa" (fasting schedule) to get prepared, be there with relevant and timely content that meets their needs.
Indonesians stay entertained during Ramadhan with online videos
In non-Ramadhan months, Indonesians pull out their smartphones most often during lunch and commuting hours.3 During Ramadhan, all that changes. The fasting month means different daily schedules, and Indonesians' mobile usage patterns adapt accordingly.
The biggest change we noticed was in the early morning: With all the eating and hydrating done before sunrise, boosts in presunrise search activity show that their mobile devices were never very far away. For some, their trusty mobiles help them with their spiritual practice (searches for sermons and prayer times increase just before the day begins),1 while others are just looking for some quick entertainment (popular TV shows like Preman Pensiun are watched most often during predawn breakfast, or "sahur").2
"E-commerce web traffic between 3:00 a.m. and 6:00 a.m. is 152% higher during Ramadhan, particularly during sahur time"
During the day, Indonesians spent significantly more time on gaming apps like Subway Surfers, Pou, and Clash of Clans than they do during non-Ramadhan months.1 Perhaps to distract themselves from their growling stomachs at lunchtime or before breaking fast? For entertainment, Indonesians turn to YouTube, especially during lunch or late at night before bed.2 Online video consumption increases by as much as 15% during Ramadhan—particularly on mobile2—as people search for their favorite shows or popular music artists like Opick and Maher Zain.
Online video is a great way to reach Indonesians when they're craving entertainment (and craving a snack)! Consider the types of videos Indonesians search for most during Ramadhan like "Lagu religi" (religious songs) and "Preman Pensiun" (a popular Indonesian TV series)—and think of ways your brand can create helpful, uplifting video content for viewers as they observe and celebrate. Check out these great examples from the Indonesia H2 2015 YouTube Ads Leaderboard.
Ramadhan drives new peak time for e-commerce websites
The e-commerce sector in Indonesia is booming. Indonesians love shopping on their smartphones, and Ramadhan brings about a few extra waking hours to scout around for new clothing, smartphones, and consumer electronics.
E-commerce web traffic between 3:00 and 6:00 a.m. is 152% higher during Ramadhan, particularly during sahur time.4 After a morning lull, activity peaks again at lunch break and during the "ngabuburit" period (a 12% increase), which is just before breaking fast at the end of the day.3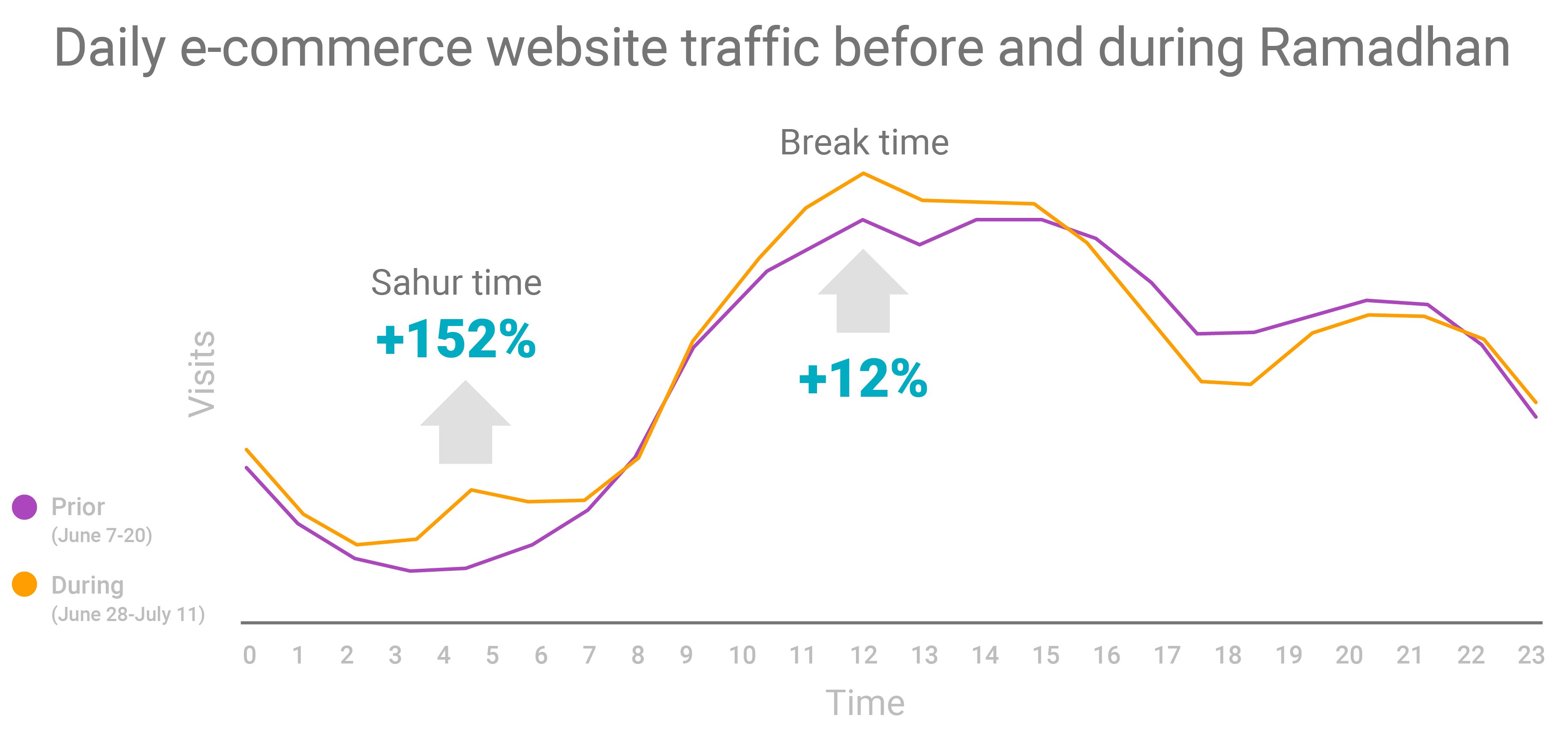 As the month-long observance comes to a close, e-commerce traffic doesn't slow down as Indonesians take advantage of the Lebaran bonus, a mandated annual salary bonus granted to every employee in the country.1 Unsurprisingly, e-commerce apps such as Bukalapak and OLX Indonesia experience the highest usage at the end of the holiday.1
E-commerce brands can't afford to miss Ramadhan's unique early morning and midday bursts of atraffic. Look for ways your brand can engage with consumers by displaying your shared values, perhaps by promoting samples of modest "baju muslim" (Muslim clothing) or "gamis" (Muslim dress). Understanding and capitalizing on these ebbs and flows in search, web, and app traffic can boost your visibility to online shoppers when they're looking for you.
Indonesians share in the joy of homecoming during Eid al-Fitr
The closing of Ramadhan begins a period of spiritual renewal, excitement, and togetherness for Indonesian families. At the core of Eid al-Fitr (the festival signifying the end of Ramadhan) is a desire to share in the blessings of another Ramadhan's passing with friends, family, and Muslims worldwide.
"Mudik," the mass migration of Indonesians to their hometowns during Eid, is a hectic but exciting part of Ramadhan's finale. As Indonesians finalize their plans to return home and visit extended family, travel-related searches reach their peak and 72% of searches come from mobile devices.2
At the heart of Ramadhan is a spirit of togetherness. Find ways for your brand to be there alongside consumers by sharing in the joy and reaching out to extend greetings and well-wishes—"Ucapan lebaran" (well wishes and greetings for Lebaran) can go a long way in engaging with your audience.