Brand building: that initiative you don't need to worry about until your operations are flawlessly optimized, revenues are booming, and your staff plan is perfectly in place, right? Not anymore. New research conducted in partnership with McKinsey & Company has paradigm-shifting insights for e-commerce businesses large and small.
E-commerce is exploding in Indonesia. Sales are forecast to hit $4.5B by 2016, the number of internet users is predicted to increase to more than 125M by 2016, and online shopping is projected to increase 10X in the next five years. With all the opportunities opening up in the next several years, e-commerce business owners can't afford to put off brand building until years down the road. They need to take action now.
By taking the right steps, today's e-commerce businesses could very well be the giants of tomorrow. As the landscape becomes more appealing, new players will emerge and the marketplace will become more crowded. Existing e-commerce companies can get a leg up by starting to build brand equity and customer love today.
Most e-commerce businesses in Indonesia grow according to these four life stages:
Setting up: In this stage, businesses are focused on laying the groundwork, including getting the company website and other operations ready. There is very little focus on marketing.
Improving performance: Businesses are focused on driving traffic to their platform and are beginning to monitor and track growth. Marketing plans are primarily focused on performance marketing and SEO.
Traffic and traction: As businesses grow, they work on sharpening performance, getting more granular with measurement. Here, businesses start to transition from purely performance marketing to brand building, including a new focus on customer perception.
Building a brand: Businesses begin to use aggressive branding campaigns to differentiate themselves, primarily offline.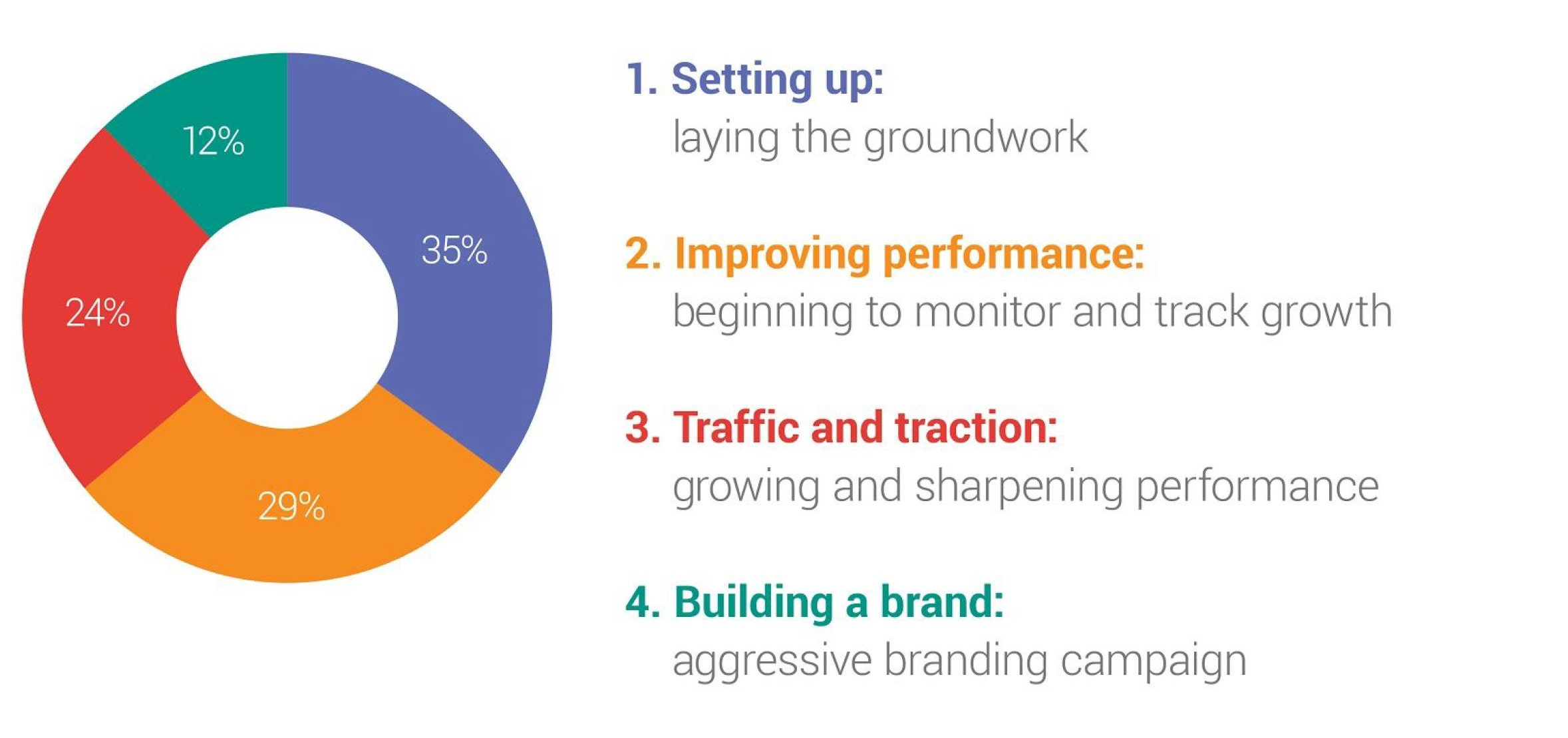 When businesses only focus on a single stage at a time, a holistic view of marketing and sales strategies, including creating and promoting a brand identity through paid media, a social presence, and other promotional activities, can get lost. To build trust and gain market share, branding is important from day one.
Barriers to Indonesian e-commerce growth
Pop quiz: What's the top barrier to e-commerce growth in Indonesia? According to a range of e-commerce decision-makers we surveyed, is it poor infrastructure, not having quality products to sell, lack of consumer trust, or low interest in online shopping?
If you guessed infrastructure, take some points as it comes in as the second most-common barrier, cited by 89% of our respondents. Low bandwidth and late adoption of 4G have kept Indonesian e-commerce from taking off, but most respondents believe improvements in the next five years (including low-cost smartphones and the arrival of LTE/4G) will solve the most pressing infrastructure problems.
Consumer trust, cited by 94% of our respondents, is believed to be the biggest barrier to growth. That includes a lack of trust across the board—in the Internet, in online payments, and in e-commerce businesses themselves.
You could say that these two barriers are related, since better infrastructure is likely to increase trust over time. And while businesses can take steps to build infrastructure over the long run (and optimize their apps, sites, or products for low bandwidth in the short run), building trust will be key when it comes to grabbing market share and nurturing loyal consumers.
When consumers know who you are, what you stand for, and what you can offer them, they are more likely to trust you.
Build trust by building your brand
Paining consumer trust is hard anywhere in the world. Throw in a mix of messy websites, questionable payment systems, and, in many cases, poor customer service, and you can't blame Indonesian customers for driving to the nearest shop to make sure that they're getting what they paid for. Over time, industry-wide improvements will help, but you don't need to wait around for things to change; you can start building your brand identity today. Remember, without a clear brand identity, there can be no brand affinity. And without brand affinity, customers will just as easily buy from any site that's offering a similar product for a better price. However, when consumers know who you are, what you stand for, and what you can offer them, they are more likely to trust you—and return for more.
Start building your brand today
Whichever life stage your company might be in, here are some things your business can do to start building that brand loyalty:
Stages 1 and 2:
Get a head start! Think about what you want your brand to stand for, feel like, and represent right from the beginning. What are your company's values? What do you want your customers to feel when they see your logo or your product?
Use social and community marketing to cultivate your brand persona. Cultivate a social profile across key Indonesian platforms including Instagram (where informal e-commerce often takes place) and Twitter. Develop a locally relevant voice, employing colloquialisms that resonate with your audience.
Think about customer service that meets modern consumers' needs. Don't sacrifice customer service because of lack of bandwidth. Customer service doesn't always have to be about having a 24/7 call center, or an expertly developed Live Chat feature on a website. Brands can still offer great customer experiences by having easy-to-reach e-mail support or other social support like a direct BBM line, a LINE account, or easy-to-fill-in feedback mechanisms like Google Forms. When customers learn they can rely on your service, they're more likely to keep coming back.
Stages 3 and 4:
Consider collaborating with trusted influencers (a YouTuber like skinnyIndonesian24, NatashaFarani, or Raisa) relevant to your products and space that align with your business ideals.
Offer helpful content that teaches your customers how to use your tools and demonstrates how careful you are with their information. Include things like an easy-to-understand Privacy Policy statement.
Be present where your audience is by running campaigns across a gamut of media (and across devices).
Whatever life stage your business is in, take some time to iron out what you want people to think and feel about your brand. Once you're clear on your brand identity, you can tell your story to consumers. As e-commerce continues to swell in Indonesia, give your business the competitive advantage by establishing a strong head start today. Go on now, build that brand love.