Asia has emerged as the globe's hub for mobile app businesses. Apps for instant messaging, social networking and search are used on a daily basis—and with so much competition, it's difficult for brands to stay ahead of the innovation curve. In partnership with TNS, we conducted the "APAC Mobile App Usage Study," surveying 1,000 smartphone users each in eight countries about their app behavior, when and why they download apps, and their attitudes to apps and advertising. Here's what we found.
Most Asian countries have already transformed themselves into mobile-first nations, with smartphone penetration outpacing traditional desktop devices. Out of the eight markets we covered, six (Singapore, Korea, Hong Kong, Taiwan, Australia, and Japan) have smartphone penetration over 50%.
Korea is the undisputed leader of app installations, where consumers have 57 apps installed on average. As one of the most advanced device markets (remember a little brand called Samsung?), Koreans are not only tech savvy, they generally embrace cutting-edge features and technologies. Singapore, Hong Kong, and Taiwan follow the race with over 40 installed apps per consumer on average. In the chart below, you can see there's a correlation between the smartphone penetration and the number of installed apps; we can thus infer that the number of apps will only continue to increase in other markets as the smartphone penetration grows.
Smartphone Penetration & Number of Apps Installed

App discovery: how the countries compare
Given that smartphones and apps have become a significant part of consumers' daily lives, brands need to find the right way to reach them by first learning about how people discover new apps.
While it is not surprising that people rely heavily on recommendations from friends and family, the fact that people are proactively looking for new apps on search engines and in app stores is an interesting finding. It indicates that brands can acquire new users despite the crowded market by advertising on different digital channels.
Top 5 Ways of Discovering New Apps in Korea

App adoption: popular unbranded apps
Our research uncovered three distinct app categories, based on the apps used most often on a daily basis in each market.
The first category is "social driven." In Australia, India, and Indonesia, social-networking apps are the most frequently used apps.
The second is "messaging driven," which includes messaging apps like WhatsApp, WeChat and Line. In Hong Kong, Singapore, and Taiwan, smartphone users message on a daily basis, making it the leading app category in those countries.
The third group is "news/search driven." Japan and Korea are countries where news, weather, and search apps were the most actively used.
Popular Categories of Unbranded Apps by Country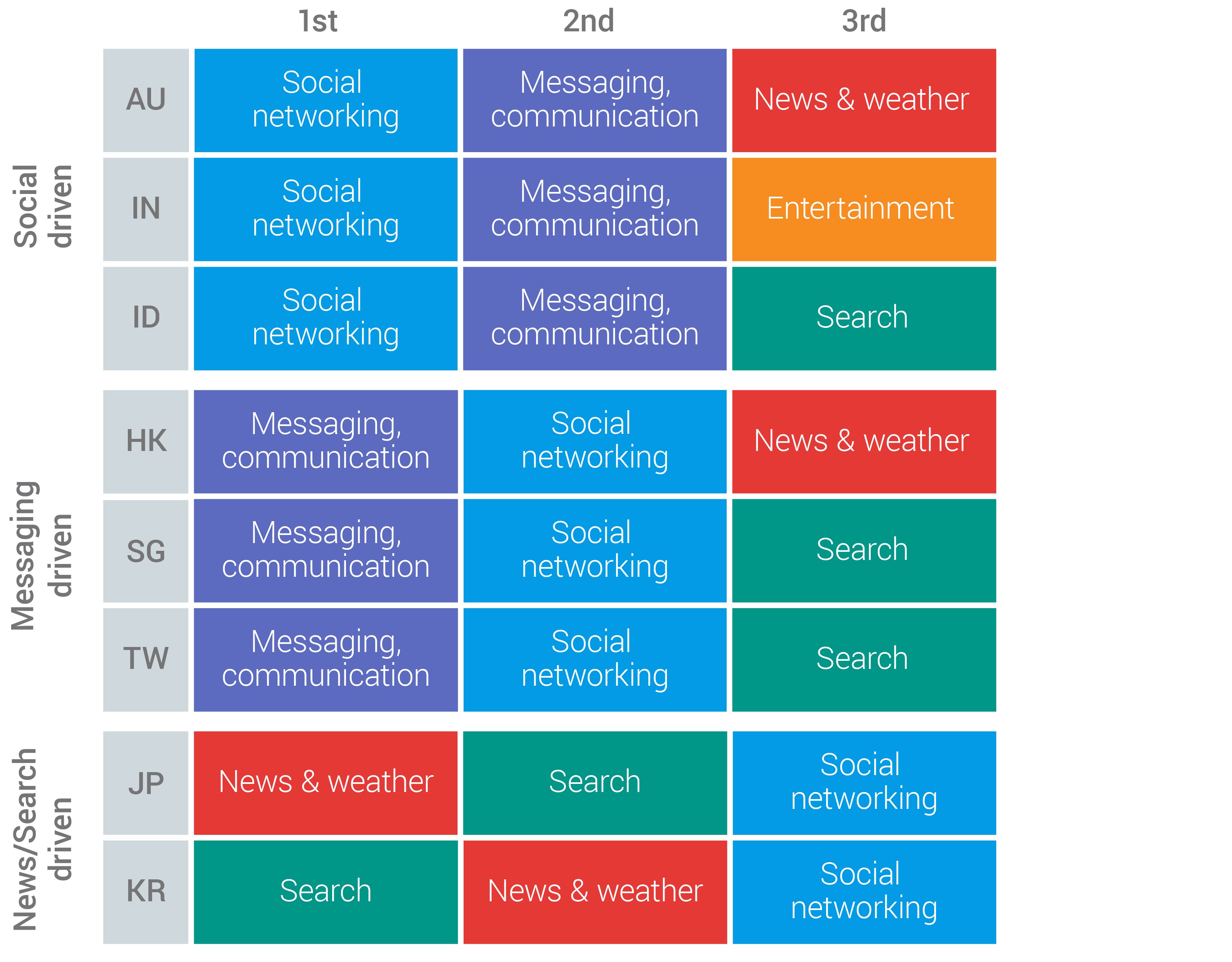 We have also discovered, unsurprisingly, that the most common new installs across APAC countries are gaming, social networking, and messaging apps.
When it comes to paid apps, gaming reigns supreme. According to a recent App Annie study, consumers don't mind paying for popular gaming apps, and in-app payments for digital content like virtual goods and stickers are also on the rise.1 This is especially true in Korea and Japan, where both countries make up the world's biggest markets in gaming-app revenue outside the U.S.1
Consumers in India, however, are more keen to spend their money on education apps, while in Singapore they're spending on productivity-related apps.1
Even more interesting is consumers' willingness to make in-app payments. It turns out that people are much more open to making in-app purchases in free apps than in paid apps.1 This goes against the expectation that people who download free apps aren't willing to spend on mobile in general, and that's good news for app developers. So depending on your primary transaction goal (app download vs. continuous purchase within the app), you can decide which pricing strategy to take.
Branded app engagement across Asia
As Asian consumers continue to spend hours on their smartphones every day (more than three hours per day in Hong Kong, India, Indonesia, and Taiwan), brands need to be present to engage with both existing and potential customers. Many brands already understand the importance of mobile and offer branded apps to their customers for better accessibility and usability on mobile devices. This allows them to engage with customers in their micro-moments.
Though smartphone penetration in India and Indonesia is in its infancy, smartphones users who are early adopters and opinion leaders are already actively using branded apps, especially for shopping. In Korea and Taiwan, where branded apps are already popular, finance apps that allow for online banking are the most frequently used branded apps. And in Hong Kong, news, weather, and restaurant/dining apps are the most popular branded app categories.
Popular Categories of Branded Apps by Country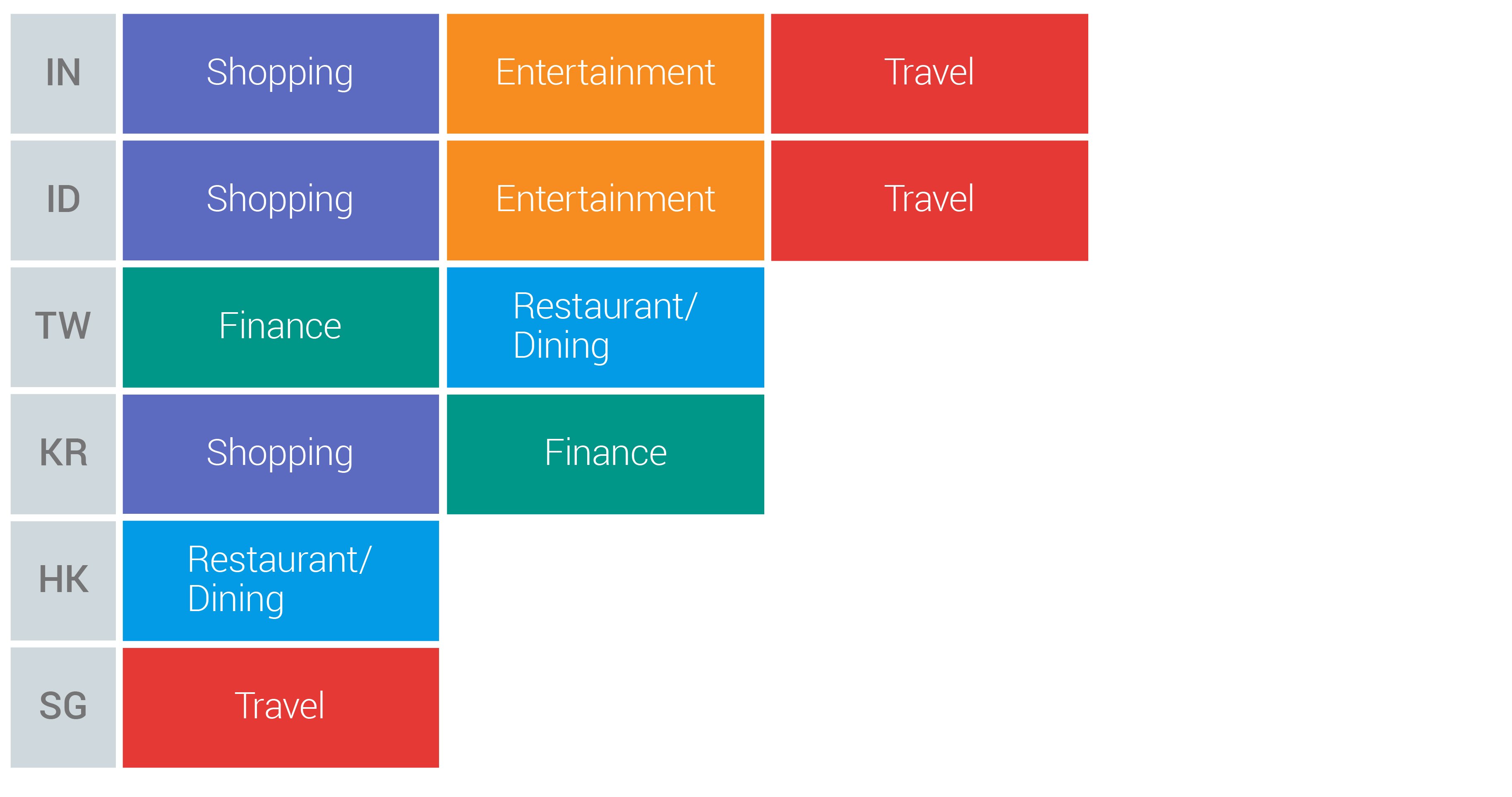 Top mobile activities across APAC markets include taking photos (saw that one coming!), searching for information, and communicating. Understanding what functionalities people use the most provides good guidance on what to consider for your new app.
Think of creative ways to integrate these functionalities into your app. A prime example is AliExpress, a leading e-commerce business, which allows users to upload pictures to a product review page and to share their personal feedback on products with other consumers—a smart way to leverage photos and communication to sync with their business goal.
People are much more open to making in-app purchases in free apps than in paid apps.
Apps have become a major lifeline for online consumption and continue to grow as one of the most popular forms of communication. Consumers have different needs for apps and how they fit into their everyday lives. Your brand can't satisfy everyone, but it can make sure to serve its target audience by evolving alongside your consumers' ever-changing needs. Regular updates based on feedback, in addition to new features that reflect gaps in the market, are great ways to do this.
This new app economy presents huge opportunities for digital companies, but even more so for traditional ones. The app market allows brands to create new relationships with today's always-on consumers. Take time to understand the core benefit your brand offers consumers and to think about how you can deliver it differently on mobile devices, based on the context people use their phones and its unique functionality. There is no single cure-all way solution to make your app more popular or better designed, but understanding your consumers—where they discover new apps, and what type of apps and mobile functionality are popular—will be the lighthouse to guide you to a successful app campaign.
Methodology
Google partnered with TNS Australia on custom research to uncover insights about mobile app user behaviour, including attitudes to apps, apps installed (triggers and barriers), typical and recent app behaviors, and attitudes to advertising and push notifications. In April 2015, an online survey was conducted of 8,000 smartphone users ages 18-64. All respondents were screened to ensure that they had used smartphone apps in the past seven days prior to the survey as well as apps from various categories in the previous 30 days.