Festivities and time-honored traditions are the heart of Indian culture. So, in a country with more than 400M active online users, it's no surprise excitement ramps up on digital around the country during the festival season. Before savoring the rasgulla during Durga Puja and gazing at the fireworks of Diwali, many Indian consumers pick up their smartphones to be entertained, hunt for sales and promotions, and discover new styles and seasonal recipes. What does that mean for marketers? A huge number of valuable micro-moments where brands can connect with their target audience. As we explore the ways Indians go online to celebrate the festive season, we ask one simple question: Is your brand visible amid the celebrations?
India's festival season is an exhilarating time of year across every region, and that excitement has recently made its way online. The country's fast-growing digital population—projected to reach an unprecedented 650M users by the end of 2020—drives a significant surge of online activity during the festive season between August and January. In fact, most consumer categories see more than 30% of their annual sales during that time period,1but interestingly, it's not just users in major metros going online—non-metros are driving 60% of the growth in interest in online shopping.2
With the internet at more and more Indians' fingertips, a growing number of consumers are beginning their festivities by going online to make the most out of the holiday season, whether by shopping for deals, looking for styling tutorials, browsing decor ideas, or looking up traditional recipes.
Brands are inevitably going to clamor for attention with a flurry of TV ads, special sales, and in-store promotions, but the digital landscape of India is changing—fast. Here are three key insights to ensure your brand is ready to meet consumers online this festive season:
1) Indians start their holiday preparations with online search
Being online during the festive season is just the first step—knowing what Indians are searching for and when they start searching will help your brand be helpful and relevant at the right time.
As one of India's most famed festivals, Diwali is when most consumer categories see an influx of online searches—but the seasonal excitement doesn't stop there. Search volumes for the most popular categories spike again around Christmas and New Year, especially food and drink-related searches (such as "sweet dishes" and "how to make a cake"), which increased by 59% at the end of 2016.3 While beauty- and health-related searches saw more than a 10% uplift during the festival season, home improvement-related queries also emerged as one of the growing categories, with a whopping 1 billion total search queries.3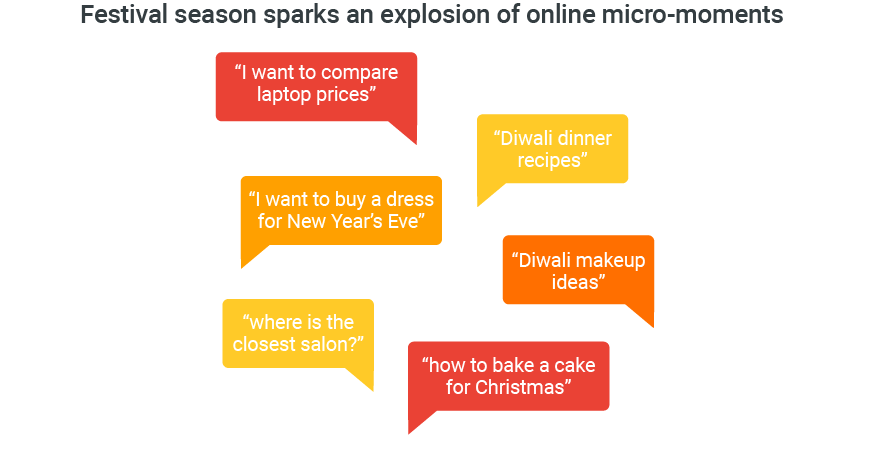 Taking note of these seasonal trends is crucial to winning attention in key micro-moments on search.
2) India's number of omnichannel shoppers is on the rise
Similar to brick-and-mortar retail battles around the holidays, the e-commerce space is getting more competitive as Indian consumers get more comfortable buying products online. Consumer electronics searches (such as "headphones," "laptop price," and "power bank") grew 127% YoY between Diwali and New Year's Day in 2016.4
Compared to the rest of the year, online shopping sites also see a 30% increase in traffic around the festive season.3 However, brands often miss one important aspect of Indians' growing love for online shopping—how it also drives them to make purchases offline.
The reality is that 70% of Indians with internet access go online to browse products, compare prices, and look for promotional offers in nearby stores. In these early online research moments, showing up with relevant ads featuring in-store promotions is key—product-listing ads typically get 1.5x higher click-through rates as compared to non-branded search ads.5 Featuring online directions to your stores and opening hours will also help guide shoppers into nearby stores after researching and shopping around online.

Big Bazaar, one of India's largest hypermarket retail chains, used innovative online search campaigns to drive offline sales, leading to an increase of more than 30K in-store customers.5 Brands can similarly stand out to Indian consumers online by featuring festival sales, discounts, and deals in their digital ads and then seal the deal by making the online buying process a quick and seamless one.
3) Indians visit YouTube to learn, observe, and celebrate
The festival season also drives a notable increase in online video consumption. But online video is about much more than entertainment; it also plays a key role in influencing Indians' shopping decisions.
Many Indian consumers say they're influenced by online videos during their purchase journeys, including car buyers (90%), mobile phone buyers (36%), and those looking to making travel plans (20%).6 YouTube plays a pivotal role for marketers looking to grab attention, especially from mothers, who become key decision makers for purchases during festival time. According to an Ipsos study commissioned by Google, two-thirds of mothers in India say they purchased a product that they'd seen advertised on YouTube.7
Some of India's most popular YouTube content categories see a spike in viewership during the festive season as people look up helpful makeup and cooking tutorials, ideas for home decor, festive looks and styles, and their favorite Bollywood films.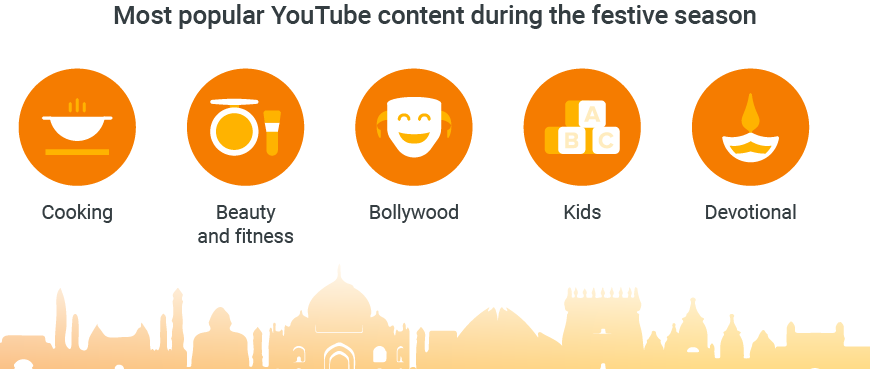 One thing is clear: When Indians go on YouTube, they're attentive and tuned-in. That creates big opportunities for brands to capture valuable attention by developing compelling and informative content that's relevant to the categories consumers love to watch during this festival season.
India's frenzied festival season: A massive digital opportunity
While many brands are battling for expensive TV spots, billboards, and print ads, the Indian audience is turning to the web early—and much more often. To win their attention online as seasonal competition heats up, savvy brands should:
1) Be there early: Getting in front of Indian consumers from the first moments they start searching online for ideas, information, and inspiration is crucial. Our research has found that consumers have as many as three brands in mind when they start thinking about buying a product. Being among those first three top-of-mind brands is crucial for boosting your brand's chance of coming out on top. It's also important to expand your keyword coverage to show up for consumers when they first start searching for your products and services.
2) Sync up with search trends: Understanding what Indians are searching for during the festival season is key to offering them helpful, relevant information in their moments of need. Understanding the consumer's purchase journey and building keyword-tailored landing pages can amplify your brand's visibility into the consideration phase. Target ads to tap into specific audiences and seasonal trends, and develop attention-grabbing video content to tap into the huge interest around key YouTube categories with surging popularity during the festive season.
3) Connect online shoppers with offline stores: Reaching Indian consumers online is just the first step—make sure you're creating a visually appealing, fast, and seamless online shopping experience from start to finish. Include location-based offers and in-store promotions in your online ads to seamlessly connect potential customers with your store to make a purchase, whether offline or online.
As online activity starts to heat up before and during India's festivals, make sure your brand is primed and ready to win the season. By showing up for consumers in the moments they go online to make the most of their celebrations, brands can reach and engage new audiences and be right alongside consumers as they prepare, observe, and celebrate India's festive season.