It used to be that you couldn't stroll through any town in India without hearing that distinctive crack of a cricket bat or seeing football fans cheering around a television. These days, another trend has emerged: Sports fans have gone digital. Now you can spot Indians incessantly checking scores on their mobile as they walk down the street, cab drivers streaming cricket tournaments, and newbies reading up on the rules of Kabbadi as they wait for a train.
In just the past two years, India has seen a 50% growth in sports-related queries on Google.1 Cricket is the national pastime and accounts for 80% of those queries,1 but the other sports are catching up fast. Football, badminton, and kabaddi have doubled their share of search queries in the last year alone.1
Based on the latest Google Search data spanning 2013–2017 in India, we'll take you on a tour around the country, sport by sport, giving insight into how and when people go online to consume sports content—and what these powerful shifts mean for not just sports brands, but all marketers.
Cricket-related content is booming
The most popular sport in India, cricket, is by far the most searched sport online. That's true across all audience categories, demographics, and geographies—and it's only increasing. Cricket queries have grown by 80% in just the last two years.1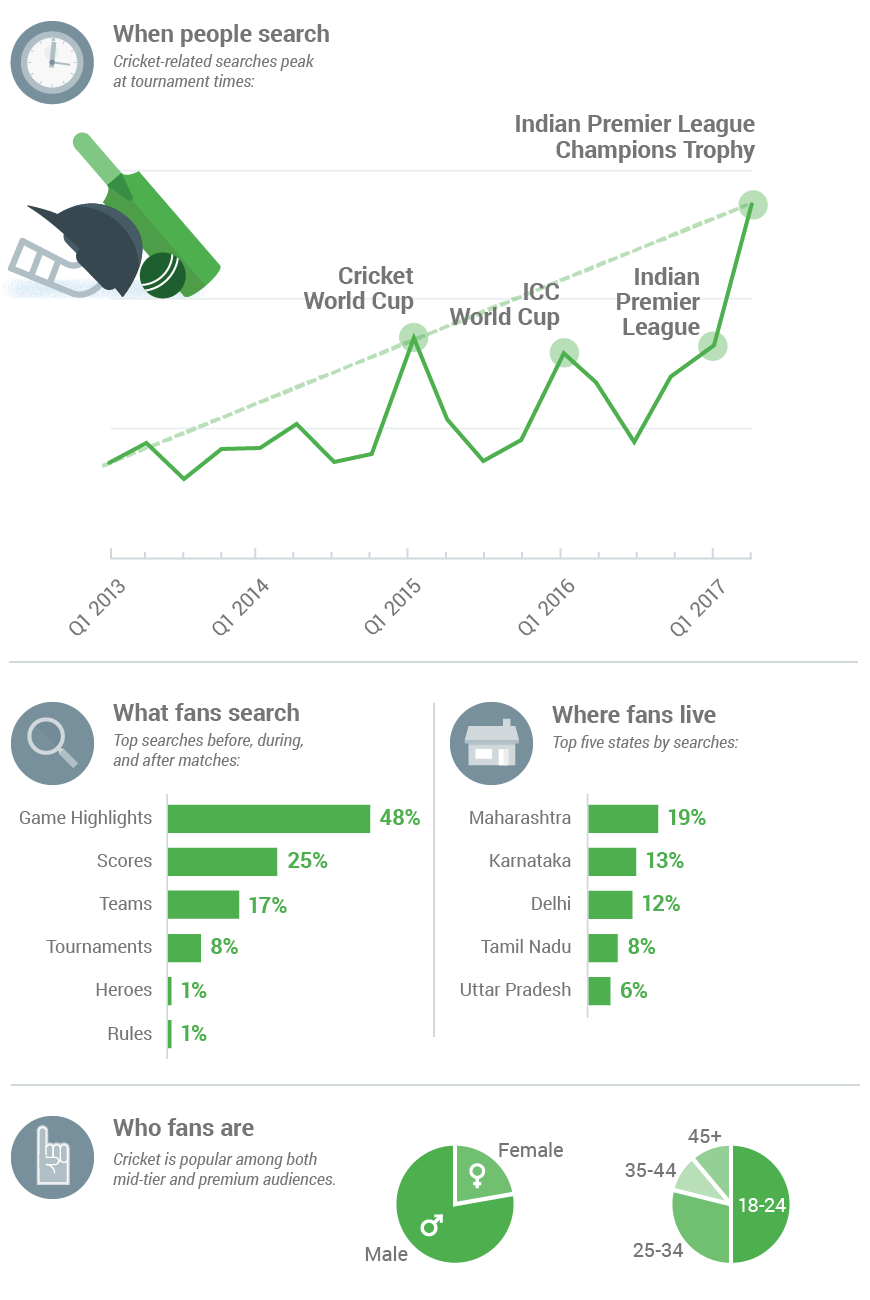 Key takeaways: Queries for cricket heroes grow proportionately during tournament periods. While interest for cricket is strong online during those times, the landscape lacks new heroes. Beyond the top two active stars, MS Dhoni and Virat Kohli, the third most-searched cricketer is retired batsman Sachin Tendulkar.1 Then there is a steep drop off, with Rohit Sharma and Ravichandran Ashwin a distant fourth and fifth.1
Building up more cricket heroes will be crucial to help sustain cricket interest as well as growing marketing opportunities and sponsorships during non-tournament seasons. Reaching cricket fans can be more competitive than reaching fans of less mature sports, but it's ideal for brands looking for mass reach.
Online interest in football is extending beyond premium audiences
Football is still a budding sport in India. Apart from global tournaments, the Indian Super League (ISL), launched in 2013, has been the primary driver of widespread fan interest in football. Each season lasts a very short three months and allows for a fixed number of marquee players per team to supplement the local talent.
Some of Bollywood's biggest stars own and co-own teams, introducing football into mainstream entertainment culture. Football will continue to spread across India, and right now it attracts younger, more premium audiences, so it's an attractive content category for brands who want to reach that segment of consumers.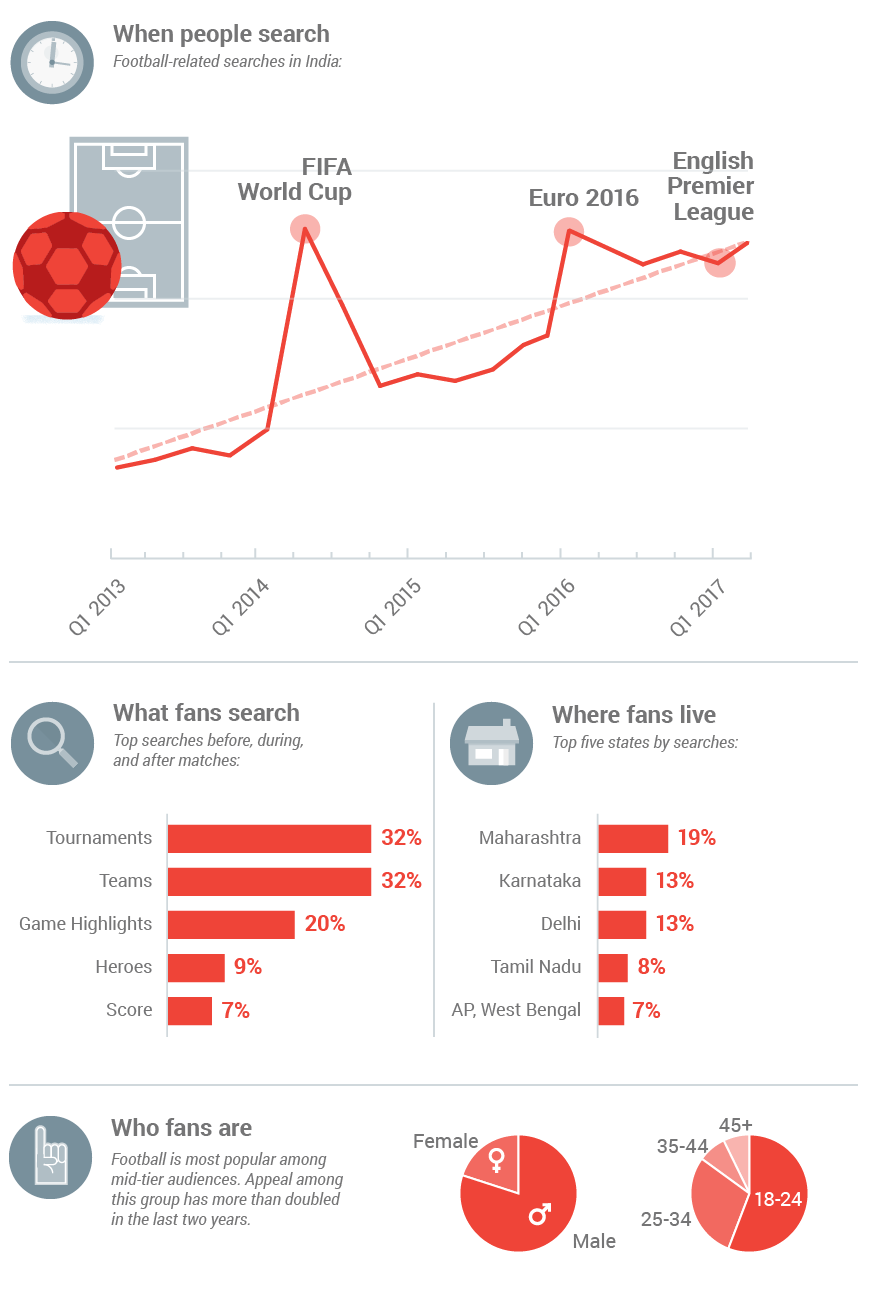 Key takeaways: The advent of leagues such as ISL have led to diversification of interest in the sport. While the English Premier League, Spanish La Liga, and Italian Serie A find their largest traction in metros such as Bengaluru, Mumbai, Delhi, and Chennai, ISL finds its largest interest in geos including Kolkata, Kochi, Guwahati, and smaller cities in West Bengal and Kerala.
With greater access to the sport nationwide and new tournaments popping up every year, interest in football is trickling down to all types of audiences beyond premium.
An Olympic medal drives newfound interest in badminton
Badminton leapt onto the national stage in 2016 when P.V. Sindhu became the first Indian woman to win a silver medal in the sport. Sindhu is coached by legendary badminton player Pullela Gopichand, and thanks to her win, queries shot up 430% in one quarter,1 with people searching for badminton's top stars and ways to train and learn the sport.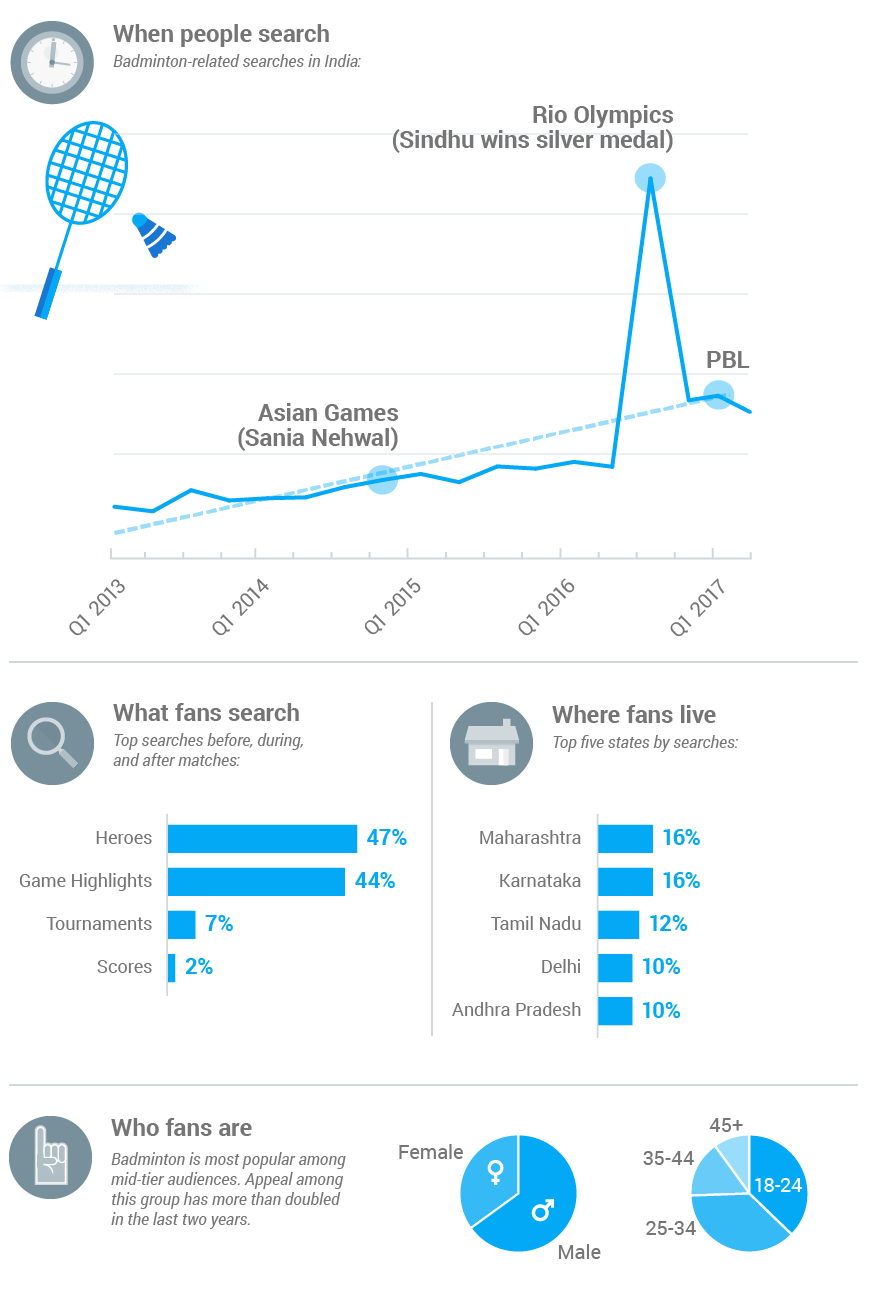 Key takeaways: Badminton is the most hero-led sport in India, with sustained search interest in stars such as Sindhu and Nehwal. This provides opportunities for brands to build strong association with fans and reach out to the audience in innovative ways.
Badminton is next only to cricket in terms of people actively playing the sport, with queries for training, badminton academies, and equipment growing at an even faster rate than cricket.1 This unique facet of the sport's growth opens new avenues for sports marketers and brands alike.
Kabaddi is beginning to build an audience online
Kabaddi is revolutionizing the Indian sports landscape by creating a league and niche of its own, with younger audiences and women leading the charge. Season 5 of the Pro Kabaddi League (PKL) has seen unprecedented traction: Queries within the first couple of weeks of this three-month long tournament have already reached almost 50% of the queries from all of last season combined.1 Cumulative reach for the inauguration day of the tournament is around 50M, a whopping 59% growth from Season 4.2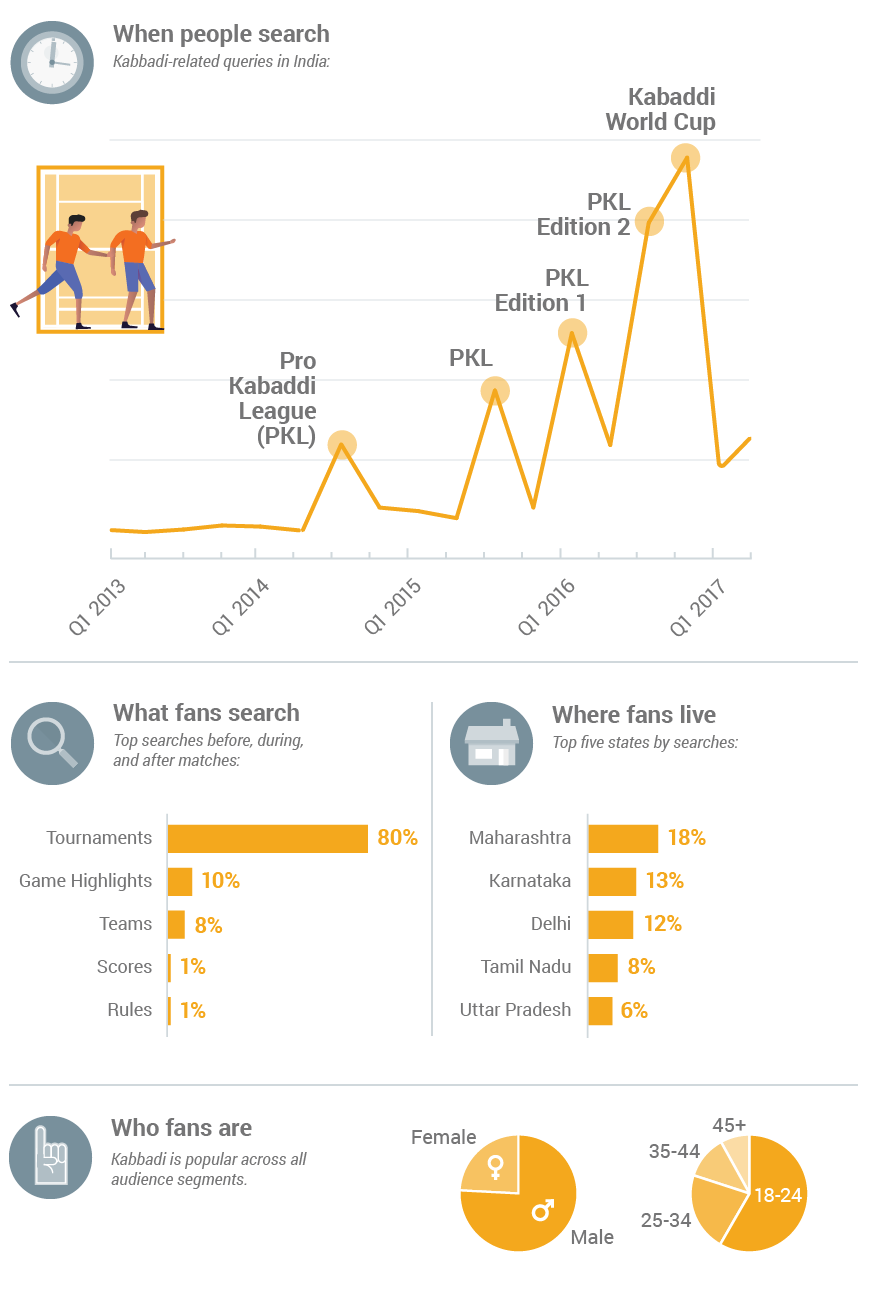 Key takeaways: As kabaddi evolves and strengthens roots across all audience categories, it opens a new arena for brand marketers to target sports fans. Brands can tap into kabaddi's regional traction as new teams are launched and loyalty develops.
4 key takeaways for marketers in India
While sports brands, broadcasters, and sports marketing companies are most directly impacted by these massive shifts, any brands associated with sports or major events can stay ahead of the curve in India by investing in digital now. Here are our key takeaways based on these search trends:
As sports fans go online for more types of content (and spend more time there), capturing their interest is a big opportunity for forward-thinking brands. This is particularly true for new sports like kabaddi where interest is nascent and the brands that can claim the ground first are likely to win.
Having a favorite hero or star is what keeps fans hungry for more content. Today's fans are interested in everything stars do—who they date, where they're from, what they wear. Along with their massive social media followings, heroes give brands a whole new playing field. In sports where heroes aren't as common, marketers should consider making content to buoy up potential stars. This will help sustain interest and drive engagement with different sports.
Each sport attracts different audiences. Women are more interested in badminton, for example, and football is extending its reach to mid-tier audiences. Think about how your target audience maps onto the different sports and the key moments people in all demographics will be searching for sports-related content.
Plan your efforts around major sporting events in India each year. Brands of all varieties in India and can tap into these big cultural moments. Tournaments in India are often multi-day events, so your brand can stand out with clever pre- and post-match campaigns to heighten buzz and brand association. Paired with smart always-on campaigns, find ways to take advantage of big moments and engage with India's passionate fan bases.
As you map out your digital plans for the months and years ahead, keep an eye on search trends on Google to find opportunities and potential challenges. Search can give you a window into what Indian sports fans are interested in—and where things are headed. Game on!