In Southeast Asia's rapidly changing e-commerce landscape, retailers need to constantly revisit and refine their offerings or risk getting lost in the shuffle. Here's the latest on how online retailers can keep an edge on the competition and remain relevant to consumers.
When e-commerce first took off in the region five years ago, following a standard formula would lead to reasonable success: build a simple desktop experience, upload basic inventory information such as stock images and prices, throw in some smart digital marketing, and watch as customers made their way to the site.
Today, technology advancements and shifts in consumer behavior have altered the path to success. To shed light on the new formula, we've identified three trends and how businesses can adapt to the rising expectations of Southeast Asia's growing segment of mobile-first consumers and an increasingly competitive marketplace.
Trend #1: Southeast Asia is mobile-first (and often mobile-only), driving rapid mobile commerce growth
Southeast Asia is one of the world's most mobile-centric regions with countries like Singapore leading the way on smartphone penetration, and others like Indonesia and Thailand leapfrogging desktop PCs altogether. As late adopters to the internet, most households in the region never owned a desktop, and as smartphones became more affordable and accessible, they quickly became the main device by which people connected to the web.
The smartphone gap: the percent of people with smartphones, minus the percent of people with PCs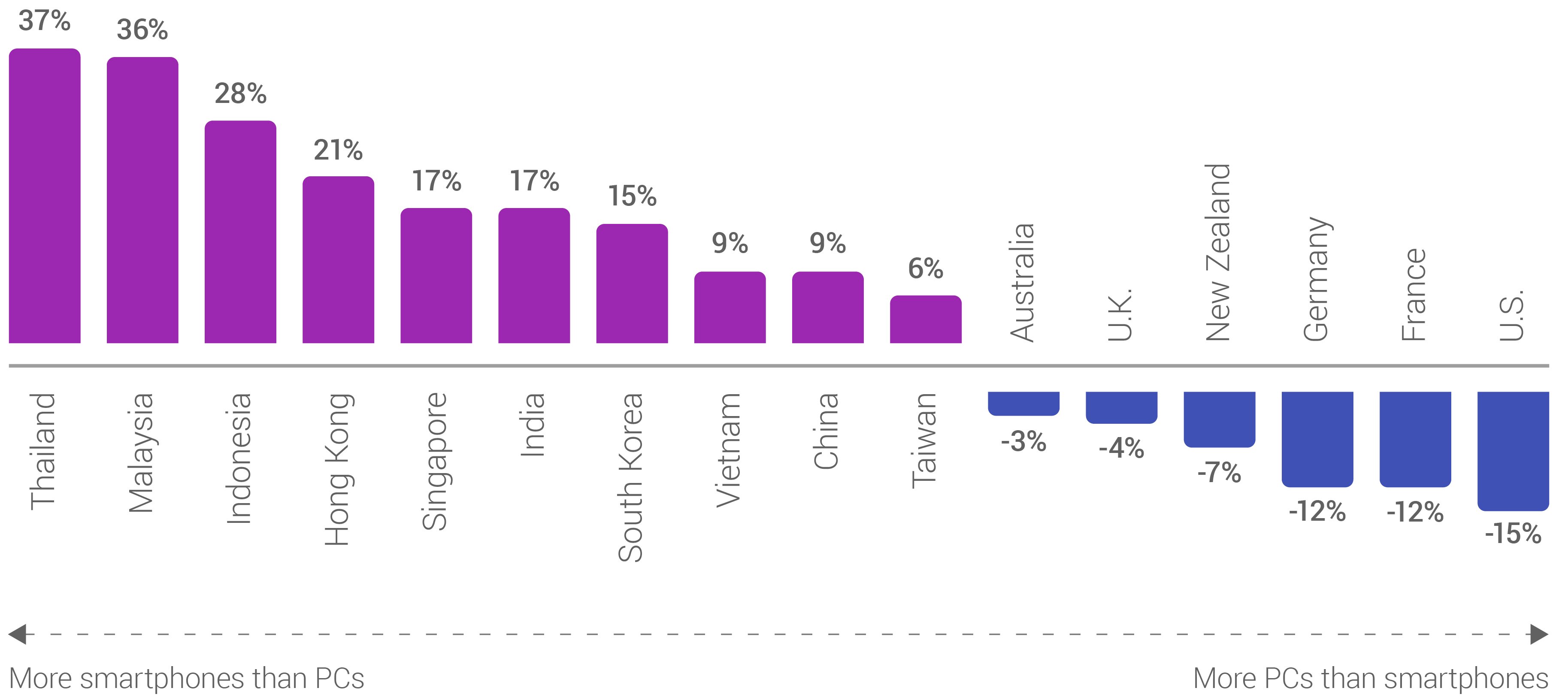 This is particularly true when it comes to shopping. In the past year, 58% of searches in the region were done on a mobile phone.1 While regional data for mobile commerce is sparse, data from Singapore indicates that one-third of e-commerce consumer spending occurs via smartphones.2 Anecdotally, some internet retailers reported that number surpassed 50% across Southeast Asia in 2015.
In Singapore, about one-third of consumer e-commerce spend is now transacted via smartphones

What your business can do
Invest in a quality mobile website and app

Consumers across APAC are nearly divided down the middle on where they like to shop: 55% prefer the app experience, and 45% prefer the smartphone browser.1 To capture your full customer potential, you should create robust experiences on both, or consider lite apps like Flipkart did. The Indian app-first e-commerce company recently built a lite version of its app that works in a mobile browser, giving users an alternative in case they don't want to download the app (common in India and Indonesia where smartphones have limited storage capacity).

Whichever way you choose, keep in mind that providing a simple and delightful experience is key. Limited screen space means every pixel must count. Challenge your usability team to focus on what's truly useful to your customers, instead of trying to squeeze in every marketing promotion or buying option. A good example is the new Agoda hotel booking app, which offers an intuitive user journey, inviting visuals, and helpful information such as hotel reviews and maps.
"Some internet retailers reported that mobile surpassed 50% of online sales across Southeast Asia in 2015."
Provide omni-channel shoppers a frictionless experience

Given the many ways customers can interact with your business (desktop, tablet, mobile site, mobile app, or physical store), it's critical to understand their interconnected paths to purchase—and to make their criss-crossing journeys as seamless as possible.

RedMart, a Singapore-based online supermarket, ensures that delivery preferences and items in customers' shopping carts are automatically saved so they re-appear in the cart regardless of what device the customer picks up at any point. Creating these types of frictionless experiences results in smoother paths to purchase—and better conversion rates.

Measure mobile better

Today's shoppers constantly move from device to device, and tracking that omni-channel experience isn't easy. A shopper may see an ad on mobile, compare products on an app, and eventually convert on a desktop. Traditional metrics that focus solely on "last-click conversions" will undervalue mobile's influence on the path to purchase. Some e-commerce retailers have stated that up to 40% of shopper journeys that start on the mobile site end up purchasing via the app or on the desktop site. Meanwhile, other journeys start on mobile but end up in physical channels like storefronts or call centers, making it key to create holistic KPIs that attribute value across the customer journey.
Trend #2: Consumer expectations continue to rise to new heights
Consumers today expect to be delighted by technology at every turn—to have magic brought to even life's most mundane tasks. Consider how quickly services like Uber and GrabTaxi caught on. Now that consumers can book a ride with a few taps and swipes, it's become rather unthinkable to wait in a taxi queue or give directions to the driver.
And while online shopping experiences remain constrained by some barriers that existed five years ago (namely not being able to touch or interact with a product), some brands are redefining the experience to meet consumers' rising expectations—attracting new customers and building brand love in the process.
What your business can do
Use technology to bring your products and brand to life

Find ways to replicate real-life shopping experiences online. Smart Buy Glasses offers different photo and zoom options for its products as well as a virtual try-on. Fashion brand ZALORA takes it one step further and hosts Hangouts On Air so potential customers can see products in action and interact with the brand; it also uses 360° virtual reality with Cardboard viewing devices to give customers access to some behind-the-scenes action.

it also uses to give customers a behind-the-scenes experience.

Smart Buy Glasses offers customers a virtual try-on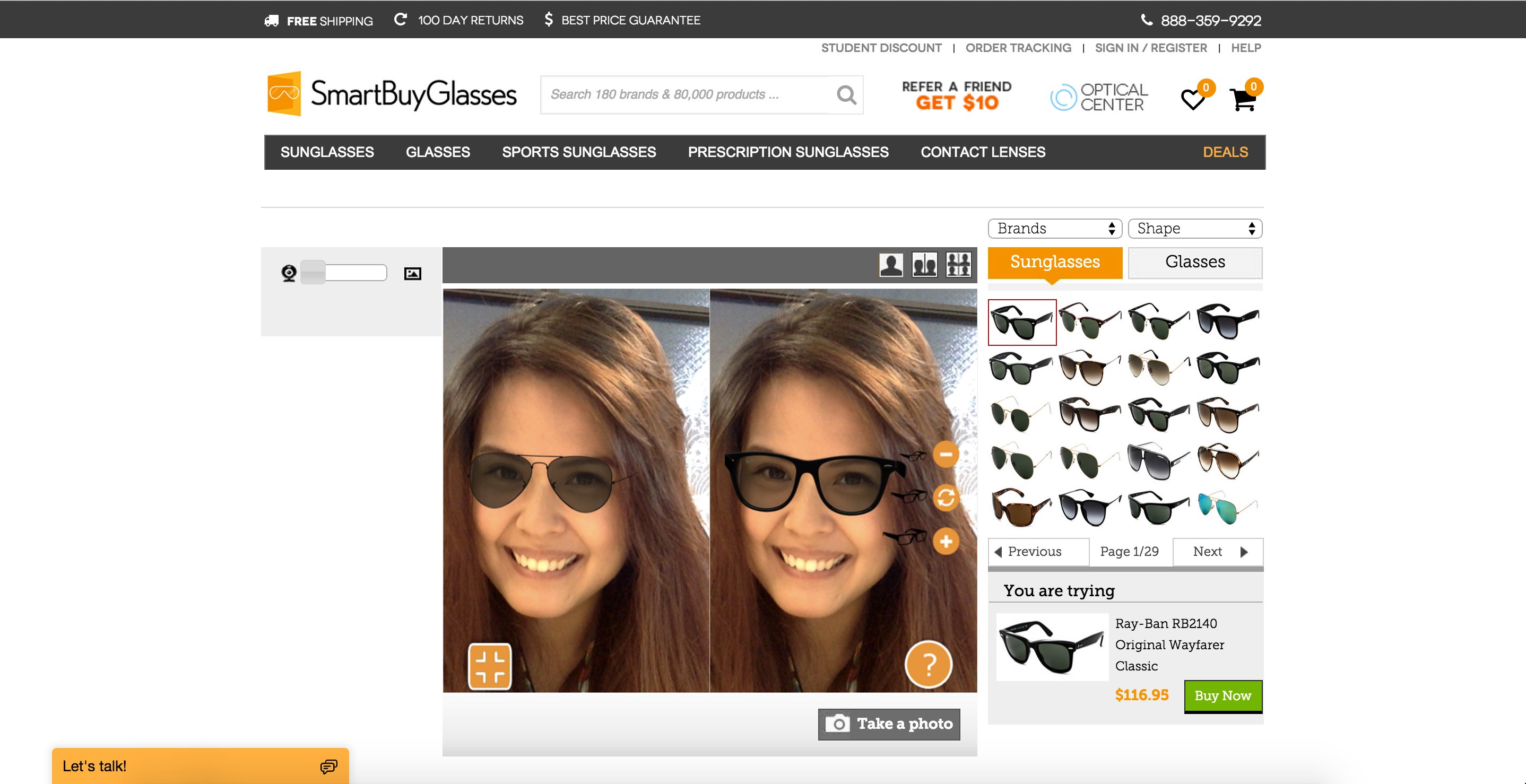 Services like these allow customers to get a feel for the products before clicking "buy now," giving them more confidence in their purchases and in the brand itself.
"Instead of focusing solely on driving transactions and competing on price, consider how your business can win by delighting customers and creating brand affinity through better experiences."
Trend #3: Today's marketplaces are a trove of infinite choice
With rising consumer demand, it can be tough for sellers with limited inventory to compete. Consumers expect sites to have robust inventories of quality products, and in response, most larger e-commerce sites have vastly increased their selections by creating marketplaces that aggregate smaller sellers' and wholesalers' items in addition to their own inventory. Smaller merchants who can't compete on selection may elect to sell their inventory through established marketplaces like Qoo10, ZALORA, or Lazada. To further complicate things, choice has been widened through C2C marketplaces like Carousell and Shopee, which allow end users to sell directly to each other.
What your business can do
Create simple and seamless choices for the user

Ensure that whichever supply-chain sources your site aggregates on the back end, users don't notice (or get confused by) the demarcations around each. If customers are seeking hairdryers on your site, for example, they should be able to view all hairdryers in the same set of search results, regardless of whether the vendor is an individual C2C seller, your e-commerce business itself, or another small business selling on your site. Allow customers to shop by product instead of solely by seller category.

Lazada has a well-integrated marketplace setup that allows all products to appear to the customer within one Lazada experience. It also curates and organizes numerous categories that are intuitive while providing helpful information like product reviews and buyer's guides. These help consumers faced with infinite choice make better purchase decisions, which, in turn, lead to more sales.
•Monitor customer behavior and adjust product offerings
Pay attention to what's selling and regularly adjust what's showcased. The best sites constantly curate their inventory as well as leverage analytics, optimization, and testing tools to personalize the site based on specific user behaviors. For example, a young male who purchased expensive designer shoes on a site would have his future site visits customized to show similar or complementary male-focused products in higher price ranges.
Focus on the shopper
These insights all share one main directive: Users come first. Considering how quickly Southeast Asia is changing, businesses need to make sure their approaches and e-Tail experiences are built to accommodate this shift. This is an interesting (and exciting) time for e-commerce players. They can either reinvent themselves, or relegate themselves to a commoditized race of competing on middle-of-the-road elements like price.