Get it before it's gone. That was the idea behind shoppable pre-roll video ads that drove thousands of conversions and six-digit sales results1 for one of the world's largest online luxury outlets, Yoox Net-A-Porter. If you're looking to drive conversions straight from a video ad, learn from this clever approach. It proves thoughtful creative and targeting are key to a successful direct response video ad campaign.
To drive buzz—and fill online shopping carts—for last year's holiday season, Yoox dreamed up "The World's Most Exclusive Collection" campaign, a series of 25-second pre-roll video ads that practically dared viewers to buy a one-of-a-kind item. The catch? If a user didn't click on the ad quickly, the offer was gone forever.
Enticing users to take action
To determine which products to feature in the direct response campaign, Yoox gathered a list of top luxury fashion-related search terms across its target markets: U.S., Italy, Japan, and South Korea. Using that information, the team curated a collection of 400 products that were exclusive to the campaign and not otherwise available on Yoox.com. From there, they created five different video ad templates, based on product type (for example, shoes, handbags, and tops).
The resulting direct response video ads gamified the user experience, inviting viewers to take action to save the featured luxury item from destruction. The ad's opening moments made it clear that viewers had to act fast or lose out on the offer altogether. By hitting the "Shop Now" button, users were directed to a landing page where they could purchase the unique item.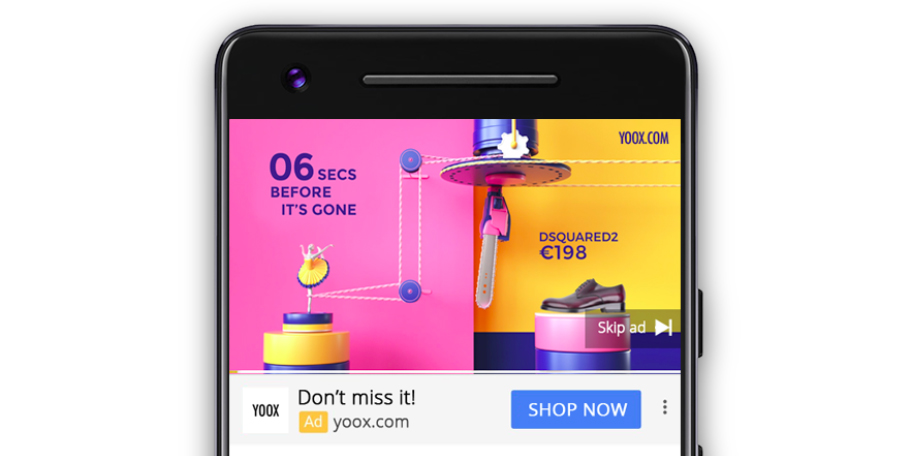 Yoox's approach proved that video can play a powerful role in getting potential customers over the line: the campaign drove thousands of conversions, six-figure sales results, and had an average view-through rate of 37%,2 which was 23% higher than the average view-through rate for video ads in the e-commerce industry.3 In fact, the campaign was so effective that the team plans to use it as part of their always-on strategy moving forward.
Four tips for your next direct response video campaign
1. Let consumer behavior guide your creative hook
Since the first five seconds of a TrueView ad are not skippable, you have 100% of users paying attention. These opening moments are your chance to hook the audience and show them that your ad is relevant so they keep watching. In other words, not just any creative will do—it must tap into a true insight for your audience. Yoox did this by tapping into two obsessions of its fashion-forward target audience—exclusivity and impulse buying. The first few seconds of each ad made clear that users had a one-of-a-kind shopping opportunity, but had to act fast.
2. Use pacing and rhythm to encourage action
With so much media to choose from today, people are less likely to pay attention to content that doesn't grab their interest. A great way to earn and hold their interest? Use quick cuts and bursts of action. Yoox achieved this by gamifying the user experience, and encouraging viewers to act quickly (to the tick of a countdown clock) in order to save the luxury item from destruction.
3. Make taking action simple and easy
It seems like a no-brainer, but it's critically important to give viewers clear instructions on what to do if they like your offer. From the start of its ads, Yoox told users, "Don't miss it!" with a clickable invitation to "Shop Now." Follow its lead and make it easy for people to convert.
4. Use custom targeting to reach an interested audience
Set up your direct response ads for success by ensuring they're delivered to people who will find them relevant. Yoox used affinity audiences, for example, to reach people who had demonstrated an interest in "bargain hunting." The team also used custom intent audiences, which allowed them to find people who had either recently searched keywords they deemed relevant (like brand names of products they carried) or browsed other fashion-related content on the web.
As Yoox shows, embracing these four principles can help ensure that your video ads drive user action. So whether you're offering designer apparel and accessories or trying to generate new business leads, focus on building compelling, actionable creative targeted to reach the right audience.