What we set out to test
Can brands unify and automate multiple channels effectively to achieve their marketing objectives?
The background
Samsung specializes in the production of a wide variety of consumer and industry electronic goods and services. Its electronics business, Samsung Electronics, is a global industry leader that constantly strives towards continuous growth and innovation.
With the competitive year-end shopping season in mind, Samsung Electronics wanted to scale up its special sales promotion efforts for the Galaxy Campus Store, its online shopping mall dedicated to mobile and IT products for college and graduate students. Thus far, Samsung Electronics had been relying on Display and Discovery ads, paired with Maximize conversions bidding, to boost the Campus Store's marketing performance.
Despite the success of its previous strategies, Samsung Electronics remained open to new solutions, keeping in mind that the retail landscape has changed dramatically since the onset of the pandemic. Compared to pre-COVID times, 70% of consumers today shop more online, and are constantly using new ways to discover, research, and purchase across multiple channels.1 Recognizing the need to reach people wherever they are in their multichannel consumer journey, Samsung Electronics began looking for effective and efficient ways to be more discoverable across multiple channels.
In particular, Samsung Electronics was eager to test out a multichannel marketing strategy that could deliver tangible results within a short time period. It soon learned about Performance Max, a goal-based campaign type that uses machine learning to unify, simplify, and automate advertisers' cross-channel strategies. Samsung Electronics then set up an experiment to test if Performance Max could complement its pre-existing Display and Discovery ads to find new audiences, drive efficiency, and boost conversions.
How we set the experiment up
Samsung Electronics analyzed the effectiveness of Performance Max by comparing the performance of these campaigns, which ran in parallel:
Control group: Display + Discovery ads
Test group: Display + Discovery ads + Performance Max
Performance Max campaigns perform better with a two-week "ramp up" period to generate more insights. To accommodate this, the experiment ran in Korea over a period of five weeks.
All campaigns were optimized towards the same conversion actions (a page view or purchase made on the Samsung Electronics website), and adhered to all creative, audience targeting, and measurement best practices.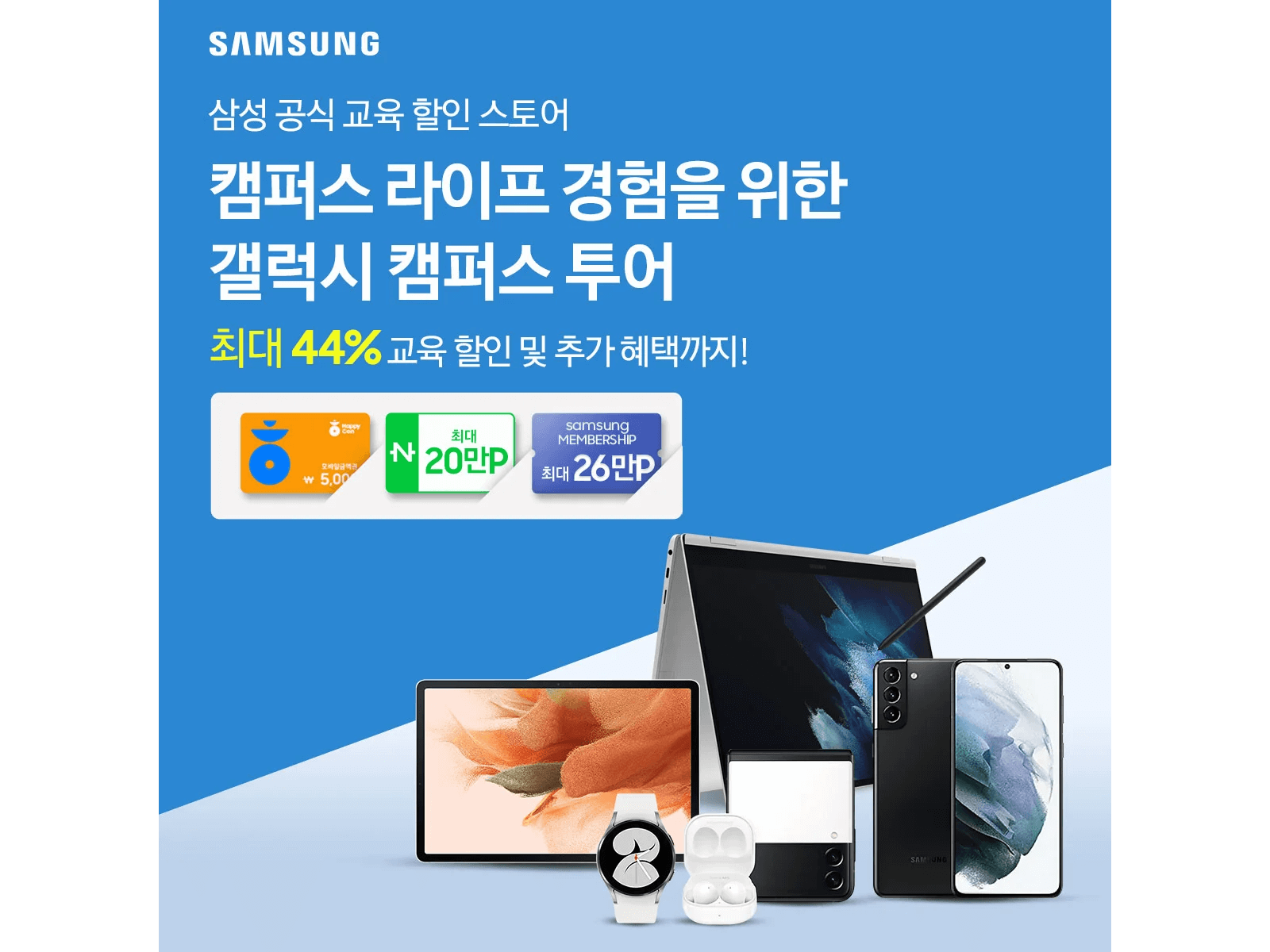 Solutions we used
What we learned
Performance Max campaigns use automation to enable brands to access a wide variety of inventory across channels. This can help to maximize budgets with the goal of reaching new customers in line with distinct marketing objectives.
For Samsung Electronics, adding Performance Max campaigns on top of its existing Display and Discovery ads unlocked:

Following the test campaign's successful ramp up, Samsung Electronics is now able to expand its use of Performance Max, even for shorter campaigns. The brand plans to continue adopting Performance Max as a core strategy, and further scaling it across its campaigns.
The experiment also sparked Samsung Electronics' interest in marketing automation, spurring the brand to explore more goal-focused, action-oriented solutions to improve its marketing performance. In the first quarter of 2022, Samsung Electronics also began implementing Video action campaigns.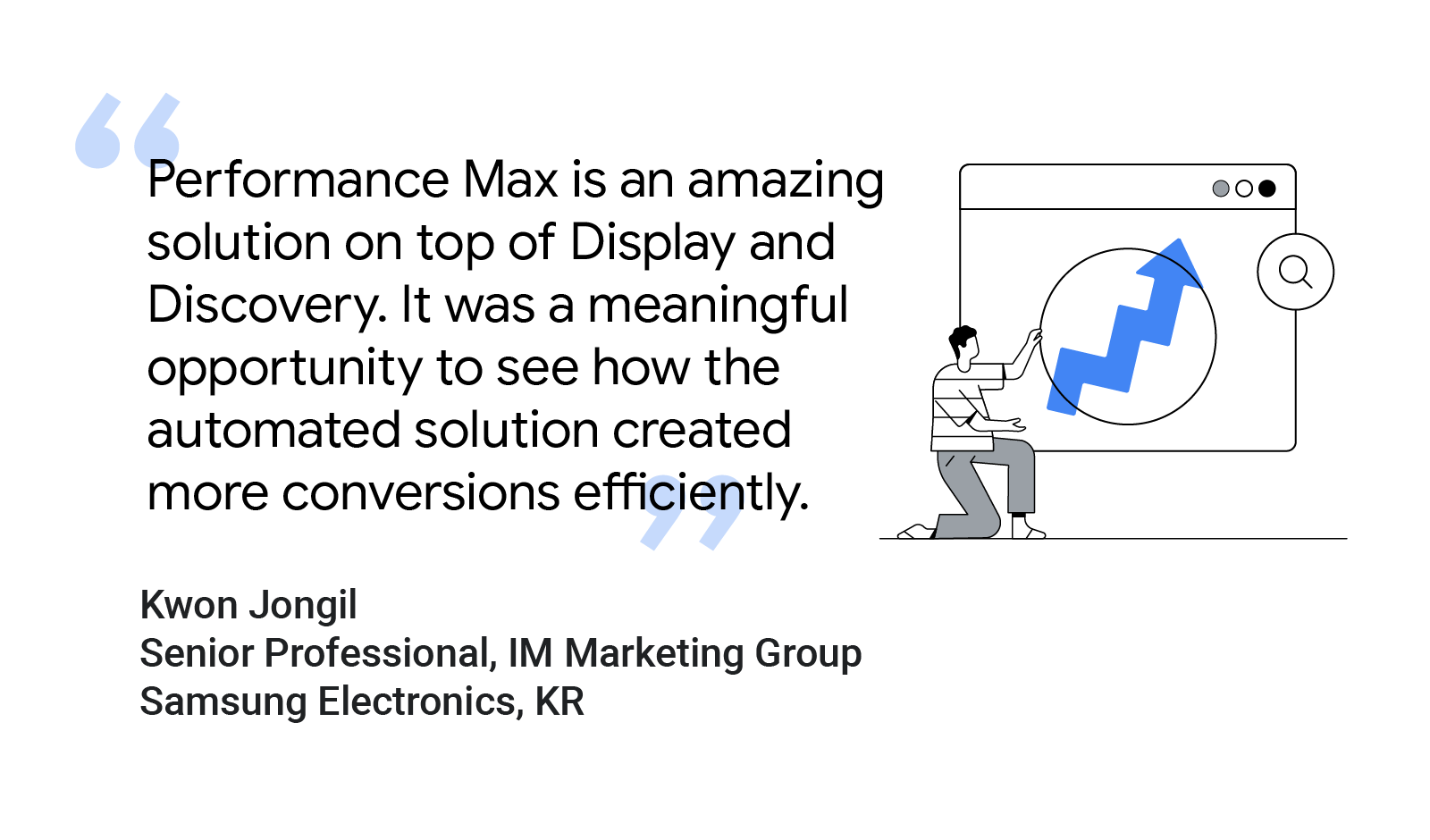 This case study is part of the Experiment with Google Ads program.