Change is sweeping across living rooms in India and connected TV (CTV) is helping to drive this transformation. It's bringing fresh excitement into a space where families have long bonded over entertainment by enabling people to stream the content they want, on-demand, and on the big screen at home. Given this immense shift in TV viewing trends, savvy brands have been evolving how they reach incremental audiences and drive media effectiveness.
In May 2022 alone, over 60 million people in India streamed YouTube on their TVs,1 and in 30% of instances, they watched together with other people.2 This CTV viewing trend presents key opportunities for brands to connect with hard-to-reach TV audiences, engage people across streaming services, and lift brand performance to grow bottom lines. Leading brands in India such as Livspace, Swiggy, and Mamaearth have all used CTV advertising to reach relevant audiences and drive results.
In May 2022 alone, over 60 million people in India streamed YouTube on their TVs, and in 30% of instances, they watched together with other people.
CTV connects brands with hard-to-reach TV audiences
CTV is a key that helps brands open doors to previously hard-to-reach TV audiences. These include those who don't watch broadcast or cable TV often, or at all, and who've turned to streaming video content on the big screen at home. Video action campaigns, which run on CTV, and YouTube CTV Masthead, are some ways brands can connect with these hard-to-reach TV audiences and India's growing CTV users.
For example, home renovation and interiors brand Livspace "immediately saw the potential of CTV in capturing the attention of our core audience in their homes," says its CMO Kartikeya Bhandari. So it added YouTube CTV Masthead to its existing YouTube ads strategy of in-stream campaigns.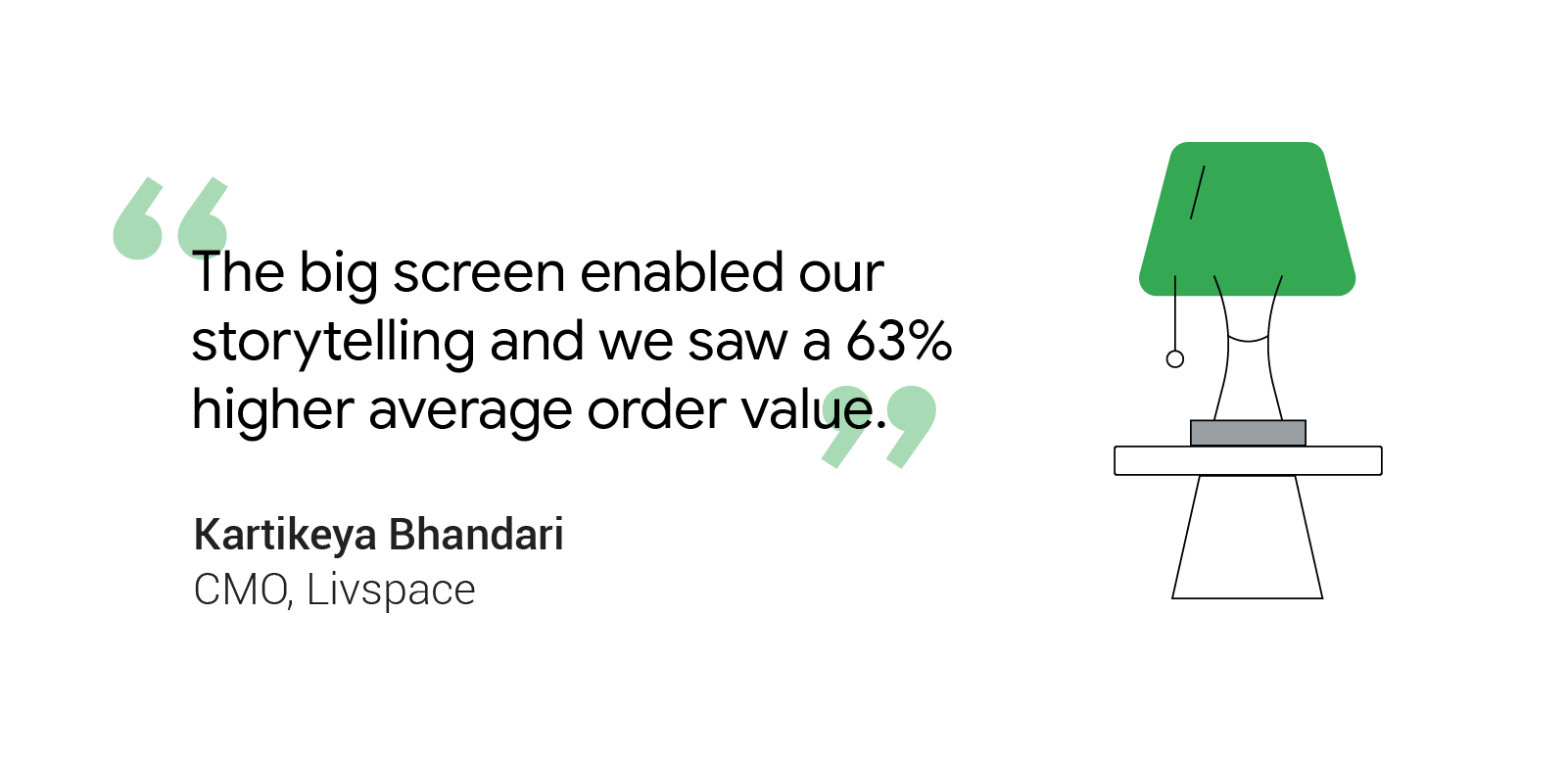 With YouTube CTV masthead ads, Livspace was able to use YouTube's audience segmentation capabilities to connect with relevant TV audiences, including those interested in home decor and who are of a certain household income level. This ability to reach highly relevant TV audiences — something it cannot achieve with linear TV — enabled the brand to achieve a 98% increase in direct traffic and 63% higher average order value.
Reach and engage people across streaming services thoughtfully
The massive shift toward CTV also comes at a time when streaming entertainment is popular, and people are watching content from various streaming platforms, including YouTube and over-the-top (OTT) services, on CTV. This video consumption trend presents an opportunity for brands to scale a single CTV campaign across different streaming platforms, and to calibrate its frequency across them so that it connects with audiences thoughtfully across the various streaming services they use.
Online food delivery service Swiggy, for example, wanted to reach more people ordering food in to watch the Indian Premier League. So it complemented its broadcast TV advertising with a CTV-first strategy, where it maximized its reach on CTV before moving to other platforms. This approach helped it engage its most valued customers — those streaming the cricket match via YouTube and other popular OTT entertainment apps on the big screen at home.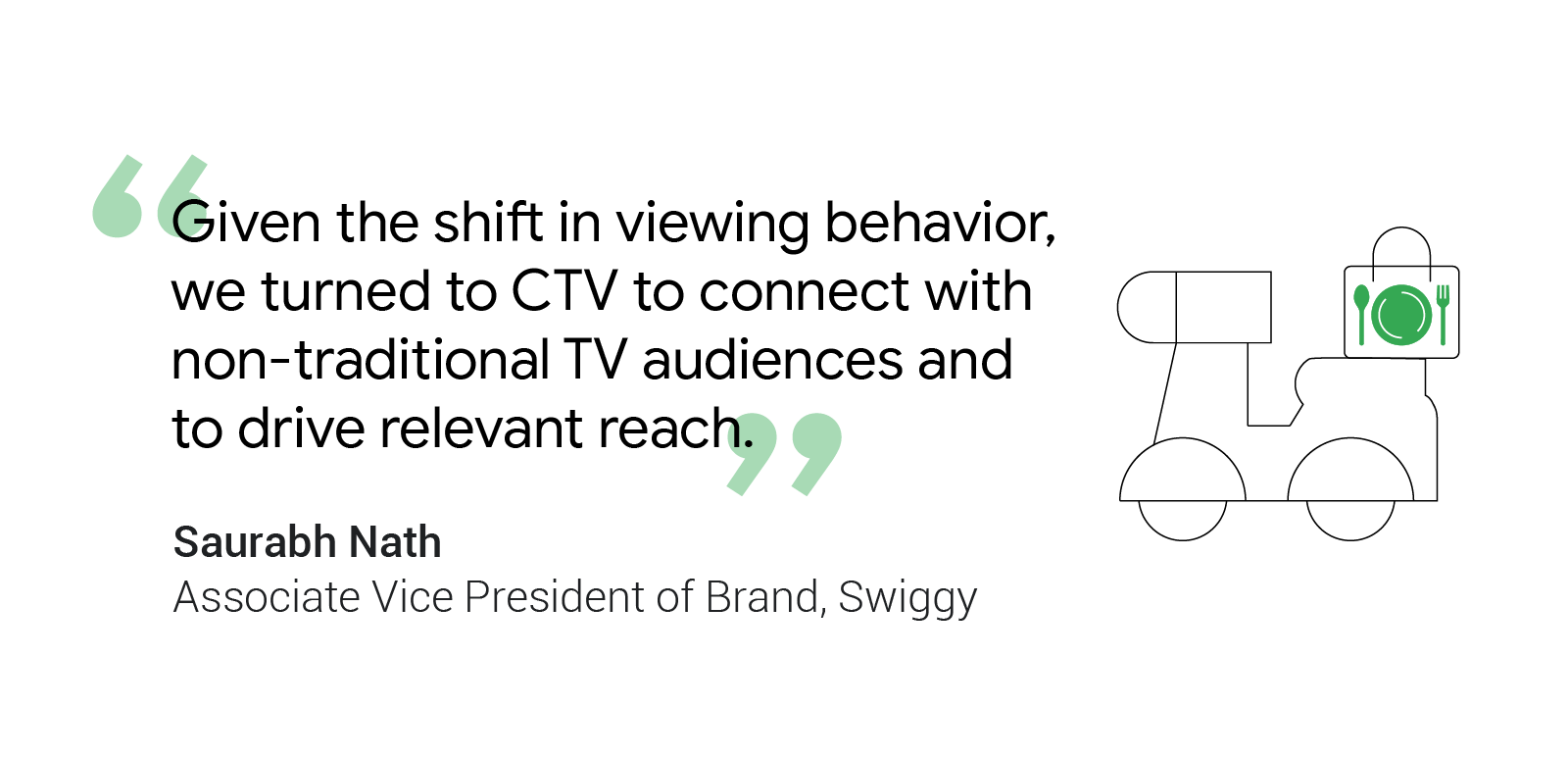 The brand used Display & Video 360 to make a consolidated media buy across streaming services so that it could automatically reach audiences with a single campaign and on the big screen at home, regardless of which platform they were using to stream the match. The digital marketing solution also enabled the brand to set frequency caps that automatically controlled how often each person saw its ad during the games and across various streaming services so that its campaign stayed fresh in people's minds.
As a result, the brand reached 47% more high-income households, while raising brand awareness, driving installations of its food delivery service app, and engaging inactive users.
Lift your brand metrics with engaged viewers
The shift toward CTV is also driving change in people's viewing habits. CTV's immersive viewing experience, which includes bigger screens, better audio, and control over what's on screen, means its audiences are more engaged and emotionally invested. Indeed, people are watching video content on CTV that's 2X longer than what's viewed on desktop and mobile.3 This TV viewing trend points to how CTV campaigns can help grow brand metrics.
Mamaearth, an online store for natural skin care products, started running CTV campaigns to grow brand interest. "We knew qualitatively, from our customers and partners, that ads on CTV resonate," says Varun Alagh, co-founder and CEO of Honasa Consumer, the parent company of Mamaearth.
To build its CTV campaign efficiently, Mamaearth used the same ad creative and audience affinities for its other digital marketing campaigns. The results of its brand campaign on CTV, however, showed significant incremental difference.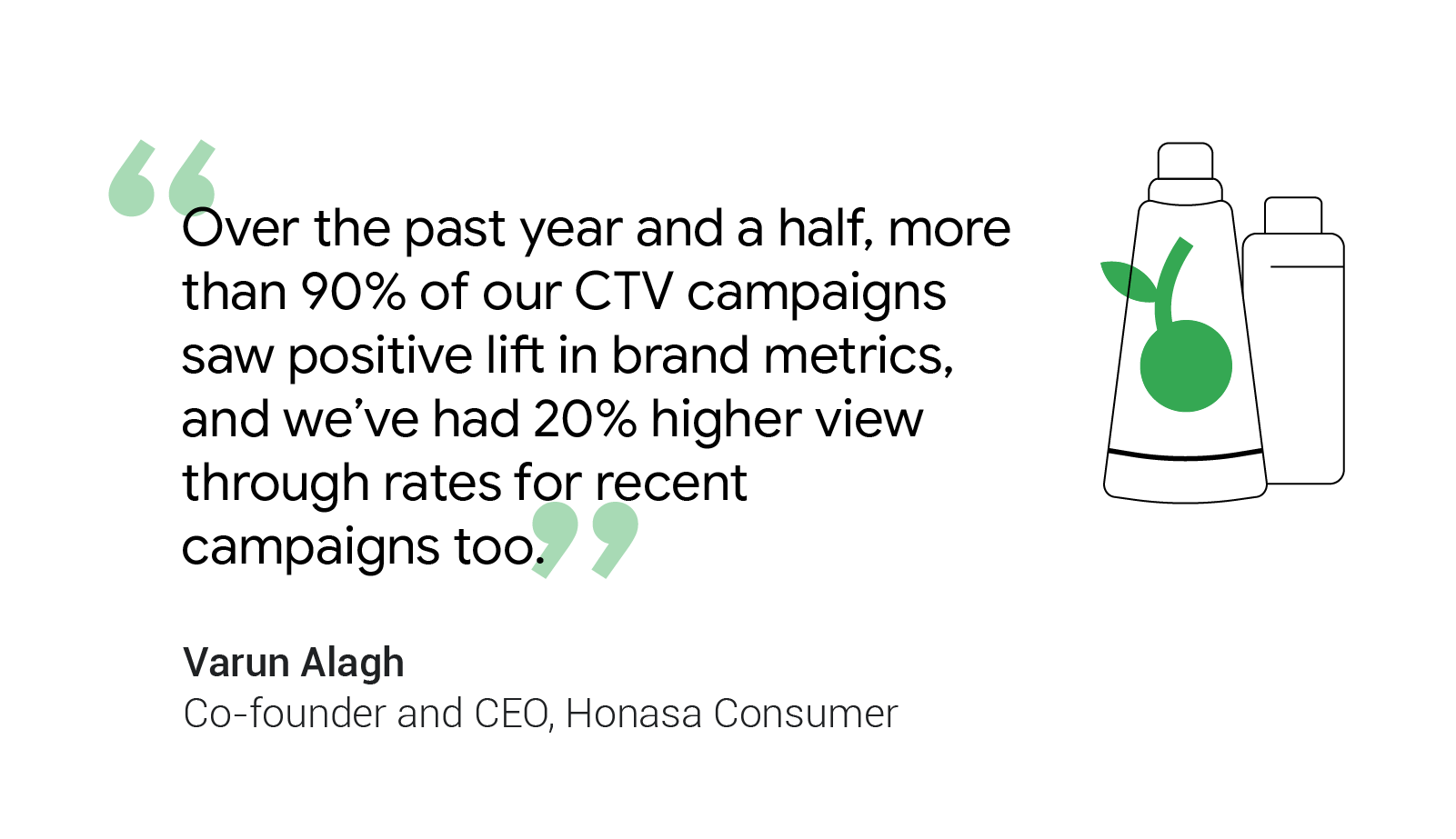 The future of TV advertising looks bright with CTV. Its immersive viewing experience is attracting growing audiences across India and deepening viewer engagement on the big screen in homes. For brands looking to grow relevant reach, awareness, and bottom lines, CTV campaigns have the capabilities to help you succeed.