A new form of entertainment is captivating audiences in APAC: live stream shopping. This form of "shoppertainment," an enjoyable blend of branded video content, real-time interaction, and online shopping has been on a steady ascent, especially in South Korea.
According to Statista, live stream shopping sales in South Korea have risen by as much as 7X from 2020 to hit 2.8 trillion South Korean won in 2021, and are expected to climb to 10 trillion won in 2023. In Seoul alone, some 58% of people surveyed in 2022 say they've used live commerce before; this is more than 2X the figure recorded in a 2020 survey.
Given live stream shopping's remarkable success, we analyzed the trend and spoke with leading retailers and brands to identify retail marketing tips that can help you accelerate customer and sales growth.
Tips for selecting product categories and live stream platform
Apparel and beauty are popular product categories for live stream shopping. According to a survey conducted by Ipsos, 63% of Korean respondents who purchased products after watching an online video or live stream in the past three months bought apparel and beauty items,1 making these the top two product categories.
When choosing a live stream platform, go with one that viewers turn to when making purchase decisions. In Korea, viewers say that advertising in YouTube videos makes them more likely to consider a brand or product, and it is the No. 1 video platform that helps them decide what to purchase.2
Online marketplace 11st, for example, saw its sales and conversions improve after it partnered with YouTube Shopping to launch live streams in the second-half of 2022.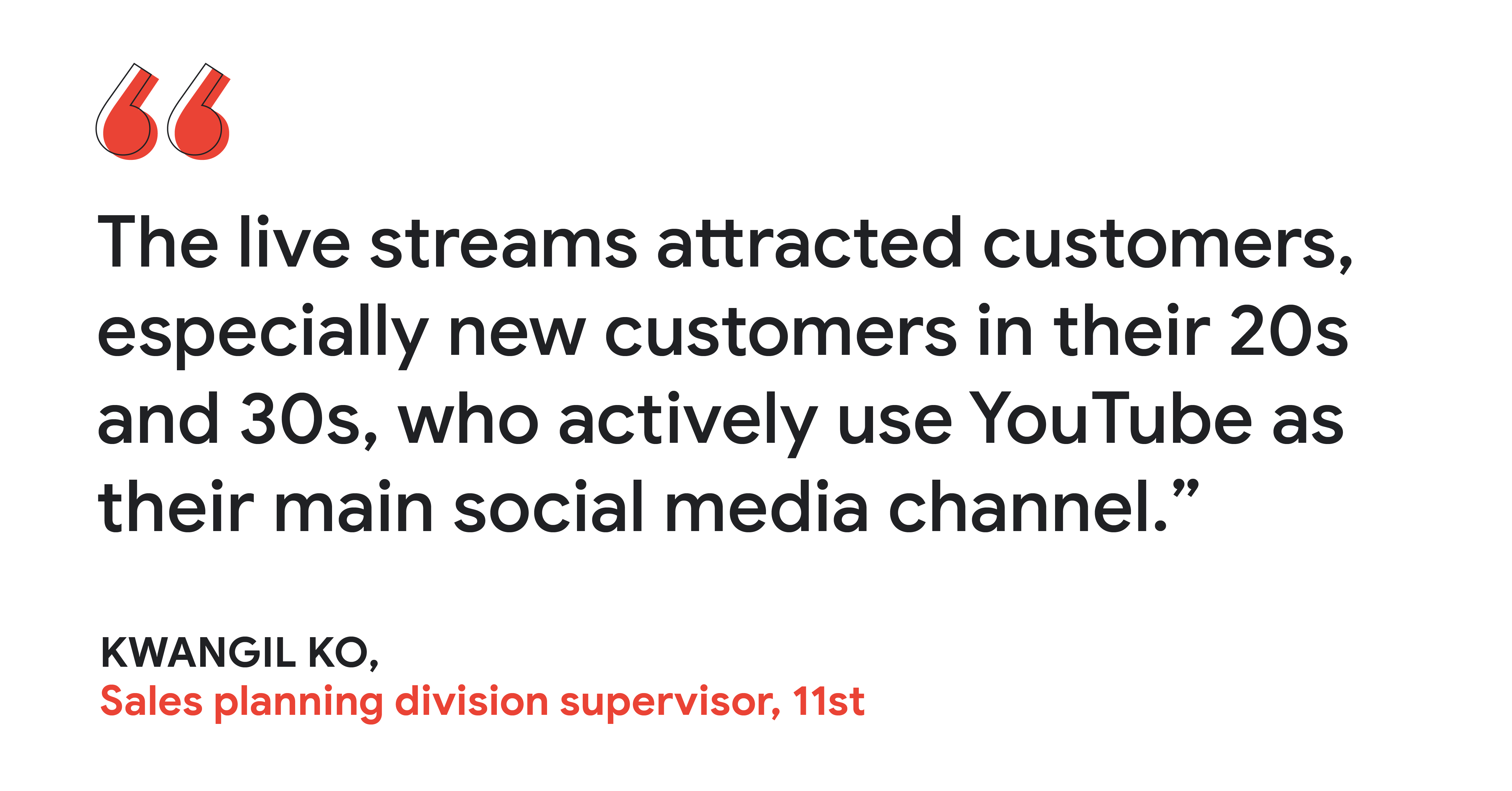 The live streams made the products sold on 11st more accessible to customers, and drew in new customers, "especially those in their 20s and 30s, who actively use YouTube as their main social media channel," says 11st sales planning division supervisor Kwangil Ko. The live streams even attracted existing, loyal customers, who'd mainly shopped on the 11st platform.
Tips for optimizing live stream content and experience
Successful live streams also share a few things in common when it comes to their content and shopping experience.
First, they feature collaborations with trusted creators because such partnerships help drive sales. According to a survey by Ipsos that asked about the ideal qualities of video commerce sellers, Korean respondents said they value trustworthy information and prefer sellers with strong credentials, such as positive user reviews.3
Second, successful live streams are commonly promoted ahead of time using different video formats to raise awareness and excitement. Shorts and long-form videos are used to give fans a sneak peek of what's in store, and on the day of the event, community posts on the video platform are used to remind people to tune in live.
Successful live streams also educate and engage viewers during the event to help them feel confident about making a purchase. One way they do this is by providing discounts, special giveaways, and new product drops during live streams to reassure viewers they're getting the best value by tuning in live.
Tagged and pinned products in the live streams make it easy for viewers to find out more about the promoted products. The promotions and price reduction feature highlights special deals on tagged products, while the new product drop feature lets viewers know when a new product is released during a live stream.
Here are two examples of successful live stream shopping events that show how these retail marketing tips can be applied to accelerate customer and sales growth.
SSG.COM: A collaboration with trusted, engaging sellers
Online retail platform SSG partnered with YouTube creator duo, The Edit, who are known for their tech and gadget reviews, to promote Roborock's vacuum cleaner in a live stream. They'd used the product before and were impressed by it, so they were natural hosts for the event.
Ahead of the live stream, The Edit promoted the event on their YouTube channel with teaser video and Shorts content. The retailer then used the teaser content in a Video action campaign to reach a wider audience.
During the live event, The Edit showed how the robot vacuum cleaner can clean even the most challenging surfaces in a house. They also answered viewers' questions in the live chat, helping people feel more confident about making a purchase.

CJ OnStyle: Achieving repeated sold-out success with savvy retail marketing
To launch the sale of Zojirushi humidifiers on its retail platform, CJ OnStyle collaborated with celebrity YouTube creator Choi Hee on a live stream. The event stood out, in part, because the retailer made it possible for shoppers to buy the popular humidifier that is often limited in stock. Choi, a mother herself, with a strong following among parents, also attracted shoppers of this demographic, who are the primary buyers of the product.
The live stream was such a success that the retailer held an encore session a month later. To sustain the excitement, the retailer promoted the encore live stream prominently on its mobile app, and the creator publicized the event on her social media channels.
During the encore live stream, the creator gave viewers a close-up view of the humidifier, interacted live with people in the chat, and pinned the product to the live stream to make it easy for viewers to decide to purchase.

With live stream shopping on an upward trend, and these retail marketing tips at your disposal, you're all set to reach new customers and grow sales with live video commerce.
Contributor: Eunjin Kwon, Manager, Shopping Partnerships, Korea