For decades, TV has been the dominant platform for brands to reach audiences in India. However, thanks to cheap mobile data costs and affordable smartphones, digital video consumption is on the rise, and consumers are changing the way they view content.
With consumers starting to spread their content consumption across TV and online, it now makes sense for traditional advertisers to also spread their campaign budgets across both offline and online video screens to reach new unique audiences.
Indians aren't cutting the cord — they're adding another screen
The effectiveness of TV as an advertising platform is undeniable — 70% of video content is consumed in front of the television1, and with over 836 million television viewers across India, advertisers have focused on the TV screen for reach and scale.
Historically, most advertisers have held firm that TV advertising delivers results, thanks to a standardized way of measuring the number of impressions in relation to the size of a target population.
A recent study from The Boston Consulting Group (BCG) discovered that 1 in every 3 hours of video content is consumed online, a number we only expect to increase in light of COVID-19. That could add up to a lot of missed opportunities for brands looking to reach a wider audience.
Winning consumer attention online should be seen as a complement to TV and an extension of a brand's campaign across platforms.
Online videos drive incremental brand impact
Google recently partnered with Kantar to understand how TV and online video support each other when it comes to audience reach.
We leveraged Kantar's CrossMedia Research study of 54 India-based campaigns for analysis and found that YouTube's impact per impression is significantly higher than TV2. This means there is the potential for online video campaigns to deliver a combination of both reach and brand impact.

60% reach with a more efficient budget
These results tell us that YouTube is 3X more effective than TV in driving incremental impact. But can they both work together, building on each other's reach?

To get a better understanding, we used the Sainsbury method — a random duplication formula that minimizes the potential overlap in two different data sets — to determine the reach impact of both YouTube and TV.
We discovered that marketers can achieve the same reach or better on a lower budget by adopting a multiscreen approach. That means brands should be present on both YouTube and TV to meet their viewers — regardless of the screen they're sitting in front of.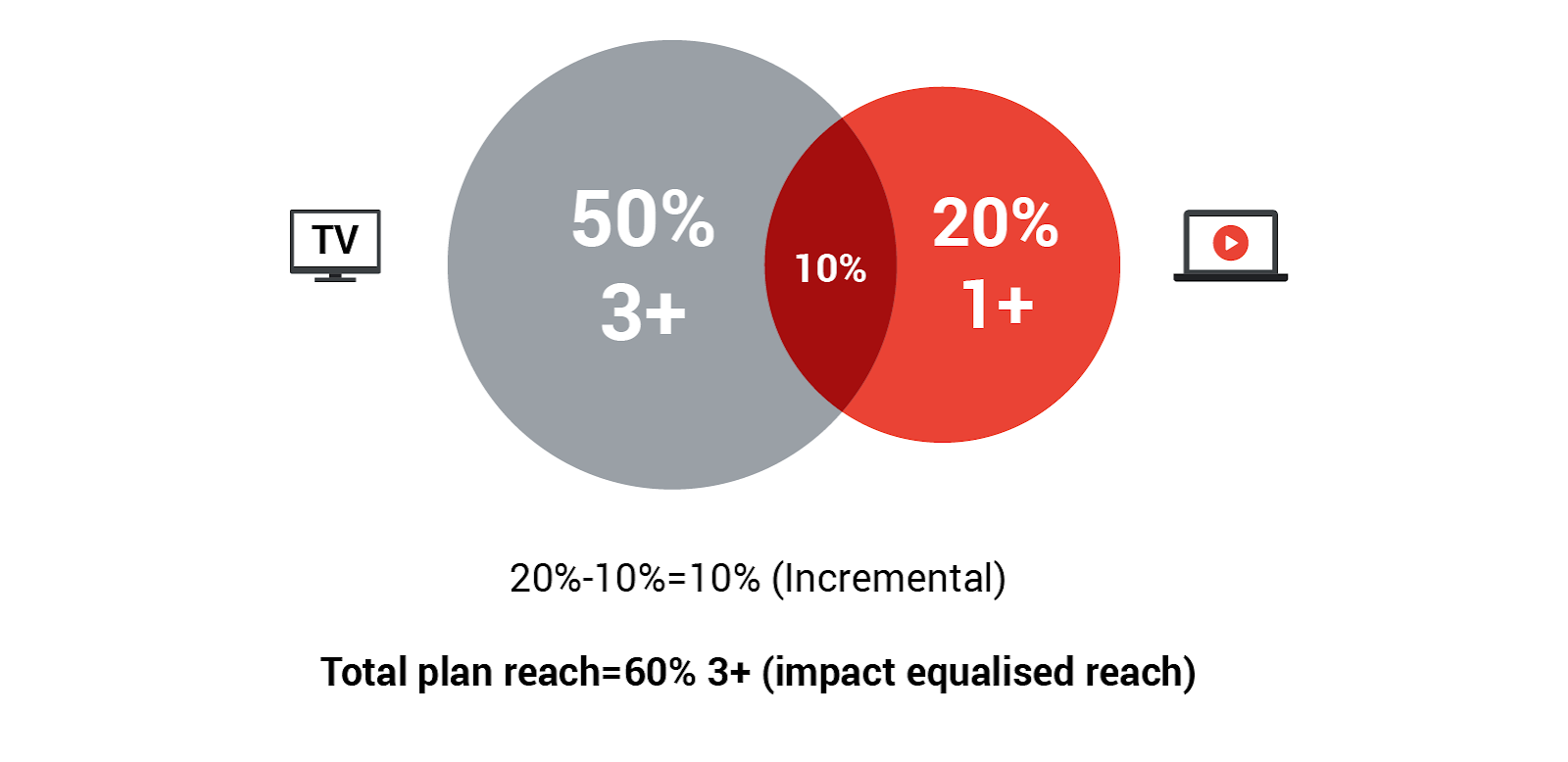 When you combine TV's reach with YouTube's reach to the same population, the total reach equals 60%, with a minimum effective frequency of three or more exposures. That's currently a better outcome than either platform on its own.
So now we had to test how marketers' efforts to add effective and cost-efficient incremental reach would impact their business results.
YouTube + TV: Teamwork makes the dream work
Google partnered with Godrej GoodKnight, J&J Stayfree, and Pepsi — three large, fast-moving consumer goods (FMCG) brands in India with a high market share.
Using a Nielsen time-based regression methodology market test, two similar markets were selected for each brand as control and test experiments. In the control markets, only TV was deployed, while the test market had TV along with YouTube multimedia deployment.
The result? Test markets employing a YouTube plus TV approach showed a measurable increase in sales compared to markets using TV alone:
Goodknight's Liquid Vaporizer achieved a sales lift of 16% in its test market of Gujarat.
J&J's Stayfree obtained a sales lift of 8% in the test market of Uttar Pradesh.
Pepsi saw a 14% sales lift in its test market of Maharashtra.
With people in India changing the way they consume content online, the Kantar study shows there's now an opportunity for marketers to ensure their brand campaigns are seen across multiple screens. As consumer attention stretches beyond the flat screen, brands that look to combine TV and YouTube into their campaign planning will ultimately see the benefits — a wider audience reach and greater sales impact.