Contextual video advertising is critical for brands that are trying to reach the right audience at the right time
Average ad recall increased by 2X in verticals such as FMCG and Auto when using contextual ads
Video customization tool Director Mix can now be used to turn a set of creative assets (base video, images, copy, layout) into hundreds of contextually relevant messages at scale
Storytelling has always been at the heart of brand messaging. From the earliest newspaper print ads to modern digital media, the story makes the connection―and the connection makes the sale.
Yet telling the right story to today's consumers is proving to be a new kind of challenge. With the advent of smartphones and data access, consumers today are always connected, and they have attention spans that keep shortening and heightened expectations when it comes to personalization. The question that keeps advertisers up at night has gone from "what's a good story to tell?" to "what's the right story for the right person at the right moment?"
From one comes many
To address this challenge, advertisers can use YouTube's Director Mix to create quick, easy, and cost-effective custom video ads at scale. It helps brands turn a limited set of creative assets (such as images, voiceovers, texts, fonts, or colors) into multiple unique messages that cater to different audiences in a contextual manner.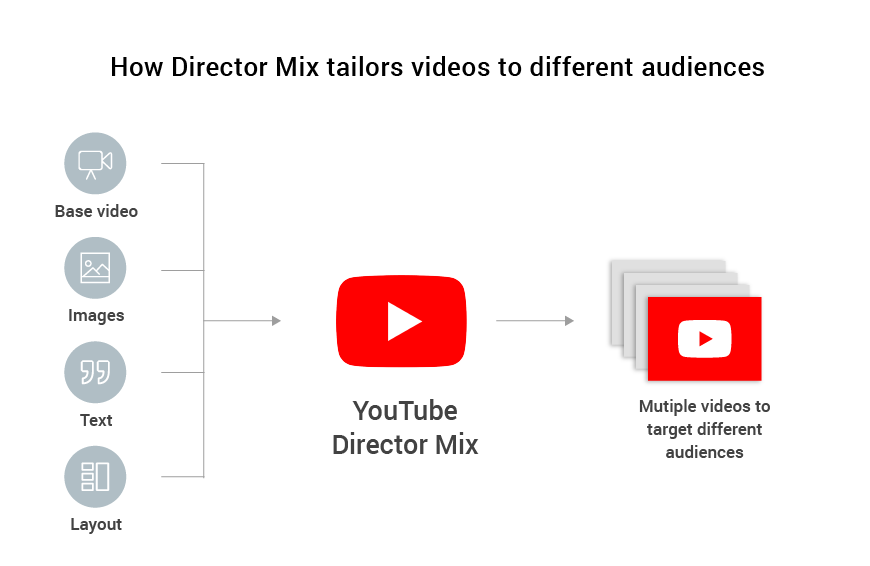 As Director Mix creates different versions of a core creative, it automatically uploads them to the advertiser's YouTube channel and delivers them based on various targeting options. Take, for instance, a person who has recently searched for "how to get fit," has downloaded a fitness app, and then used Google Maps to find local gyms—that person is clearly interested in fitness and diet. Now imagine being able to deliver an ad for a sports drink at the very moment they're watching workout routines on YouTube—Spot on.
As shown below, the right contextual ads can even turn attention into action. When we analyzed Google TrueView brand lift data from Q1 2016 across nine advertiser verticals, the right ads shown to users consuming related content (i.e., car ads shown before a car video, CPG/personal care ads before beauty and fitness videos) enjoyed higher brand lift compared with ads shown to users consuming unmatched content (random ads before content from a particular vertical). In fact, in verticals such as CPG (home), auto, and travel, average ad recall more than doubled when ads were matched to the related content vertical.1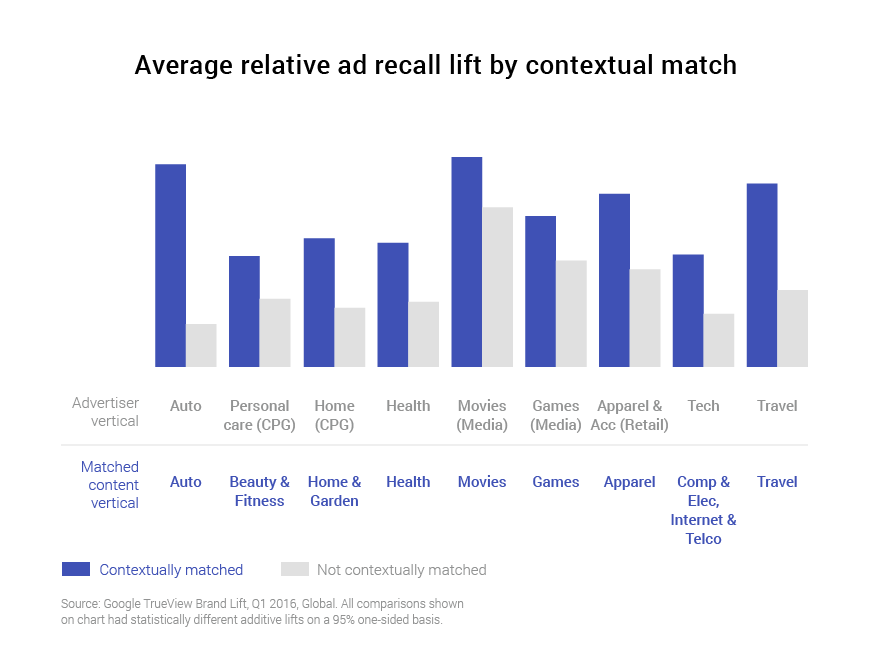 Success story: Uber drives new rides with Director Mix
Uber is a global ride-sharing technology company headquartered in the U.S. that is evolving the way riders connect to drivers. It operates in 633 cities worldwide. To urge audience groups across 30 cities in India to take more rides, Uber used a blend of still images, captions, and animation.
The goal of the campaign was to make Uber an everyday habit among users, build brand love, and localize the brand. Success metrics included first trips, cost-per-first-trip, reach, and ad recall.
Uber wanted to understand what its customers enjoyed, so it scoured YouTube to figure out which were the most popular interest categories and videos in India. It identified 100 key moments when commuters were most likely to book a ride and, with the help of Director Mix, created 85 variations of the six-second bumper ads to capture those moments.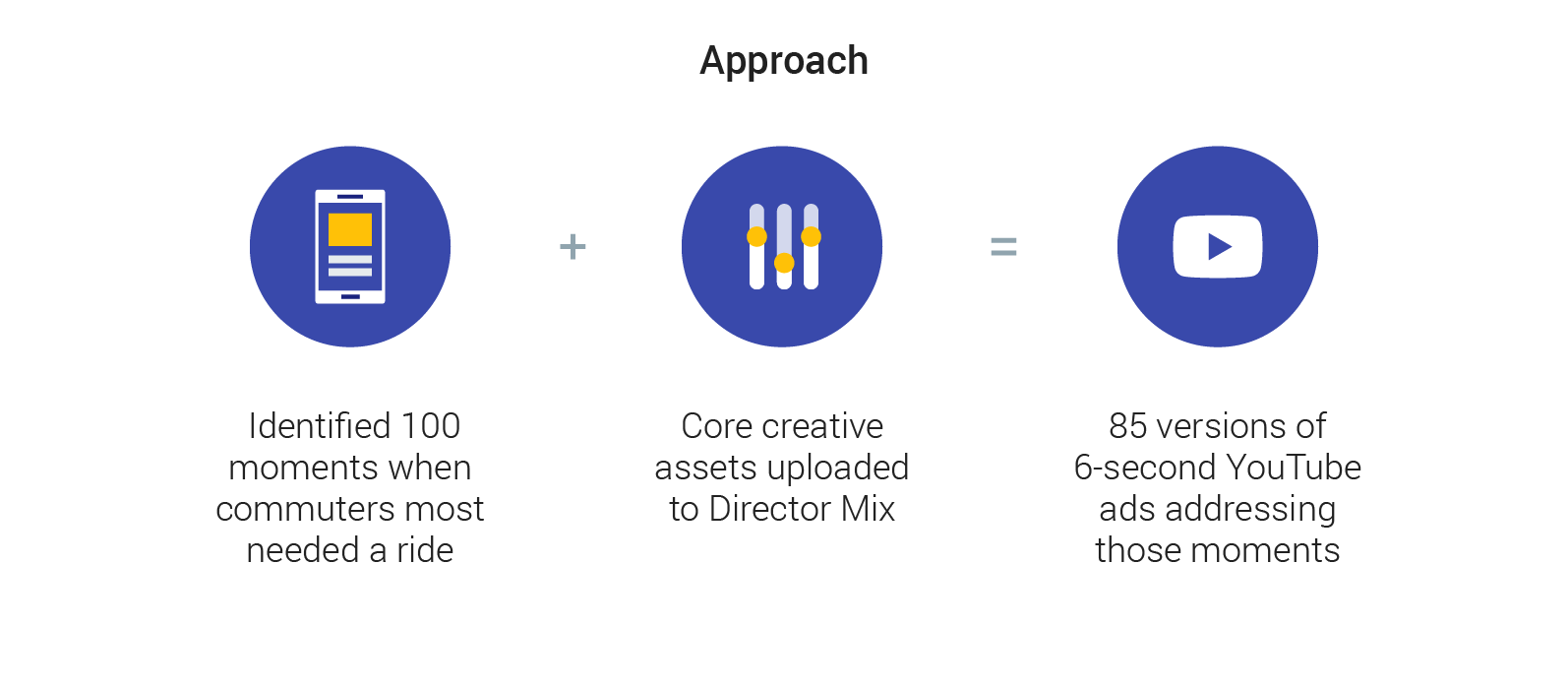 The result? Uber saw 63% more first-time riders through YouTube immediately after the launch of the campaign. It also found a 20% to 37% lift in ad recall across categories like music and movies. In the end, this successful test run has become an ongoing, always-on campaign.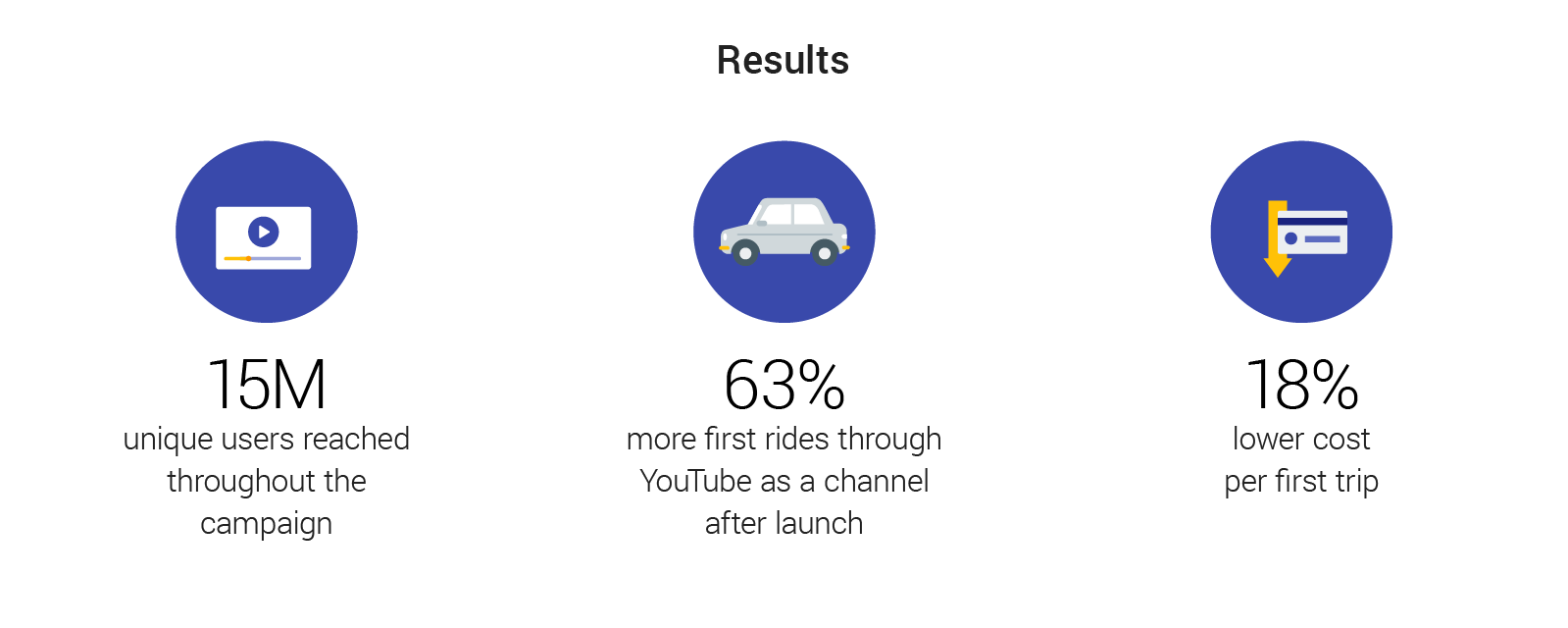 "Our campaign objective was to make Uber an everyday habit. For this, we needed to associate everyday travel occasions with Uber and do so in a seamless manner. YouTube provided us a great platform: the ability of Director Mix to contextualize advertising and customize creative was a fantastic combination, resulting in good engagement and adoption." — Sanjay Gupta, Head of Marketing, Uber
Success story: Vivo masters flagship launch with Director Mix
Another success story comes from leading global smartphone brand Vivo, whose innovative campaign launch of its new flagship phone, the V7, starred flamboyant Bollywood celebrity, Ranveer Singh.
The primary objective of the campaign was to promote key features of the new V7 such as its large screen and premium camera specs. To do this, Vivo shot a YouTube campaign with its brand ambassador, capturing him in various scenarios. Then, the brand used Director Mix to convert four base videos into 550 unique videos, targeting users (such as movie lovers and selfie takers) based on their search interests with custom messaging promoting the phone's key features.

At the end of the campaign, not only did Vivo enjoy a 76% view rate and a purchase intent uplift of 8.5%, it also noticed better context helps tell the story faster―in this case, in eight seconds or less.

"Vivo has always strived for innovation in all aspects—from products to our marketing approach. With the launch of our new digital campaign, we aim to market Vivo V7 in a non-intrusive way to our consumers." — Kenny Zeng, Chief Marketing Officer, Vivo India
Immense opportunity
As Uber and Vivo have shown, it is now possible for brands to create hundreds of personally relevant video ads quickly, easily, and with fewer resources than ever before, and then target these ads to relevant audiences through YouTube's Director Mix.   
In India alone, there are now nearly a quarter billion users watching YouTube on their mobiles,2 and at any given moment, 93% percent of YouTube viewers are paying attention.3 Every brand is constantly vying for consumers' attention, but with the right tools, the task doesn't need to be overwhelming. The opportunity is immense—if done right. And while there are no single right ways to do marketing, some tools can help make it a whole lot easier.