After its first successful run with machine learning, online lending marketplace Harmoney uncovered an even better way to reach its most valuable customers on Search. Here, Harmoney's digital marketing manager Mateo de la Vega explains how the brand's Smart Bidding strategy has evolved and why lifetime value is the brand's first priority on every campaign.
In an ideal world, every brand could maximise value from their campaigns by only marketing to the most profitable customers. Any marketer will tell you it's not that simple. Until we develop the ability to see into the future, we have to use the information and technology at our disposal to pinpoint our best potential customers from the first time they interact with us.
Finding smarter ways to surface lifetime value is how Harmoney became Australasia's largest online lending marketplace. But reaching our most valuable customers on Search — where most people start looking up personal loans — is a crucial challenge we're always working to overcome.
Most people start searching for personal loans using a handful of non-branded queries, so we're constantly competing with other providers from the start. Last year, we experimented with a Target ROAS (tROAS) Smart Bidding strategy to reach qualified applicants relative to the size of loan they needed rather than simply outspending other providers. This new strategy helped double our conversions year over year while nearly cutting the cost per acquisition in half, but in an industry that's always changing, we knew we couldn't stop there.
This year, we doubled down on our success with tROAS Smart Bidding by creating our own machine learning model to pinpoint applicants' lifetime value with even greater accuracy. Here's how the next step in our data-driven strategy came together:
Shifting our focus to long-term profit
Protecting investors is always our first priority. Harmoney enforces strict credit guidelines to join its borrowing community by evaluating information from potential borrowers, including homeownership status, identity verification, and a credit check, to determine the right loan size and interest rate.
We saw an opportunity to use that information to set up our own machine learning model, which was trained on four years of historical data, and focus on reaching creditworthy people who are more likely to get approved and take out a larger loan and less likely to default on their repayments.
Understanding our customers' lifetime value not only helps us acquire them at the right price but gets us closer to achieving our long-term goals.
This new model improved our ability to predict applicants' credit risk and long-term profit in real time by 40% and gave us a new lever to pull in our Smart Bidding campaigns. With our new model trained and ready, we fed that first-party data into Analytics to combine with thousands of Smart Bidding signals and optimise our Search campaigns even further toward low-risk, high-value prospects.
Looking beyond low-cost clicks to drive ROI
This new step in our strategy proved that understanding our customers' lifetime value not only helps us acquire them at the right price but gets us closer to achieving our long-term goals. For Harmoney, that's getting the most value from each person who clicks on our ads — not driving more clicks than our competitors or at a lower average cost. In fact, we're happy to pay more to reach creditworthy applicants because we know it's more than worth it in the long run.
By combining our first-party data with the tROAS Smart Bidding campaigns already in place, we were able to increase our daily number of granted loans generated by non-branded searches by 4X and boost ROI from generic search by 140%.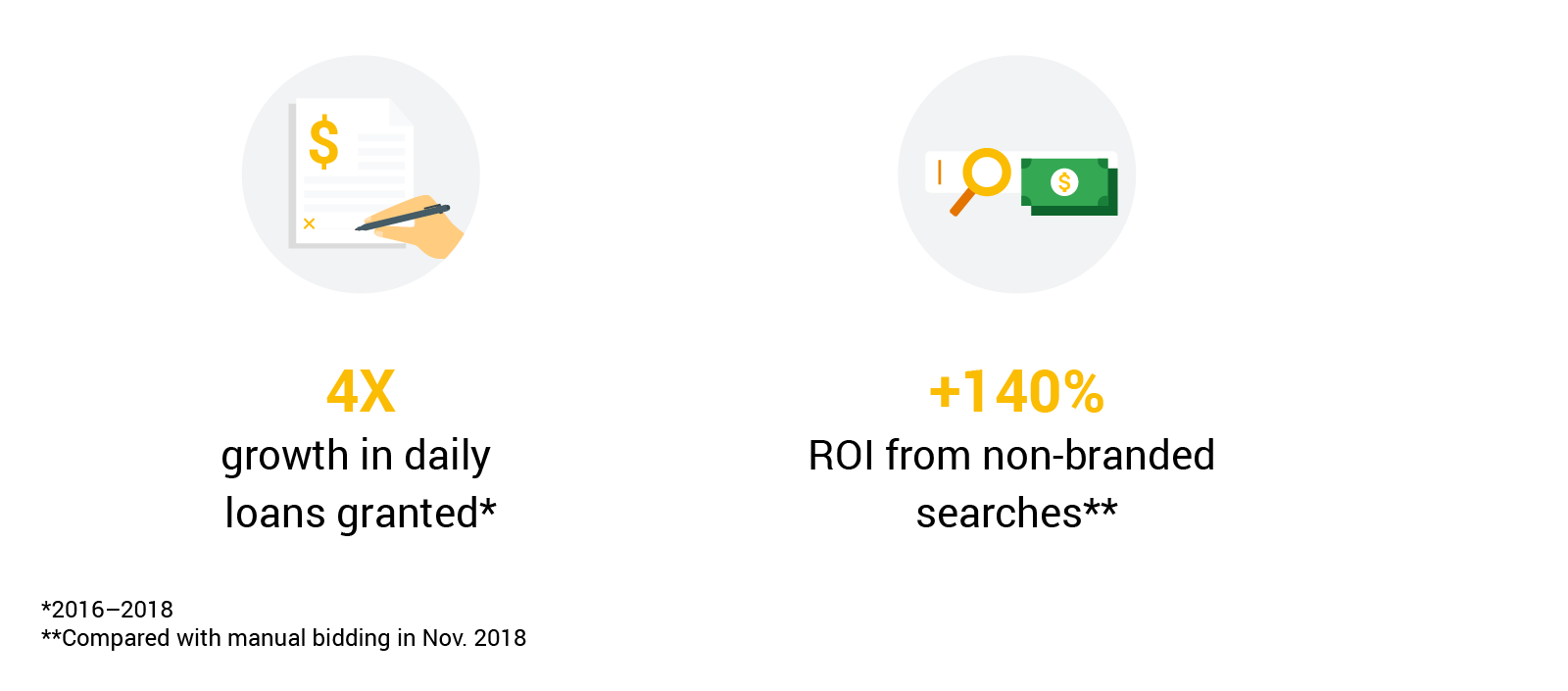 The more we've relied on machine learning, the more it's reinforced our company's vision to look beyond vanity metrics like click-through rates to build long-term relationships with our best customers. We were excited to use the same technology and search strategy to launch in Australia this year, and we're already seeing some impressive results. The road to success in our industry is long and winding, but we're eager to keep testing and learning to find the best path forward.