The TrueView skippable ad format introduced a new question for advertisers: who chooses to watch an ad when they're given the choice to skip?
Giving consumers the ability to skip after just five seconds makes it all the more important to create engaging content that will hold a viewer's attention. Once those five seconds are up, TrueView ads provide an opportunity to tell your brand story in as much time as you need. So how do you make those first five seconds really count?
Our latest research provides insights into which people watch TrueView ads and the reasons behind their choices to watch ads. Who are the viewers that choose to watch? What are the key characteristics that keep people watching? And what does this mean for your brand?
Who chooses to watch?
In the UK, there are particular types of people who are more likely to watch an ad to the end than others. From our research, we have found that people aged 25-44 are most likely to complete an ad. Within that age group, 25-34 year olds are 16% more likely to complete a skippable ad and 35-44 year-olds are 21% more likely.1
It's not all about age though, there is also a slight difference between the genders when it comes to those who choose to watch. Women are 9% more likely than men to complete an ad.1
In addition to specific age groups and gender, our research shows that if someone has already visited your brand's website they are 12% more likely to complete the ad.1
Why do they choose to watch?
You might ask: why are people skipping? Unsurprisingly, the most common reason for people to skip ads is 'lack of interest'. There is no magic recipe for the perfect ad but there are some key characteristics that appeal to a global audience and are associated with higher view-through rates.
In order to define these characteristics we looked at thousands of TrueView ads across 16 countries and 11 verticals. We categorised them according to 170 creative characteristics and monitored how long people watched without hitting the skip button. From our research we have been able to identify some of the key characteristics of ads that people choose to watch.
Humour is the number one characteristic associated with higher view-through rates.2 We've seen some great examples on the YouTube Ads Leaderboard, our monthly ranking of the YouTube ads viewers chose to watch. Air New Zealand's 'The Most Epic Safety Video Ever Made #airnzhobbit', Pepsi's 'Test Drive' and Poo Pourri's 'Girls don't Poop' were all featured on our Leaderboard and show how powerful humour can be.


Turkish Airlines'Selfie shootout' has built up an incredible 141 million views, and was recently crowned the winner of the #10YearsofYouTubeAds contest showing that celebrities could be a great boost for your brand and could lead to higher view-through rates.3
Ads that feature humour and celebrities are not only associated with higher view-through rates, they also see higher lifts in brand awareness and ad recall.
From cute and quirky to realistic and intricate, animations also feature as a key characteristic in adverts that people choose not to skip.2 Nike's 'Last Game', Honda's 'Honda Hands' and Metro Trains, Melbourne's 'Dumb Ways to Die' were all featured on the YouTube Ads Leaderboard and are associated with higher view-through rates.

With over 100 million views, 'Dumb Ways to Die' brought a new edge to safety around railway lines with help from animated characters and humour.3 Metro Trains' use of animation helped to take serious subject matter and turn it into something that was engaging for viewers.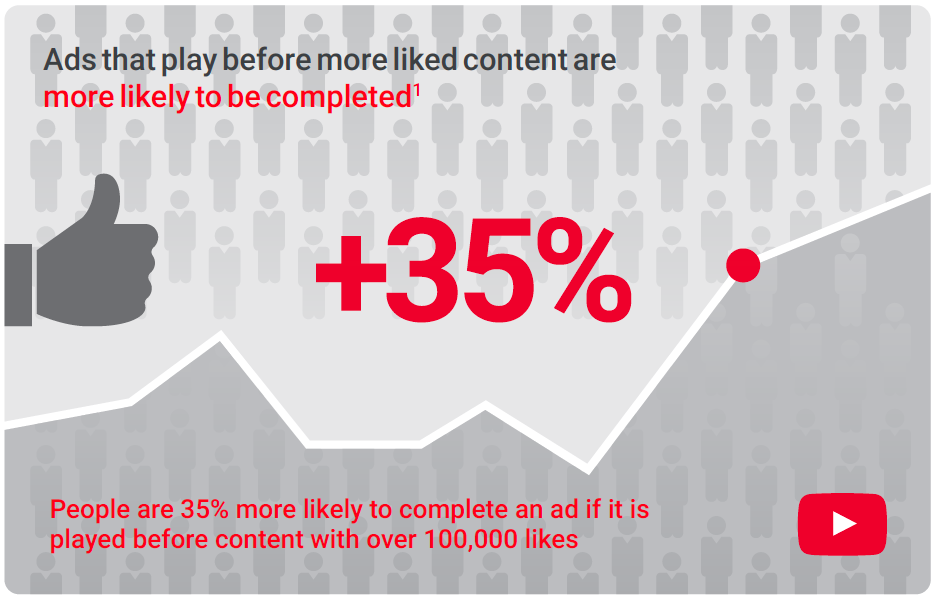 We hope you take some inspiration from these characteristics and campaigns to really make a big impact in the first five seconds. We've also seen that the content that ads play before can be a key ingredient for success. Ads played before videos with 100,000 likes are associated with much higher view-through rates.1
Making the most of your TrueView ad
Using our knowledge of the key characteristics here's some best practice advice on making the most of those moments that matter in the first five seconds:
Consider key characteristics
When creating new content, consider the top characteristics that are successful in engaging audiences - humour, celebrity endorsement and animation.
It's not all about creating new content
Think about your existing creatives that feature any of the top characteristics that you can use to reach consumers during the moments that matter. It doesn't have to be new to be great!
Reach more of the right people, at the right time
Having great creative is only half of the recipe for success. Ensure that you're reaching more of the right people, at the right time by taking advantage of the targeting options on YouTube.
Think beyond the first five seconds!
After someone has chosen to watch your ad you have the perfect opportunity to tell your story without being constrained to a 30-second time slot!