Travel demand this year is expected to be higher than it was before the pandemic. While this is a great relief for travel brands, the modern traveller is different to who you may have known before.
The discovery of two COVID-19 variants in South Africa last year led to caution for both outbound and inbound travellers. Vaccine rollouts and government grants have since boosted confidence but travellers want to know that the fluctuating effects of the pandemic on their travel experience will be kept at a minimum.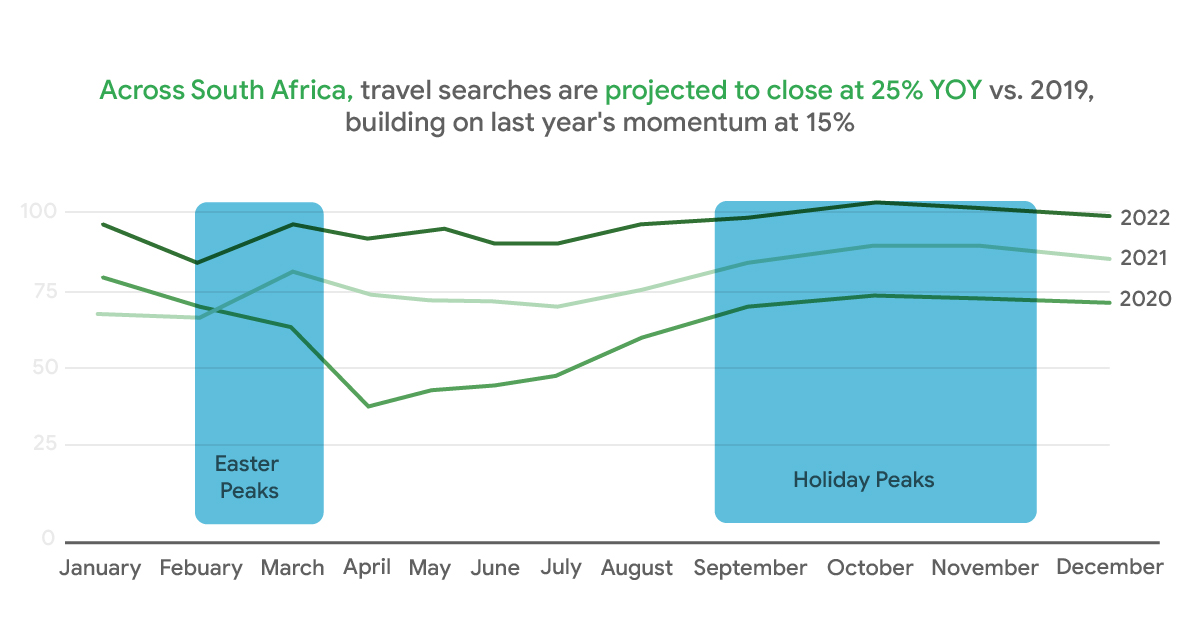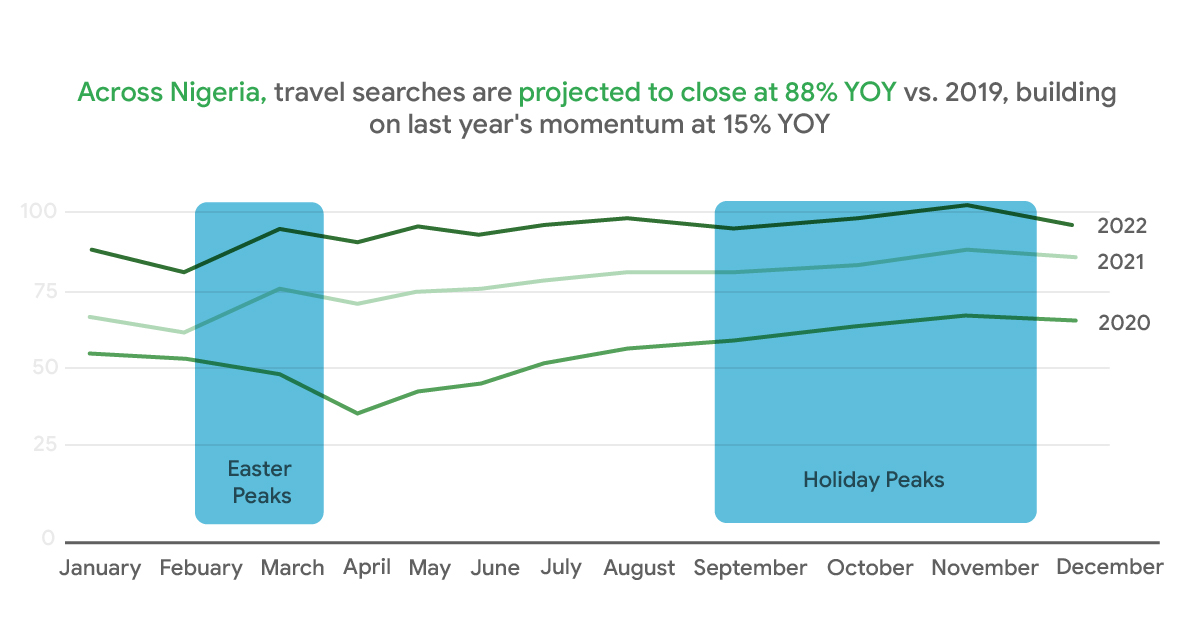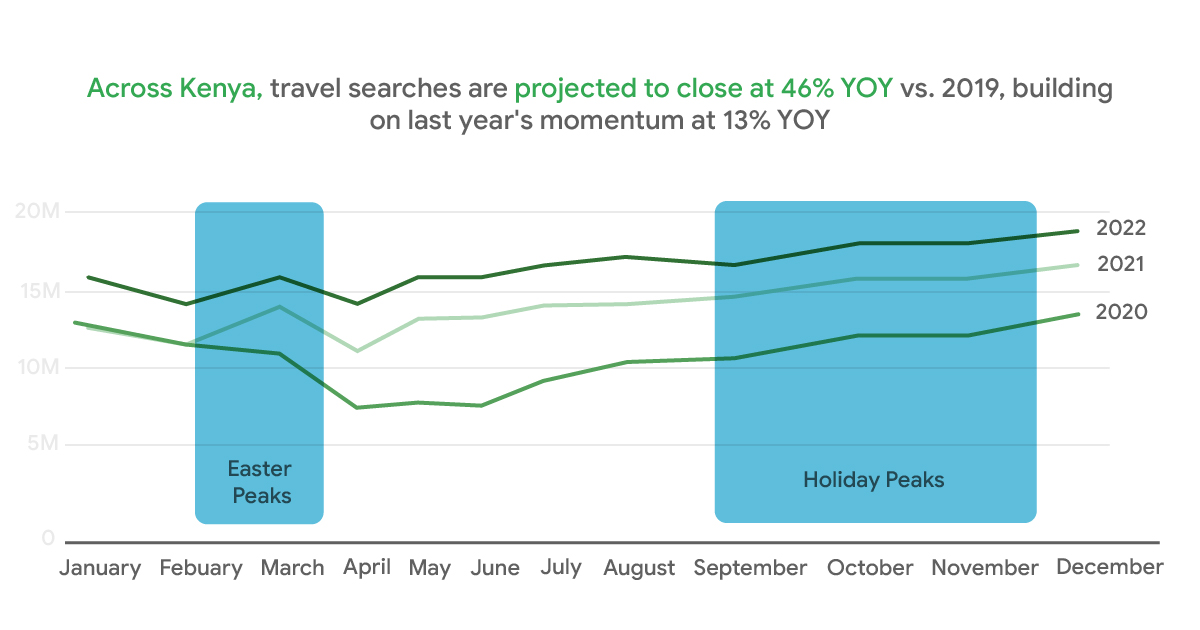 As you work to prepare for this new travel demand, these are some of the considerations you'll need to have tailored solutions for.
Where to for Sub-Saharan African travellers?
Travel demand is exceeding pre-pandemic levels across Sub-Saharan Africa. Searches are projected to reach 36% year-over-year (YOY) growth compared to 2019, building on last year's momentum at 13% YOY growth.1
Relaxed travel restrictions in Nigeria are driving particularly increased travel demand in the country. Travel demand is growing at 62% YOY in Nigeria with Kenya and South Africa following at 21% and 16% YOY respectively.2
The preference for local travel seen last year has expanded in scope. Travellers across the region are looking to travel both in and outside of Africa.
Demand for outbound travel is highest for destinations in Europe (121% YOY) and Latin America (60% YOY) with African destinations being third most popular (57% YOY).3 A similar trend is seen for those coming into Africa. Search demand for inbound travel is up 113% YOY for European travellers and 69% YOY for Asia Pacific travellers.4
The wealth gap in South Africa is playing out in destination preferences for avid travellers. Those with an income of R50,000 (~$3,300) a month or more tend to be interested in travelling outside of Africa whereas those with an income of less than R50,000 a month tend to prefer travelling within Africa, or even within South Africa.5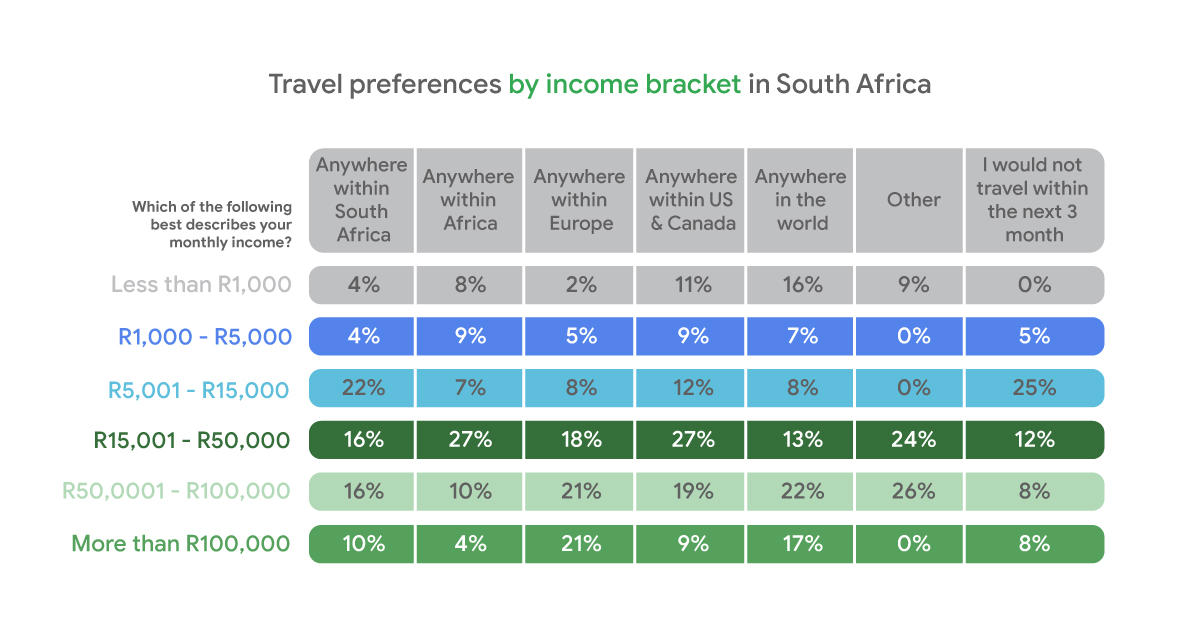 Flexibility is top of mind for the modern traveller
Although the demand for travelling is palpable, travellers in many cases have one eye on their bookings and another on pandemic developments. Where they choose to spend their money will come down to how much flexibility they can be guaranteed.
Almost a third of South African respondents (32.3%) said that deals and discounts were important to them when booking their travels.6 However, 16.5% said they were looking for money back guarantees, 15.9% want flexible booking dates, and 14.8% insist on no cancellation fees.7
All of the latter three consumer demands are rooted in flexibility and make up a total of 47.2% of consumers – nearly half.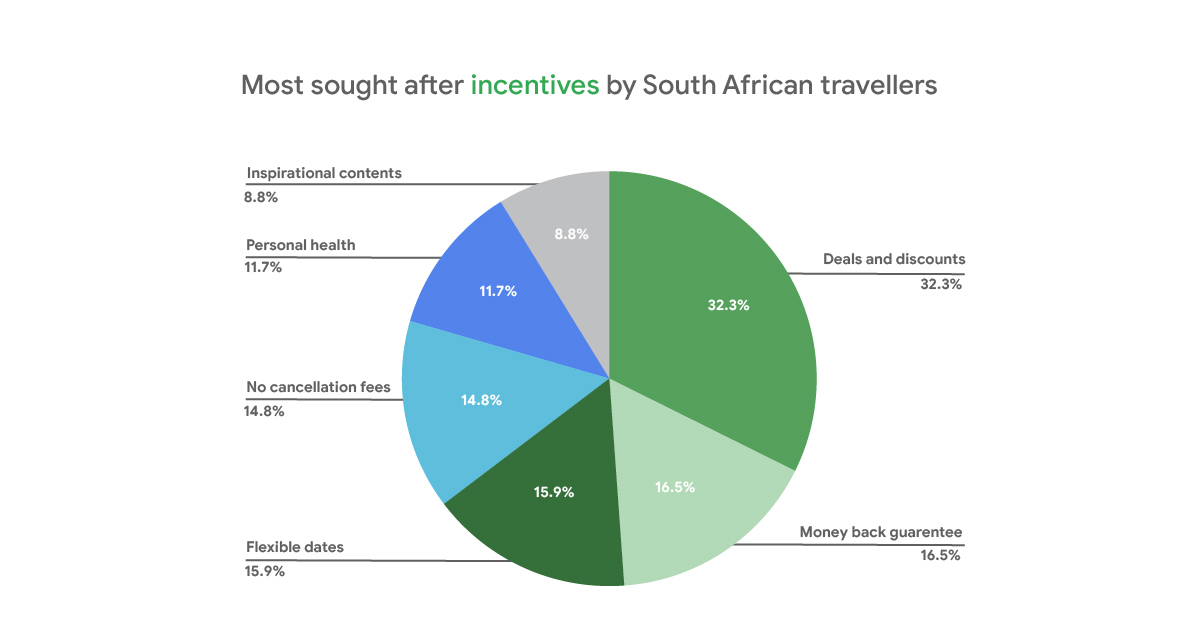 Once you know where travellers want to go, and what will convince them to make a booking, it's important to make sure that they consider your brand first. The best way to do this is to be visible at the beginning of travellers' booking journey – this is also known as the discovery and consideration phase.
When asked where they first hear about travel and tourism deals, 41% of South African respondents said Google Search and YouTube.9 And similarly, for inspiration, 37% of South African respondents turn to Search and YouTube first.10
Finding travellers on Google Search
Thanks to automation, Search can track more signals than ever before. Signals like language, operating system, conversion path, device type, and more. This additional data creates more complexity, but also more opportunity.
The opportunity lies in using Smart Bidding and Broad Match together.
Smart Bidding uses the power of machine learning to optimise for conversions or conversion value in each auction. This is known as auction-time bidding. This way, the optimal bid is set based on the likelihood of a traveller converting. This reduces wasteful spending and ensures you're set with the right message when travellers are ready to take to the skies.
Once you're up and running with Smart Bidding, you can use Broad Match to cover a wide range of long-tail searches in similar categories, ensuring that you reach as wide an audience as possible.
Finding travellers on YouTube
A common misperception of YouTube is that it's only a brand building platform. When we look at the "messy middle" in the context of Google's tools, we see that YouTube and Search play a vital and often inextricably linked role in consumer decision making.
Think of the last time you used Search to purchase something online. Did your search journey lead you to a review on YouTube? Of the 100 million clicks on Search in the last 12 months in South Africa for travel categories, 9.7 millions users are looking in-market for travel on YouTube.11
There are four actions you can take today to capture this attention no matter where you are in the conversion funnel:
1. Generate reach to build brand awareness
Use TrueView for Reach and non-skippable ads to generate reach and build trust and brand awareness on multiple touchpoints. The more a user sees your brand, the more the brand earns trust and credibility.
2. Build consideration to reassure users
Build consideration with TrueView and Discovery ads to reconnect after initial contact in the awareness phase and assure customers of your brand's credibility.
3. Capture existing demand to drive conversions
Use always-on Video Action Campaigns including remarketing to capture existing demand beyond Search and drive conversions.
4. Optimise existing campaigns
Follow campaign best practices to maximise campaign performance.