Google's President of the Americas Allan Thygesen explains how intent-rich moments are altering the shape of the marketing funnel.
Marketing has always been about driving growth. And the formula for how to drive growth in today's market has changed.
As marketers, we were taught to master the funnel – a linear customer journey from awareness to consideration to purchase. And using mass media, the key levers to drive growth were reach and frequency. We used demographics to approximate user intent and inform our targeting and creative.
But this model no longer applies to today's customer journeys. In the last six months, Google looked at thousands of users' clickstream data from a third-party opt-in panel. We found that no two journeys are exactly alike, and in fact, most journeys don't resemble a funnel at all. They look like pyramids, diamonds, hourglasses, and more. Digital technology and mobile devices have put people in control. We all now expect an immediate answer in the moments we want to know, go, do and buy. And all of these intent-rich moments are creating journey shapes as unique as each of us. In many ways, intent is redefining the marketing funnel.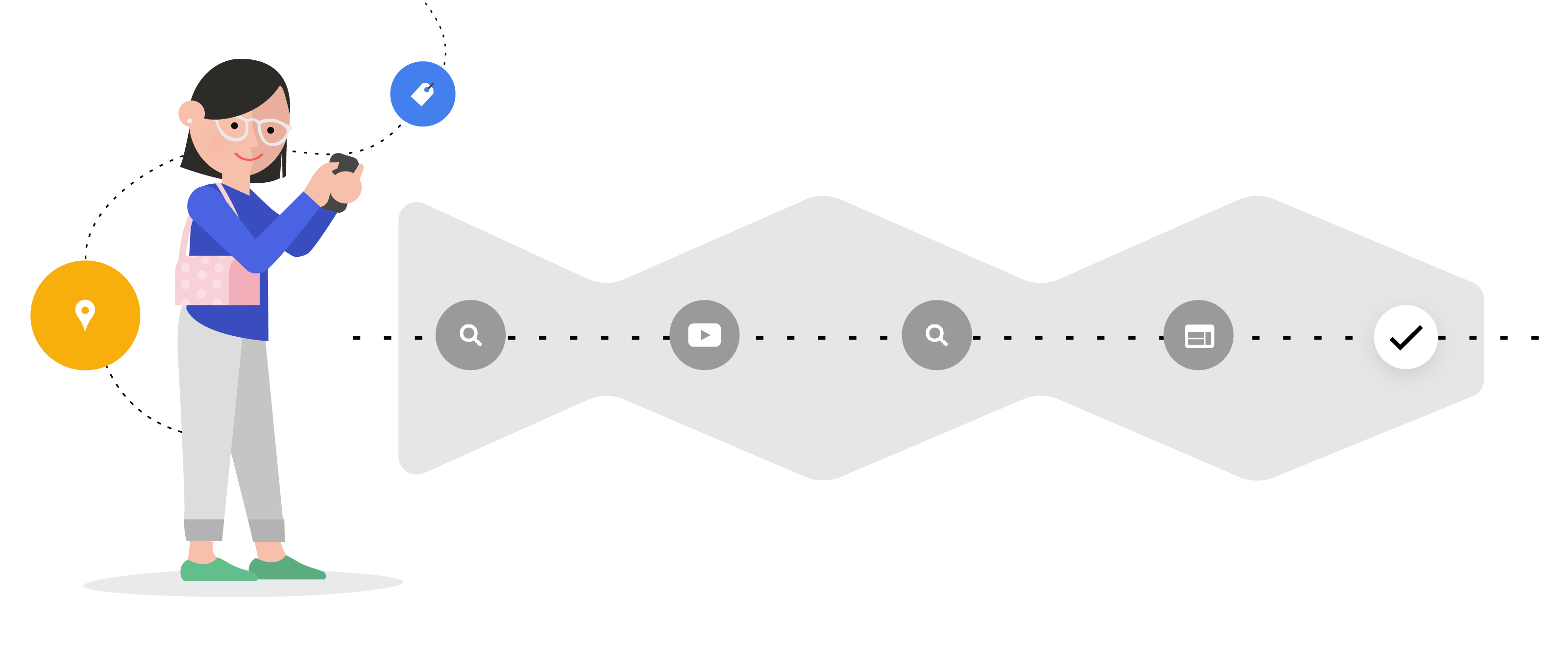 Let me explain. Take the example of Jill, a 25-year-old from Tennessee. She's shopping for some new makeup after learning from a friend that the products she's been using for years may be irritating her sensitive skin.
Her journey starts off with a flurry of Google searches where she learns that she needs hypoallergenic and aluminium-free products. Then, she quickly narrows her search to a handful of promising brands. Pretty predictable funnel-type behaviour, right?
Not quite. She then broadens her search again by looking for "makeup brands without aluminium". We see Jill's consideration set expand and narrow several times as she researches brands on Google and watches YouTube videos over the next two months – yes, two months. She's more undecided than ever.
Jill explored a number of retailers and brand websites over this time period, but ultimately it was Ulta Beauty's loyalty program "Ultamate Rewards" that won her over. Results from searches for that retailer's "rewards" and "rewards birthday gift" seal the deal. Her next move? A search for that retailer's locations.
Across verticals and categories, we're seeing people narrowing and broadening their consideration set in moments that we couldn't have possibly predicted if we relied on that age-old marketing funnel.
So what does that mean for brands? It means that marketers can no longer plan on a linear journey. Today, consumer choice heavily influences reach and frequency. They're choosing to engage with brands that are relevant, helpful and personal. People are demanding assistance, and the brands that offer it are the brands that will win.
When people can count on brands, brands can count on growth.
As a consumer, you know that this makes sense. As a marketer, hearing all of this might make you a bit uncomfortable. But there is a huge opportunity for your brand to influence the outcome. When people can count on brands, brands can count on growth.
How do you create a brand people can count on? It starts with predicting intent and anticipating needs – throughout the customer journey. For example, Hawaiian Airlines used search signals to predict the people who were most likely to book a trip to Hawaii. Then, by understanding that people would want a direct flight from a nearby airport, they were able to tailor messages accordingly. Video ads included a call to action directing people to a landing page of relevant flight and pricing options.
This example shows that intent really is everywhere. People are signalling their intent every time they turn to digital for assistance. The challenge is to know your customers – really know them – so that you can predict that intent. Machine learning is key here. It's impossible to segment audiences and find the right customers effectively without it. HomeAway is a good example. Its segmentation is now based on real-time behaviours.
"If someone comes to our site, for example, we can say, 'that person behaves exactly like someone who is going to convert in two weeks' time,'" explained David Baekholm, SVP of growth marketing at HomeAway. "We then know what types of content and messaging might be useful for this person so that we can keep them engaged until they're ready to buy."
People are making decisions at every step of the journey: beginning, middle and end. Ensuring your brand is there to help, like HomeAway and Hawaiian Airlines, is critical. It's not an easy task. But it can absolutely be done. 
The formula for driving growth has changed. And predicting intent is now a critical part of the equation.