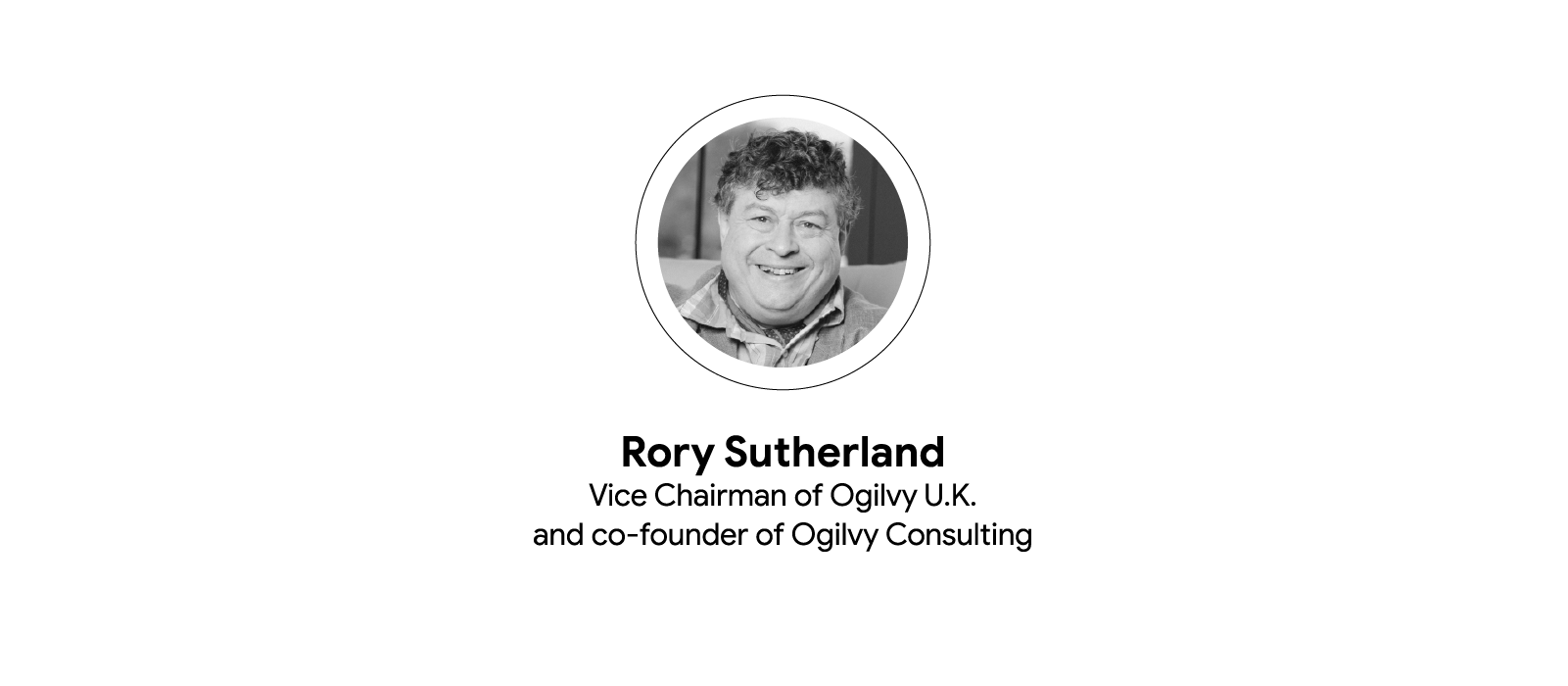 As Vice Chairman of Ogilvy U.K. and co-founder of its behavioural science division, Ogilvy Consulting, Rory Sutherland knows a thing or two about consumer behaviour — and how it's often not as rational as marketers think.
Think with Google's Content Lead, Lucy Ferguson, sat down with him to understand the importance of testing the counterintuitive, expanding your vision, and using logic as a tool rather than a rule.
Lucy Ferguson (LF): Why should marketers look at behavioural science, the study of human interactions and decision-making?
Rory Sutherland (RS): Most business decisions around human behaviour — and attempts to both predict and shape it — rely on broken binoculars. One lens uses neoclassical economics (if you reduce the price, demand will go up), while the other is shaped by market research. Both approaches are flawed in terms of the vision they give you.
As a result, we tend to either take market research too literally, ignoring the say-do gap in which consumers say one thing in a survey while doing the other, or lose our imagination by focusing too heavily on decisions that make economic sense.
One of the worst mistakes people make when setting up tests is not testing the counterintuitive.
But most breakthrough products are a result of marketers doing neither. Only when you come to understand seemingly illogical behaviours and distortions of human perception, can you expand your vision and solutions.
We have access to more consumer behaviour data than ever before, but marketers must apply the right models if they want to use it to their advantage. If you're only looking at behaviour without exploring the reason behind it you'll be misled. And without a decent understanding of behavioural science, you'll always fall back on the most logical and comforting explanation rather than really digging into what's going on.
LF: What is one common misconception marketers have about human behaviour?
RS: There tends to be the wrong assumption that people know what they want in advance, which leads us back to neoclassical economics and the idea that people make decisions independent of social context.
Marketers often cater for this by offering things like product filters, but really the way consumers make decisions isn't that linear.
If you're only looking at the behaviour without exploring the reason behind it you'll be misled.
When buying a house, for example, most people start their search with a range of criteria, but hardly ever do they end up with a property that matches those initial requirements. This is because the search process is highly recursive and we adapt our preferences based on what we find. Therefore, starting your search by filtering only for what you think you want is actually very limiting — and doesn't lead to better choices.
This decision-making process is central to behavioural science. It's about shifting the focus from rational thinking to the instinctive part of the brain.
That's why in performance marketing, one of the worst mistakes people make when setting up tests is not testing the counterintuitive. But the more people test, the more successful they get, simply because it creates the room to test things that are a bit silly — and you may well find out that it actually works.
LF: How can behavioural science help marketers respond to changing consumer needs?
RS: Being aware of behavioural patterns allows marketers to be more proactive about how they respond. For example, the standard reaction to the current — or any — period of economic uncertainty is to assume the average behaviour translates to the individual. But actually, everyone's situation is different and there can be significant growth in variation around how people spend their money during these times.
There is always a clear bubble-in-the-wallpaper effect with consumer behaviour, especially when people are making trade-offs. Whether it was the rise of in-store shopping after lockdown or the booming interest for travel we've seen in the last year or so, for marketers with an understanding of behavioural patterns these shifts wouldn't have come as a surprise.
LF: Finally, do you think marketers have a role to play in driving certain behaviours?
RS: There's a common concept in behavioural science called 'Nudging', which essentially means to steer someone's behaviour in a positive and predictable way. In marketing, this is often used to encourage more sustainable choices, whether it's through reminders to recycle packaging or by offering circularity options.
But marketers also have the power to normalise new behaviours. Whoever invented the word 'Staycation', for example, did both consumers and the travel sector a big favour as it destigmatised local travel.
And there are many impactful ways in which brands can tap into this. Ogilvy Germany worked with Deutsche Bahn (German Rail) to create a campaign that would give people an incentive to travel by train. The result: a viral No Need to Fly campaign, which showed pictures of popular international holiday destinations next to look-a-like photos of places in Germany, highlighting the stark price difference.
To effectively encourage certain behaviours, marketers must look beyond the response and instead focus on the trigger. There's a place for rational thinking, but to really connect with consumers logic should be used as a tool rather than a rule.
Whether it's asking the question no one is asking or testing the counterintuitive, applying behavioural science can help marketers understand the real 'Why' — and in a world of constantly changing consumer behaviour, that's a sensible skill.