There's long been a strong ethical argument for a more sustainable fashion industry. Here, with the help of new Google research, Josh Ayto and Hayeon Kim explain how the business case is just as compelling — but not for the reasons you might expect.
The conversation in the fashion industry is changing; a focus on colours, cuts and seasons is making way for a bigger debate around sustainability. More than another passing trend, the ethical stories that our clothes tell look set to shape the future of the industry itself.
To better understand the true impact of sustainable fashion on purchase decision making, we partnered with Basis to test the attitudes, behaviours and brand perceptions of a representative sample of 4,000 people across the U.K.
55% of shoppers claimed sustainability was more important than value and quality
Together we discovered that, far from being just a cost, investing in sustainability presents a powerful opportunity for fashion brands to increase their product appeal, brand perception and sales.
The 'action gap': an opportunity for fashion brands
Few would contest the ethical arguments for a more sustainable industry. But the business case, specifically around its impact on consumer purchase making, has so far, not been as strong.
It's true, there is an 'action gap' between how important sustainability is to shoppers objectively and their actual purchase behaviours.
Take a look at the numbers: 55% of shoppers claimed sustainability was more important than value (40%) and quality (38%). Yet people's real behaviour, when researching their actions rather than what they claim in a survey, showed sustainability on its own (at 59%) was substantially less important than value (84%), quality (84%) and style (83%).1
Simple analysis like this makes it easy to dismiss sustainable fashion initiatives as a 'nice to have' or worse, just a cost. However, if it wasn't important to shoppers, why would Google searches for sustainability in fashion continue to rise so strongly, with 2X as many searches in July 2020 versus July 2019?2
Our research suggests the 'action gap' is a commercial opportunity for the fashion brands willing to innovate and provide transparency to engaged consumers around sustainability.
Sustainability in fashion is now a signal for quality, value and appeal
Today, the true commercial value of sustainability lies in its impact on shoppers' broader decision making. Communicating genuine sustainable attributes has a halo effect, influencing customer perceptions — especially around quality and value — at key decision-making moments.
But for this messaging to be effective, simplicity is key. Only 8% of shoppers have a strong understanding of the topic3. And while that figure jumps to 12% of 18-34-year-olds4, it still means the majority of shoppers struggle to gauge true sustainability, despite their increased interest and research around it.
Currently, the attributes that most impact how sustainable a product is perceived to be fall into three key areas:
Certifications that give a third-party approval (such as Fairtrade);
The types of materials used and how they were sourced;
Support for local businesses and communities.
While these shortcuts are important today they are likely to change as consumers become more aware and informed over time.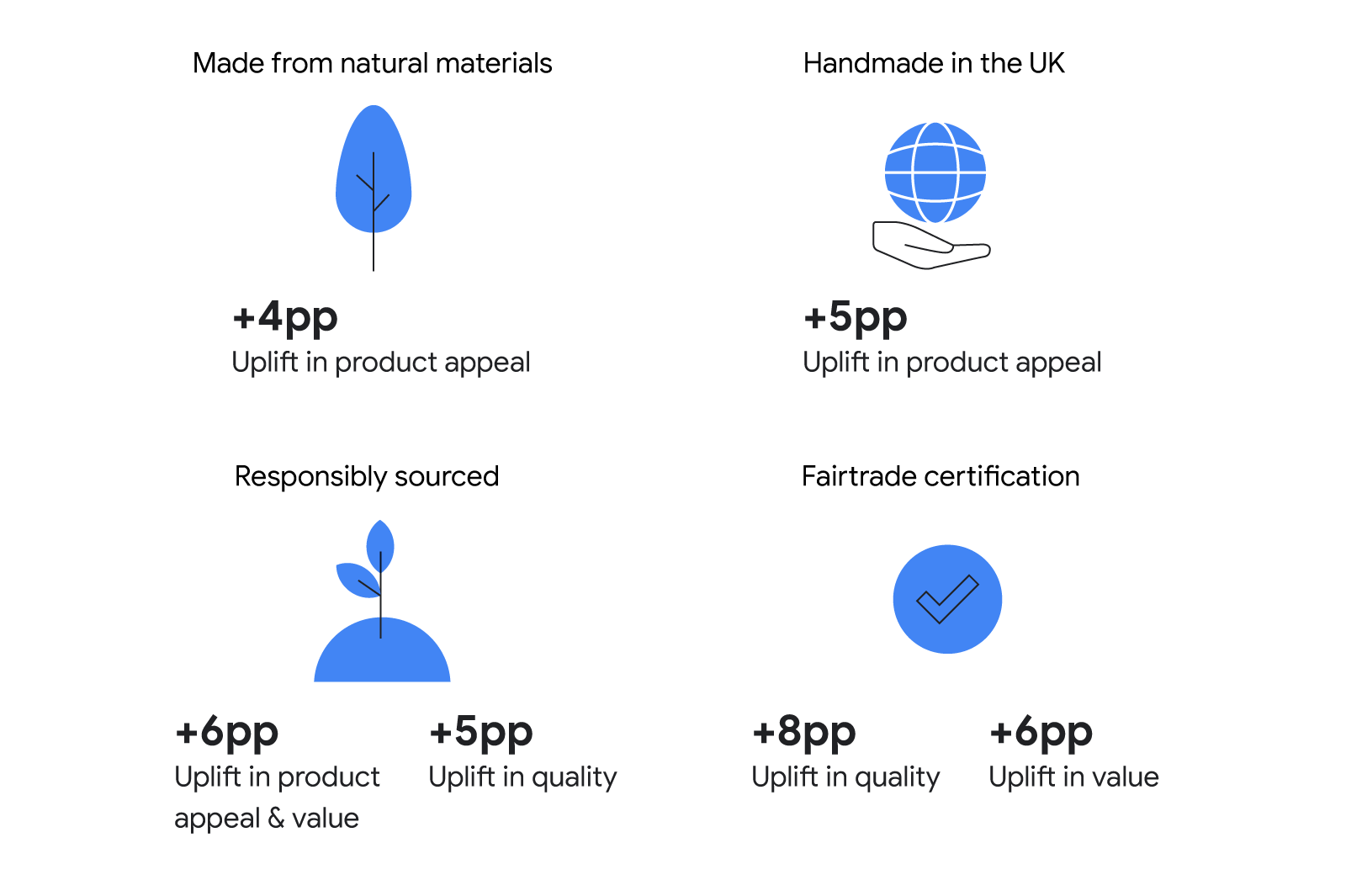 The more brands talk authentically and consistently about sustainability, the higher they're perceived as trustworthy, high quality or innovative. And, if they skip the conversation completely, our research suggests that consumers default to a category average — or sometimes negative — view of their sustainable attributes compared to other brands.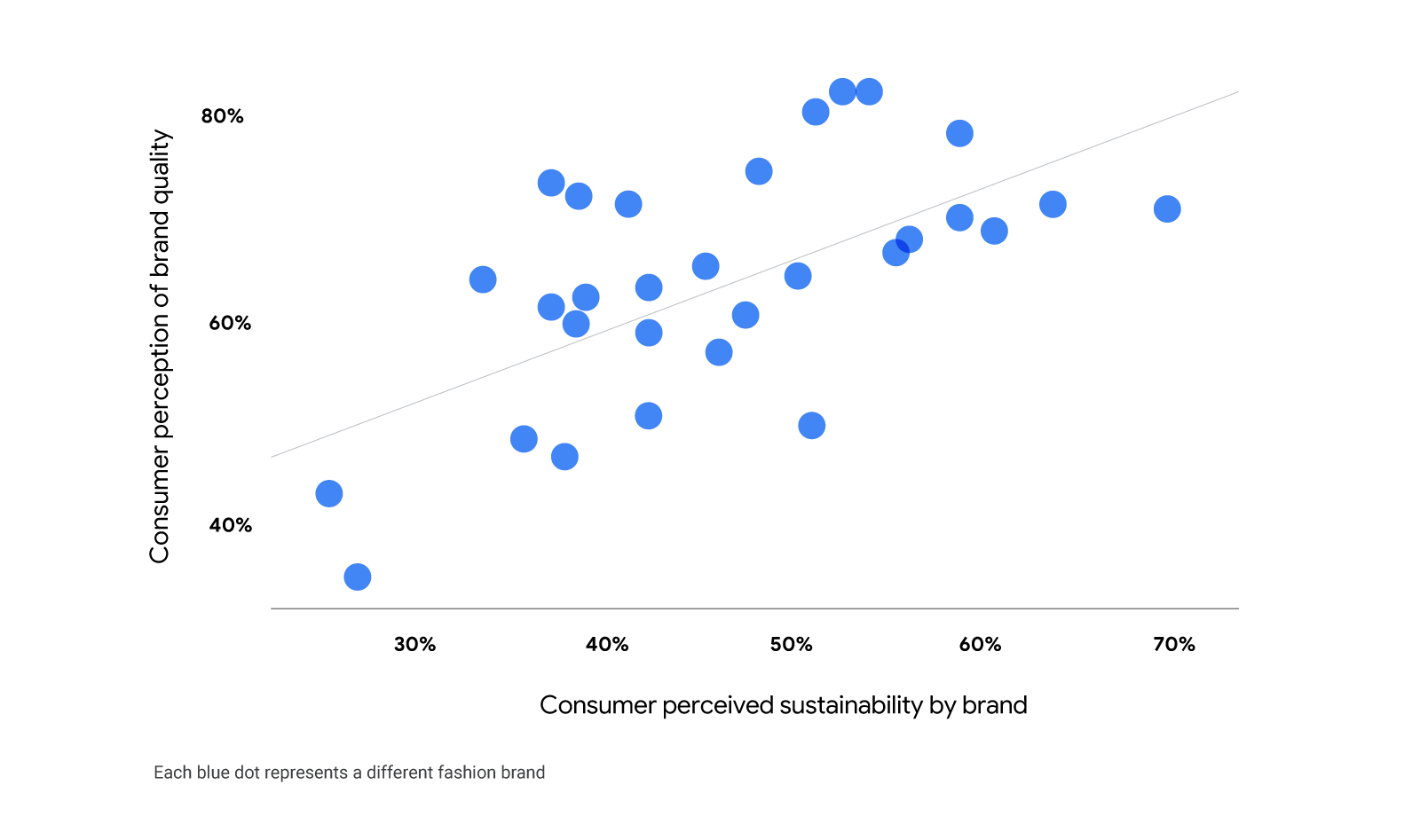 The good news? Many brands already have considerable efforts around sustainability to talk about. The opportunity is therefore to better and more broadly communicate these efforts, ideally sooner rather than later as consumer interest continues to grow rapidly. As brands increasingly recognise the impact of sustainability on long-term brand health — as well as those on the environment — and consumers continue to raise the bar around their expectations, the competition to stand out can only become greater.
YouTube videos related to sustainability have seen their watch time increase 70% YoY in the U.K.
This is where the menace of 'greenwashing' arises — in which brands convey a false impression about their sustainable attributes. For any brands considering using generic terms for commercial gain — without concrete changes behind the scenes — ethics aside, the business risks are substantial.
Shoppers and crucially, journalists and activists, are increasingly wising up to greenwashing, and YouTube videos related to sustainability have seen their watch time increase 70% YoY5. So, if a brand wants to claim sustainability, they need to be able to back up those claims with genuine actions.
Sustainability and innovation go hand in hand
We found that shoppers consider online and direct-to-consumer (DTC) purchases to be more sustainable, given the perception of greater control of the supply chain. These channels, especially DTC, create a much stronger sense of transparency — people are more inclined to trust product information from the brand that directly produces it.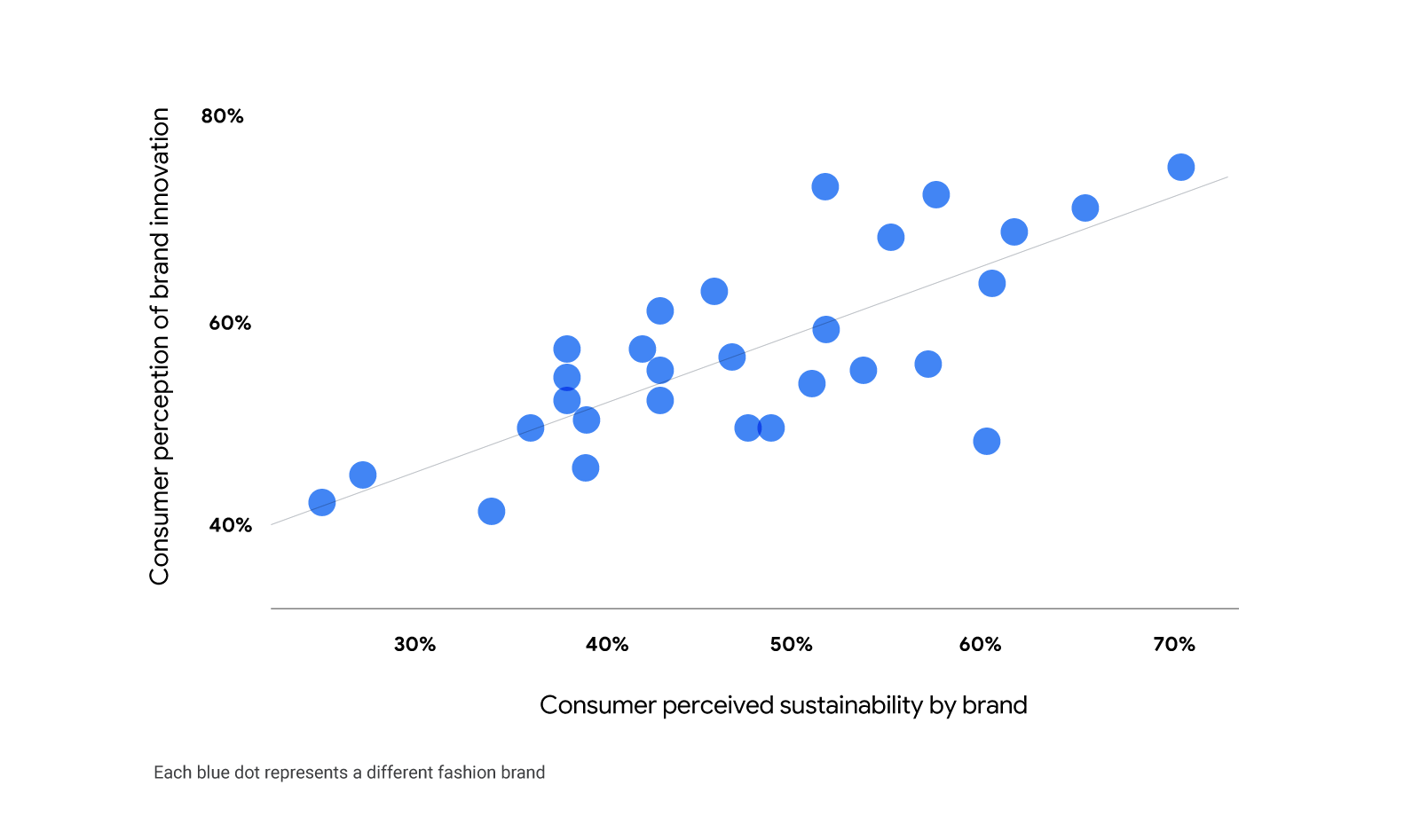 This gap was most obvious in the luxury fashion sector. The average level of 'brand love' for incumbent luxury brands was only 33%. Compare that to DTC brands (46%) and circular economy rental or 'pre-loved' product platforms whose brand love was the highest, at 58%.6
Experimentation with new consumption models, such as rental, will shape the future of fashion
As online purchases and DTC sales grow — especially in light of the accelerated digital adoption brought about by the ongoing pandemic — the importance of sustainability on decision making grows too. While the preference for sustainability, online shopping and DTC is greatest amongst younger shoppers (under-34-year-olds), the YoY growth in concern for sustainability is seen across all demographics.7
The greater online influence and a growing level of experimentation with new circular business models — such as rental or reuse — will shape the future of fashion. If brands don't adapt now, they risk falling behind.
A sustainable plan for every fashion brand
There's a clear-cut business case for sustainable fashion. It makes your products more attractive, and it has a positive impact on core brand perception metrics like trust and quality.
Consumers have come to expect sustainability from new brands, and are increasingly seeking it from existing and long-established high-street names. So, whether you're a category giant or a challenger brand, here are three key consumer insights to put at the heart of your business case for a sustainable future.
Sustainable fashion can be good for business. No longer does it only appeal to those looking for more eco-friendly options — sustainability in fashion is now a general signal for quality, value and appeal. Improve your product's appeal to in-market shoppers by clearly communicating your sustainable attributes.
Brands benefit from joining the conversation. If you don't broadly communicate your sustainable fashion initiatives, it can have a negative impact on perceptions of trustworthiness, quality and innovation. Brands need to be more mindful to authentically and consistently promote their sustainability initiatives. Online video will be key to supporting this as it is where consumers are seeking out this information the most.
Transparency and experimentation is key. While online and DTC brands have a head start here, any fashion brand should look to improve their transparency as the importance consumers place on sustainability grows. Consumers expect more brands to embrace new ways of doing business and circular business models. Building in these new ways of operating — potentially through partnerships — will be key to making fashion more sustainability and responding to customer demand. One of the biggest barriers to providing full transparency has been the availability of data. To support, WWF and Google announced a data-led platform to help drive responsible sourcing decisions across the fashion supply chain.