Lucy Sinclair is the EMEA director of the insights team at Google, where she and her team analyse changes in consumer behaviour. In this regularly updated article she'll be highlighting what is on people's minds during this unprecedented time.
The impact of the coronavirus pandemic has been felt by everyone around the world. And as consumer needs and behaviours have changed, this poses new challenges to marketers. We're regularly sharing the latest EMEA search insights from Google Trends to help you understand what is important to your customers, so you can continue to be helpful and relevant during this unprecedented time. You can also use Google Trends yourself to explore changing search interests to view a more instant analysis.

As people are adjusting to the current situation and trends are starting to become more consistent, we are focusing our analyses on the macro shifts in consumer behaviour — to understand what the long-term impact might be in a post-lockdown world.
The five key themes we cover within these are:
What people know: Seeking timely and accurate information from trusted sources
How people make a living: Changes to work and finances
How people feel: Wellbeing, connection, and community
How people learn: Formal and informal education for children and adults
What people do: Spending time and money in new ways

The Google Trends insights highlighted in this edition show that as more countries are lifting lockdown restrictions, consumers are increasingly searching for ways to explore more outside of the confines of their homes again. Whether they're looking for shops 'open near me', close-by outdoor activities, buying cars, or even researching domestic travel, the shifts in searches are showing signs of renewed interest for several verticals that have been stagnant these last few months.

It's also becoming more evident that COVID-19 has accelerated the shift to digital. Consumers continue to go online to work, play, learn, and buy whatever they need at the moment, ranging from everyday essentials to niche items like surfboards.
1. What people know: Consumer searches shift from 'what is open' to 'open near me'
In our last analysis of Google Search Trends we highlighted that some governments across EMEA had started to ease lockdown measures, and this has increased even more in recent weeks. As a result, searches have shiftedfrom 'what is open' to 'open near me' as consumers are slowly starting to become more at ease again with visiting the non-essential shops and services they frequented before lockdown.
Search interest increased for 'car dealers near me' ('car dealers near me') in the U.K., 'stores near me' ('stores near me') in South Africa, 'nearby' ('in der nähe') travel agents, car dealers, and more in Germany, pharmacies, hardware stores, etc. 'close to me' ('____ vicino a me') in Italy, and cafes, bakeries, shops, etc. 'near me' ('à proximité') in France, and restaurants, hotels, beaches, etc. 'open near me' ('open near me') in the United Arab Emirates.
2. How people make a living: Job searches continue and new government schemes launch
As long-term implications of the pandemic and lockdown restrictions are starting to emerge, one area that has seen sustained growth over the last few months is that of job searches. We know that businesses have been severely impacted by COVID-19, and as a result so have many employees, who are now trying to find new or alternative work to supplement lost income.
Google Trends shows that over the course of the last two weeks, search interest has risen for 'job offers' ('offres d emploi') and 'cover letter' ('lettre de motivation') in France, 'today's jobs' ('وظائف اليوم') in Egypt, 'driver jobs' ('driver jobs') in the United Arab Emirates, 'interview applications' ('mülakat başvuru') in Turkey, and 'minimum salary' ('salario minimo') in Spain.
On a more positive financial note, in addition to new measures to help businesses and individuals manage through this uncertain time, many countries are also exploring how to support its citizens in new and innovative ways. In Italy, for example, the government is exploring eco-friendly alternatives to using public transport by helping Italians to buy bikes. This 'mobility bonus' ('bonus mobilita') rose significantly in searches over the past two weeks.
3. How people feel: Search interest increases for outdoor activities
Health and fitness is remaining front of mind for people across EMEA during this time, as Google Trends showed increased searches for 'gymnastics for' ('ginnastica per') children, leisure, at home, etc. in Italy, and 'gaining weight' ('kilo almak') in Turkey.
In addition to regular exercise from the confines of their own homes and gardens, searches for outdoor activities have also started to rise in those countries where certain restrictions have been lifted.
In the Netherlands people increasingly searched for 'inflatable canoe' ('opblaasbare kano'), in France for 'surfboard' ('planche de surf'), in Spain for 'paddle surf' ('paddle surf'), in Poland for 'fishing umbrellas' ('parasol wędkarski'), in the U.K. for 'open water swimming' ('open water swimming'), in the United Arab Emirates for 'swimming pool' ('swimming pool'), and in Germany for 'mountain bike' ('mountain bike').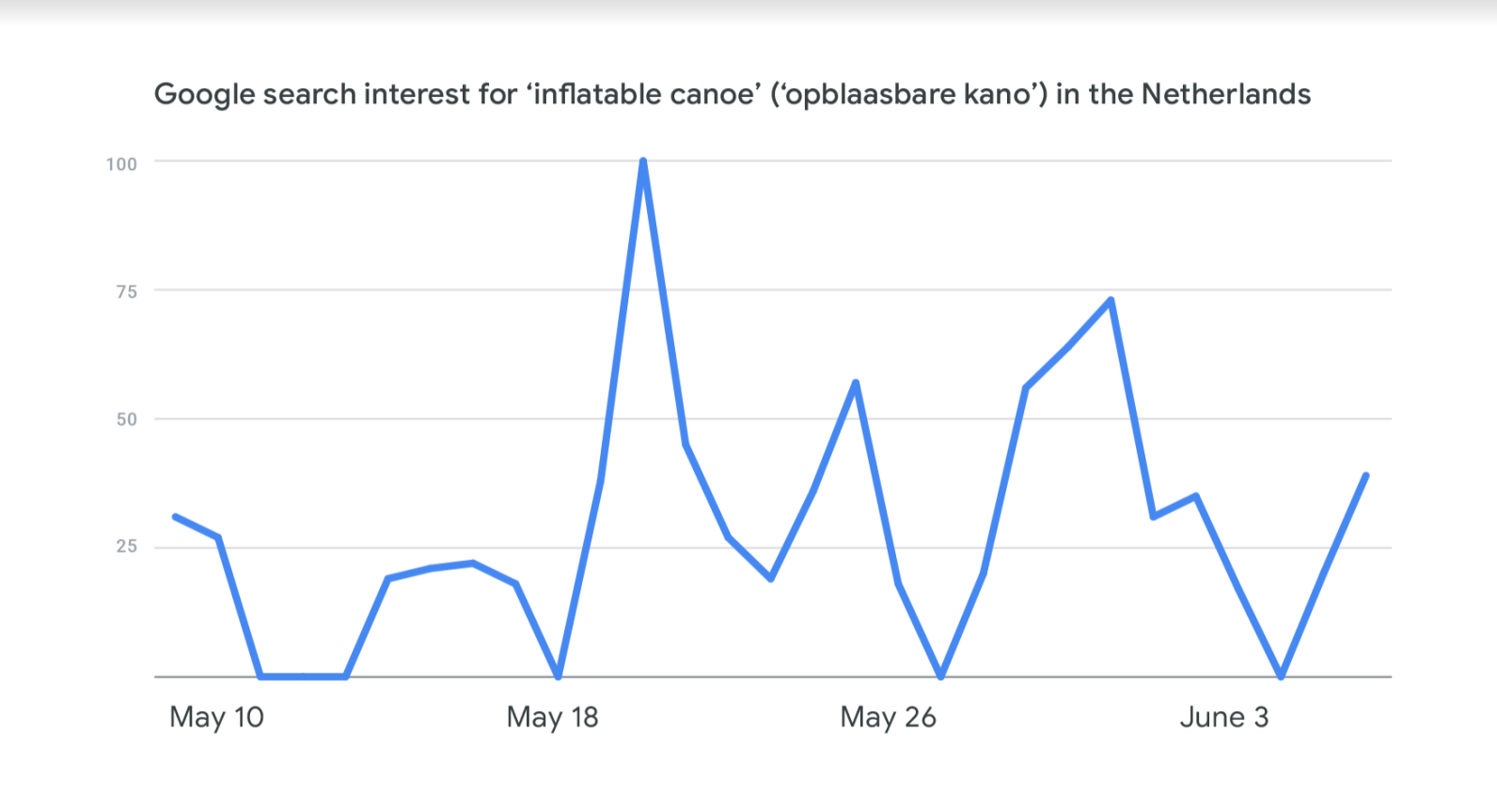 4. How people learn: Consumers continue to use Search for answers to 'how to' questions
We previously shared the increasing trend for consumers to turn to Google Search and YouTube for information on 'how to' learn new things, and this behaviour is one that has continued in recent weeks. With more and more people using 'how to' to find the answers they're looking for, it has moved away from focusing purely on education and leisure activities, to all sorts of queries.
Consumers in Sweden turned to search to find out 'how to remove' ('hur får man bort') pimples, a double chin, etc., in the U.K. for 'how to get rid' ('how to get rid') of ants, bed bugs, flies, and more, in Saudi Arabia for 'how to' ('how to') sleep fast, lose weight, calculate BMI, etc., in Poland for 'how to cultivate' ('jak pielęgnować') orchids, lavender, tomato plants, and more, and in Turkey for 'how to make jam' ('reçeli nasıl yapılır').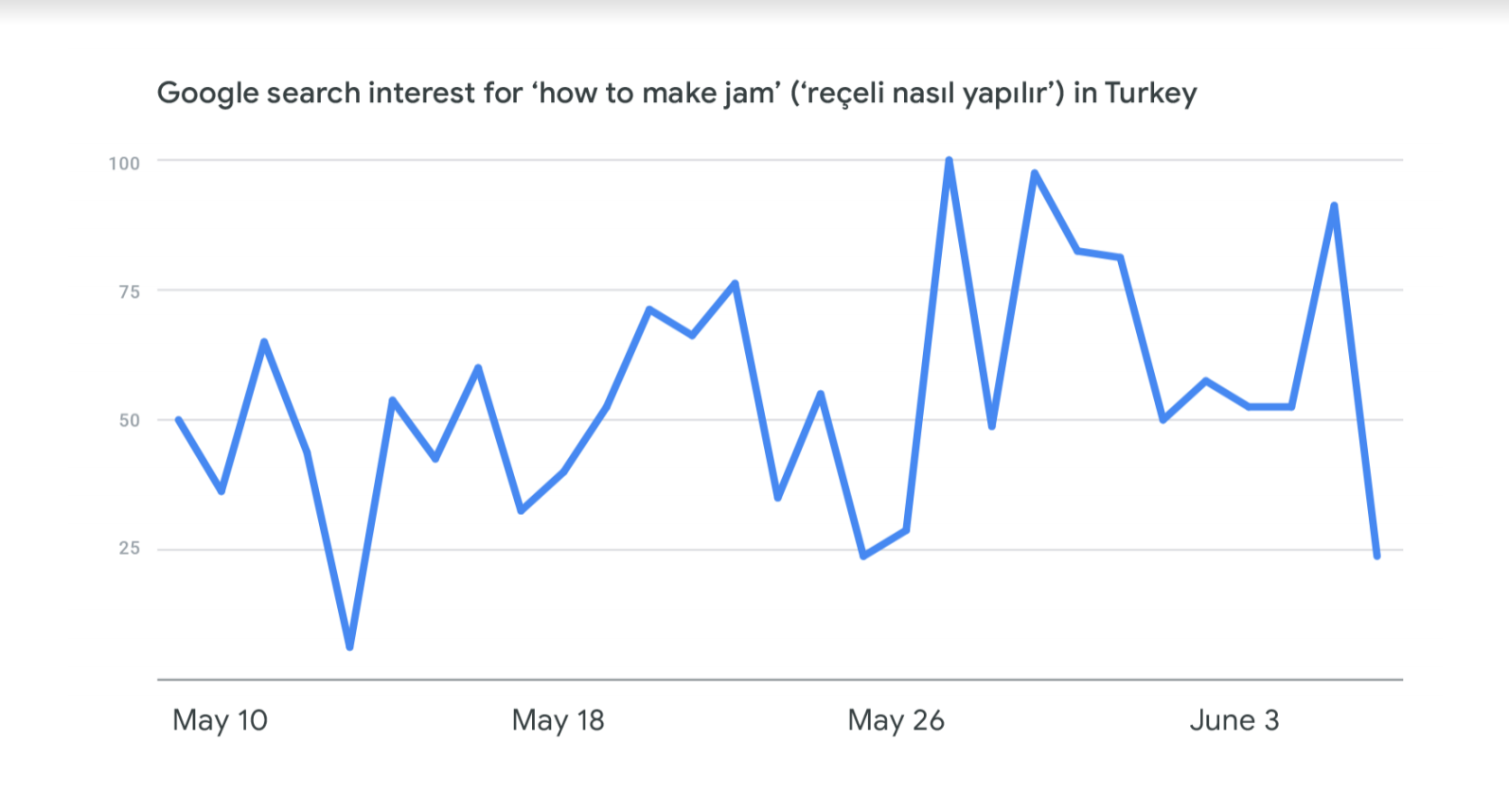 5. What people do: Travel, auto, and real estate categories show signs of growing interest
Across many EMEA markets, Google Trends shows that search interest has started to recover in hard-hit verticals such as travel, auto andreal estate, with renewed interest in these categories in the last two weeks.
While with the uncertainty of international travel and anxiety related to safety, it is no surprise that consumers are looking for ways they can spend a holiday closer to home. New research shows that when asked what type(s) of vacation people intend to take in the next 12 months, 49% of people said domestic vacations and 30% choose staycations. In Denmark search interest rose for 'motorhome rental' (leje af autocamper'), in France for 'holiday renting' ('location vacances'), in Spain for 'vacation rental' ('alquiler vacacional'), and in the U.K. for 'nature reserve' ('nature reserve).
With these restrictions on domestic travel starting to lift across EMEA, people are also getting back into their cars — or are potentially looking for alternative ways to travel from what they did before. Search interest has grown for 'second hand car' in both France ('voiture occasion') and Turkey ('ikinci el araba'), 'hybrid cars' ('hybrid autos') in Germany, and 'car wash' ('car wash') in South Africa.
And while we already saw an optimistic glimpse into the increase in real estate searches two weeks ago, this has only grown more with consumers now looking for 'buy a house' in Sweden ('köpa hus'), 'apartments for sale' ('شقق للبيع') in Egypt, and 'apartments for rent' ('شقق ايجار') in Egypt, 'apartments for rent near' ('شقق للايجار حي') in Saudi Arabia, and 'houses for sale' in both Belgium ('maison à vendre') and Spain ('casas en venta').
Explore more consumer search behaviour trends
You can view all our recent trends analyses in our search insights collection. While we provide a regularly updated snapshot of consumer behaviour changes and trends across EMEA, we understand it may be helpful to review the information more frequently, or for a specific country or region. To explore further insights, here are 10 tips for using Google Trends. By entering a keyword or a topic into the tool, you can explore what the world is searching for in near real time.