Singles' Day, which started as a tongue-in-cheek way to celebrate the joys of flying solo in response to Valentine's Day, is a major retail moment in the Middle East and North Africa (MENA). Held on November 11 (informally known as 11/11), it marks an increasingly significant search and shopping mid-point between Halloween and Black Friday in the wider Black Friday shopping season.
We've seen a 35% year-on-year increase in search interest for "Singles' Day" across the region. Seventy per cent of UAE and Saudi Arabian shoppers buy products specifically for themselves during this event, versus 67% during Black Friday and Cyber Monday, and 65% during the end-of-year sales season.1
Outside of being a shopping spree moment, people also take time to turn inward. Video search interest for "mental health" grew by 50% year-on-year ahead of 11/11, with "wellness" on the up by 35%.
Consumers want convenience without breaking the bank
Interest in Singles' Day gathers momentum about two weeks before the big day. And a 40% increase in search interest for "discount" indicates that shoppers want to find the best deals to make the most out of spoiling themselves.
Shopping apps are a big part of this moment, with a 32% growth in shopping app downloads during this time suggesting consumers don't just want good prices, they also want convenient shopping journeys.2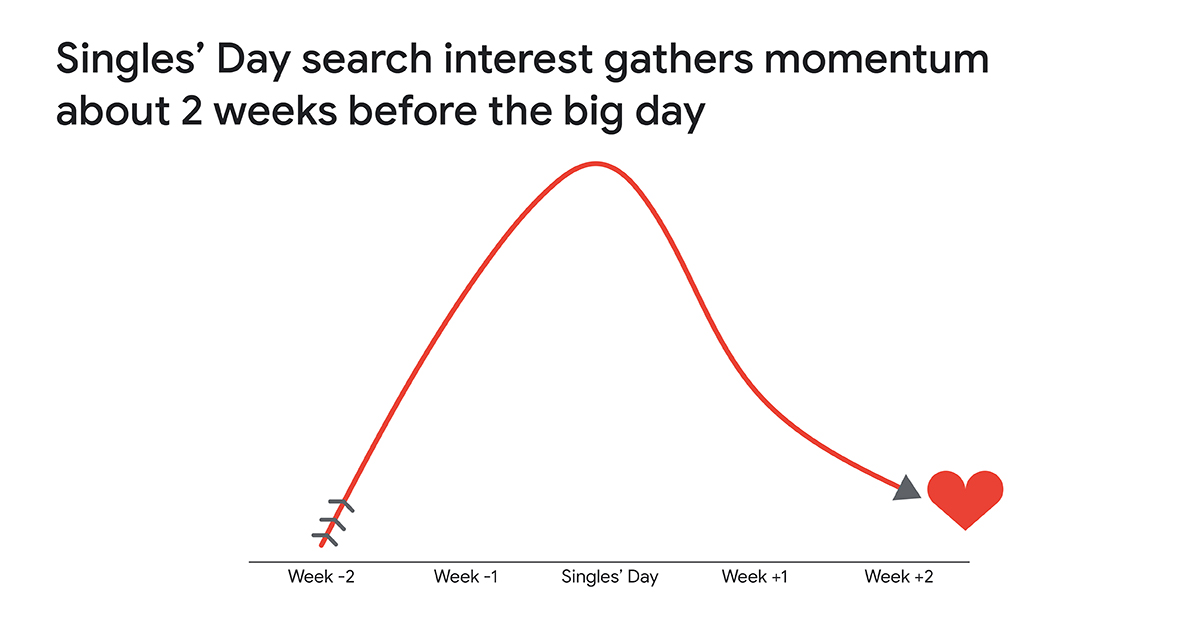 Romancing the self: Consumers spoil themselves in 3 ways
Insights from Google Trends suggest that regional Singles' Day shoppers look to treat themselves holistically: body, mind, and home.
A season of self-care
Whether they're single and ready to mingle or happily partnered, shoppers amp up their self-care routines around 11/11.
"Anti-aging product"and "collagen water" saw respective search interest increases of 30% and 25%. Shoppers also turned to YouTube to improve their routines with search interest for "hair care" growing at 75% and "skincare routine"at 130%.
Consumers carry self-care from their shopping into their daily activities too, with video searches for "yoga workout" rising by 125%, and "pilates" up 135%.
But they also recognise that balance and enjoying the things they love is important, with search interest for "comfort food" rising by 85%.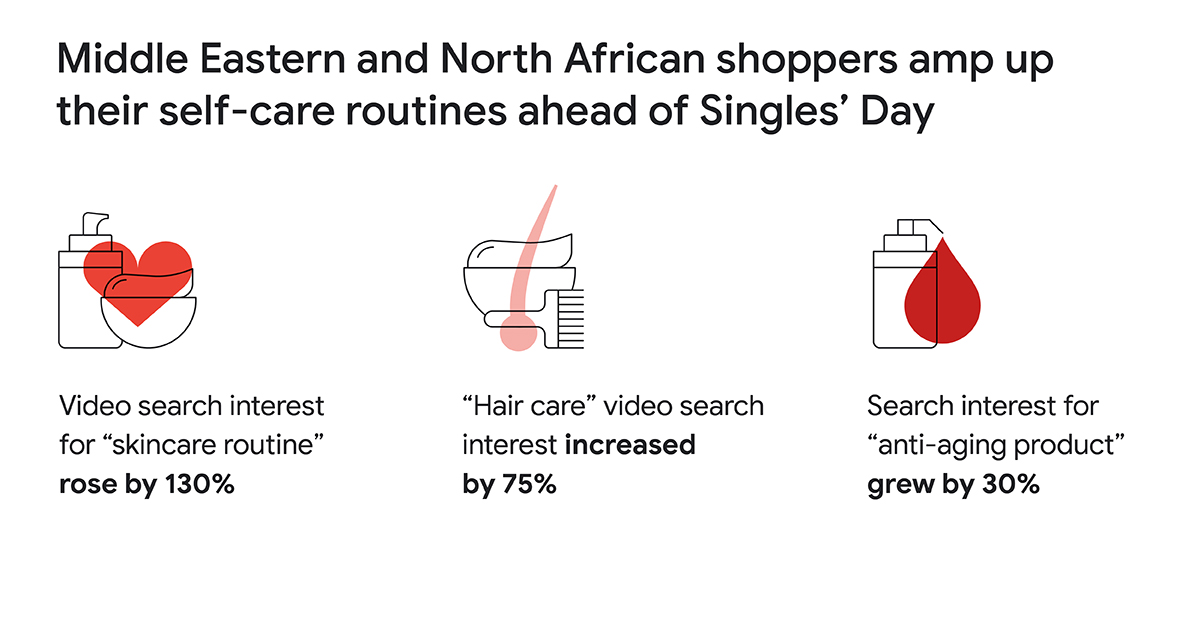 Source: Google Trends, UAE, Saudi Arabia, Egypt, 20 Oct.-2 Nov. vs. 3-16 Nov. 2021.
Sparkle meets comfort
With end-of-year celebrations just around the corner, shoppers yearn for little luxuries. Last year search interest for "earring" and "cufflink" rose by 95% and 75% respectively in the lead up to Singles' Day.
And being comfortably stylish is also en vogue. Search interest for "relaxed fit" grew by 100%, with "tracksuit" increasing by 25%. Footwear choices also lean to the more casual, with search interest for "espadrille" rising by 35%.
Home run
On the topic of staying in, home-related search interest suggests that Singles' Day shoppers love being the kings and queens of their castles. And organised ones at that, with search interest for "home organization" growing by 75% across the region last year.
Indoor and outdoor spaces both factor into what consumers look for at this time of year. Search interest for "bedroom set" was up by a considerable 255%, with "garden lights" illuminated with an increase of 80%. Adding to the me-time ambience, search interest for "scented candles" also grew by 40%.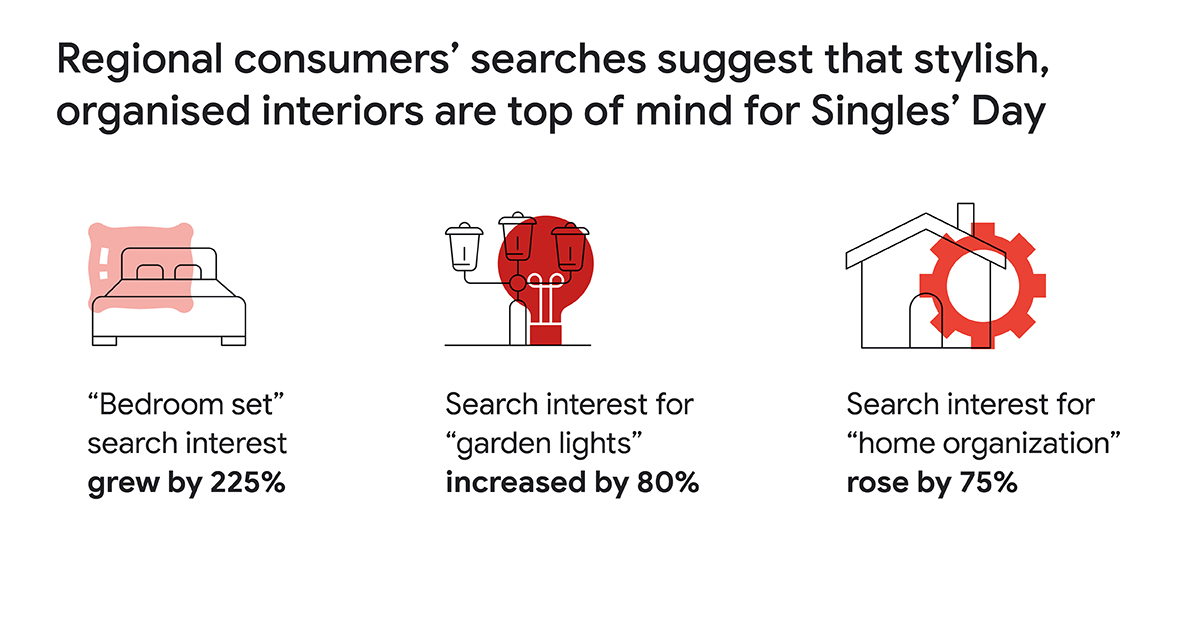 Source: Google Trends, UAE, Saudi Arabia, Egypt, 20 Oct.-2 Nov. vs. 3-16 Nov. 2021.
Tips to help marketers woo Singles' Day shoppers
Reach audiences wherever they are
As consumers continue to intensely search and shop ahead of Singles' Day, being there for them during key moments in the purchasing journey is more important than ever. To capture demand, marketers can utilise Performance Max. This automated goal-based campaign type allows brands to access all of their Google Ads inventory from a single campaign.
Make your money count
Singles' Day continues to evolve each year, and staying on top of changing consumer needs and behaviours is key to unlocking this moment's full potential. Performance Planner helps to make the most of your budget. It takes into account billions of search queries, helping you understand potential performance, and manage budgets across accounts and campaigns.
Keep your site shopper-friendly
Your brand should always offer the best customer journey experience. Grow My Store assesses your e-commerce site, provides actionable tips on how you can improve the experience, and helps you connect with the right customer at the perfect time.
Show off your best content
Singles' Day shoppers look to video to research products and get the best recommendations. Marketers can reach these eager information seekers through video reach campaigns that optimise in real time, ensuring potential shoppers only see a brand's most relevant content.