'Local is lekker' is a term South Africans are very familiar with. This idea that nothing is quite as nice ("lekker" is Afrikaans for "nice") as what we have right here at home. With international travel likely to resume only in 2022, South Africans are rediscovering that local is indeed lekker.
Search interest for travel-related terms is not only exceeding 2020 levels, but it also shows a distinct interest in places to visit, things to do, and even modes of transportation that have a distinctly local feel.
With searches around domestic travel and destinations on the rise, it's clear that there is a substantial group of people wanting to experience all their country has to offer. By leaning into Google Trends data, travel marketers can begin to paint a picture of the South African traveller today and the types of experiences they are looking for in the age of rediscovering your own backyard.
Rediscovering the great outdoors
The irony of it all is that the very same things that draw international tourists to South Africa are those that local travellers are seeking to make the most of. In the past year, South Africans have increasingly been searching for "game reserve", "nature reserve", and "south coast" — over 100%, 140%, and 90% respectively — when comparing the period of March to April 2021 with the same period in 2020. These terms showed up in queries for popular reserves like "mabalingwe nature reserve" and "timbavati game reserve" among others.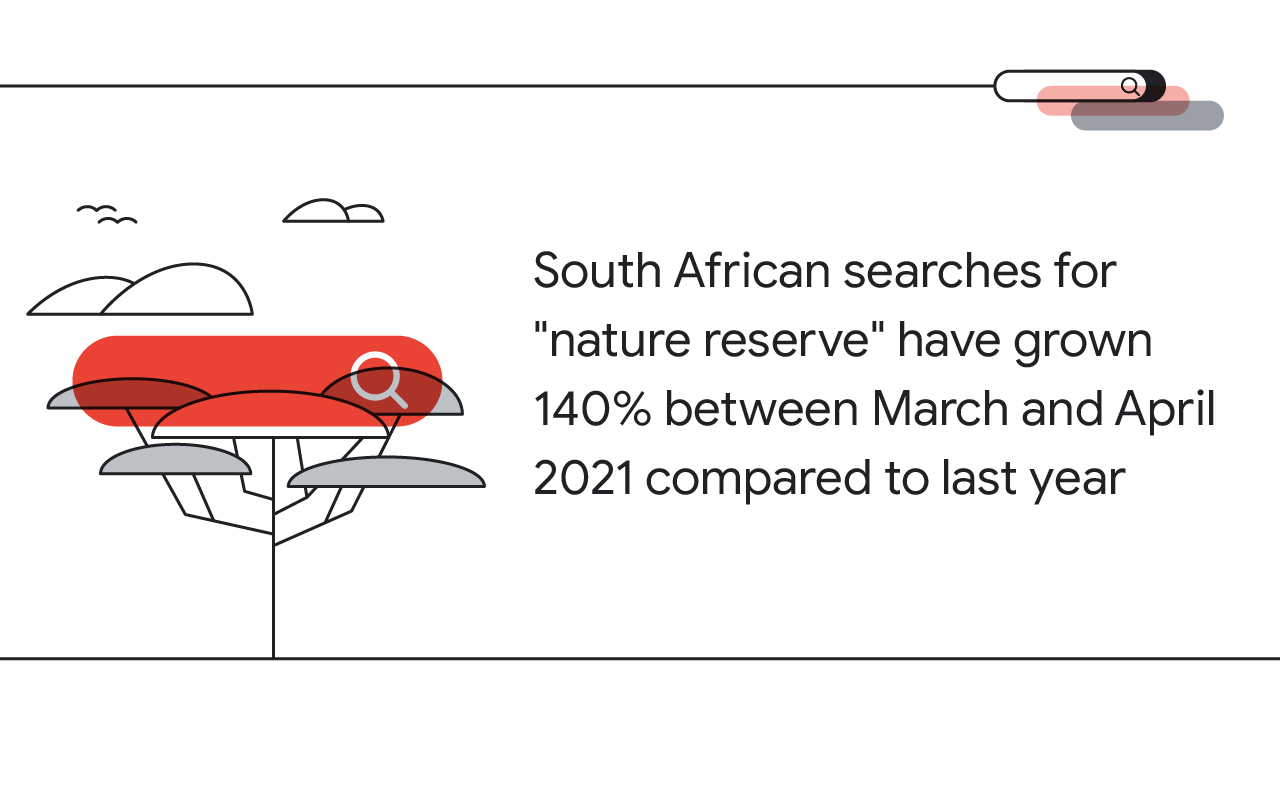 Considering that game and nature reserves are some of the most popular destinations for travellers, it follows that Search interest for terms containing "guest house" and "game lodge" have seen significant growth in the past year.
For the more adventurous still, nature itself makes for the best type of accommodation. Search interest for terms containing "camping sites" saw significant growth from March to April when compared to last year, growing over 140%.
Things to do
When it comes to what to do once at the holiday destination, it turns out that South African travellers are open to being inspired. Between March and April this year, they came to Search looking for "things to do" driving growth of over 60% compared to last year.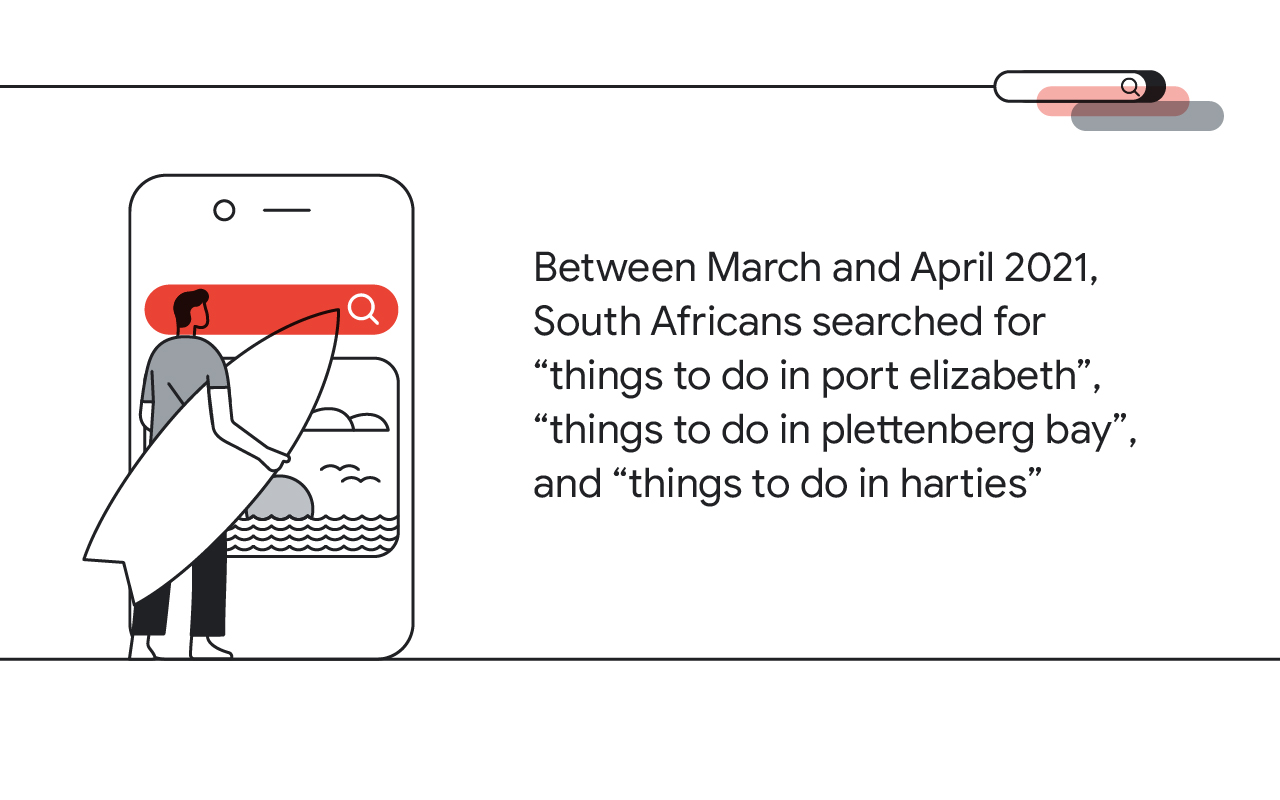 These holidaymakers' intentions are clear: they are specifically searching for things to do in cities and towns that are popular holiday destinations. Related queries for "things to do" include "things to do in port elizabeth", "things to do in plettenberg bay", and "things to do in harties".
How to get there
As South Africa's vaccine programme begins to roll out, local travellers appear to feel more confident in getting out there — this includes being transported via airplane. Searches containing the term "flights from" have grown over 50% in March and April 2021, compared to last year.
Specifically, there's interest in visiting popular holiday destinations. The search term is appearing in queries for 'flights from johannesburg to cape town' and 'flights from durban to cape town'.
The budget-conscious traveller
Although the interest to get out there is showing growth, there is a sense that cash-strapped South Africans are still conscious of how they spend every cent. So instead of lengthy vacations that may last a week or more, shorter trips appear to be en vogue with Search interest for terms including "weekend getaways" growing more than 200% during March and April 2021, compared to the same time last year.
But it's not just the duration of the holiday that's a budget consideration, it's the accommodation too. When looking at the Search term "guest house", related queries include "guest house near me" which may suggest a budget-conscious traveller who wants the time away, as long as it's not too far.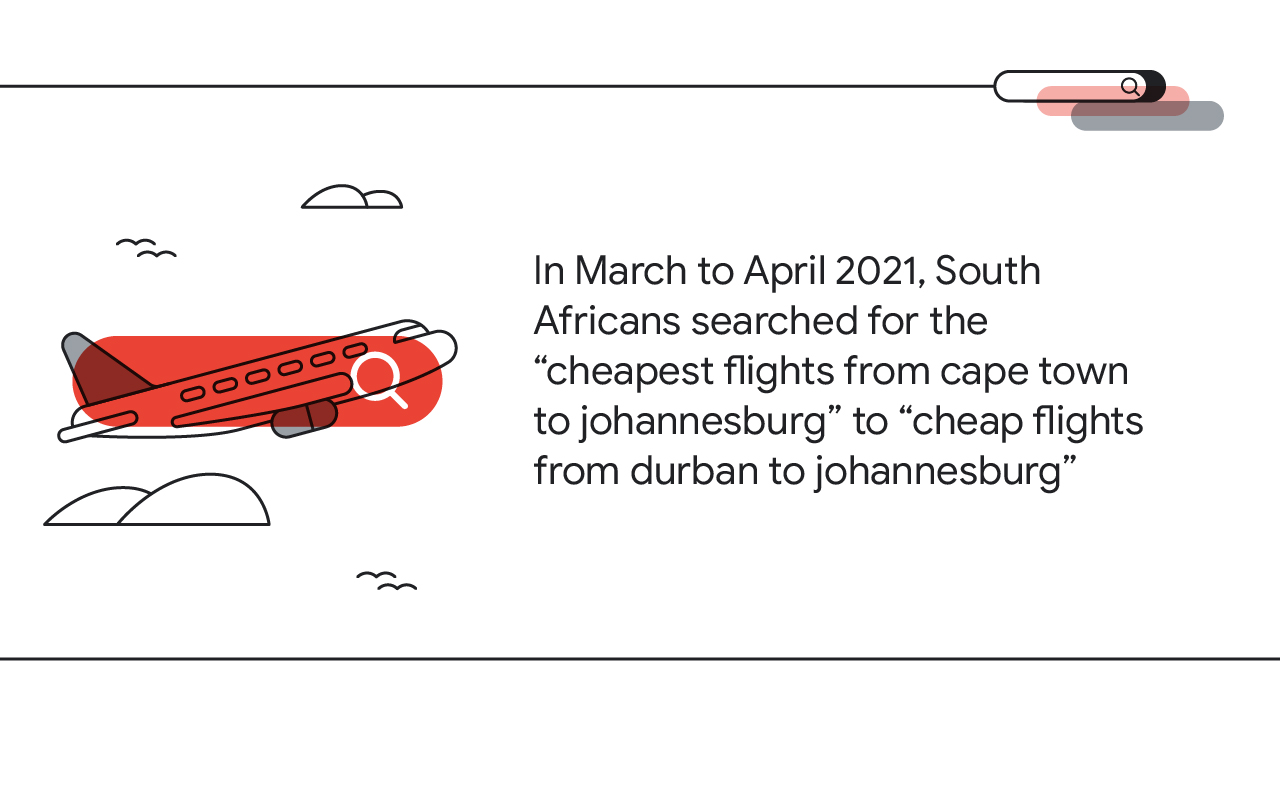 The story is very similar for the term "flights from" which appears in related queries like "cheapest flights from cape town to johannesburg" to "cheap flights from durban to johannesburg". A combination of new low-cost airlines, the financial effects of the pandemic, and general South African penny pinching, appear to be driving the demand for cheaper flights.
Where to go from here?
It can be difficult to keep up with fast-changing consumer trends and preferences. Thankfully, you can rely on tools to help you keep up with your consumers and understand what they're searching for.
By applying the power of behavioural science to your Search ads, you can ensure you're present when your consumers are browsing for holiday inspiration. You can also use the new insights page in Google Ads to help you stay on top of changing trends within your market. And, to tie it all together, automation can help you free up valuable human resources so your team can focus on what they love to do: creating innovative strategies. Now that sounds pretty lekker!