Roya Zeitoune and Nicolas Szmidt are experts in culture and trends on YouTube. They delve deep into YouTube viewing data to uncover emerging consumer trends.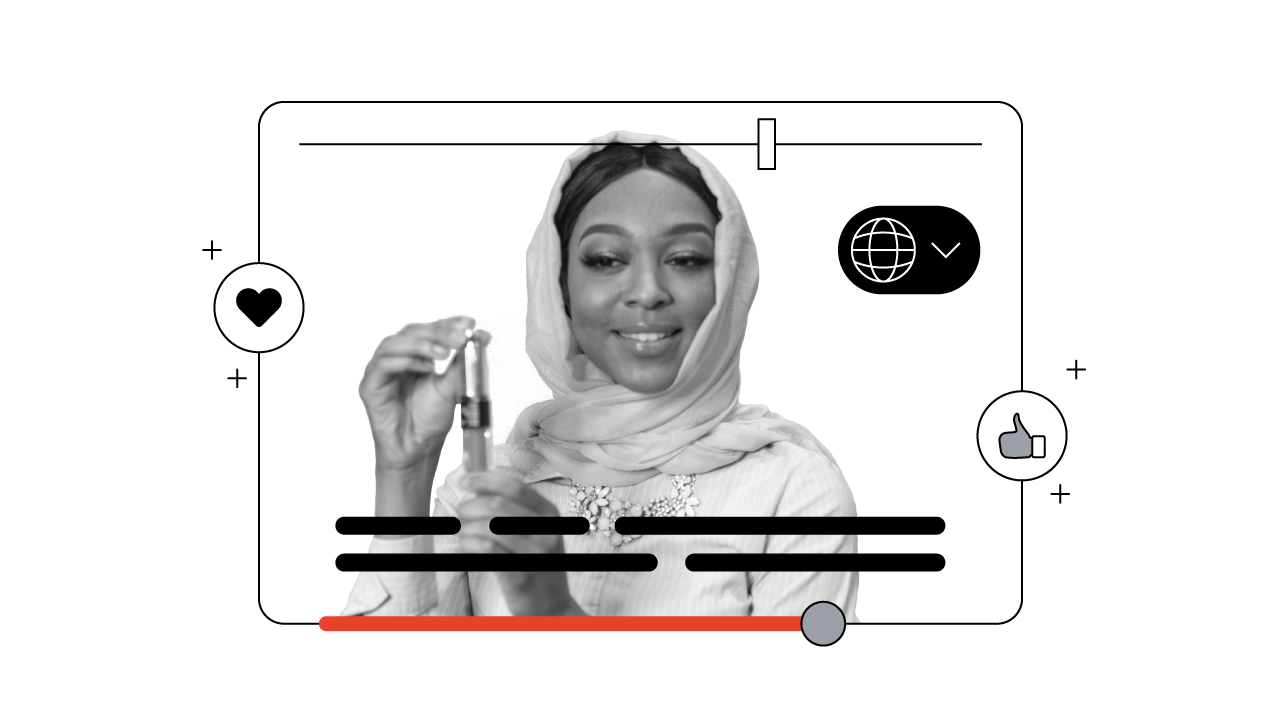 In a time when the demand on viewers' attention is higher than ever, YouTube creators are seeking novel ways to get their ideas and stories across.
Today, new technologies are opening up new frontiers for creative expression. Creators have moved quickly to use these tools to craft inventive, unique storytelling formats.
And viewers are loving it.
Modern marketers need to be aware of these new storytelling techniques to stay up-to-date with popular culture. Viewers across Europe, the Middle East, and Africa (EMEA) are consuming content from across the world, with these tools and techniques helping to span continents.
Here are three ways creators are harnessing technology in 2023 and weaving it into their content to tell richer, more compelling stories.
Broadening horizons with multi-language audio
Content creators are increasingly using multi-language audio in their storytelling to reach and engage with a much larger audience since its introduction in 2023. It is used to reach those who might otherwise never watch, because the video is not in their native language.
MrBeast, for example, already has 164 million subscribers worldwide. But MrBeast's recent videos have been dubbed into 11 languages to bring more international viewers to his main channel. He has even started his own multi-language dubbing service to help spread the use of multi-language audio within the creator community.
"You could reach everyone! If you do the top 15 languages, you can reach basically 90% of the world," he said in a February video interview with Creator Insider.
The Korean artist Midnatt also took this approach in the video below, allowing fans to listen to his music video in six languages. Midnatt even used AI to make his vocals sound more natural in each of the dubbed languages.
Meanwhile, viewers are using the feature to broaden their horizons. According to an Ipsos study, 54% of respondents say they follow a creator who creates content in a language other than their own.1
Multi-language audio has also been used by this website: Think with Google. Ilaria Marittimo, editor for Think with Google Italy, used the feature to add an Italian audio track to a recent English-language Think with Google video.
"The video features important guidance on AI, which we knew would be crucial to share with our Italian readers," says Marittimo. "The video has now reached an entirely new audience, without having to shoot a new interview in the local language with a different expert."
Remixing showcases how limitless a creator's mind can be. They're no longer constrained by rigid storytelling formats.
Conjuring up something new with remixing
It's easier than ever to become a video editor or special effects artist as technology becomes more accessible.
This has led many creators to focus on clipping videos and remixing videos, which have become stand-out trends.
Clipping tools allow viewers to quickly excerpt moments from longer videos. More than 14 million videos have been created each month in 2023 using the YouTube clipping feature.2
Remixing content involves a creator beginning with a source video, such as a music video or celebrity interview, and combining it with something new. With memes now core to Gen Z communication, remixing is a way to add to youth culture.
Earnest Pettie, a Google specialist in YouTube trends, explains: "Remixing showcases how limitless a creator's mind can be. They're no longer constrained by rigid storytelling formats."
Here's one example of remixing, by British artist Raye, which has been sped up from its original. Sped-up remixes by fans have become so popular that artists like Raye are now releasing official versions of the remixes.
According to an Ipsos study, 65% of Gen Z discovered that a song that they first heard on a short-form video turned out to be a slowed down or sped up remix over the past 12 months.3
In this video, two actors in the HBO MAX series 'House of the Dragon' interview each other. Users – fans of the show – remixed excerpts, selected by HBO MAX, into other Shorts videos.
Creators and viewers are teaching each other how to use these tools.
Video captioning to capture the crowd
Captioning began as an accessibility tool, yet it has evolved to play a significant role in the viewing experience. The new generation of video captions add nuance, context, or 'inside jokes' to the video, building a deeper connection with the audience.
Creators also use captions in 'silent vlogs' which do not include any audio commentary but rely on ambient sound. Here, creators prefer to let the captions do the talking, without breaking the immersive nature of the visuals.
Captions exist outside the video so viewers can toggle them on and off, rather than being built-in to the video. This allows the viewer more control over how they want to watch. And Gen Z are huge fans of the feature: 86% of Gen Z watch content with closed captions or subtitles at least once a month, and 60% prefer to watch their content with closed captions switched on.4 For some platforms, having subtitles on is now the default setting.
Pettie explains: "It's a virtuous circle: viewers choose to watch with captions, which influences how creators use them in their content. In turn, more viewers choose to watch with captions so they don't miss any extra comments. Audience preferences are influencing the creative process — creators and viewers are teaching each other how to use these tools."
Marketers: Time to embrace new storytelling techniques
Creators are able to conceive new storytelling options using creative captions, multi-language audio, and remixing, because the technology is more accessible.
The same applies to brands, which can also use these tools to deliver similarly standout content, be part of these trending experiences, and resonate culturally.
It's time to consider how your marketing team could evolve the video creation process with a new approach to increase both the reach — and the impact — of your messages.