Consumer awareness of the climate crisis is reaching new peaks. In 2021, sustainably led brands such as Tesla and Allbirds to take the top positions in Iris' global research study, the Participation Brand Index, for the first time in nearly a decade.
Google Trends show that concern about climate has historically been driven by cultural interventions from ambassadors such as Greta Thunberg and David Attenborough — or from disasters like the Australian bushfires. The annual Conference of the Parties (COP) climate negotiations has previously only seen a small uplift in interest, but that has all changed with this year's pivotal COP26 in Glasgow.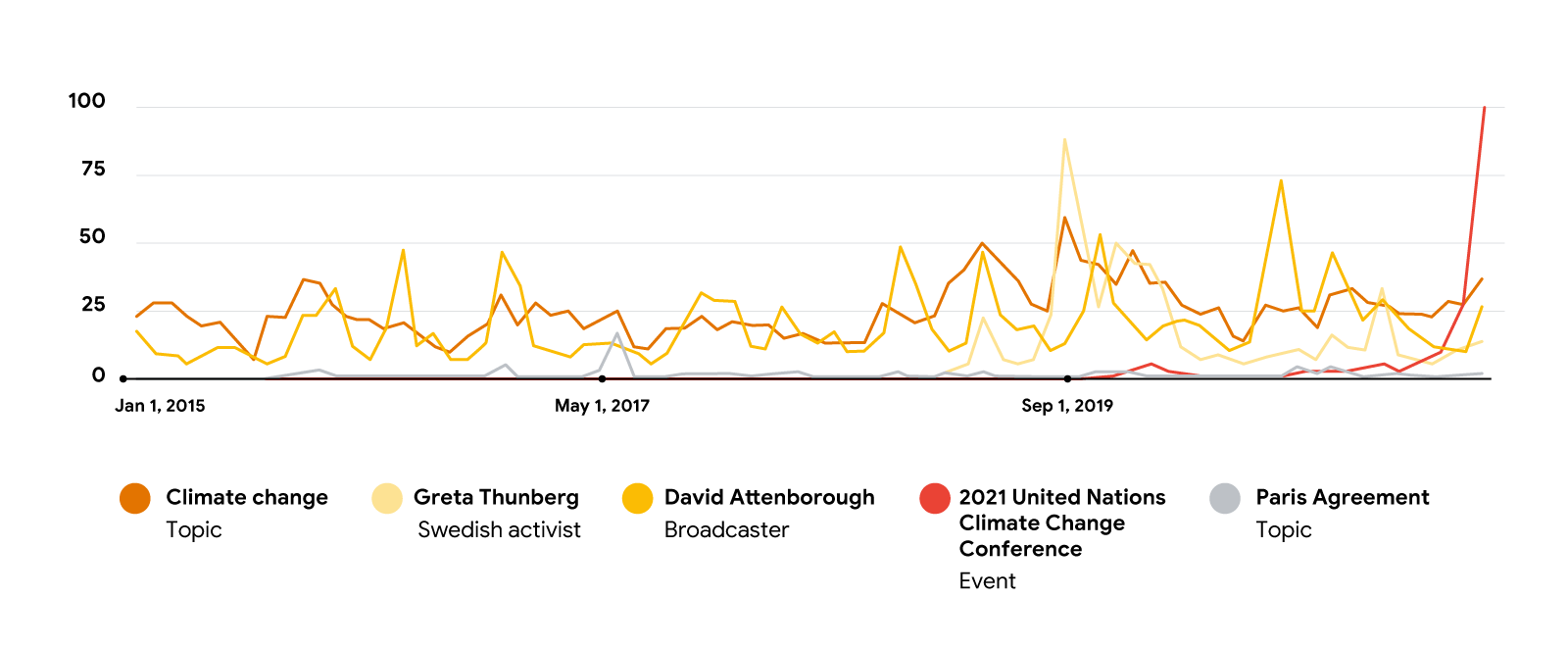 What hasn't typically shifted the dial on consumer interest is advertising activity from brands. While arguably progress has been made on topics such as diversity and feminism, brands have struggled to find a voice with sustainability — perhaps because of the uncomfortable relationship between overconsumption and environmental damage. The risk of "greenwashing" is massive if brand rhetoric gets ahead of actual progress, with some 40% of current green claims made by brands online possibly misleading – which makes the task of creating sustainably led communications like walking a tightrope.
But advertising has an important part to play in the world's transition to a net zero future. People need help unlocking their imaginations to possibilities of a low carbon future — in a way that only creativity can achieve. You don't get people there with data and fear alone. You get them there with storytelling.
Inspired by COP26 and the recent growth in consumer interest, some brands are beginning to find their climate voice. Below are five key strategies brands are adopting to tell a sustainable story — with an accompanying "greenwash watch out" on the pitfalls to avoid.
1. The behaviour-changer
Ikea has long been sector-leading in sustainability. Having first offered meat-free options in its restaurants and reducing forest degradation within its supply chains, this year they've come out with a more confident voice in favour of frugality, encouraging small but impactful behavioural changes.
One creative application of this is the brand's introduction of "disassembly instructions". Embracing the opportunity of the circular economy, it's empowering purchasers to not just build their own furniture but to take it apart when they've finished with it for Ikea to buy back and resell.
Greenwash watch out: It's OK to promote relevant products as a tool in the fight against climate change. But brands should avoid oversimplifying through "problem-solution" communications that suggest the entire climate crisis is solvable through the purchase of a new product.
2. The desirable alternative
The core strategy of brands with sustainability at the heart of their proposition is to tackle the problem head on — and present their product as a sustainable, desirable alternative to a polluting incumbent. In 2018, Ovo Energy directly took on climate denial and claimed that "It's time to power your life differently". Earlier this year, Quorn directly took on the "meat and two veg" tradition — calculating that by people switching away from meat, an incremental 3.8 million kg of CO2e could be saved from being released in two months.1
Greenwash watch out: While ambition is to be applauded, beware vague over claims in your messaging. Be specific and provable. The ASA recently challenged almond milk brand Alpro's advertised claim to be "Good for the planet", when "Less bad than dairy" would be a more accurate claim.
3. The specialist
One of the challenges of communicating sustainability is the sheer diversity of problems that need to be tackled. With so many objectives — and trade-offs often required — where should a brand start?
The simple answer is: somewhere. If a brand has the credibility to take on a fight, why not take it on.
Iceland's 2018 Christmas Ad — a Greenpeace collaboration drawing attention to the impact of palm oil farming on rainforests — followed the retailer's decision to remove all palm oil from its own brand products.
Despite being banned from TV for being too political, it was one of the most viewed ads of the festive season and saw the retailer vastly improve its consideration among consumers.
Brita has found a purpose by taking on the issue of plastic waste. It made sense for a brand that offers a filtered water alternative to plastic bottles to take up the fight, with help from Joanna Lumley.
Greenwash watch out: It's great to find a niche to focus on, but it shouldn't be at the expense of a holistic reduction in impact across all areas. Making a big story about a small bit of activity is the number one greenwash taboo. The most successful specialists avoid piggybacking on the latest crazes and make sustained multi-year investments in driving tangible change.
4. The compromiser
The IPCC summarised the scale of transformation required in consumer and business life to avoid the worst effects of climate change in one word: "unprecedented". This kind of requirement can be paralysing for brands, with concerns that consumers aren't ready for this pace of change. An increasingly popular and effective tactic to avoid this inertia is introducing "baby steps" towards a solution and accepting that moving in the right direction is better than no movement at all.
Take Sainsbury's "halfest" campaign. With the requirement for us to halve emissions by 2030, halving the amount of meat in a meal feels like an accessible first step that can take the brand's shoppers on the journey. The campaign, part of the brand's sponsorship of COP26, brings a refreshingly fun voice to the cause.
In 2019, KLM launched a platform called "Fly Responsibly", showing its commitment to a more sustainable future for aviation. As well as talking about what the airline was doing to reduce its impact, the platform introduced suggestions on how consumers could reduce their own impact, from packing lighter to — most provocatively — not flying. Google too is helping travellers make more sustainable choices, providing carbon emission estimates on flight search results and booking pages.
Greenwash watch out: Small steps can create a big impact, but brands need to be wary of suggesting the climate crisis can be mitigated or solved by small changes, such as swapping a plastic bag for a cotton one. Baby steps might work for consumers, but brands are increasingly expected to be making bigger strides and leading the way.
5. The big dreamer
Saving humanity from the climate crisis is a long, arduous battle. It's a fight that younger generations who have grown up with an existential fear about the end of humanity will experience all their lives, and one that will constantly need new ideas and new injections of energy. People will need a release from despair and to be inspired. This is where advertising can help.
Sky Zero's "The Day The Moon Came To Earth" adopts a fantastical approach to the saving of our planet in support of the brand's commitment to net zero by 2030, while Brewdog brought some much needed swagger to the climate movement with its commitment to "Make Earth Great Again".
At COP26, advertising climate specialists Purpose Disruptors will be launching a new platform, Good Life 2030, which features a series of "adverts" by U.K. agencies created to help people imagine the positives of a low carbon lifestyle.
Greenwash watch out: The planet needs big, ambitious missions and emotive storytelling around a brighter future. But it's best to do this in isolation from any form of "product sell". The simplest truth of the climate crisis is that no business is near where it needs to be — and any excitement about a bold new future needs to be tempered with realism about the limitations of where we are now.
As the search data suggests, the world is watching COP26 with a newfound intensity. Those with power and influence will be expected to deliver the leadership needed for a sustainable future — and that includes brands. In the coming weeks, I will be sharing a strategic plan on Think with Google to help marketers drive eco-effectiveness and take a leading role in the important challenges we all have ahead.
For more on the environmental issues facing our planet, watch the new YouTube Original from creator Jack Harries featuring Sir David Attenborough: How The Climate Crisis Affects Us All