Jerry Dischler, VP and general manager of Ads, offers Google's global vision for advertising. Join us at Google Marketing Live (GML), Middle East and North Africa Digital for a keynote presentation, where we'll announce new product innovations and share plans to help you prepare for the future of marketing.
I've never been more excited about the future of advertising technology and what our teams across Google are working on. In February, we laid out an ambitious product road map, centred on helping brands grow through new initiatives in automation, measurement, and privacy. But the innovation can't stop there. The real magic comes when powerful technology fuels creative — inspiring action and delivering results.
To that end, I'm thrilled to give you a sneak peek of the products and innovation we'll be unveiling at GML, Middle East and North Africa Digital to enhance your advertising in the second half of 2022 and beyond.
Finding creative inspiration
One of the most important ways brands connect with their customers is through beautiful, effective advertising. But what makes a great ad? The answer is different for every brand, but the recipe often includes instinct, powerful storytelling, and aesthetic authenticity. Whether it's Nike's film "We Play Real", celebrating Black women in sports, or another campaign entirely, sometimes you just need to see it to get it.
The real magic comes when powerful technology fuels creative — inspiring action and delivering results.
That's why I'm delighted to share that we've brought together some of our most successful creative assets from across Google Ads — including Discovery, Display, Apps, and YouTube — to help brands see the possibilities and elevate their own campaigns. I hope this new home for creative inspiration will help you achieve your marketing goals.
Check out our new destination for creative inspiration.
Connecting creativity and automation
Deploying masterful creative is only part of the equation for effective advertising. Deciding where your ad shows up is also critical. Success at this phase requires connecting your story with new and existing customers around the world, while measuring the performance of different ad types. Not long ago, you could achieve great results by adapting your ads to fit the top seven formats on the web. Today the array of ad shapes and sizes numbers in the thousands.
Google has dedicated significant resources to helping brands navigate this labyrinth of creative formats. Our campaign automation tools, a pillar of our product roadmap, enable marketing teams to invest more resources in creative storytelling and less in the operational tasks associated with ad placement.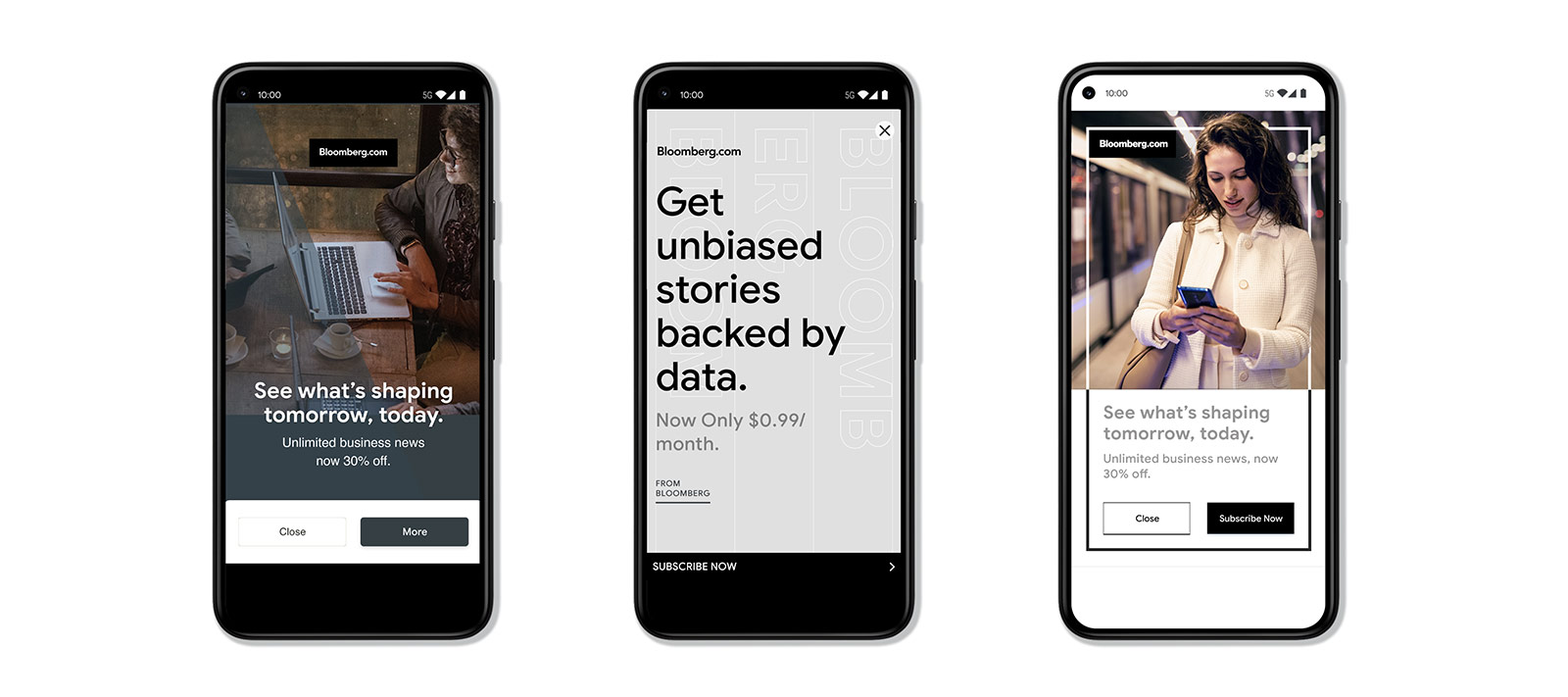 We've also made improvements to responsive display ads. Our all-new, mobile-first layouts can accommodate any portrait image or video asset, and our automatically generated videos can help you access full-screen mobile ad inventory. By using machine learning to speed up the design and iteration process, you can deliver engaging display ads faster than ever. Simply put, upload a few images, videos, and headlines, and we'll automatically create and test visually striking ad combinations that fit millions of possible ad placements and, most importantly, deliver results.
Our testing shows that advertisers see 2X more conversions, on average, when adding a responsive display ad to an ad group with a static display ad.1

Taking it one step further, Google's best-in-class machine learning will now power optimisations like image uncropping for product ads. This automatic improvement lets your products shine by seamlessly expanding to fill the available space. It's one less thing your team needs to worry about, so you can focus on what matters most: running your business.
These are just a few examples of what our teams across Google are working on. I invite you to join us at Google Marketing Live (GML), Middle East and North Africa Digital to learn more about our global vision, the future of Search, privacy-first measurement, and dozens of new product innovations. GML is your chance to hear directly from Google leaders about how we can help move your business forward in this transformational time.