2020 was supposed to be a celebratory year for Dutch luxury retailer, De Bijenkorf. With roots dating back as far as 1870, March should have marked their 150th anniversary party. Instead, it was the month in which they voluntarily decided to close all physical stores weeks before it became national policy.
"For a large, traditional retailer like us this wasn't an easy decision," says Benjamin Terzibasiyan, De Bijenkorf's country manager for Germany and Austria. "But the pandemic revealed an astonishing flexibility and creativity within our teams. Temporarily closing physical stores opened up opportunities that we took with both hands."
While digital transformation and ecommerce were top priorities for De Bijenkorf even before the pandemic started, the global surge in online shopping prompted them to accelerate their international growth plans. Building on lessons learned during their first cross-border expansion, they were able to speed up the process and move into France in a matter of months. This is how they did it.
An insights-led go-to-market strategy
De Bijenkorf started its first online store in the Netherlands in 2009. Orders from Belgium started coming in soon after — and in 2018, the retailer introduced delivery to parts of Germany. "Those first steps towards international expansion all happened very naturally," says Terzibasiyan. "But it took us a while to plan for our first official go-to-market strategy."
"The pandemic revealed an astonishing flexibility and creativity within our teams."
Based on initial signs of demand, proven willingness to shop borderless, population size, economic strength, logistic convenience, and a gap in the market for premium online shopping experiences, the retailer decided to focus on Germany first. Working closely with Google, they used tools including Market Finder to conduct market research and uncover local consumer insights such as customer service benchmarks, common payment methods, and brand preferences.
The retailer found that German shoppers have a very different definition of a 'quick' delivery than their Dutch counterparts. While Dutch customers expect next day delivery if they order before 12am, shoppers in Germany are used to waiting at least two days. With a distribution center near the German border, this meant De Bijenkorf was able to offer a competitive advantage through speedier deliveries.
The retailer also learned that, while Dutch shoppers mostly contact customer service after they have purchased something, Germans tend to ask detailed questions throughout the shopping process. As this tendency is heightened when they are unfamiliar with a brand, the retailer put together a native-speaking customer service team dedicated to helping and reassuring German shoppers.
Pivoting during a pandemic
When COVID hit and demand for online shopping rose steeply, De Bijenkorf decided to accelerate its international growth even further and move into France. "We learned so much from our German expansion that we were able to do this at a much higher speed," says Cédric Beeris, de Bijenkorf's country manager for Belgium and France.
In addition, the team wanted to make sure they were growing their customer base as effectively as they could. "Ahead of Christmas, we made the strategic decision to heavily invest in online advertising in Germany, with a bigger budget than we ever worked with before," says Terzibasiyan. "To avoid wasting money, we needed to be sure that we were reaching the right people."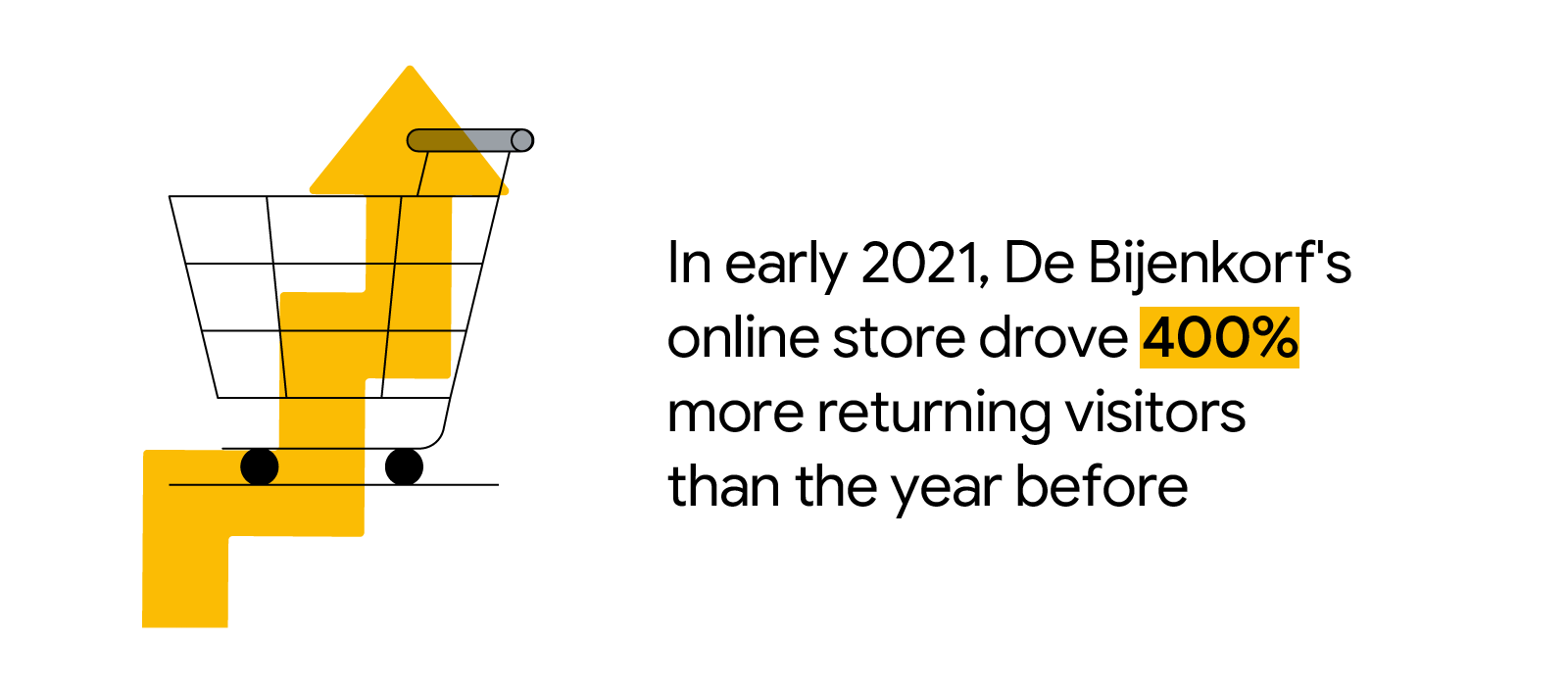 Keen to work as efficiently as possible, the team approached Merkle, a digital agency, and Google. Together, they came up with a methodology to identify priority brands and products based on customer lifetime value (CLV) and external sales volume. De Bijenkorf then picked 80 brands — the majority of which were lifestyle brands as a result of lockdown policies — to showcase in their seasonal search engine advertising (SEA) and Shopping campaigns. Partly thanks to this approach, the retailer was able to drive substantial growth throughout 2020, with the number of returning customers in early 2021 being 400% higher than the year before.
Identifying borderless shopping behaviour
While local insights are a key element of cross-border expansion, retailers can gain efficiency by taking note of the many similarities between global shoppers. "The majority of consumer behaviour is borderless," confirms Terzibasiyan. "On average, I think only 30% of a go-to-market strategy needs to be localised for a successful outcome."
With that in mind, there are two factors Terzibasiyan and Beeris believe to be key to successful international expansion, no matter the market.
"On average, only 30% of a go-to-market strategy needs to be localised for a successful outcome."
The first is convenience. Customers will always want to know how quick delivery is and how easy it is to return things. But communicating your delivery options and returns policy isn't enough; brands must work with a logistics partner that can fulfil those promises.
And, secondly, brands need to build trust. This starts from the moment a customer clicks on an ad right up to the purchase. "When COVID hit we made quite a few changes to our operations," says Terzibasiyan. "We increased our returns policy from 30 days to 100, and, for the first time, people could make returns from home." All of these small changes, made in a short time period, helped the retailer build trust with their customers at a time when it mattered most.
How to accelerate international expansion plans:
Collect local consumer insights to optimise just enough elements of your expansion strategy to make it feel truly local
Think strategically about your marketing spend, and seek expert help to get the best return on your investment
Gain efficiency by establishing which elements of your expansion strategy can stay the same each time you're entering a new market