The pandemic dramatically changed many things, including how the world eats. Some of us discovered online grocery shopping for the first time — others simply increased their reliance on it. While this was initially fueled by necessity, ordering groceries and food online is now a day-to-day habit and it's here to stay.
For Just Eat Takeaway.com, an online food ordering service currently operating in 25 countries across the globe, this behaviour shift came with both challenges and opportunities. They could be there for customers who needed a food fix, but they also needed to stay on top of fast-changing customer behaviour across multiple channels.
Thanks to first-party data, the team at Just Eat Takeaway.com were able to serve up the right content to their customers, at the right time. Chief Marketing Officer, Maurine Alma, and Global Director of Performance Marketing, Christoph Liefländer, share the three elements that helped them do this.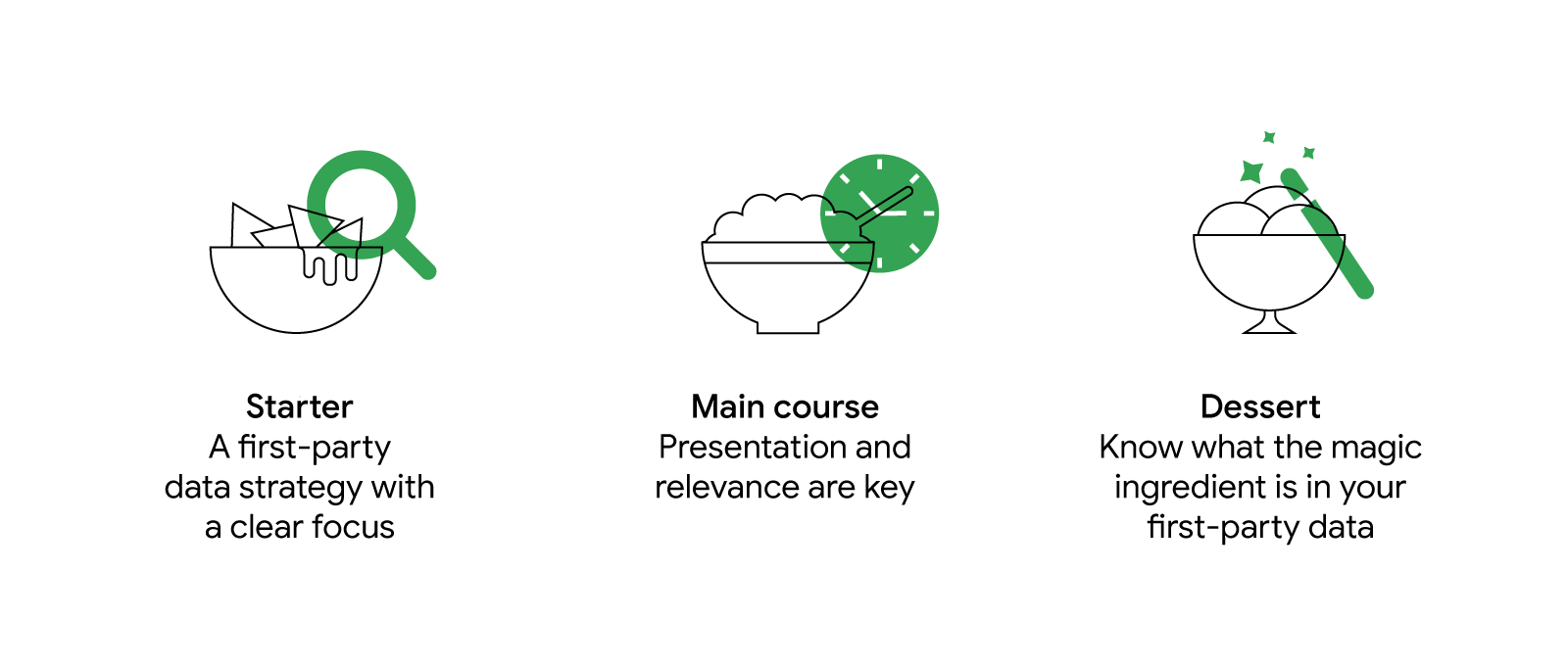 Starter: A first-party data strategy with a clear focus
From a performance perspective, the team at Just Eat Takeaway.com believes that it's important to build a clear use case instead of getting lost in very complicated, costly products. "Inject different types of first-party data into one channel and use the learnings to expand from there," Christoph Liefländer advises. "Focus on that in order to show that you can actually deliver impact with what you're doing."
It also helps to start small. Leaving room for data experimentation, this approach enabled Just Eat Takeaway.com to find new insights about their customers. "We test very small data areas to learn and see how things are going," Liefländer explains. "Then we check how we can leverage it across channels or multiple touchpoints."
Main course: Presentation and relevance are key
80% of customers are cautious about sharing data – but they still want a personalised experience, online and offline. To offer a useful service while ensuring customer trust, businesses need to provide a clear value exchange.
For online food delivery services, the value exchange is straightforward: customers want to be able to order their favourite dishes right away and have them delivered seamlessly. For Just Eat Takeaway.com, staying on top of the customer's 'hangry' moment is essential, which is why it forms the foundation of their first-party data strategy.
"If you're on our platform early in the morning, you don't want to see dinner options, or if you like salads you don't want to see hamburgers," explains Maurine Alma. "Or, if you're in the middle of Amsterdam, you see a completely different set of options compared to when you're in Warsaw, so it is really important to use all those signals and all that data we have in a relevant way."
Dessert: Know what the magic ingredient is in your first-party data
There are three essential types of first-party data ingredients for a food delivery service to thrive in a cookieless world: the customer's location, their food preferences, and their order frequency. For Just Eat Takeaway.com, location is the main driver of their marketing strategy – with a different set of restaurants on offer depending on where customers are based, this makes their offering very different across each locale.
Building engines that are able to fuel the first-party data into your campaign setup, such as Google Ads, is important
"The company's mission is to be the first brand that comes to mind when people are having that 'hangry' moment," says Liefländer. This is where food preferences and order frequency come into play. Just Eat Takeaway.com has an advanced loyalty programme, run by a designated team. As part of this scheme, customers earn points with every order they place. It's only a matter of time – and orders – until new customers become loyal.
It's worth noting that the marketers at Just Eat Takeaway.com use first-party data to exclude loyal customers from ad campaigns so they can focus on early life cycle segments (the customers who have only ordered once or twice) and new customer identification instead.
Liefländer believes that improving first-party data strategies starts from within the business. His advice for businesses that want to improve how they collect and harness first-party data is about ensuring the setup is robust: "Building engines that are able to fuel the first-party data into your campaign setup, such as Google Ads, is important, so focus on getting those right to prevent regular manual work that is prone to failure."
Want to gain a deeper insight into first-party data strategies? Check out the Listen & Think with Google podcast for more lessons on first-party data from Just Eat Takeaway.com and other executives from Northern Europe.