Calvin Klein has become a champion of diversity in fashion over the last few decades. Whether it's their ad campaigns, their willingness to spark much-needed discussions, or their proactive commitments to lead by example, the fashion brand is dedicated to pushing the boundaries of representation and inclusion from the inside out.
Mali James is senior director of consumer experience at Calvin Klein E-commerce for Europe. Based in the Netherlands, she is laser-focused on ensuring that the customer experience is an inclusive one for all.
"I've had the privilege of seeing things evolve in the area of representation," James explains. "We've come a long way, evolving from having a specific audience or a specific type of person in the media, to having a diverse range of people, cultures, backgrounds, and points of view. That has definitely affected me personally to feel more included, and more understood."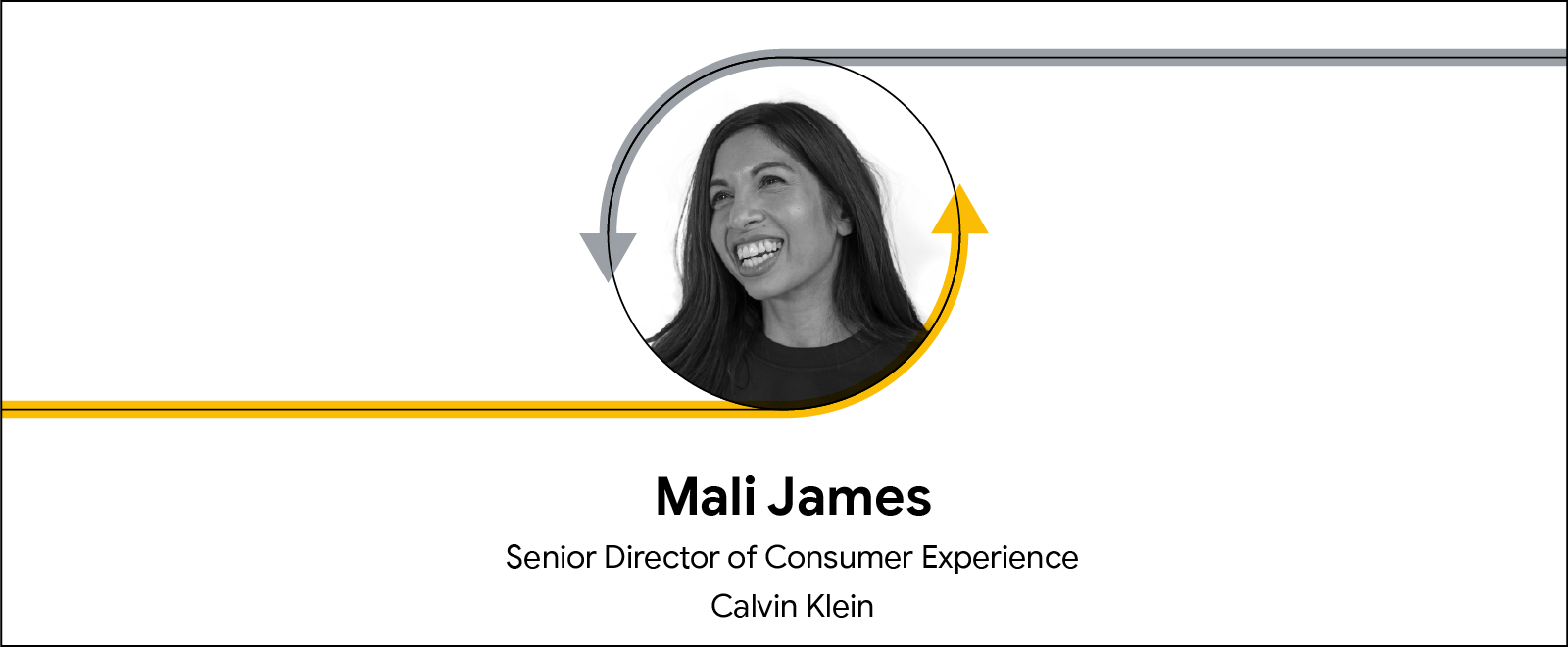 Savvy consumers want – and deserve – authenticity
Growing up in Singapore with a diverse heritage had a profound effect on James' early understanding of, and exposure to, the fashion industry. Even at a young age she could see little diversity in fashion, as she recalls struggling to find underwear to match her skin tone. This experience helps her better understand what customers at Calvin Klein are looking for.
James believes authenticity needs to come first and come from a brand's genuine desire to be inclusive. When brands struggle to find an authentic voice with which to discuss diversity, they lean into tokenism, making representation an afterthought.
"Consumers have a built-in bullshit detector nowadays, they are savvy and they see through things," James explains. "We have access to such a large amount of information, that people see through inauthentic content or an inauthentic approach very quickly. They don't tolerate that anymore."

The team at Calvin Klein recognises that campaigns can't be inclusive if the products aren't. That's why they have taken strides to ensure collections are inclusive, and this is especially evident when looking at the underwear collection. Garments in the neutrals range acknowledge that 'nude' has a different meaning for different skin tones and body types. This product range has an inclusive variety of neutral colours that are shown on models of diverse skin colours and body shapes.

The brand also takes a customer-centric approach by continuously testing and improving their experience based on consumer feedback. James' customer experience team hosts frequent user testing sessions to understand their customer needs, and ensure that shoppers of all backgrounds identify with what they see on the Calvin Klein website. Marketing teams are invited to these sessions so that they can incorporate learnings to create more inclusive content.
So far they've learned that featuring ethnically diverse models has made customers feel more represented. This has emboldened them to strive for more diversity in fashion and beyond.
Fashion's power to make change on a big scale
While every sector has a role to play, the fashion industry is well-placed to put diversity front and centre. James believes it's a matter of balancing aspiration and accessibility. "Fashion allows us to express and be ourselves," she says. "It's one of the most obvious ways to show the world who you are. So as an industry, catering to everyone's needs and creating identification points has the power to shift people's self image and empathy in a positive way."

While this positive and inclusive approach has mostly been welcomed, the brand has seen resistance to their campaigns in some markets, especially towards those featuring trans or genderqueer models. This has only served to bolster the brand's resolve; they have no intention of shying away from using diverse models in their campaigns and continue to focus on inclusion, even in resistant markets. As James says: "Once we pull away, it's giving in to the fact that we're ok that it's not accepted — and we're not."
Representation means customer connection
While it's clear that diversity, inclusion, and representation are no longer a 'nice to have' for brands, it's crucial that this is done in an authentic way. By developing a deeper understanding of their audience, the Calvin Klein team has been able to improve their product and service offering, and create an authentic message around diversity, equity, and inclusivity that enriches the brand.
"We speak to our consumers all the time; it's almost their expectation to see representation and be able to identify with a brand. Like every brand, we're on a journey. We're very lucky to be a brand that's very willing to push boundaries; it doesn't always sit well with everyone but that's a risk that we as a brand are prepared to take," concludes James.