Over the last few years, the gaming industry has driven more revenue than the film and music industries combined. Trailmix Games' CEO, Carolin Krenzer, and Marketing Director, Yoojin Jung, explain what's behind this seismic growth, and how it's helped the industry have a positive impact through inclusive storytelling.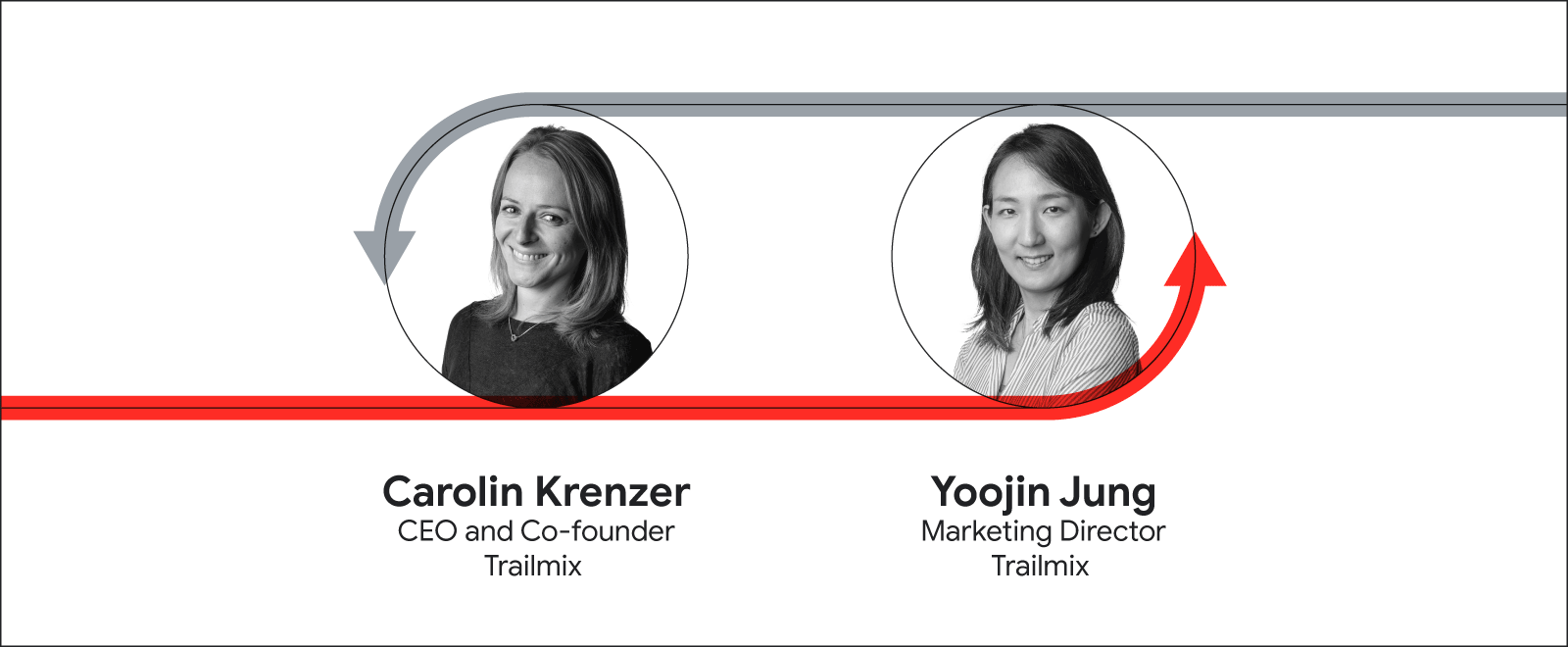 When you picture a typical gamer, what's the first image that comes to mind? There's a common misconception that gamers are largely male and quite young. And often in a gaming chair with big headphones.
But when looking at the numbers, we can see that today there are 3.2B gamers globally, and as such the the player base is diverse: 29% identify as people of colour, and 46% identify as female. The latter number jumps even higher when looking at mobile gaming specifically.
While audiences that don't fit the gamer stereotype are a driving force behind the industry, they are largely underrepresented in the space. That's what Carolin Krenzer and her team set out to change when founding gaming studio Trailmix.
Changing the game (for good)
Krenzer and her co-founder, Tristan Clark, spent a lot of time discussing why a company like Trailmix needed to exist in the first place. "Many women in business are treated differently to male colleagues or have concerns over gender pay gaps," Krenzer explains. "We wanted to create an environment – both online and in the workplace – that brings out the best in everyone."
People like to see heroes that reflect them.
"For us, that's about world building, creating characters that represent everyone, and stories that just feel nourishing and cosy. It's for that reason we called the company Trailmix in the end. We wanted to make games that are snackable yet nourishing."
Given the size of the mobile gaming industry and the reach that games can have, Trailmix sees it as their responsibility to have a positive impact and help provoke societal change. In Krenzer's previous experience in the gaming industry, she had seen how mobile games can reach hundreds of millions of people. This sparked the idea: what would happen if you use that reach to give players more and have a positive impact?
"Gaming has a special power of connection, more than other entertainment industries," agrees marketing director, Yoojin Jung. "You can communicate with your friends and family by playing games. You play together, you achieve, and progress together. Gaming can be a medium where we represent different cultures, genders, LGBTQ+, and different races. It's about understanding and spreading knowledge about representation. People like to see heroes that reflect them."
Being seen: The power of inclusive storytelling
Jung and Krenzer recognise that, while they can't change the world of gaming overnight, there is an opportunity to make an impact by exploring what diversity means in a gaming narrative. Through their hit title, Love & Pies, they wanted to build a game that represented a wider audience.
"Before Love & Pies, no other mass-market mobile game had the courage to tell the stories that aren't being told, by characters that aren't usually highlighted," Jung explains.
At the heart of its story is Amelia Green, a divorced single mother building a new life with her young daughter, Kate. Players beat levels to renovate a cafe and help Amelia to find answers about her mother's disappearance.
The response to the game has been largely positive. While they received some negative feedback about its LGBTQI+ themes, this is very much the minority, and reviewers have appreciated the inclusive storytelling characters of all ages, ethnicities, genders and sexualities.
In particular, the main character resonates with audiences. "We've received a lot of letters and emails from players about Amelia, with comments saying how amazing it is to start a game and see someone like her," reflects Krenzer. "I think mothers in general feel represented in a way they haven't been before."
Building a gaming studio around DEI
Recently, the gaming industry has been in the spotlight for having a toxic work culture. While Krenzer's previous experience within the industry has been largely positive, she recalls working in an environment where the loudest voice in the room was usually the one heard.
"I have often been the only female in the room and have even been told by quite alpha colleagues that I needed to be more aggressive. I tried it and it didn't suit me well," reflects Krenzer. She wanted to make sure that the culture at Trailmix enabled people to feel authentically themselves.
You can focus on diversity and inclusive storytelling and build a successful game.
"We've created an environment where amazing people from all walks of life can come together, be themselves, and do their best work," says Krenzer.
"It's something that is close to my heart," agrees Jung. "I used to work in Korea, and at that time, 98% of my colleagues were Korean. Now as an expat in London, and a non-European woman in this environment, I know how important it is to feel seen and heard. "
Trailmix has shown that you can focus on diversity and inclusive storytelling and build a successful game, because there is a willing audience there.
"We hope we've inspired other companies to focus more on representation in their games. Of course you'll always ruffle some feathers when you do something that's not as common. But to be honest, we also enjoy ruffling feathers."