More brands around the world are using their voice to raise awareness for women's empowerment — and not just on International Women's Day. Consumers are seeking out brands that share similar values to their own. Businesses can gain a lot by encouraging diversity and giving distinct voices a platform.
With a network of 5,600 branches in 44 countries, Intersport International Corporation knows a thing or two about sporting goods. The brand started its operations in Romania in 2004, and today has 31 stores across the country.
Dedicated to contributing towards empowering women, Intersport launched the #womanism campaign in April 2019. The campaign celebrates modern women who balance multiple roles and are still able to support each other — the "gymnasts" of everyday life. It aims to be a reference point, to motivate and inspire with strong role models and real stories.
"#Womanism is the refuel point in the daily marathon of all women. The philosophy we're promoting is to own your style, own your choices, own your body, own your time and own your confidence," explains Valentin Cristescu, head of marketing at Intersport.
With a strong philosophy as its foundation, the teams developed a two-pronged strategy to raise awareness and increase revenue.
Phase 1: Accessing emotion
As a first step, Intersport launched a website that became a platform for the campaign. The site showcases inspiring stories of real women — from influencers and athletes to staff — who discuss their personal journeys and the challenges they've faced along the way.
Larisa Iordache, Romanian artistic gymnast and Olympic medal winner, talks about owning her body and being herself. Despite a number of serious injuries, she's now preparing for the 2020 Tokyo Olympics thanks to hard work, ambition, and a positive attitude.
Actress Dana Rogoz addresses a very relatable challenge: earning self-confidence, "As a woman, this is increasingly difficult in a society that's constantly trying to impose impossible standards on you." In her experience, the support and inspiration of other women go a long way towards overcoming that barrier.
But the real core of the campaign was the #Womanism manifesto, an emotive video ad that expressed Intersport's philosophy. It brought together a variety of women who all share a passion for sport and female empowerment and invited viewers to visit the campaign website.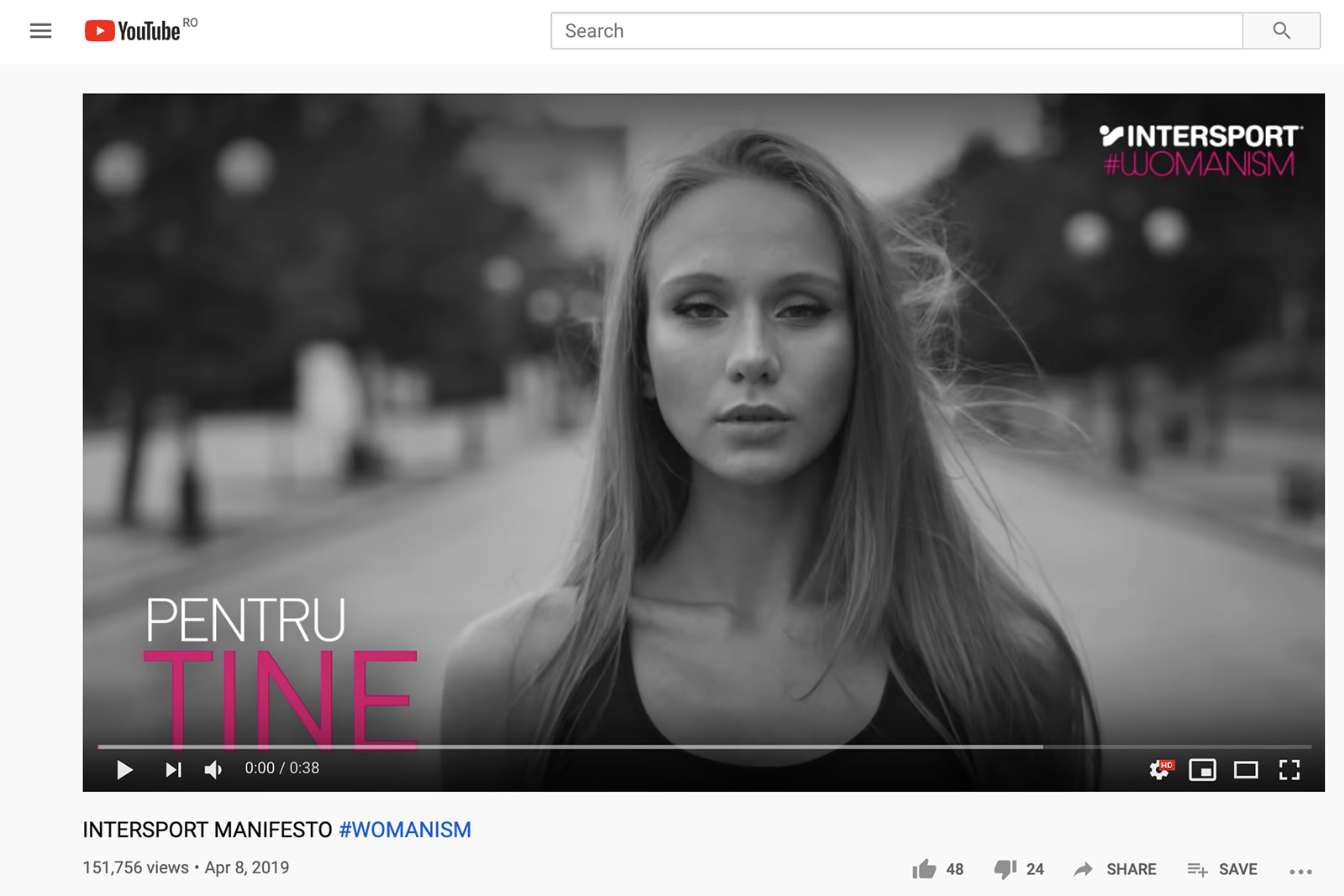 In order to get through to the most relevant audience with the manifesto, the Intersport team used YouTube topics and affinity audiences to reach users interested in sports and fitness aged between 18 and 54 years old.
In parallel, the retailer launched a unique women's sportswear collection that enforced its philosophy, not only with words but with actions. 20% of all sales from that collection went towards the Renaissance Foundation for Education, Health and Culture, making free mammograms available to women with low financial possibilities.
Phase 2: Creating a sense of urgency
After building awareness through the campaign, Intersport set out on the second phase: driving conversions and revenue. The team decided the best strategy was to create urgency with limited-time promotions. One week into the #Womanism campaign, Intersport launched a sale offering 40% off on all products on the website.
Together the campaigns generated impressive results. With 22% growth in website users Intersport obtained a 171% increase in conversions and a 184% increase in sales revenue. And thanks to the positive brand awareness generated by the video campaign, the team also noticed a 23% growth in the click-through rate (CTR) of their search ads.
But it wasn't only about the numbers. "We're really happy with the outcome of the campaign," said Cristescu. "Beyond the increase in conversions and revenue, one of the biggest successes was achieving over 1.5M views on the #womanism manifesto and contributing to an important cause."
The results proved that it doesn't have to be one or the other: businesses can use their platform to promote something meaningful, while also achieving their business goals.