Aki Spicer is the chief strategy officer of Leo Burnett Chicago, where he frames business problems, brand purpose, and creative solutions through a lens of human needs. Here he writes that strategists can make sure equity and inclusion become a permanent and systemic part of the industry.
Some of my first jobs at agencies involved meeting my audience face to face and heart to heart. I'd go to barber shops in New York City to explore the connection young Black men have with their fitted caps. I'd visit the homes and dinner tables of South Asian families in Edison, New Jersey, to understand the importance they place on sending money back home to their families.
These experiences helped me understand people's needs from their vantage point, on their turf and on their terms. I could put faces and voices to my ideas and outputs, and felt an obligation to represent them and their stories truthfully.
Today, diversity and inclusion have reached the top of our industry agenda, and I see a role for strategy departments to be at the front lines, pushing for lasting impact. I believe there are five ongoing shifts we strategists can make to inject more cultural intelligence into our work and to create processes and practices that ensure ongoing multicultural representation.
Five ongoing processes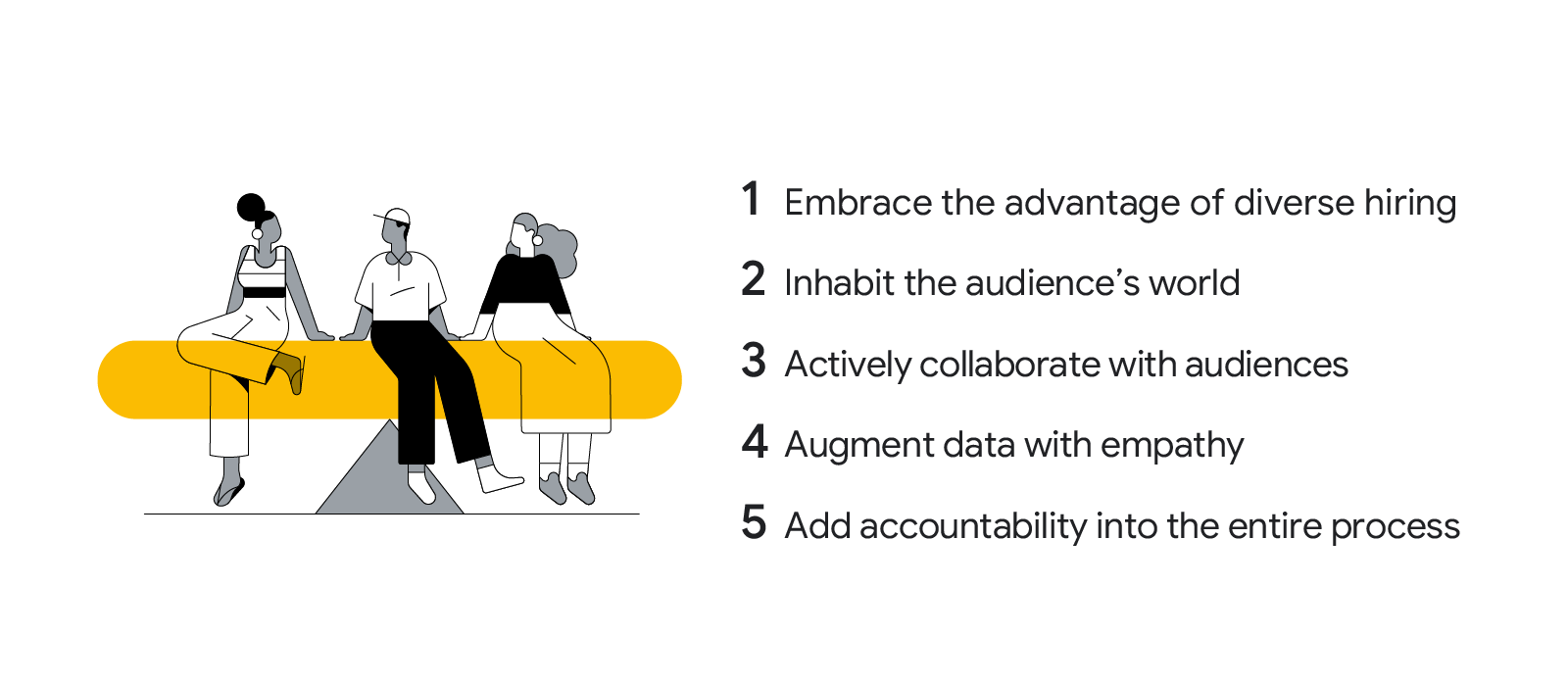 1. Embrace the advantage of diverse hiring
Let's stay mindful of the real reason why diversity on our bench is good: because diversity of thought leads to stronger work. I see cultivating diversity not as a tax to begrudgingly comply with, but as an advantage that delivers more authentic and relevant ideas. We should strive to hire more from multicultural and underrepresented segments, because that will help us reflect the truth of our brands' audiences. And representing our audience's truth is the purpose of strategic planning in the first place.
2. Inhabit the audience's world
We all get into trouble when our customer becomes a faceless monolith or another stereotype. Just as I started my career helming ethnographic journeys and getting on a first-name basis with my consumers, strategists nowadays need to get more intentional about the daily task of walking in our audience's shoes.
We need to be careful about focusing too much on curating tweets instead of experiencing the streets.
In this era of social distancing, we'll probably need to rely on more digital ethnographies, like using consumer diaries or video interviews instead of field days and shopper safaris. But there is a range of simple actions that most of us can choose to do more often, like shopping for the product, consuming the product, and consistently visiting with the audience. And while I'm a data champion, I've noticed that, as an industry, we need to be careful about focusing too much on curating tweets instead of experiencing the streets.
3. Actively collaborate with audiences
Now is a time to enable communities to co-create with our brands. At Leo Burnett, we're returning to cohort panels. We're inviting representatives from our audience, particularly people from historically underrepresented groups, into our strategic gut checks and brainstorms, like gathering a Gen-Z "pioneers panel" for a global tech brand and bringing in expert "style mavens" for a famous fashion retailer. I want to see more of our strategists become true community managers, maintaining an ongoing exchange with our audiences throughout the entire strategic process, from insights gathering all the way to idea generation.
4. Augment data with radical empathy
In a time when we increasingly rely upon data to understand audiences, let's now explore the possibility that data can be more representative and equitable. My team is scrutinising our syndicated audience data sets, including Simmons/MRI, Global Web Index, and Twitter, to ensure better multicultural representation. For instance, we're in the midst of an internal beta to try to tap into Black Twitter for insights.
5. Add accountability into the entire process
Strategists can ensure inclusivity and equity are addressed at every internal creative review. Our strategists are adding equity and inclusion into how we measure creative impact. A multicultural review council will ensure that our language and imagery is culturally sensitive and appropriate. And we've briefed every agency team on how to talk with their brands to outline ideas and actions that can connect their brand purpose to ways they can support the Black Lives Matter movement. On top of that, diversity, equity, and inclusion goals and training are mandated and factored into every strategist's annual performance review.
Strategists have the opportunity to radically change the way agencies view hiring, engage audiences, collect data, and hold ourselves accountable.
With our industry now recognising that equity and inclusion are more than simply nice-to-haves, strategists have the opportunity to radically change the way agencies view hiring, engage audiences, collect data, and hold ourselves accountable. Through this, we can create an environment that champions empathetic listening, learning, and leadership.