A year ago, Ella Hayles was a sixth form student. Now a digital marketing apprentice for YouTube's B2B team at Google U.K., she reflects on her experiences as a new person entering the workforce.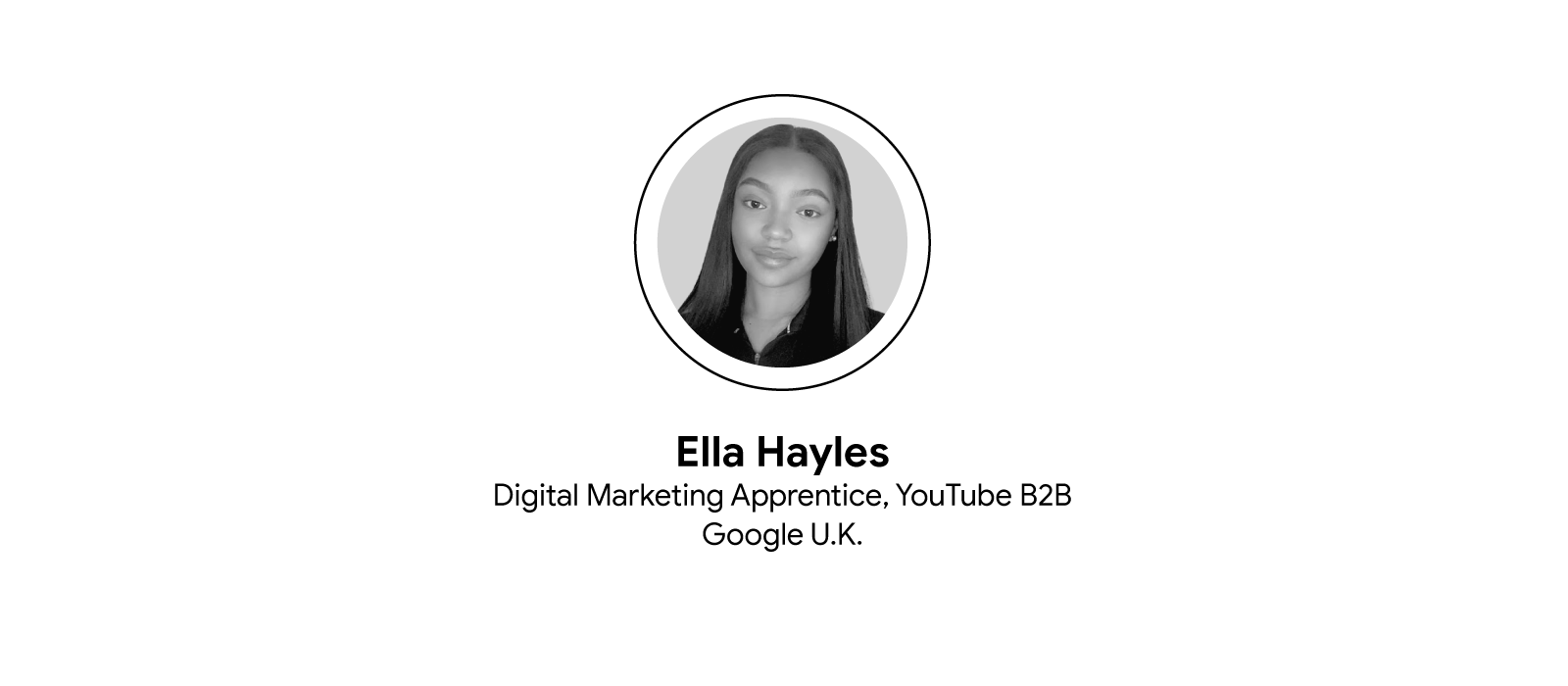 I was born in 2003, about a year before the first video was uploaded to YouTube. Along with 2 billion others born between 1996 and 2010, this makes me part of Generation Z. We're already the biggest consumer group on the planet, and it's estimated we'll make up around 27% of the workforce by the middle of this decade.
University never appealed to me, which is why I started looking for apprenticeships when I was in my final year of sixth form. I took my A-levels in Double Business and really enjoyed studying real-world marketing campaigns, such as Coca Cola's "Share a Coke". I loved the market research element of it and finding out more about human behaviours, which is why I decided to give marketing a go.
As I've now spent seven months as a marketing apprentice for YouTube's B2B team at Google U.K., it seems a good time to reflect on my experiences as a "zoomer" entering the workforce — and explore how businesses can unlock the talents of my generation in the process.
Gen Z's ability to empathise and understand various perspectives will only grow in value.
Keep the office door open
Gen Zers started their professional careers in the midst of the remote working revolution. And while it has many benefits, its appeal is highly dependent on the stage of life or circumstances someone's in.
According to a recent study, 72% of U.K. Gen Zers want to be in the office three to five days a week. Like myself, many of us studied at home during the pandemic and experienced first-hand just how challenging remote work can be. Besides, we often live with families or in shared accommodation, so working at home comfortably is not always possible.

As someone entering the working world, the option to come in five days a week — even if other colleagues are working remotely — has been invaluable to me. I've got so much out of spending face-to-face time with like-minded colleagues and fellow marketers. A lot of the other apprentices have just come out of school too, so we can share our experiences and vent about anything we're finding difficult. These are the kind of conversations you wouldn't have over email or a video call.
It's also much easier to ask for support when you're in the office. Whether it's sitting next to someone you're partnering with on a project or learning from senior colleagues, there's more of a barrier to reach out when working remotely.
Embrace flexibility
For me, flexibility is the most important thing a company can offer, and that's about more than being able to choose where you work. According to a recent Deloitte Survey, a good work/life balance is one of the top reasons younger generations stay in their job — while burnout and a workplace detrimental to their mental health are most likely to make them leave.
If someone is on the edge of burning out, they're not going to be doing their best work. That goes for any generation.
I don't think anyone should make it a norm to work crazy hours. I've seen my dad do it and he would often go unnoticed for it. As a child, this made me think of the corporate world as toxic.
One unhelpful stereotype about Gen Z is that we don't want to work. From what I can see, we do want to work — there are just different ways of doing so now. We may need to schedule things in advance and clock off at six, but that doesn't signal a lack of commitment.
It's encouraging to see people asking others to respect their boundaries, such as stating when they can expect a response to emails. Marketing is a fast-paced industry, but if someone is on the edge of burning out, they're not going to be doing their best work. I think that goes for any generation — mine just happens to be more open and transparent about it.
Prioritise diversity
A well-known truth about Gen Z is that we want to feel like we're making a difference and work for companies that mirror our beliefs and values. This can mean anything, from recycling points in the office to prioritising values such as diversity.
As a young, mixed-race woman, having people on the team who are like me is helpful because I can understand why they think the way they do. And equally, being around people from diverse backgrounds encourages me to see things from different perspectives, which is so crucial as a marketer.
I believe that, as diversity and inclusion become more important for businesses, Gen Z's ability to empathise and understand various perspectives will only grow in value. Diversity will always be one of the main things I look for in a job.
The next generation
I still have plenty to learn when it comes to being a marketing executive, but I do think companies can gain a lot from my generation too. Not only do we have a growing influence in the marketplace, but we can also offer a unique perspective on how younger people interact with the industry.
Give us the right tools and foster the right environment, and I believe we can help companies stay ahead of the competition and remain close to their customers as the world continues to change and evolve.
Interested in joining Google's apprenticeship programme? Find out more here.