Baby boomers are often overlooked in online marketing strategies in MENA. However, the 'silver,' 50+ demographic is known as the healthiest, wealthiest, and most active generation in history — and accounts for over half of all consumer spending in the U.S. And with the pandemic accelerating digital adoption for all all age groups, it's becoming even more important for brands to look at key audiences beyond millennials in MENA, too. In particular, this group of super consumers: the over 50s.
GlaxoSmithKline's (GSK) market research done by IPSOS revealed that over 100 million people in the Middle East were in need of supplementing their diet with vitamins. However, they had only achieved a 12% market share in Saudi Arabia due to low category penetration. Specifically, they were not reaching this 'silver age group' — a sure sign they had to switch up their campaign game in this underdeveloped market. The brand adopted a new marketing campaign to steer away from a one-size-fits-all approach to be more age inclusive.
Adding a 50+ product to the marketing campaign
The rise of COVID-19 brought about an emphasis on healthcare. On average, Google Trends shows a 40% increase in multivitamin searches in Saudi Arabia from 2019 to 2020.
"With the rising need to improve immunity due to the pandemic, we have seen an increase in healthcare searches online," said Zeinab Karaki, digital marketing transformation lead for CPG clients, Google MENA. "And this trend is here to stay."
And as the pandemic accelerated digital adoption, people – including the over 50's age group – are spending more time researching and shopping online. A Google Smart Shopper survey conducted in 2020 revealed that 73% of respondents are likely to make online purchases post-COVID — and 96% research online before clicking buy.
To meet consumers online, GSK ran a marketing campaign calling out the benefits of three multivitamin products in 2020: Centrum Energy to support an active lifestyle, Centrum Lutein to maintain healthy eyesight, and — for the first time — an extensive digital campaign for Centrum Silver aimed at adults over 50. Here's what they learned.
"With more time spent online by this demographic due to the pandemic, we wanted to explore this specific audience segment at a crucial time," said Mohammed Rasheed, Centrum brand manager in Saudi Arabia.
GSK used first-party data to better understand each audience group and created tailored ads that truly resonated with different audiences. They then leveraged Display & Video 360 (DV360) developing 70+ dynamic ads to cater to the different audience segments.
Creating 70+ dynamic ads to serve different audiences
The different audiences were matched to affinities to understand which users are in the market for which product. For example, 50+ customers who love to travel would be presented with ads for Centrum Energy and ad copy such as "be energised during your adventures", while grandparents would be shown actively playing with their grandchildren. The new ads showcased 50+ customers with similar interests, allowing GSK to reach customers with relevant messaging.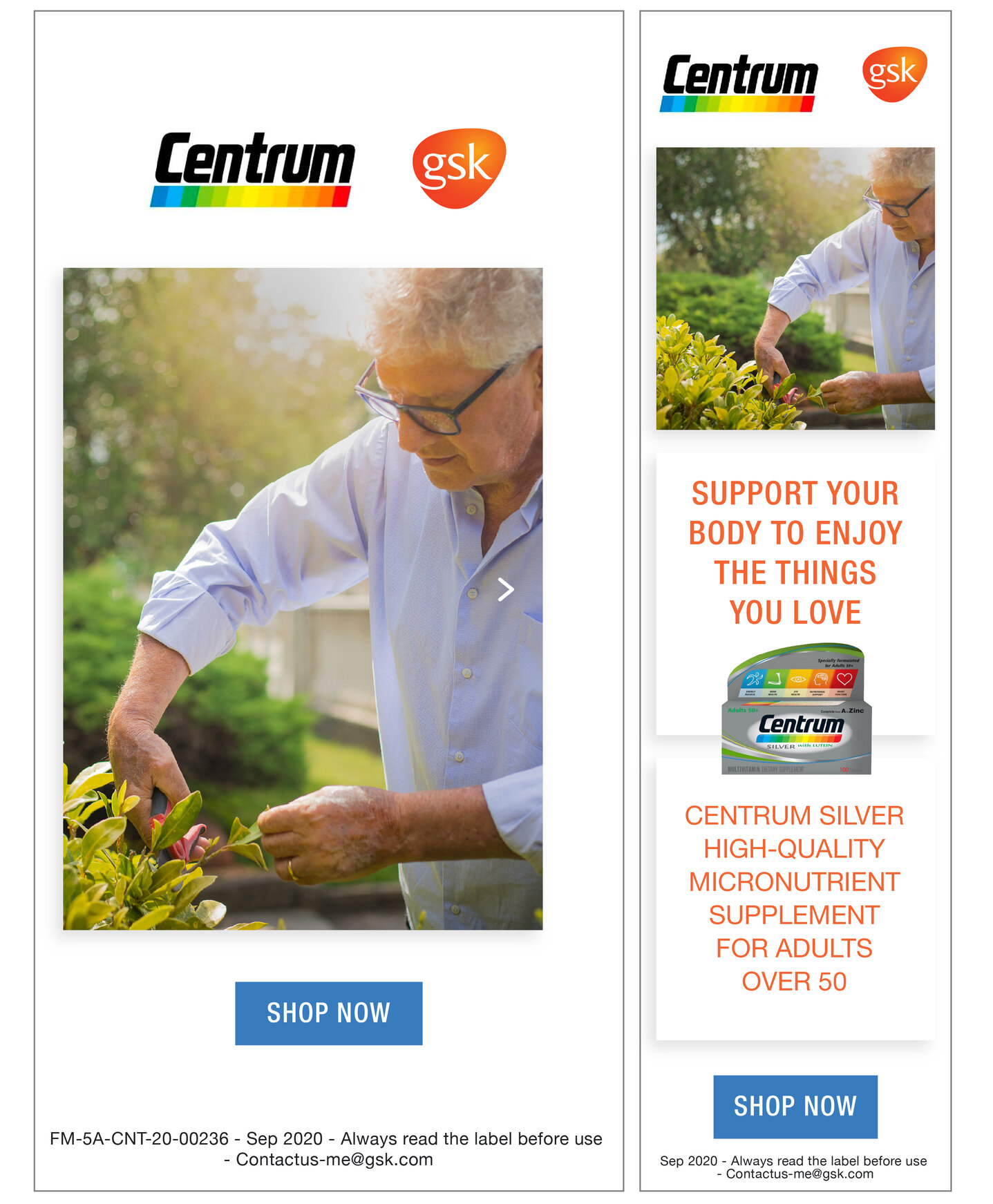 These metrics were built into the DV360 studio, allowing GSK to plan and create a high number of dynamic ad variants within minutes. This resulted in a much faster time-to-market, as a manual approach can take days.
"By using the system's algorithm, we were able to adapt copy and images for more than 70 ads in less than five minutes," said Rasheed.
Reaching 75% of the Saudi population
GSK reached over 25 million consumers with their display campaign. By looking beyond millennials — the typical audience brands market to in MENA — they reached 75% of the entire population of Saudi Arabia.

And by using a variety of ads tailored to the different audience segments in each age group, they increased their average click-through-rate to 44% above the average benchmark for creatives from consumer packaged goods (CPG) in MENA.
Key takeaways
Leverage first-party data to define your audience segments.
Look beyond a market's key consumers to identify potential new audience groups.
Have an inclusive approach in your marketing campaigns.