We've all been there: standing in a badly lit changing room tugging at a piece of clothing that doesn't feel or look quite right. But if you're a disabled person — for example, someone with an amputation, anxiety, autism, a visual impairment, or even epilepsy triggered by flashing lights — changing room woes are taken to another level.
Insights suggest that at some point in our lives, most of us will either have a disability, or know someone who does. Today over 1 billion people — that's about one in seven — experience some form of disability. And that figure is likely to rise due to an aging population and an increase in chronic health conditions, including long-haul effects caused by COVID-19.
The fashion industry in the Middle East and North Africa is making efforts to consider age, gender, size, and religion in ad campaigns and retail spaces. However, people of determination — the term the United Arab Emirates (UAE) uses to refer to disabled people — aren't represented nearly as often as able-bodied people.

But the fashion industry is also the one most likely to change things. When fashion brands break barriers and fight exclusion, their efforts boost the emotional wellbeing of disabled people, help build a culture of acceptance, and create a society that's truly inclusive.
Here three disability advocates offer advice on how regional retailers can be more inclusive, and why it's important.
Real-world representation improves social participation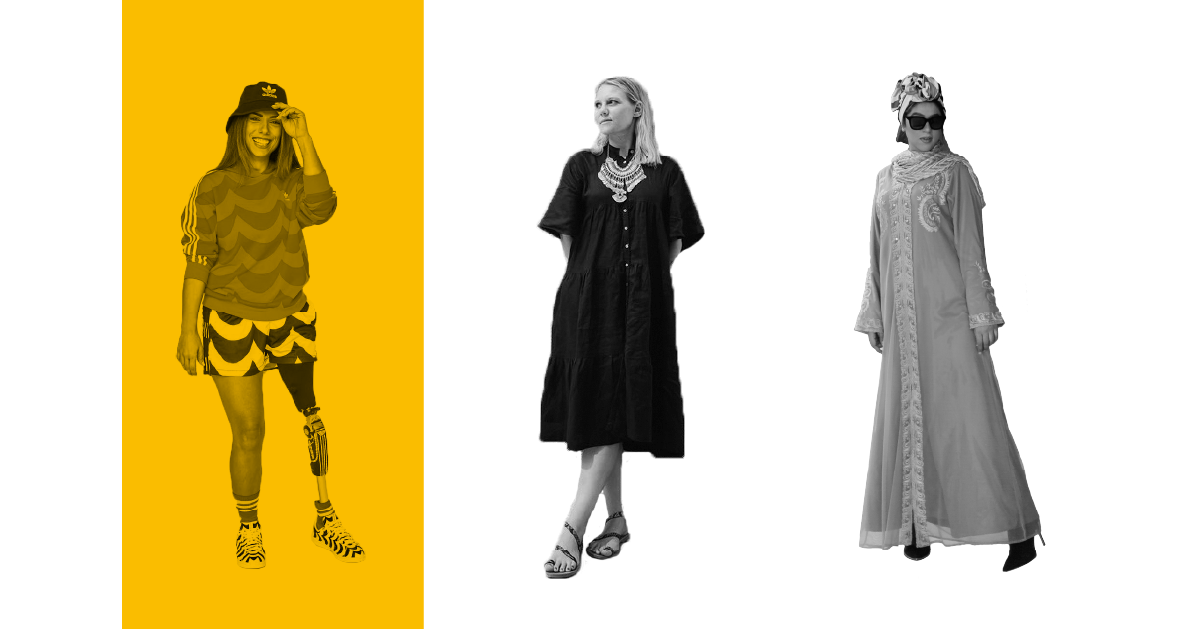 Dareen Barbar is an above-the-knee amputee, fitness and life coach, triathlete, Guinness World Record Holder, and Adidas ambassador
I was diagnosed with bone cancer at 15 and had to have my left leg amputated above the knee. It was just after the 1993 war in Lebanon, a country that was — in its own way — disabled. I was really concerned about my future there.
Barriers in both the physical and digital worlds have a massive impact on the experience and extent of people's disabilities
I've always loved sport, and was an avid basketball player before my amputation. In 2018 I took part in the Dubai Women's Triathlon at the Dubai Ladies Club, becoming the first Arab lower-limb amputee to complete a triathlon in the region. And in 2021 I broke the Guinness World Record for the longest static wall sit, making me the first female amputee to hold a record in the Middle East.
I turned to sports to find purpose, building a public profile that would bring visibility to disabled people, and hopefully making it easier for others like me to be accepted. But there are many disabled people here who still don't want to go out because they worry others will judge or feel sorry for them. And people do sometimes pity us, because they see us struggling in everyday environments that are largely inaccessible.
Barriers in both the physical and digital worlds have a massive impact on the experience and extent of people's disabilities, blocking their full and equal participation in society. Fashion brands have a chance to improve social participation by addressing these barriers.
Adidas has made real efforts towards being inclusive in the region. The Adidas store in Dubai Mall not only showcases mannequins with prosthetics, but the changing rooms are also fitted with digital screens that let shoppers select items in other sizes, alerting staff to bring the garments to the room.

But simpler changes, like introducing hearing loops, Braille, or notepads and pens to counters, can be just as effective.
Dareen Barbar's inclusivity tips for retail planners
Be honest about how inclusive your retail space is. Ask yourself, is my app disability friendly? Does my website offer alt text for people with visual impairments? Is store lighting triggering for people with autism or epilepsy? Is the music too loud? Can shoppers easily access changing rooms and clothing racks? Do we have inclusive mannequins?

Online retailers should stay up to date with partner marketing platform Affises' Online Shopping Accessibility Index, which uses Google's Lighthouse tool to rate a site's accessibility, improving helpfulness of alt text and page titles, and checking use of colour to convey messages.

This year the index revealed that Chanel and H&M are leading the way for fashion websites that are accessible to those with visual impairments, hearing loss, and neurological or cognitive limitations.

Put disabled people on the catwalk. We want to be included in ad campaigns, but we need to be seen in real life too. I was thrilled to walk at Arab Fashion Week 2021 for Michael Cinco, and it was great to see double amputee Lauren Wasser at Louis Vuitton's Cruise 2023 Show. It would be good to see other Middle Eastern designers also including disabled people in their shows.
Ticking the visibility-of-disability marketing box isn't good enough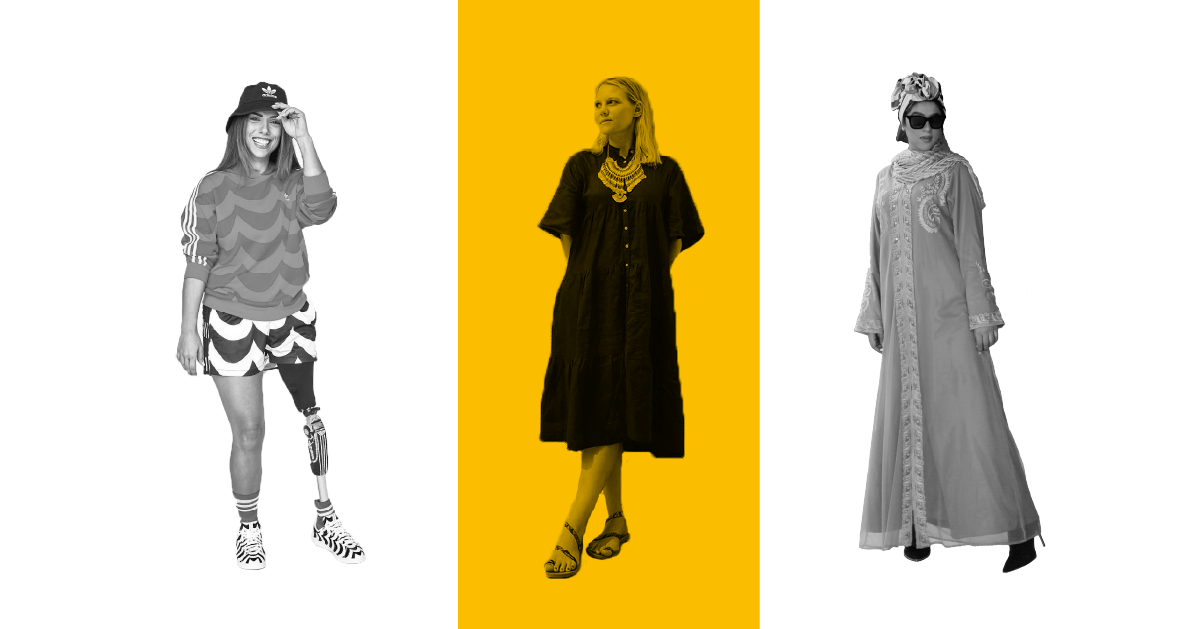 Jessica Smith was born missing her left arm. She is a diversity and inclusion consultant and COO and co-founder of Touch Dubai, a UAE-based disability inclusion consultancy and talent management agency.
I was fitted with a prosthesis as a young child. Unfortunately it led to a traumatic event where I accidentally knocked boiling water on myself, resulting in third-degree burns to 15% of my body.
Missing my arm and having permanent scarring meant I always looked different. I never saw people with a disability positively portrayed in the media when I was growing up, unless they were villains, and this made me feel like I wasn't good enough.
I channelled my frustration into sport, competing at the Athens 2004 Paralympic Games, swimming for Australia. But alongside winning gold for my country I was also battling eating disorders and mental health issues brought on by the disappointment of being unseen in society. Eventually, I was forced to retire from swimming.
Not wanting to be just a girl with a disability, I began working as a body positivity consultant and speaker. When I moved to Dubai in 2019, I saw an opportunity to advocate for equal rights for people with disabilities.
Although 90% of companies claim to prioritise diversity while hiring, only 4% are focused on making offerings inclusive of disability
Some regional brands are working to be more diverse, but there's a big difference between diversity in promotional images and achieving true inclusion within an organisation.
Visibility of disability in brand marketing isn't good enough anymore. Brands need to include disabled people in all parts of the business, from the hiring process to marketing, and throughout the supply chain.
Although 90% of companies claim to prioritise diversity while hiring, only 4% are focused on making offerings inclusive of disability. But with 28% higher revenue and 30% higher profit margins potentially on the table, a disability-inclusive business strategy is likely to equal a significant return on investment.
Jessica Smith's inclusivity tips for fashion marketers
Don't put disabled people on a pedestal in digital ad campaigns. People with disabilities are humans first. We come from different backgrounds and religions. Some of us are rude, some are funny, some are shy.

When you always portray us as heroes, we feel we have to live up to a different expectation to prove we've overcome our disability. But that's not always our reality. We don't want to shy away from talking about our real lives. Even the word 'disability' is tiptoed around, but there's nothing wrong with using it.

Always view your brand through a lens of diversity. While it's not impossible to make inclusivity changes in retrospect, it's much easier to start out with that mindset across the board. And that includes your marketing.
Purely functional adaptive fashion is exclusionary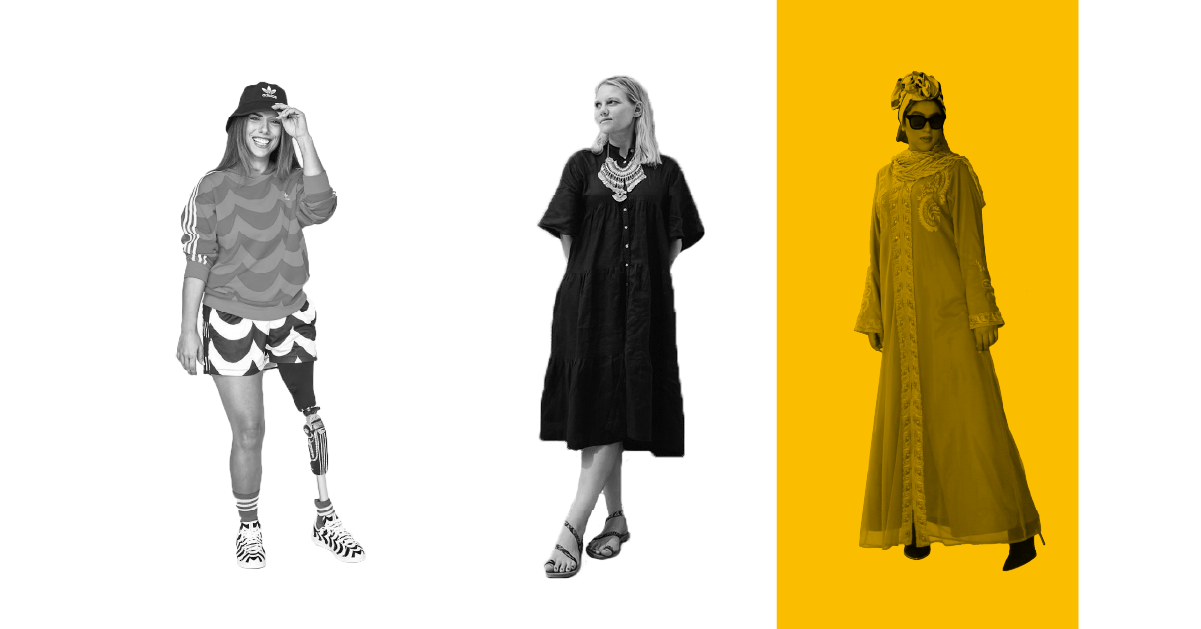 Asiya Rafiq is a UAE-based adaptive fashion stylist and founder of Adaptive by Asiya, a brand that makes modest, adaptive clothing for disabled Muslim women.
The inspiration for my brand came after working as a volunteer at the Special Olympics World Summer Games in Abu Dhabi three years ago.
I saw a young man trying to take his shoes off to pray, but finding it difficult to untie his laces. That opened my eyes to the fact that a seemingly small task to an able-bodied person, like untying your shoelaces, can actually be a major stressor for a disabled person.
My decision to focus on designing modest adaptive wear came while researching my business. I saw how difficult it was for disabled Muslim women to find practical but chic garments. Abayas can get stuck in wheelchairs, and it can be a challenge for carers to help their Muslim patients get dressed.
Fashion designers have an opportunity to offer disabled women clothing that not only makes their lives easier, but also looks beautiful
While adaptive fashion needs to be practical, it should never be boring. Sometimes I meet resistance from new clients because of the fashion industry's lack of adaptive clothing supply and creativity. While velcro strips and magnetic buttons have a place, they still need to add to an overall aesthetic.
Fashion designers have an opportunity to offer disabled people clothing that not only makes their lives easier, but also looks beautiful. And research suggests these efforts could benefit brands' bottom line too, with the global market for adaptive fashion set to grow to nearly USD400 billion by 2026.
Asiya Rafiq's inclusivity tips for fashion designers
Make (small) tweaks to existing designs. Disabled people often have medical bills, so they want affordable pieces that are durable and convenient.

With this in mind, some brands find the idea of catering to disabled people overwhelming and expensive, but a few modifications can go a long way. For example, reconsider the placement of tags that might irritate people with autism, or offer zips on the sides of lace-up shoes for people with dexterity issues.

Some fashion brands already design for the disabled and don't even know it. I've seen stretchy, pleated clothing with no buttons or zippers that could offer comfort to people with bone issues, or even fit over a prosthesis.

Educate and invest in disabled talent. Disabled people offer great workforce potential and deserve to earn a livelihood while bringing something positive to society. Governments, schools, and the fashion industry should consider creating spaces where these people can develop their skills and contribute to the economy.
Google has worked with Disability:IN, the Geena Davis Institute on Gender in Media, the National Association to Advance Fat Acceptance, Cannes Lions, and many other expert organisations across the world to create All In, a collection of inclusive resources for marketers.