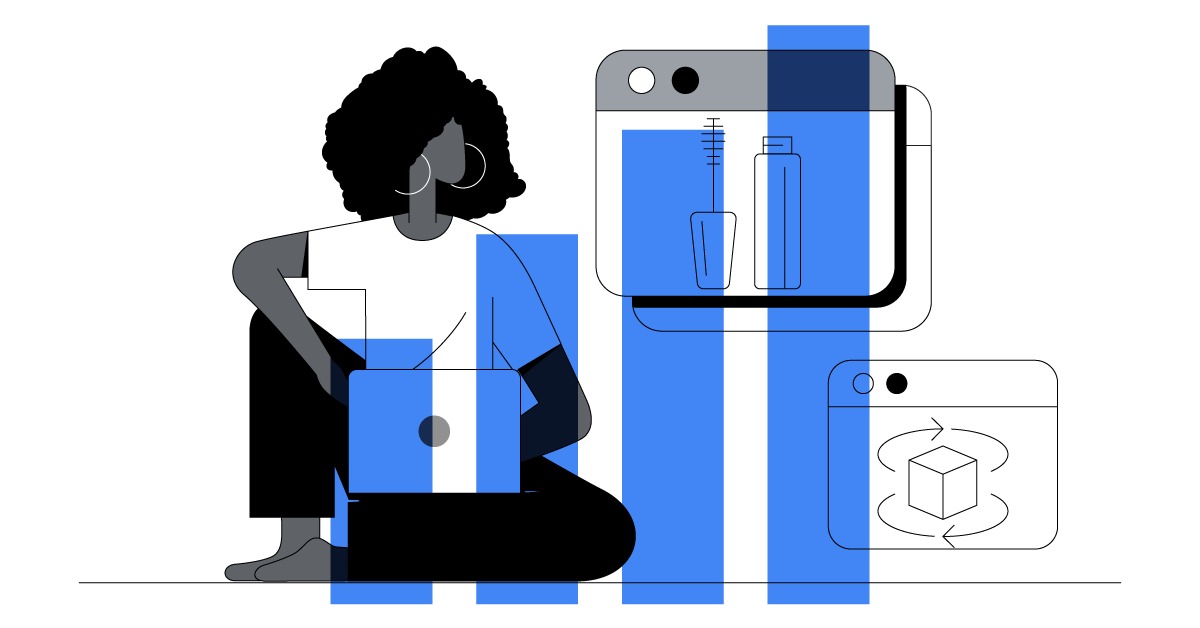 The way consumers shop for beauty products has changed since the pandemic. Approximately 30% of the world's beauty-industry market was shut in 2020, which included many premium beauty-product outlets.
Many make-up fans weren't able to physically test products at counters during lockdowns, so brands had to come up with innovative ways to reach their customers. And with beauty products being all about the in-store experience — trying colours, matching skin tones, and smelling products — companies had to get creative, showcasing their make-up without skimping on the experiential angle.
Turning to 3D to reach shoppers
Take French cosmetics powerhouse Lancôme. Last year, the beauty brand launched its new Lancôme Lash Idôle Mascara in the United Arab Emirates (UAE) and Saudi Arabia.
The brand knew fewer shoppers would be coming into physical stores due to restrictions and health concerns. So they turned to the three-dimensional display format, 3D Swirl, to reach customers on their mobiles instead.
This immersive ad format enabled Lancôme to share its new mascara by bringing it to life through 3D technology. The cosmetics company virtually placed the product in the hands of consumers — on their mobile phones — and enticed potential buyers to zoom in, rotate, and expand the image.
This interactive experience offered audiences a realistic and lifelike look at the product without the need to visit a store.
Here's an example of what the 3D ad experience looked like:
"We knew — especially during lockdown — that oversaturated audiences would be inundated with ads, so grabbing and keeping their attention was crucial," Jihane Bachir, brand general manager at Lancôme says.
"We brainstormed ways of launching our product, soon realising that — just as in real life — putting mascara in shoppers' hands was the best way to market it. And 3D ads helped us achieve this virtually."
Lancôme's goal with this campaign was to boost customer engagement through innovative, rich-media display ads that complemented their existing YouTube creatives, which included:
The 3D Swirl ad complemented the YouTube campaign by tying creatives together and giving audiences an opportunity to 'handle' the mascara and see it from all angles.
The brand also knew language would play a key role in the success of the 3D campaign. With around 15% of beauty-specific searches being in Arabic in the UAE and up to 70% in Saudi Arabia,1 Lancôme opted for English creatives in the UAE, creating customised Arabic assets for Saudi Arabia.
The YouTube and 3D campaigns ran in parallel and were optimised through viewable engagement — the metric of success for engaging formats like 3D ads — using Digital & Video 360 (DV360) automation. This tool helps creative, data, and media teams work together to execute end-to-end campaigns.
Meeting the 'new' customer where they are
The brand saw a 5X increase in their engagement rate, and a 6X increase in their viewable engagement rate. Not only that, but their cost per engagement was 58% less than the average benchmarks for rich-media display ads.
Many challenges that the pandemic has created for the beauty industry have been solved by technology.
Audiences enjoyed the experience too, with an average interaction time of 3.38 seconds in Saudi Arabia, and 2.64 seconds in the UAE.
"We couldn't have been happier with the results," Bachir says. "Many of the challenges that the pandemic has created for the beauty industry have been solved by technology, and it's no different when it comes to advertising."
Bachir believes that consumers are likely to increase their online engagement and spending, with a hybrid shopping model — featuring both in-store and online shopping — coming into play in the 'new normal'.
"Beauty-industry players need to continue prioritising digital to capture and convert the attention of existing and new customers," she concludes. "For brands to thrive, we must adapt and innovate, meeting our new and more cautious consumers where they are."