This past year has caused disruptions in more ways than one — from how we interact with each other, to the way we work and shop, and even how we bank. And the increasing shift to digital has bred the need for innovative, mobile banking services, as shown by the 72% increase in finance technology (fintech) app usage.
Even with all this change, at Monobank we try to remain hyper focused on our customers ⁠— after all, there is no Monobank without them. While we haven't been around very long, we've grown quickly. We launched in Ukraine in 2017, and in less than five years we've amassed 3.8 million customers in our home market. We've grown so quickly we now serve 35% of mobile banking clients in the country. And we're still growing, with about 120,000 new users each month.
Here are some tips I've learned along our journey that can be helpful to all marketers.
Think outside the traditional box
Creating a product in a traditional sector, such as banking, gives brands an opportunity to stand out. We did that by introducing something that didn't exist in Ukraine yet: a branchless bank. And with digital accelerating as much as it did this past year, the need for a contactless bank has become even greater.
We also try to keep things human. For us that means bringing a little humor into the conservative banking sector. It's important to show your individuality as a brand.
For example, we have a character in our company's app — a cat — who runs the show, not your typical white-collar banker. When a customer tries to set an outrageous credit limit, we say: "Woah woah tiger, take it easy, where do you get such an appetite?" But we're cautious not to overdo it.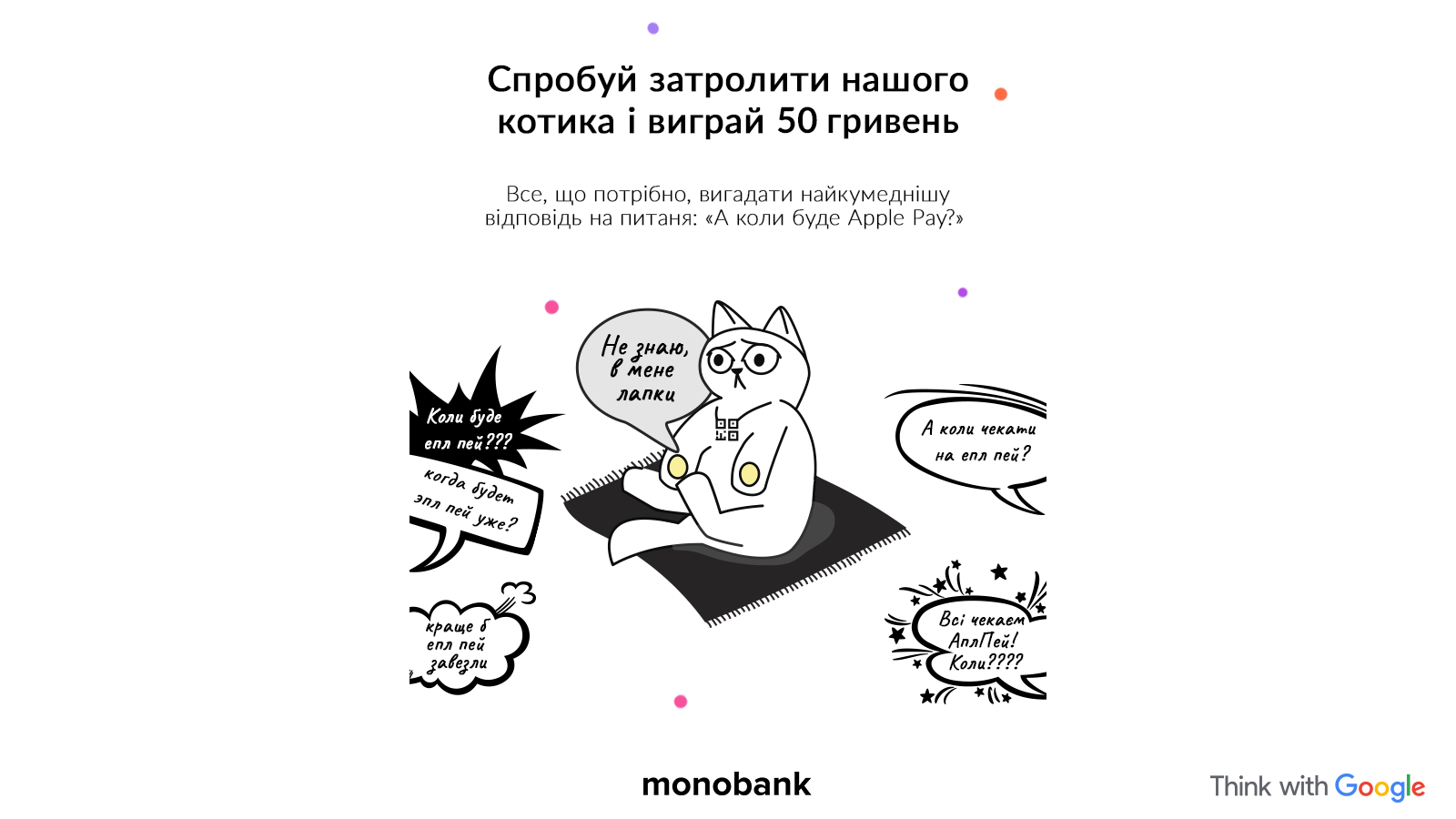 We also collaborate with Reface — an app that can swap faces in videos through the use of artificial intelligence (AI) — by inviting customers to star in our ads. With this interactive AI technology they can send a personalised invitation to refer a friend.
Adopt a startup mindset
Since we're a startup ourselves, adopting the mindset of one was only natural. We think of it as being flexible and having the ability to change direction at the drop of a hat. And not only that, but also taking risks that will ultimately benefit our customers in the long run.
This mentality helped us navigate the pandemic when it hit. As a mobile bank, we were ready to pivot from day one of quarantine — and transferred our 1,000 customer care service employees to work remotely.
And we knew that our customers needed our help more than ever during the pandemic. So while most banks mitigated risk during this unstable time and reduced issuing loans, we took a risk and decided to actively lend.
Ultimately, having a team of incredibly talented and inspiring individuals that encourage each other is what helped us remain flexible and find ways out of even the most difficult situations.
Keep customers at the heart of everything you do
I remember seeing a clients' reply to a post from our co-founder Oleg Gorokhovsky on Instagram: "I love your app, care service, and the speed of transactions. You make life easier, and what was once difficult is now a thrill. Thank you!" We really liked that the client called our support "care service" so we decided to rename it "Customer Care Service".
A startup mindset means being flexible and having the ability to change direction at the drop of a hat.
Our referral programme is 35% of our traffic and we believe that even up to 70% of our customers have been joining us through word of mouth and thanks to friends' recommendation. It's the best measure of product quality and trust that our clients have for us. But customers don't just choose us for quality service, our research shows that after recommendations from friends, our clients come to us for profit — and stay for convenience.
When it comes to money, no customer wants to jump through the bureaucratic hoops most banks have. That's why we have real people respond to all requests that come through our Customer Care Service. And since we're mobile-only, and don't bear the costs of a classic banking infrastructure, we can afford to offer our customers more attractive rates.
The future of Monobank
And this is just the beginning for us. We plan to service nearly 6 million customers by the end of 2022. Although our plan sees our growth continue, our startup mindset remains. That way we can continue to provide our customers with the innovative services and products that brought them to us in the first place.
When you have an innovative idea, act right away, rather than waiting for the perfect moment.
I want to leave you with a few final thoughts — or rather a few 'aha' moments I've had along the way:
Determine how much you're willing to spend to attract one client. Work on cost-per-action (CPA) and don't compromise. Only spend on real customers, not on clicks and impressions. Even if you look at cost-per-click (CPC), always recalculate this into the cost of one new client.
Don't work with ridgid budgets. Once you determine the optimal cost for a new client, be open to making shifts as needed as long as it's within your acceptable price range.
When you have an innovative idea, act right away. It's better to test your hypothesis immediately and measure results, rather than waiting for the perfect moment, which may not come.