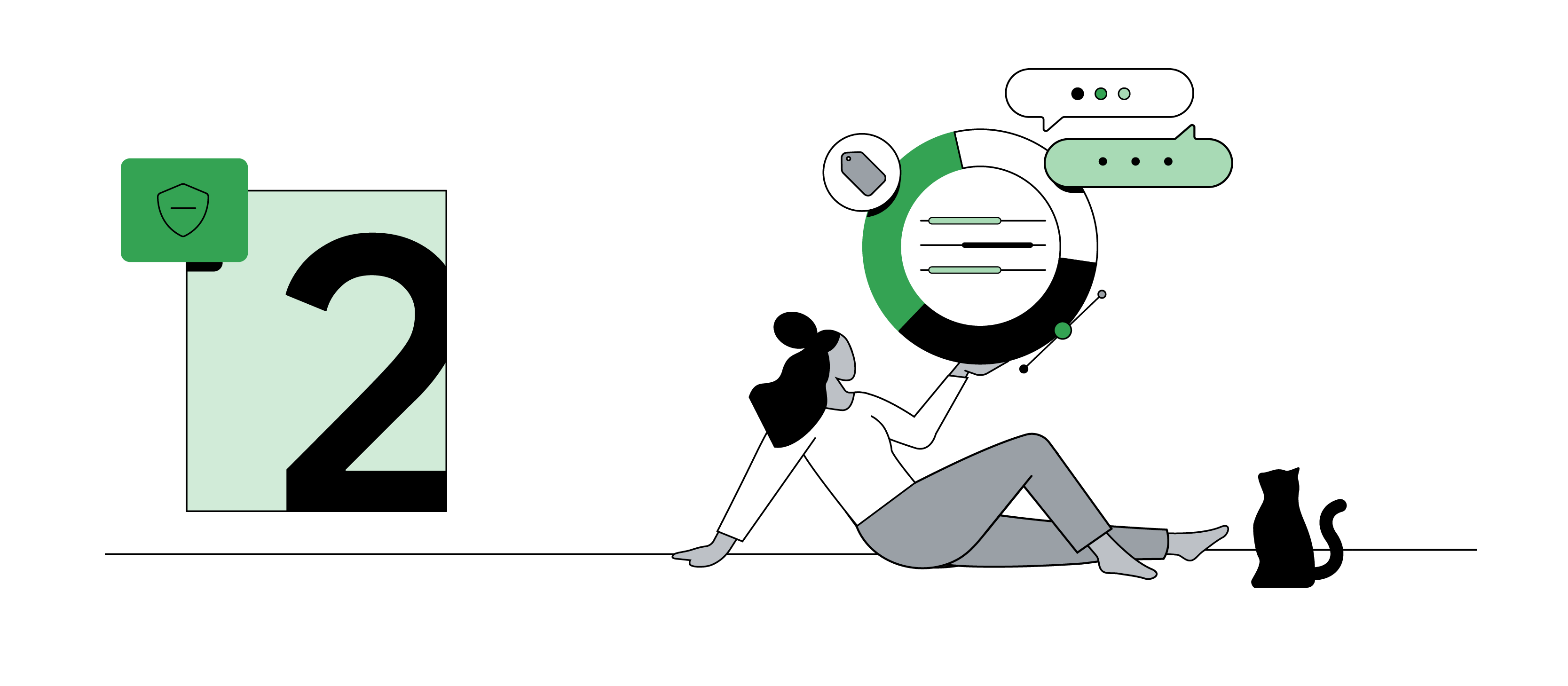 Power your privacy measurement with a strong tagging infrastructure
Investing in a strong measurement foundation through sitewide tagging is a key element of a privacy-safe strategy. Tags are pieces of code placed across your website that enable you to measure how visitors interact with your website and ads. Specifically, they allow you to set first-party cookies that can measure conversions accurately, which will become increasingly important as third-party cookies and other identifiers are phased out in the months and years ahead.
Below are the three essential components of Google's tagging approach.
Approach
Square builds tools that empower businesses and individuals to accept contactless payments. Recent regulatory changes affected the company's data quality, hindering its ability to acquire new business and optimise campaigns. Using server-side tagging, a feature of Google Tag Manager 360, it was able to keep customer information secure, improve conversion measurement, and gain more control over its data.
Results
This initiative improved Square's ability to measure conversions by 46%.
Unlock more accurate conversion measurement with first-party data
Once you've established a first-party data foundation using practices like sitewide tagging, you can unlock more comprehensive reporting with other privacy-safe solutions.
For example, marketers can allow site tags and user-provided data to improve their measurement with a feature called enhanced conversions for web. This feature creates a more accurate view of how people convert after engaging with your ads than is possible with site tagging alone. Companies that adopt it see a 17% average increase in conversion rate for YouTube for Action.1
Here's how it works
By sending hashed, user-provided data from your website to Google, which is then matched to signed-in Google accounts, enhanced conversions allow sales originating from Google Search and YouTube to be attributed to ads in a privacy-safe way.
This, in turn, provides more observable data to strengthen conversion modelling, while giving you the comprehensive data you need to measure conversion lift, understand the incremental impact of your advertising, and help you better optimise campaigns with Smart Bidding.
Approach
Digital marketing agency Maison MRKT already had implemented Google tags for many clients and wanted to test enhanced conversions for web. The brand worked with Google to develop a step-by-step guide for enhanced conversions on Shopify. By the end of the second quarter of 2022, Maison MRKT was able to update its measurement for about 60% of all active clients.
Results
Maison MRKT compared primary KPIs for the first and second quarters of 2022 by analysing clients that used enhanced conversions and clients that did not. For clients that activated enhanced conversions, Maison MRKT saw a 91% lift in return on ad spend (ROAS), a 70% decrease in cost per conversion, and a 16% increase in overall conversion rate.
Fill gaps in conversion attribution using consent mode
The accuracy of conversion measurement can also be improved with consent mode, which enables the customisation of tag behaviour based on user consent choices. Consent mode is available to advertisers operating in the European Economic Area and the U.K.
Here's how it works
On websites using consent banners, users can choose to decline consent for cookie use. This can impact the measurable data available in your Google Ads account, making it harder to understand campaign effectiveness and allocate budgets. Consent mode solves for these unknowns while respecting user choice by adjusting the relevant tags accordingly and by using conversion modelling when conversions can't be linked to ad interactions for more direct reporting and optimisation.

Approach
Air France needed a way to preserve its media profitability while respecting user privacy choices. Working with its Google account team and its media agency Performics, the airline implemented Consent Mode. This allowed it to adjust how Google tags behave based on the consent status of its users. It also enabled sustainable measurement by allowing Google to model for gaps in conversions when users don't consent to cookies.
Results
With Consent Mode live, Air France saw a 9% average uplift in conversions across its European markets. These modeled conversions are also essential for optimising Air France's Google Ads campaigns and enhancing reporting and bidding capabilities.
Use machine learning to make sense of available signals
As you build a strong foundation of first-party data across multiple products, you'll need a solution that can automatically interpret your available signals and give you the best reporting possible.
Take conversion modelling, which has long been a key feature in Google's measurement solutions. Modeling uses machine learning trained on first-party data and other signals, giving advertisers the best measurement possible while still preserving privacy. This is increasingly critical in a world where consumers' needs and preferences are constantly changing, along with the world around them.
Wherever possible, we directly integrate conversion modelling into Google's ad products. You'll find this modelled data in your conversions reporting column and gain AI-powered insights into sales you otherwise might have missed due to platform restrictions that limit the use of third-party cookies or other identifiers. These integrations increasingly pay off for advertisers. Those who switch to a data-driven attribution model from a non-data-driven attribution model typically see a 6% average increase in conversions.2
Optimise web and app performance with privacy-focused measurement
Google Analytics 4
In an evolving privacy and technology landscape, marketers have to rethink their approach to measurement or risk losing the insights they've come to rely on. Google Analytics 4 is designed with privacy at its core to provide a better experience for marketers while protecting the privacy of end users. It gives businesses more comprehensive and granular controls along with advanced machine learning to help bridge any gaps in your data.
Migrating to Google Analytics 4 requires planning, so we've prepared a step-by-step guide and a Setup Assistant that we recommend you consider when approaching this task.
Approach
When McDonald's Hong Kong wanted to gain more insights into its high-value customers and maximise ROI, it turned to Google Analytics 4 to measure and analyse online purchases. Then it applied those insights within a Google Ads App campaign, hoping to boost engagement with target ROAS bidding. (Target ROAS is now known as Maximise conversion value with an optional target ROAS.)
Results
McDonald's Hong Kong increased conversion value by 668%, while reducing cost per acquisition (CPA) by 53% as compared to target CPA.
User expectations for privacy continue to grow, and updates, such as last year's rollout of Apple's ATT framework on iOS, have made app measurement more complex. To be set up for long-term success, marketers should prioritize privacy-focused app measurement solutions, such as on-device conversion measurement available through the Google Analytics for Firebase SDK.
On-device conversion measurement
On-device conversion measurement is a new privacy-preserving measurement solution that retains and improves your observable data, enhancing conversion modelling and reporting accuracy. It works by matching user interactions with app ads to app conversions without allowing user-identifying information to leave a person's device. Any user or device data from your app is linked to third-party data solely on the user's device.
Learn how the solution and the set-up process work in this webinar and developer guide.
Google Analytics for Firebase SDK
Add the Google Analytics for Firebase software development kit (SDK) to your Android or iOS app to get powerful cross-platform measurement capabilities that help you understand how your users engage with your app and to optimise your App campaign attribution, reach, and performance.
When you implement the Google Analytics for Firebase SDK, you unlock benefits for App campaigns, like on-device conversion measurement, audience management, and target ROAS bidding. Additionally, adding the SDK will automatically register your app for Apple's SKAdNetwork attribution so you can measure "first-open" conversions.
Approach
Vinted, a European marketplace for second-hand clothing, wanted to drive more in-app actions and optimise its cost per in-app action, particularly on iOS. To achieve this, the brand implemented and began bidding on conversions from Google Analytics for Firebase.
Results
Vinted achieved 2.3X more in-app actions on iOS compared to its existing measurement solution, increased installs by 92%, and decreased the cost per engagement by 22%. Additionally, Google Analytics for Firebase helped Vinted increase scale and achieve deeper funnel events.