At this year's EMEA Performance Summit in Dublin, 100 of Europe's leading performance advertisers and agencies joined us to discuss the issues that will define the market over the next twelve months. Mobile was at the heart of much of the discussion, and as part of the event, we launched new research and tools to help businesses supercharge their mobile user experience.
By 2021, an expected 6 billion people will have access to the internet, and most of them will be accessing it through a smartphone. Every day around 3.4 million people get their hands on a new internet-connected mobile device - equivalent to the entire population of a city the size of Berlin - and with it all of the data and content that come with having the entire web in your pocket.
This represents a huge opportunity, but it isn't without challenges. Smaller form factors and touch navigation make the quality of the mobile user experience paramount, while occasionally patchy connections and limited processing power mean that site speed can have a huge impact on a user's ability to complete their chosen task. As part of Google's commitment to helping make the mobile web as fast and usable as possible, we've introduced many innovations, best practices and insights to improve experiences for both businesses and users. Today at the EMEA Performance Summit, we launched our latest set of tools and research.
First, we're making a large set of mobile website benchmarks for usability and speed available, showing best-in-class examples from the largest brands in travel, retail and finance. Once you have an idea of what's possible, you can then use testmysite.withgoogle.com, a new tool for measuring your own website's performance, to see how you stack up. And, to help you connect with consumers more quickly from mobile search, we're introducing new click-to-message ads that take advantage of the huge popularity of messaging.
Mastering Mobile Websites
To help advertisers better understand the best practices in mobile UX and site speed, we undertook a project to benchmark 316 mobile sites in the travel, retail and finance verticals across Europe.1Usability and speed are essential to a positive consumer experience - in fact, 30% of consumers expect a one second or less page load, while 18% expect instant page load.2 In collaboration with cxpartners, recognised experts in user experience, design and strategy, we conducted in-depth user experience reviews, and measured the site speed of some of Europe's most visited websites to build a picture of just how fast the mobile web is at present.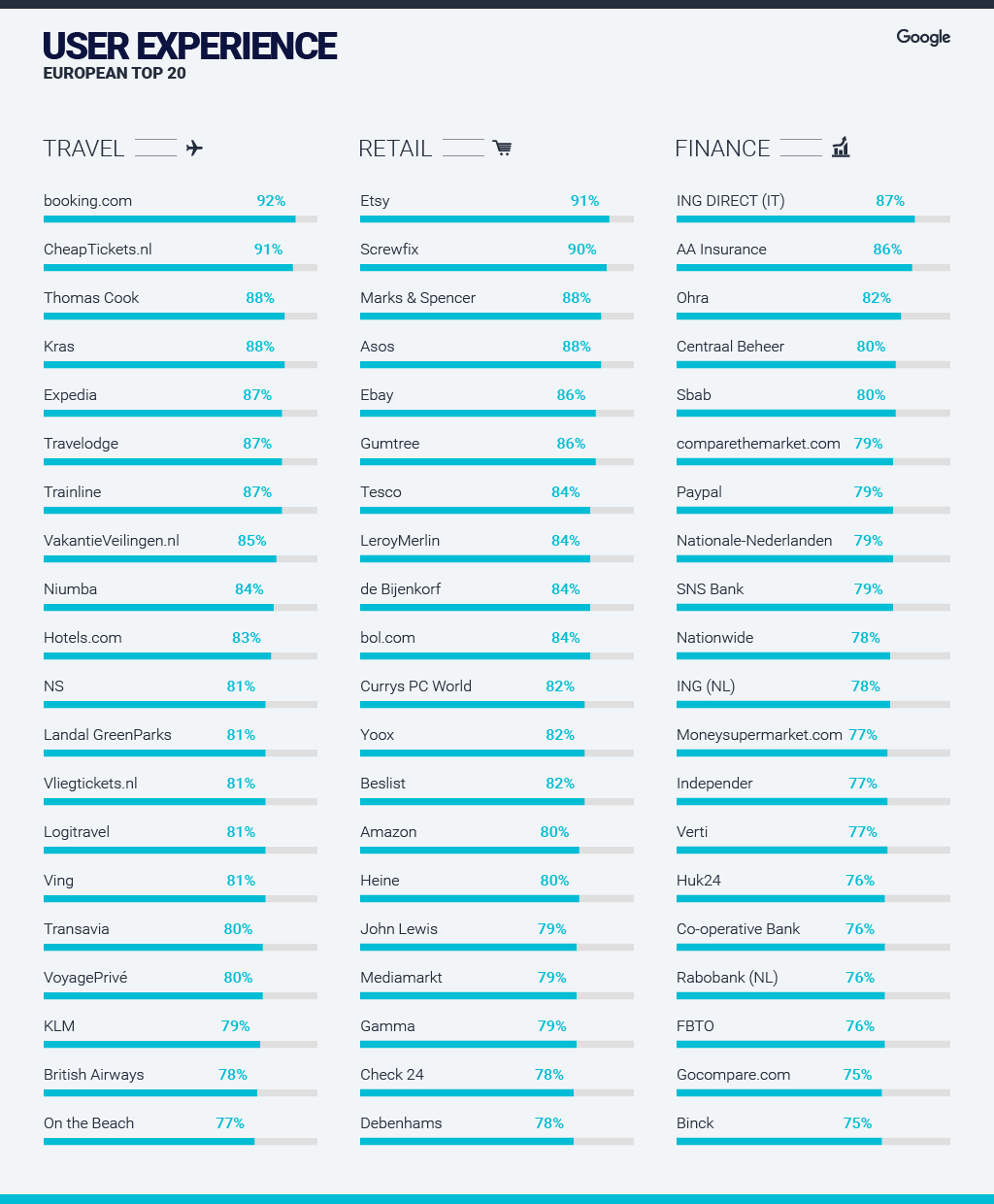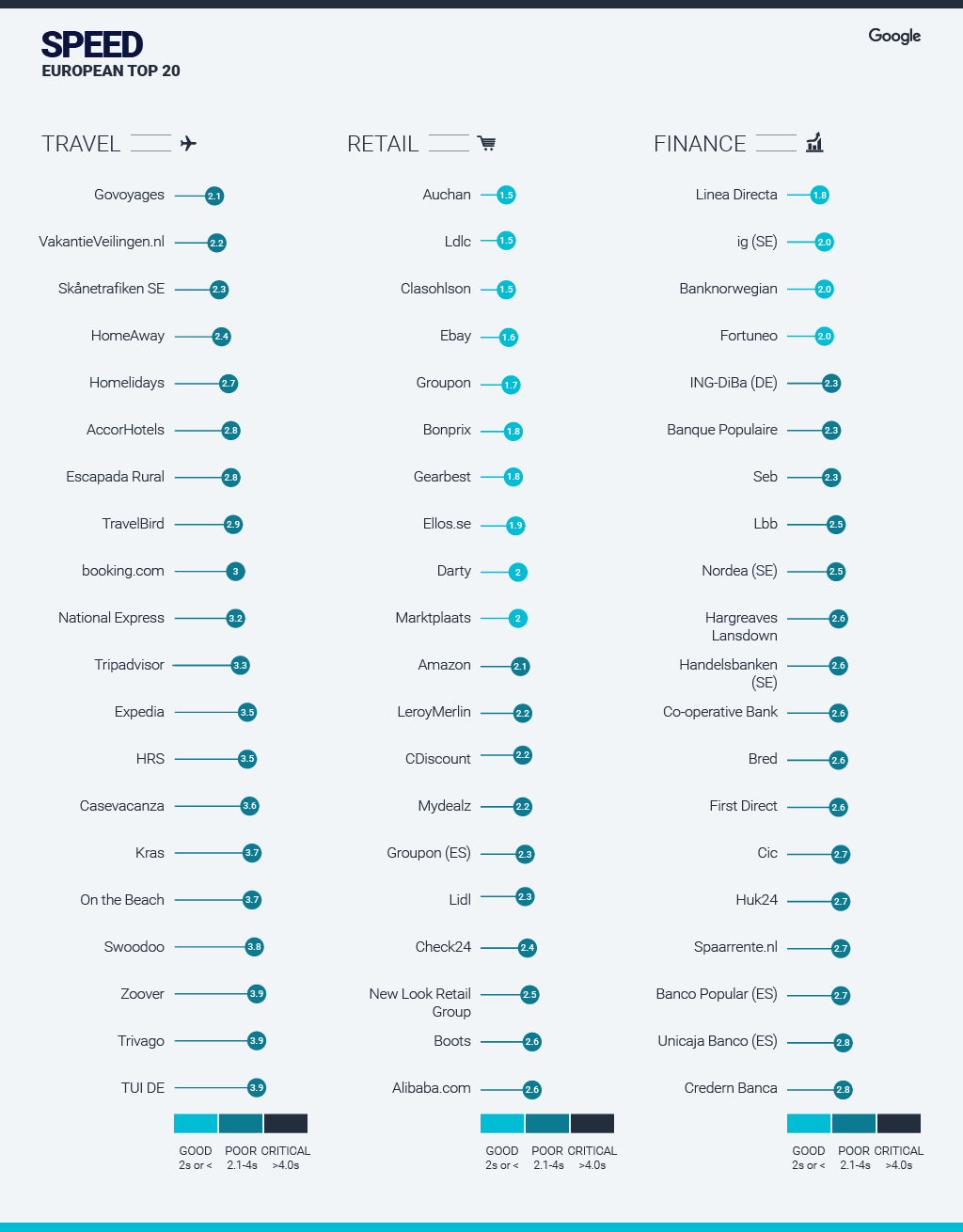 Nine out of ten people say they'll leave a mobile website if they can't find what they're looking for right away, so if your site doesn't perform as well on a smartphone as on laptop or desktop, you may well be losing customers already. But what if you're not sure how to start measuring your mobile performance?
Is your site mobile-friendly?
With the launch of testmysite.withgoogle.com, we're providing an easy way for site owners to understand some basic performance metrics around mobile-friendliness, mobile speed, and desktop speed. In addition to a simple topline score in each of the three areas, the tool also provides an actionable list of specific improvement tailored to your site, suggesting fixes such as caching, compression and image optimisation where appropriate.
You don't need technical knowledge to understand your site's performance. Just type in your web address and within moments, you'll see how your site scores.
A new, easy way to talk to customers with click-to-message ads
Your mobile ads are often the first impression you give consumers before they click through to your website. That's why we're committed to mobile ad innovations that help you deliver a relevant and useful experience. In the coming weeks, we'll be launching new click-to-message ads to bring the efficiency and effectiveness of messaging to search ads. By setting up a message extension, you'll give users an easy way to text you to start a conversation and follow up whenever it's most convenient for them.
It's long been part of Google's mission to speed up the web so that it works better for everyone, and we're determined to do the same for the mobile web. Smartphones are convenient, powerful and already central to many moments that matter in the lives of consumers. Businesses who respond to that by providing fast, usable mobile sites will be well positioned to reap the rewards.