Fawzia Ali-Kimanthi is the acting chief for customer business organisation at Safaricom. She previously led the digital products and services team, where she was an integral part of the company's digital transformation efforts.
Above the line (ATL) marketing, such as TV campaigns or billboards, dominates marketing budgets in East Africa. But with app usage increasing in Sub-Saharan Africa, we knew we had to start changing things up.

Not only was it the time right to switch to a digital-first campaign, it was also the perfect opportunity to address our existing, ageing app for a new generation of digital natives.
Knowing when to start over
At Safaricom, our app is a crucial part of our offering since it allows customers to buy airtime and data, access financial tools, and make payments using the M-PESA money transfer service.
The scale of our challenge was immense. The existing app had almost 6 million installs but we knew updating it was not an option. That version was buggy, built on ageing architecture, and didn't inspire user trust. We set out to replace it with a new app and launch a migration campaign.
The new app's release came at a time when most people were both living at and working from home. That meant that we couldn't rely on marketing practices that once worked well in East Africa, like out-of-home (OOH) formats, including billboards and kiosks to drive awareness and downloads.
As such, we decided to go with a performance-driven campaign focused almost entirely on digital channels.
Using first-party data to provide a customised user experience
We set ourselves a target to grow our digital spend to 40% of our marketing budget by the end of this year. To put this into context: in 2018 we spent 7% on digital marketing and in 2021 the figure reached 34%.
Although some of our budget shifted to digital marketing, there were still limitations. So we worked with the team at Google to optimise the app's search campaign to get the best conversions.

We used first-party data, like top transactions and behaviours of our existing customers, to inform our Google Search campaign strategy.
For example, we updated campaign messaging to align it with popular customer behaviours, such as downloading statements, reading online newspapers (newspapers are very popular in the region), and adding on services, like home broadband.
This improved customisation allowed us to deliver the right message to the right user.

We were able to further refine the messaging by using audience lists from Firebase (a tool which helps marketers build and run apps) to generate specific actions. That meant that users who had already installed the app were not served ads that prompted them to install it. Instead, they'd see ads that encouraged them to engage with the app more.
Here's an example of an ad showing existing users the features most relevant to them: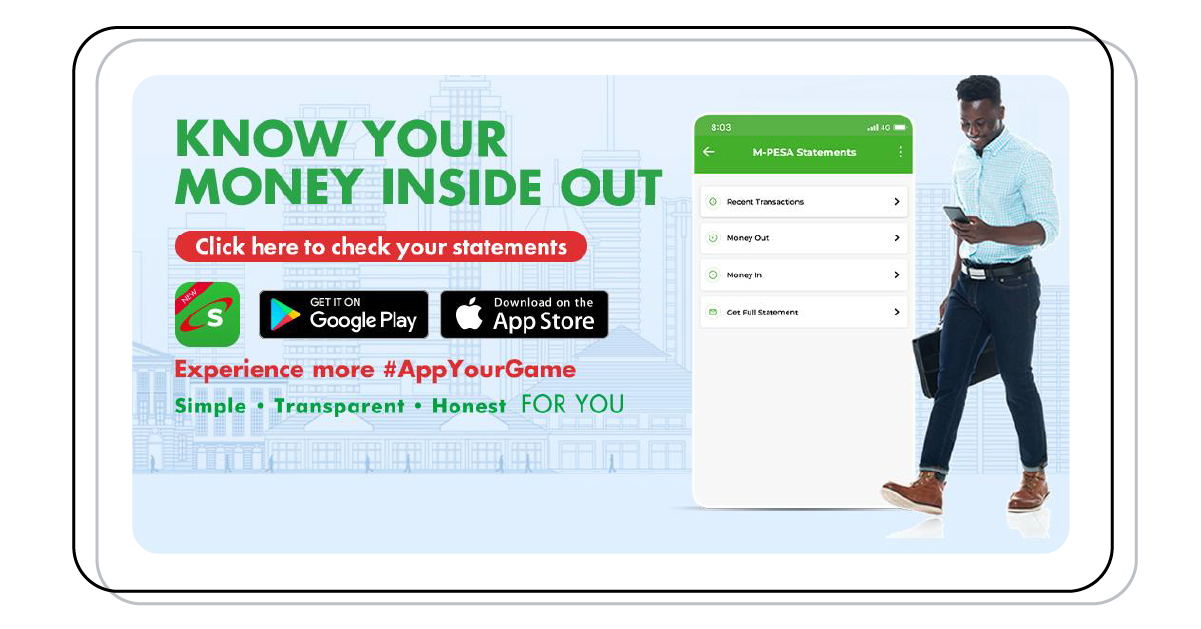 Refining the user experience even further
As a result of this performance-driven approach, the new MySafaricom app took just one year to hit 5.5 million installs and saw 20,000 downloads a day at its peak. By comparison, the old app took four years to reach 6 million installs.
But we know that hitting a large number of downloads is only the beginning. We have to invest in building user trust to create a clear distinction between the old and new app.
By measuring engagement and the overall app experience, we are able to make regular tweaks to both our marketing and the user experience.

For example, user experience efforts showed that people were being selective about when to use the app due to limited data bundles. To solve for this we implemented a data share feature, allowing people to share data with friends and family.
What we've been able to achieve with digital-first campaigns this year has gone beyond our expectations. The incredible install numbers and high user engagement have convinced everyone within the company to continue on this digital marketing journey.
As we look towards the future, we have a goal of becoming a fully digital marketing team. For example, we still rely on USSD for some transactions and we have plans to move away from this legacy technology to a fully integrated app journey.

We also plan to have all our products and services integrated into the app. This allows us to have an end-to-end digital experience for customers that is simple, intuitive, and trustworthy.