When everyone is doing the same thing, it's difficult to stand out.
Internal Google data shows that more than 80% of Google advertisers use automated bidding in their marketing.1 Automated bidding is a great tool to reach your audiences efficiently, but there's now more you can do to elevate your brand.
The latest generation of Google campaign tools have opened up a new frontier in performance marketing, allowing brands to bid towards business outcomes. We call this new approach bidding for value.
Marketers no longer need to necessarily focus on intermediary metrics such as cost per click (CPC) or cost per action (CPA). Instead, marketers can update their bidding strategies to more closely align with business priorities, such as growing profit or revenue. The key comes down to using first-party data to more effectively reach high-value customers. This involves feeding specific conversion value data into the system, such as profit margins, to help your campaign achieve more strategic goals. In some of the most advanced value bidding setups, marketers can include lifetime value adjusted data.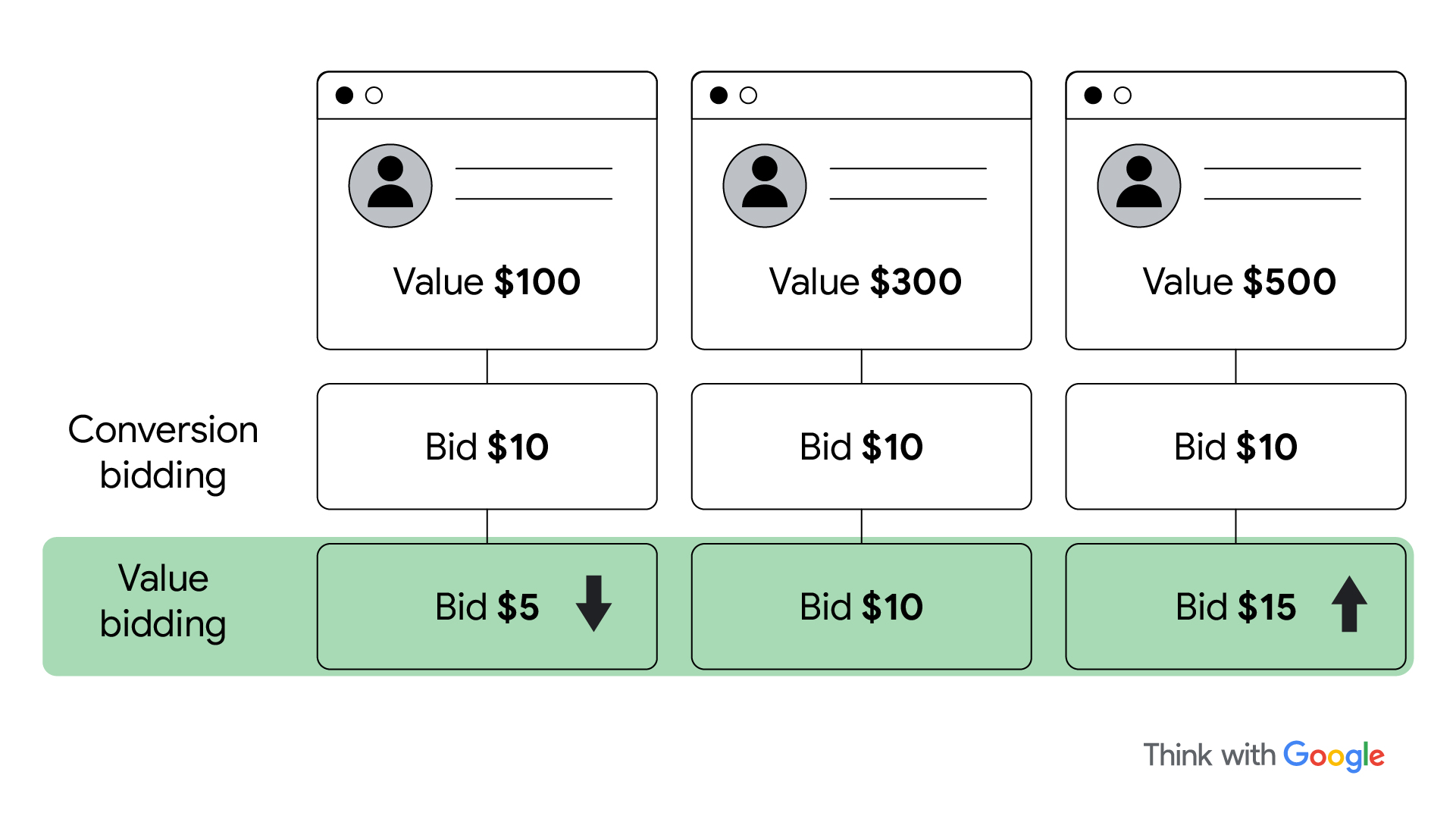 Value-based bidding: Here's how it's done
There are two key approaches to pursue this value-based bidding strategy. Campaigns set to maximise conversion value deliver as much value as possible within a set budget. Advertisers can also set an optional target ROAS (return on ad spend) in those campaigns to drive as much conversion value as possible at a particular ROI (return on investment). Marketers that use these campaigns with the right blend of first-party data are seeing results. For example, advertisers that switch their bid strategy from target CPA to target ROAS see conversion values increase by an average of 14%.2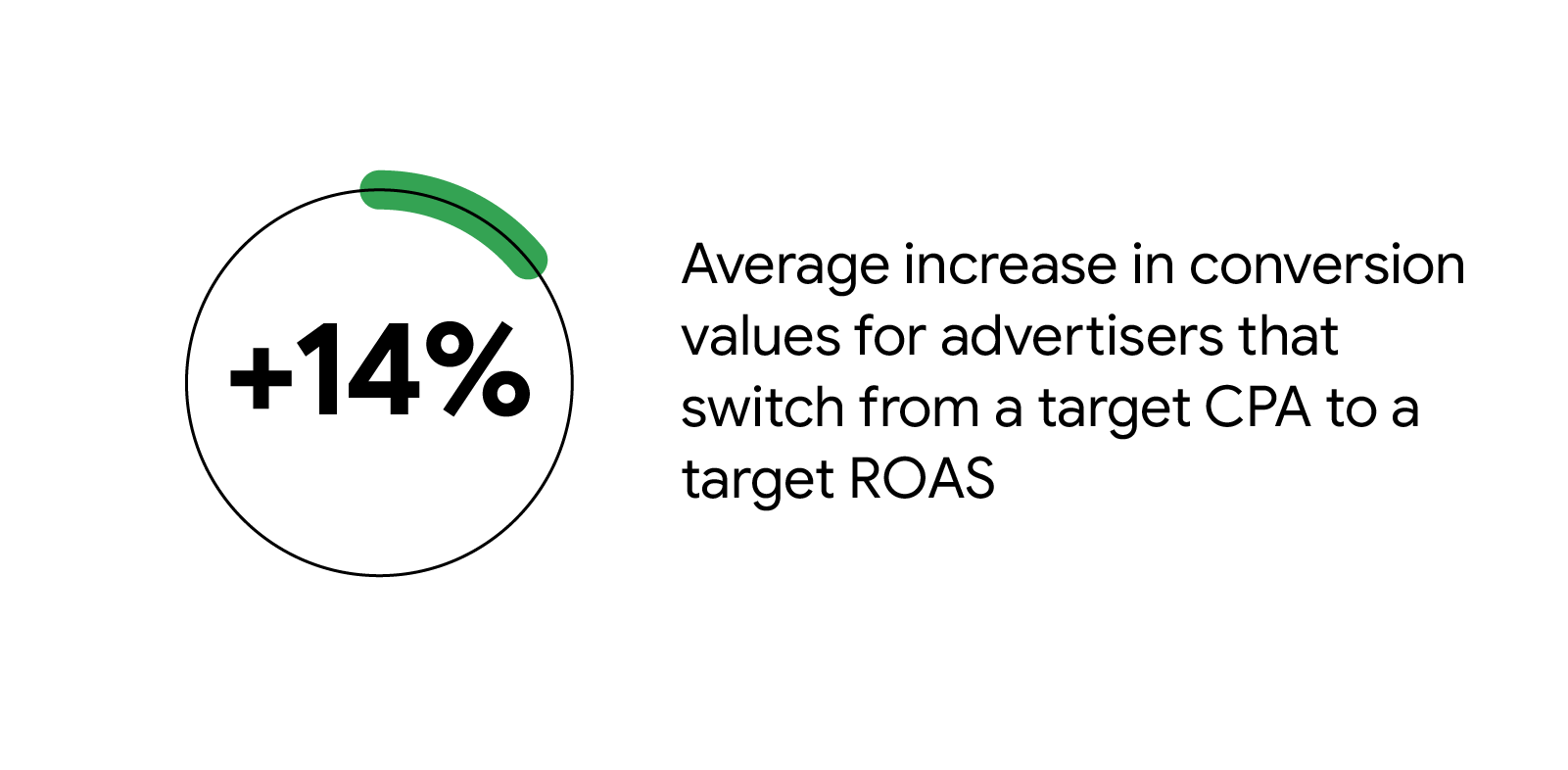 New approach to reach new clients
H&M, one of the world's largest fashion retailers, was an early adopter of this value-based bidding approach.
Like many of its competitors, H&M had been optimising its paid Search activities to drive revenue growth. This meant ads were directed to reach customers with the highest conversion rates. However, H&M saw this strategy unintentionally focused on selling to existing, loyal customers rather than reaching new clients as well.
"It didn't make sense to put the majority of our marketing budget towards those who would probably buy from us anyway," said Kristoffer Ullenius, global head of paid media at H&M.
So the H&M team worked with its SEM agency iProspect to revamp its Search strategy to reach a broader audience.
The brand started by adopting a new KPI — "new customer share" — and used first-party data from its H&M Membership club to gain deeper insight into the value of different customer segments.
"This [gave] us a better, more holistic view of customer splits across channels," said Ullenius.
In addition, the brand started using automation to tailor ad copy for each customer segment so loyal and new audiences began seeing different kinds of Search ads.

The team then reset their Google campaign to make it a priority to surface Search ads to new customers because this provided more value to the business. The team used a target ROAS bid strategy to optimise bids.
The changes led to significant results. Online revenue from paid Search increased by more than 70% year-over-year. New customers also increased by 65% year-over-year — at a higher and more efficient ROAS.
"It's been rewarding to see how much impact we can make by focusing our paid efforts on value," said Ullenius.
New strategy in a traditional world
Insurance is a traditional industry where brokers and agents are typically the main source of sales. Zurich Switzerland, a subsidiary of Zurich Insurance Group, was looking for ways to increase reach through digital channels.
An early adopter, Zurich trialled a target ROAS automated bidding strategy — testing the approach on one campaign. Using first-party data from its website, Zurich factored in variables, including consumers who research online and purchase offline — something which is fairly common in the insurance field.
It combined this value-based bidding strategy with a new approach to selecting keywords in Search marketing to tackle a brand-specific issue. The company began using a Google tool called Broad Match, which is designed to automatically find a range of relevant keywords. In this case, the system focused on generic, product-based keywords, and avoided irrelevant search queries related to the city of Zurich.
After seeing positive initial results, the team scaled the approach to their other campaigns. Within just four weeks, the company increased sales by an impressive 9X and saw a 52% rise in ROAS.
This is just the start of a longer journey towards bidding for value. That journey will include the adoption of demand-driven budgets, giving Zurich Switzerland the ability to capture all available demand, especially during peak times.
Zurich is also exploring how product margins and lifetime value can be incorporated into bidding models — as well as data on conversions that come through brokers.
"Insurance is an industry where it takes time to assess whether a model has performed well or not," said Head of Digital Business Marco Arnaiz. "But we are always tinkering with our bidding strategies and looking at how we can generate more value."
Unlock the full power of performance marketing
Moving to a more sophisticated bidding-for-value setup is not as simple as flicking a switch in your Google account. But most marketers can start their evolution today:
Align your marketing metrics to business priorities
Make effective use of first-party data and measurement solutions
Find the right combination of automated and machine learning tools to find your most valuable customers and achieve bespoke business goals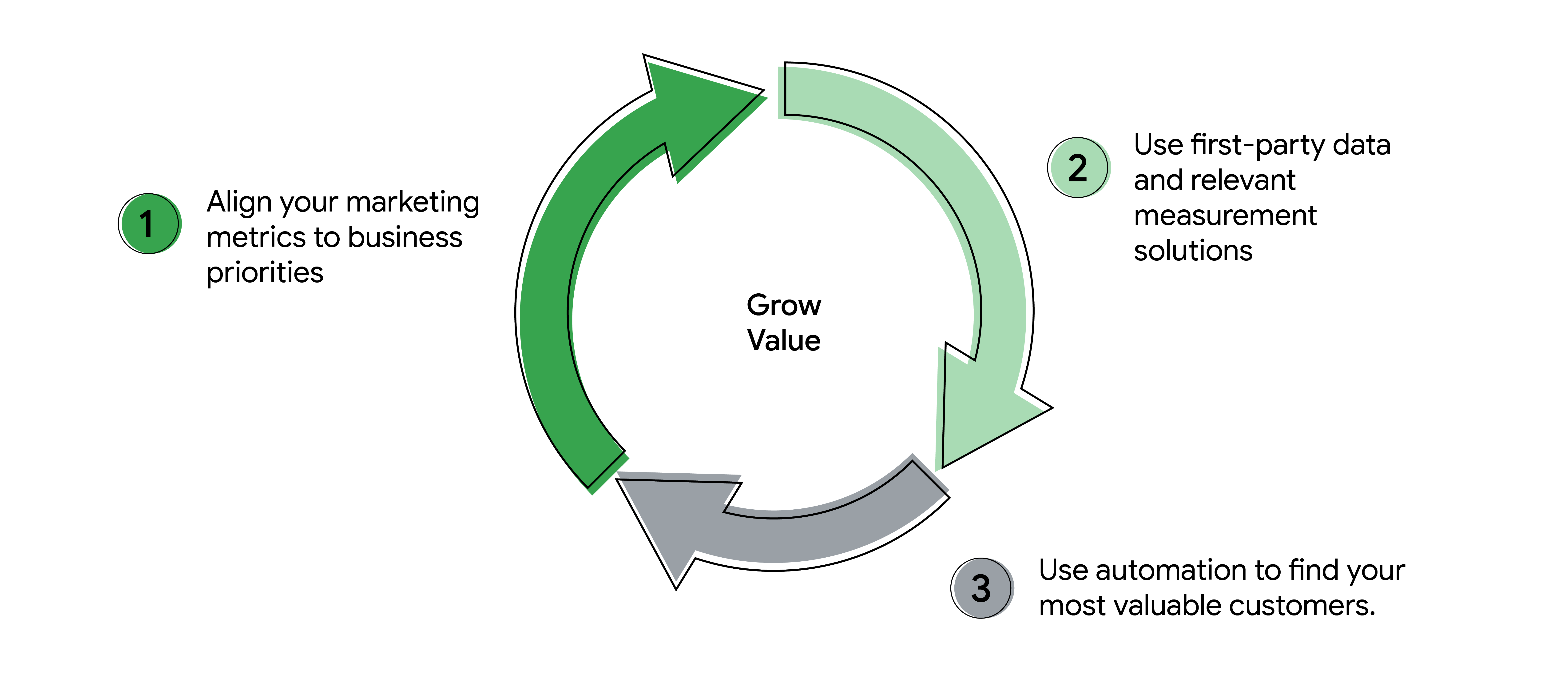 Automation has helped online marketers and their businesses reach customers more effectively. Bidding for value is the next step to make marketing your growth centre. It's time to explore new options for your business and turn potential into results.