Catawiki is a leading online marketplace for special objects and collectables. Marjolein Tepper and Andrea Giordano work together on the performance marketing team, ensuring all digital channels are utilised in the best possible way.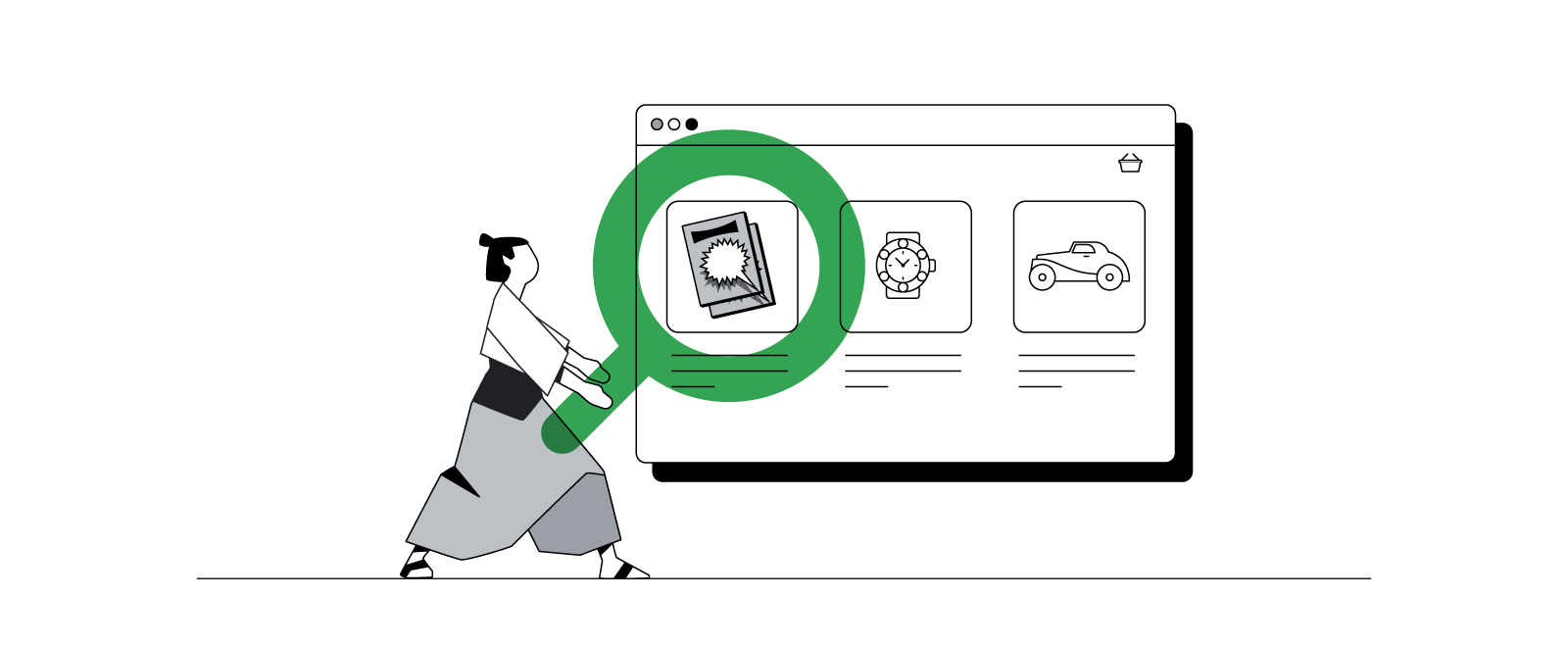 Today, there isn't much you can't buy online. Even industries that were long seen as traditionally offline, like automotive, are increasingly seeing their customers shift to digital.
But that wasn't the case when Catawiki launched in 2008. As a fan of rare comic books, René Schoenmakers, one of our founders, was struggling to find his desired collectors items on the internet. Special objects will always require some level of treasure hunting — that's part of the fun — but he saw an opportunity to connect buyers and sellers around the world by building an online community.
Together with developer Marco Jansen, he created Catawiki, an online marketplace exclusively for special objects and collectables. It didn't take long before interest started growing across Europe. And while Italy, France, and the Netherlands are currently the largest markets, we're also seeing consistent growth in the U.K. Not one country accounts for more than 20% of our overall business and 80% of all transactions are cross-border, so it's a truly international community.
In addition to our cross-border expansion, we've also seen interest among younger demographics rise in the last few years. To maintain this growth, we realised we needed to future-proof our digital advertising strategy.
Where warriors meet marketers
As an online business mostly focused on reaching new audiences, our main advertising channel has always been Google Search. There are many strategies to consider for this, but one method that has won the hearts of many marketers looking to streamline their paid Search operations is 'Hagakure'. And there's a good reason for that.
A new and simple approach to Search: The Hagakure structure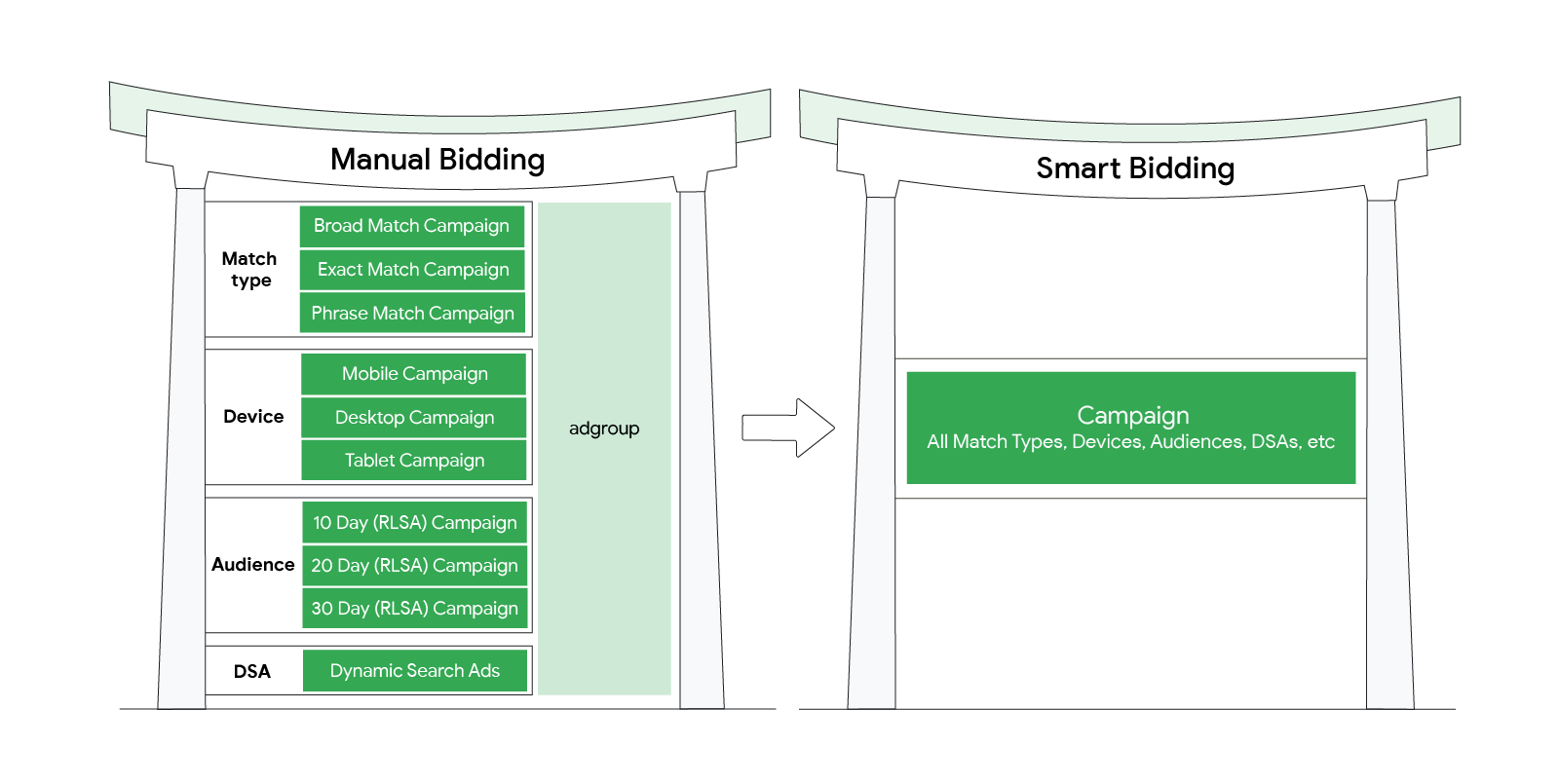 Borrowing its name from a practical and spiritual guide for samurai warriors in 17th century Japan, the method aims to bring simplified structure to Google ad accounts. Just like the ancient book outlined the official 'warrior's path', the Hagakure structure for Google Ads introduces a new path for marketers.
Literally translating to 'hidden leaves', Hagakure theory focuses on achieving a state of freedom to enable better performance. For us, that meant bringing down our ad campaigns from more than 100 to a little over ten.
This is made possible by the automated nature of Smart Bidding and dynamic search ads. We feed the algorithm our creatives, keywords, and first-party data — such as website behaviour and product information — and in return, it predicts which asset combinations should be used for best performance. As it uses all match types, including broad match, one campaign can include a wide variety of keywords without losing its effectiveness.
While we trimmed down the number of our campaigns, we were able to target 10X more keywords and the number of ads increased by 30%. This has led to an almost 40% bump in overall conversions at the same cost of acquisition.
The Hagakure method showed us just how much we can achieve with automation.
With this automated setup, maintaining our rapid growth across markets and audiences has become much easier. We can now scale our Search ads to new markets in less than a week, while previously this would take at least a month. In addition, we can reach new audiences by showing up for a wider variety of search queries. The method also provides the performance team with much more time to spend on strategic projects, such as analysing data and shaping the future of our marketing.
Building trust — now and in the future
One of the main challenges in the special objects and collectables industry is trust. People need to know that what they're buying is authentic, which is why our business model is heavily centred on reliability.
For example, all items uploaded to our platform are reviewed by a team of in-house experts – with specialisations including art, design, and classic cars — before they are put up for auction. We also take pride in ensuring fast sales and have account managers and an in-house customer support team available to assist both sellers and buyers.
The only way to stand out is to reach for innovation and embrace the power of automation and advanced technologies.
When it comes to online advertising, we prioritise building trust by focusing on customer privacy and giving them the freedom to choose the information they want to share with us. That's why we've been laser-focused on investing in a first-party data strategy and rolling out privacy-first measurement solutions.
We use first-party data to establish which audiences to include or exclude from our ad campaigns, and leverage the power of similar audiences to get the most out of our bidding strategy. In addition, we feed our first-party into the algorithm of our automated campaigns so that it better knows the individual value of particular audiences and can adjust bidding accordingly.
Working closely with the Google team, we're also implementing privacy-first solutions for conversion tracking, such as conversion modelling with consent mode and enhanced conversions. Both of these features enable us to plug the data gaps left by the phasing out of third-party cookies, which will make it impossible to observe the path between ad interactions and conversions.
It's solutions like this that give us a competitive advantage in the fast-paced online environment we're facing today. The only way to stand out is to reach for innovation and embrace the power of automation and advanced technologies.
The Hagakure method is no different as it showed us just how much we can achieve with automation. It helped us streamline our operations and made Paid Search an even more important channel for us. But we're just getting started. Next, we'll focus on improving our measurement by calculating customer lifetime value, with the ultimate goal of moving towards value-based bidding. That will really take us to the next level.