Picture this: you've just moved house and your old sofa doesn't fit. You decide to buy a new one, going online to research something that suits your style and budget. You find one you love and add-to-cart, but you want to make sure it's good quality and fits the space. You make a plan to visit the physical store to see the sofa in-person. While you're at the store, an ad pops up telling you about a sale on decor accessories. You add a few to your cart and opt for home delivery.
The way shoppers make purchase decisions is complex. From search engines and videos to apps and shopping sites, consumers can take their pick when it comes to researching and buying a product. And today's digital ads, which use machine learning to understand what shoppers are searching for and serve them products they might like, can also lead people down a different purchase path entirely.
So how can brands measure the impact of their online marketing on their offline business? That's the question omnichannel furniture retailer Homebox looked to answer earlier this year.
Bringing out the measuring tape
While Homebox offers its customers both a website and app, it also has 12 physical stores in the United Arab Emirates (UAE). Just like with any other retailer that has a mixture of online and offline channels, it can be challenging to align these different properties.
"We're always working to ensure a smooth shopping journey that offers shoppers synergy between our online and offline channels,"explains Shahzeen Rizvi, the furniture brand's omnichannel digital marketing specialist. "However, we haven't always been able to measure the impact of our online marketing on our in-store visits."
When store visit conversions launched in the UAE, Homebox's e-commerce team jumped at the opportunity to connect customer store visits with their Google Ads account. This would allow them to measure how much foot traffic their digital ads were actually driving, helping them more effectively determine the full value of their online marketing. It would also make Homebox the first brand in the region to optimise for both online conversions and offline visits.
However, with the lack of online-to-offline (O2O) solutions and results available in the region at the time, the brand's offline marketing team wasn't sold on the idea. Without actual results to hand, the ecommerce team needed to predict the potential impact of O2O on Homebox's business. While they had always been able to measure online conversions, adding the newly available store visit conversions to the brand's ads account meant they would be able to measure offline conversions too.
Designing an automated O2O bidding strategy
Homebox's offline and online teams agreed to work together to test out a real-life automated O2O bidding strategy, optimising investment towards audiences likely to convert either online or offline.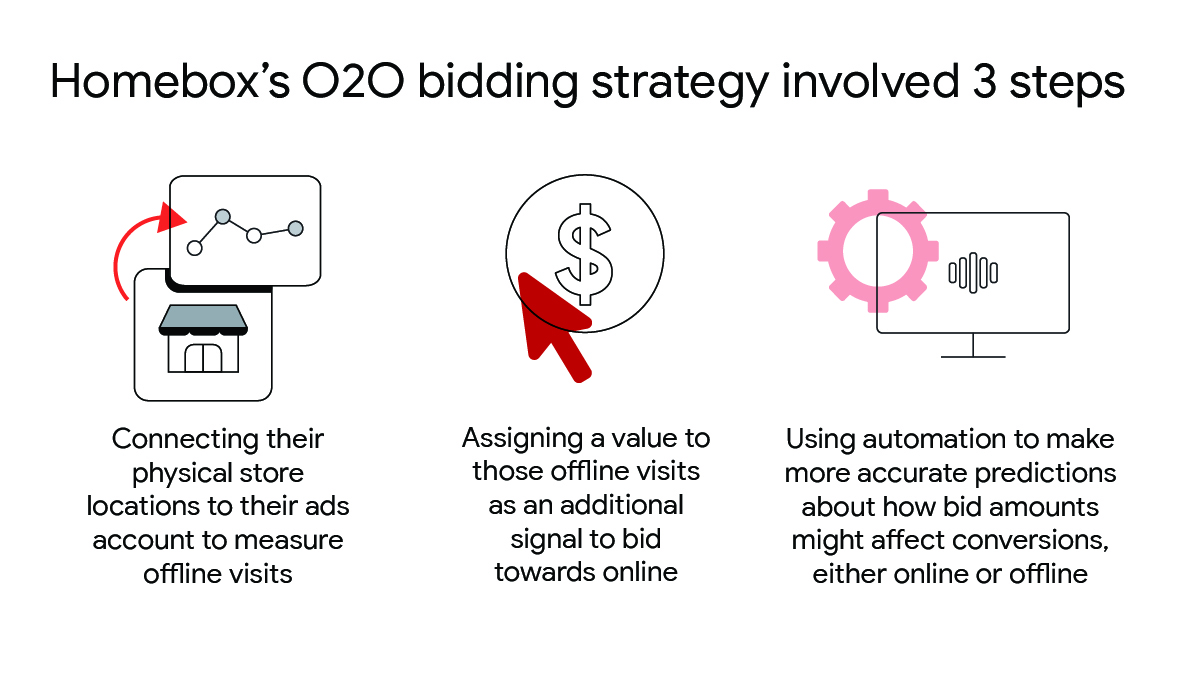 The first step involved the brand connecting their physical store locations to their Google Ads account, allowing their campaigns to measure offline visits.
Next, they looked at how many people their stores received each day, the average value for each in-store purchase, and other offline signals. They used those to determine their average in-store revenue. They could then assign this number as an average value for store visit conversions, adding that value as an additional signal to bid towards online.
Finally, they added Smart Bidding to their Search campaign. This automated bidding solution uses machine learning to make more accurate predictions about how different bid amounts will affect conversions, either online or offline.
Pulling back the curtain on success
Homebox's test revealed that by using store visit conversions with Smart Bidding they were able to drive an average 10% incremental uplift in daily store visits. That's because this combination of tools allowed the team to optimise investment towards audiences more likely to convert either online or, thanks to the new offline signal input, offline.
Homebox also saw an estimated 8% increase in offline sales during the test period and a 3X increase in return-on-ad-spend (ROAS), compared to previous online-only results from their Google Ads campaigns.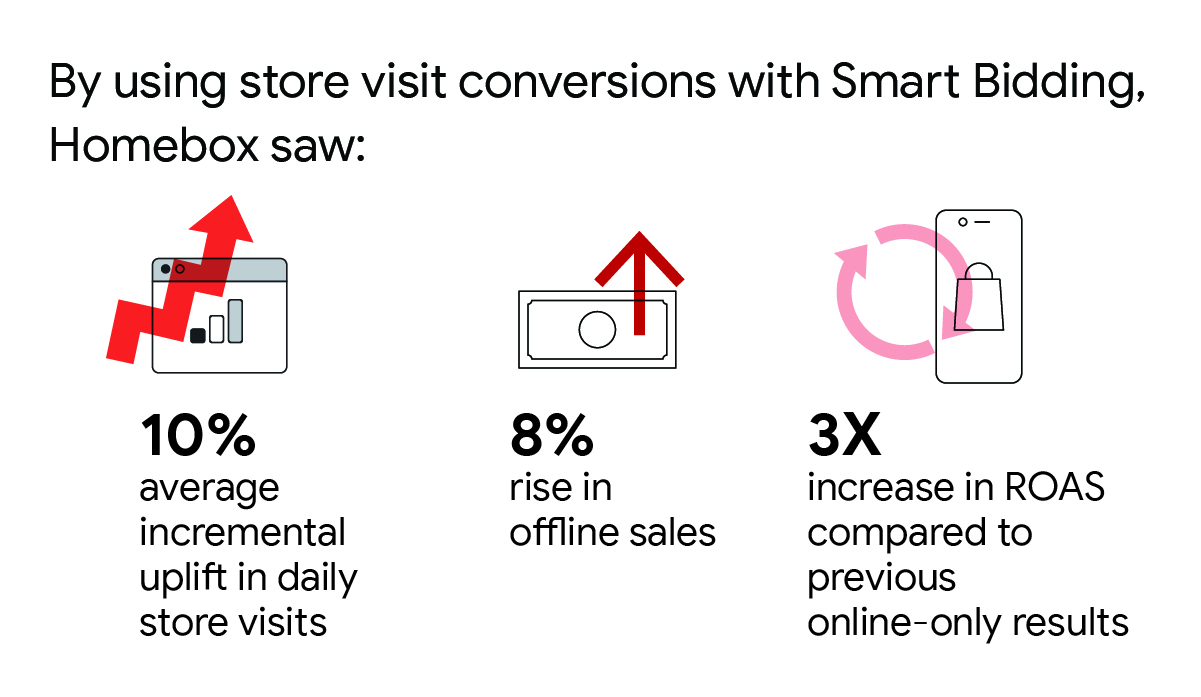 The new approach hasn't just boosted numbers. Rizvi says transparent reporting and information sharing has helped bring Homebox's offline and ecommerce teams closer, allowing them to work more seamlessly together to drive unified growth.
"The results have given our team the confidence to scale this omnichannel bidding strategy from Search to all other Google Ads campaigns through Performance Max," she continues. "This campaign type allows us to access ad inventory from a single campaign."
Opening the door to an O2O future
Rizvi says that while brands may not always think that automation can do what it says on the box, this campaign has proven the value of machine learning tools for Homebox.
Not only that, but their shift to automation to optimise for O2O has enhanced cross-collaboration and helped multiple teams achieve collective goals. As a result, she says O2O marketing is now a key priority for the business.
"Innovation in the retail space is critical for omnichannel brands like ours, because change is the only constant," Rizvi explains. "The way people behave and the technology they use changes so quickly that if you're not keeping up you're falling behind."